One of the reassuring aspects of RIBs is that, by and large, they are unsinkable. If you hole the GRP hull, or lose engine power in a big sea, you are generally going to stay afloat. A hard boat hasn't been able to offer that security – until now.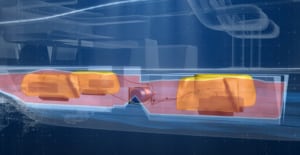 Based in the Norwegian coastal city of Kristiansand, Antisink have revolutionised boat safety with a life-saving system. It is a series of self-inflating buoyancy bags that work on the same principle as a self-inflating life jacket or life raft. Securely fastened within the boat's hull, once inflated, the system will keep a boat afloat for weeks if need be. It comprises three main components: buoyancy bags with pressure relief valves, a CO2 cylinder with CO2 trigger (flood sensor) and hoses to join them together. Foam was considered as a means of inflation to start with, but a high degree of buoyancy in relation to system size was required, which necessitated CO2. This also enables the system to be discharged after use, refilled and then used again. The CO2 cylinders are made by Luxfer with high-quality components, providing a robust system with little maintenance required.
With Luxfer's L6X Type 1 inflation cylinder, the first Antisink system developed, known as the FB10000N, provides 10,000 Newtons of buoyancy and is suitable for boats up to 2.6 tonnes. It is activated automatically once it senses excessive flooding, filling the buoyancy bags in under a minute, and providing enough lift to keep the boat above sea level. By being installed inside the vessel as low as possible, the system displaces water from the boat's internal compartments. All cylinders are tested for leaks once filled with CO2. There are also two other systems: the FB5000N for craft up to 1.3 tonnes and the FB20000N for vessels up to 5 tonnes.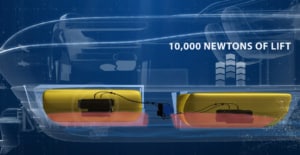 Bjøro Karlsen, who helped design the system, stated that high-quality aluminium cylinders were needed, as they do not corrode and can be reused – this is the Antisink blue cylinder. It can be used all over the world as Luxfer's products are approved for most world markets, and it can be transported pressurised. Due to the aluminium construction, the cylinders can be recycled.
The system is easy for the average boat owner to install (as it comes preassembled) and it can be fitted inside the boat with no need to cut any holes. Thanks to its compact size, the system can be hidden under the deck or in lockers, and it can be fitted in most kinds of vessels. Currently, bigger systems are under development.
It is being trialled by the Royal Norwegian Navy, and the company is hoping that it will subsequently be rolled out across all of the coastguard vessels in Norway. If approved by the Navy, it will receive automatic approval from NATO. Antisink intend, with Luxfer's help, to create a system that fits into a small case for coastguards to transport easily. It is a great concept, based on existing safety products, and like the best ideas, it is a simple one.