Greg Copp takes a look at this rakish mile-muncher and discovers
 

a craft that is tough on the outside and soft on the inner.

With the boating industry strongly focused on building 'adventure craft', what was once a curiosity has now become a fashion. This Scandinavian flair for the multi-purpose all-weather performance boat has not been lost on Arksen, a British builder with a keen eye on stretching the horizon. Having cut their teeth with their passage-making 65ft to 85ft Explorer Series, they have now launched the Adventure Series, of which the Arksen 30 is likely to prove the front runner.

Being an Arksen, it is aluminium, but unlike the Explorers it is not built on the Isle of Wight. The whole boat is built in Poland by Finnish company XO Boats, based on their EXPLR 10 Sport + model. The similarities between the two boats are obvious, but however you look at it, this is a good boat to get you home on a bad day.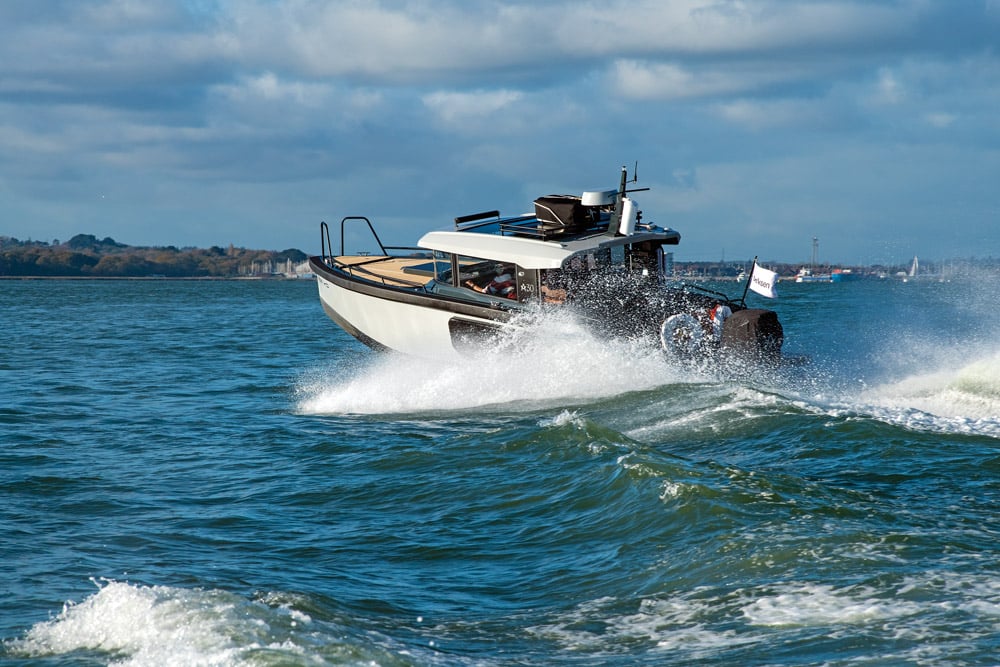 The Arksen 30 has its own special sponsons – in effect, very thick rubbing strakes. They are made from closed-cell foam and are light, tough and easily repaired if damaged. Amidships lie two long rectangular panels of the same material, giving that popular 'commercial-like' appearance and protection along that vulnerable stretch of the hull. In the same character, all guard rails are powder-coated black, as are the roof rack and transom gates; the overall effect works well with the light-grey hull. All decking is synthetic, though you need to take a close look to realise it.
Inside the wheelhouse/saloon, a small galley sits just inside the door, with a fridge beneath the helm seat. Comprising under-top storage, a sink and an inset section for a removable gas cooker (or electric hob), the galley finish is of a high standard, as are the teak worktop and leather-covered drawer handles. Opposite sits a thick folding teak table, complemented by two double seats facing it. This innovative dining set-up allows the table to be folded in when saloon space is needed, or dropped down to create a small double bed when the forward seat is folded flat. Alternatively, the forward seat's backrest can be spun around to create a forward-facing double navigator's seat. If the weather warrants it, the table can be completely removed and easily remounted in the deck fitting in the cockpit, served by three folding teak bench seats.
The heads sits on the port side of the companionway, with its substantial door opening across the passageway, revealing an electric toilet. Headroom is fine, with natural light courtesy of a glazed ceiling hatch, but there is no sink. Opposite lies a good-size hanging locker, separated by a zipped fabric door, the interior of which also provides easy access to the rear of the helm electrics. The forecabin has the traditional V-berth, separated at the foot of the bed by two steps, which serve a clever sliding deck hatch system that sits above. This sliding hatch enables quick and easy access to the foredeck, which is just as well, as the side decks consist of just the sponsons. The forepeak houses a large, very neatly lined anchor locker, capable of swallowing up a mountain of chain, and the electric windlass that our test boat was not fitted with.   
Behind the wheel
The helm is a slightly chalk-and-cheese affair. The helm seat sits good and high, providing great forward visibility. Arksen's bucket seat is just the right size to hold you firmly in place, no matter how hard you throw the boat about. Sitting on a WBV shock mitigation seat provides a soft ride no matter what. If you want to stand with the sunroof open, the elevated folding footboard enables you to have your head poking out of the sunroof. However, there is one downside, and that is that the height of the coachroof window is such that it creates blind spots across each quarter when turning. This is a common fault with many wheelhouse boats, but with the Arksen 30 you have to be disciplined in taking a good look before you turn. In particular, I found that on hard starboard turns it was a good idea to actually get out of the seat in order to crouch down slightly to look out under the window line. I should add that when banked over, you can see through the large sunroof. Helm ergonomics are very good, with the throttle sitting in a comfortable location, and the leather-clad adjustable wheel likewise. All of the Raymarine MFD's features are easily seen: the primary switches sit to port of the wheel, while things like bow thruster and trim tab controls are on the opposite side – so nothing is more than an easy stretch away.
Built on XO's super-strong aluminium hull with a transom deadrise angle of 24 degrees, the Arksen runs through rough water with ease. The beauty of aluminium hulls is not only that they weigh less than a GRP construction, but that they can take more abuse in terms of being driven hard in bad weather. This boat is no exception when it comes to deceiving you as to how fast it is going, as running through the rolling wave pattern of the day was an easy task for the Arksen 30. You soon come to terms with the fact that the boat's slim 2.5m beam, sharp forefoot and good fore and aft trim are pretty much always going to take care of what you are running into.
Our test boat had the single 350hp Suzuki twin-prop engine option, as opposed to twin 250hp outboards. Consequently, it was highly responsive to the wheel, and great fun to throw into successive sure-footed tight turns. Powering out of the turn, the twin-prop Suzuki does a good job of delivering the power – with zero cavitation. However, I feel that the twin-engine option would be a better complement for such a hull, as well as giving a better middle-range power response – and the Arksen is built with two tanks to cater for a twin independent fuel supply. This craft is far from sluggish, but fully fuelled as it was, it took 15 seconds to reach 30 knots from a standstill, and managed to hit 37 knots at wide open throttle.
Verdict
This boat is very nicely finished, solidly built and has all the added luxuries that give an adventure craft a comfortable touch on the inside. Its extras list is small, to the point that most core needs are satisfied with the standard boat spec – as tested. It is very innovative, no stone goes unturned and hardly an inch goes to waste when it comes to storage. I feel that the twin-engine option would be ideal – at a 30-knot cruising speed it would result in a leisurely power delivery and thus be better suited to the sea miles this boat can easily consume. In terms of seakeeping, it punches above its weight – the type of reassurance you need when stretching the horizon.
What we thought
 

For
Sure-footed handling

Tough

Soft-riding hull

Responsive balanced steering

Helm comfort/ergonomics

Practicality

Build quality

High standard of fit and finish
 

Against
As an adventure craft it would benefit from a larger roof rack for kayaks and paddleboards.

No sink in the heads.

Low coachroof causes blind spots when turning – you need to be disciplined in checking your stern quarters when turning at speed.
Arksen 28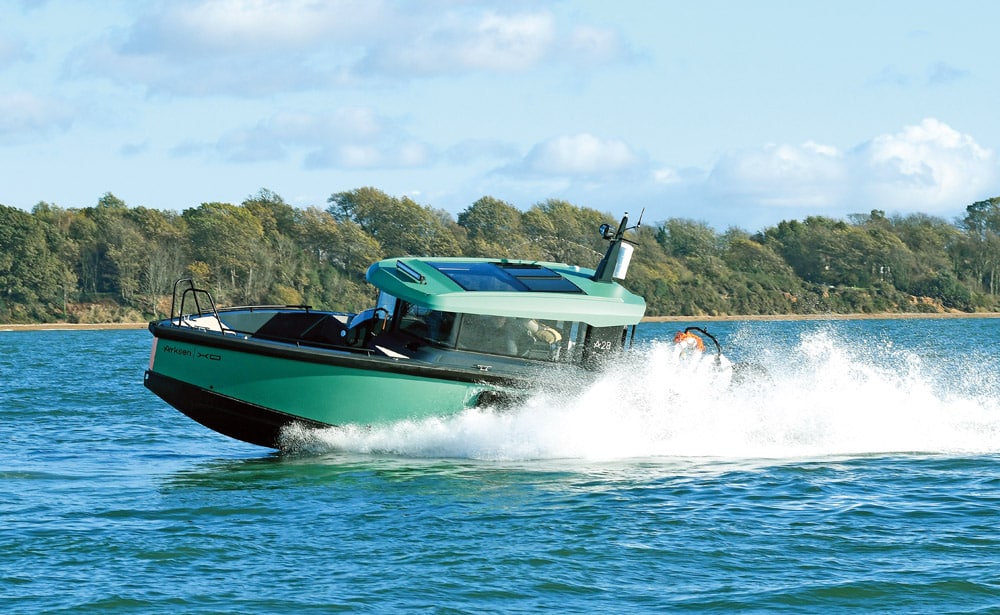 This smaller sibling is very much in the same vein as the 30, though it lacks the forward cabin accommodation. It also enjoys a soft rough-weather ride from an aluminium hull, and despite being some 2ft shorter, it still has the same beam as its relative – though not surprisingly it is a slightly quicker-steering boat. The foredeck has an open-bow arrangement, filled with some very neatly lined storage lockers, covered with the same synthetic teak as the Arksen 30. The wheelhouse has a dinette, galley, two shock-mitigating helm bucket seats and a well-laid-out dash enjoying a high standard of ergonomics. Internally and externally, it is safe, practical and innovative.
Specification
LOA:

9.5m

Beam:

2.5m

Transom deadrise angle:

24 degrees

Displacement:

2.7 tonnes (dry excluding engine)

Power options:

Single 350hp Suzuki DF350 twin-prop or twin 250hp outboards

Fuel capacity:

2 x 250L

Range:

220 miles at 25 knots with a 20% reserve

RCD category:

B for 6 or C for 10

Test engine:

350hp Suzuki DF350 twin-prop
Performance
37.1 knots (2-way average), sea conditions F3–F4, crew 2, fuel 90%

0–30 knots:

15 seconds
Price
As tested: Approx. £260,000 (plus VAT)
Contact