The RNLI today (May 24) launches a vital water safety campaign ahead of the bank holiday and half term week.
Woman alive today thanks to Float to Live technique tells her story
Campaign launched after 226 accidental drownings last year*
One third of UK people don't know what to do if they get into difficulty in the water*
Float to live demonstrations and interviews available
Experts at the charity are urging everyone planning to enjoy the coast to remember that if you get into trouble in the water, Float to Live.
The campaign is launched as the RNLI reveals that 32% of people still do not know what to do if they unexpectedly get into difficulty in the water.
New research carried out by the RNLI and the University of Portsmouth's Extreme Environments Laboratory (EEL) tested people in different open water environments.
The research has shown that tilting your head back to submerge the ears is key; we all float best in slightly different positions so your legs may naturally sink and you may need to use your hands to scull.
Relax and try to breathe normally, then once your breathing is under control, call for help or swim to safety if you feel able.
If you spot someone else in trouble in the water call 999 – if you are at sea or on the beach ask for the coastguard, or if inland ask for the Fire and Rescue Service.
There were 226 deaths in the UK from accidental drownings in 2022, across inland and coastal locations. Of the people who died 40 per cent had no intention of entering the water, such as those walking, with causes including slips, trips and falls, being cut off by the tide, or swept in by waves.
Using the Float to Live technique helped save Tina West's life as she holidayed with her husband on the Cornish coast last summer.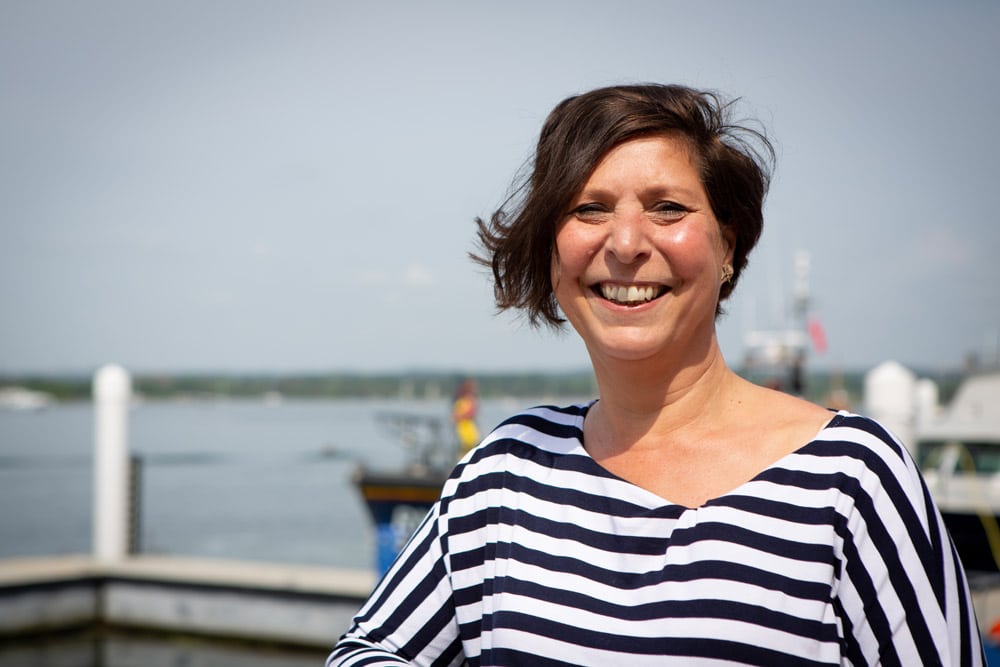 Tina had been paddling in the sunshine near Godrevy beach when she was suddenly swept out of her depth.
Tina, who works for Portsmouth City Council, quickly recalled the big screen film she had seen in Portsmouth showing the RNLI's Float to Live campaign.
Tina, who does some open water swimming near her home in the Solent, said: 'The weather was sunny, so I just thought I'd go for a paddle.
'My feet were on the ground and the next minute they weren't.
'I was just getting pushed further and further out. At that point I realised I'm just not going to be able to get back in.
'I started waving my arms and shouting for help to see if anybody could see me.
'I was getting quite tired, but I remembered seeing the RNLI's Float to Live safety advice at work, so I was able to float on my back to stay calm.'
At this point Tina's husband was able to raise the alarm and to make sure help was on its way.
Tina added: 'Once I knew lifeguards were on their way, I thought as long as I keep calm, I'll be alright.
'The advice of Float to Live was an absolute lifesaver.
'I was having a conversation with myself, and it just allowed me that opportunity to think.
'The waves were big but because I was floating, my head wasn't going under the water.
'I remember thinking I can do this as long as I need to, until someone comes to get me.
'Once I saw the RNLI lifeguard, I said I am so pleased to see you. Because I had managed to float, I had enough energy and could climb up onto the jet ski to safety.'
RNLI lifeguard Tarryn Brown was on duty on Godrevy beach that day and helped to pull Tina to safety
Tarryn, who lives in St Ives, Cornwall, said: 'I'm so glad Tina has recovered from her ordeal, and that we were able to help her.
'Not just by rescuing her on that day last summer, but also by reaching her with our Float to Live safety messaging so she knew what to do when she was in trouble in the water.
'I can remember being alerted to someone far out in the water, it took us a few minutes to see her – she was really far out.
'When we got there Tina was just floating on her back. She wasn't fighting the current, which conserved her energy and potentially saved her life.'
The RNLI & EEL research shows that floating is different for everyone, where some people naturally float with little movement, others require gentle use of their hands and legs to stay afloat.
If you find yourself in difficulty in the water:
Tilt your head back with ears submerged
Relax and try to control your breathing
Use your hands to help you stay afloat
It's OK if your legs sink, we all float differently
Ross Macleod, water safety expert at the RNLI, said: 'As we approach warmer weather and enter into the bank holiday and half term week ahead, we are expecting the coast to be incredibly busy.
'We want to make sure that if an emergency unfolds, people know what to do.
''If you get into trouble in the water, Float to Live: tilt your head back with ears submerged and try to relax and control your breathing. Use your hands to help you stay afloat and then call for help to swim to safety if you can.
'Tina's story really drives home the importance of our Float to Live message; we are so glad she is recovered now and is supporting our lifesaving campaign.
'I'd really encourage anyone reading this to help spread the word to any family and friends – and next time you are in a safe environment practice floating for yourself – why not try it between the red and yellow flags when visiting an RNLI lifeguarded beach.'
Professor Mike Tipton, from the University of Portsmouth EEL, said: 'We have had a long and productive relationship with the RNLI and it is great to see our collaborative research saving yet more lives in water. It also emphasises the importance of raising public awareness of Float to Live via as many platforms as possible.'