PBR's Alex Whittaker flies south to the Bay of Cannes
 

to test the latest open-cockpit, two-berth sports offering from Axopar.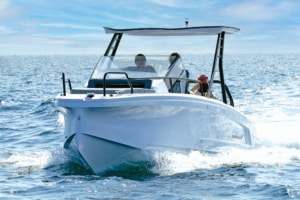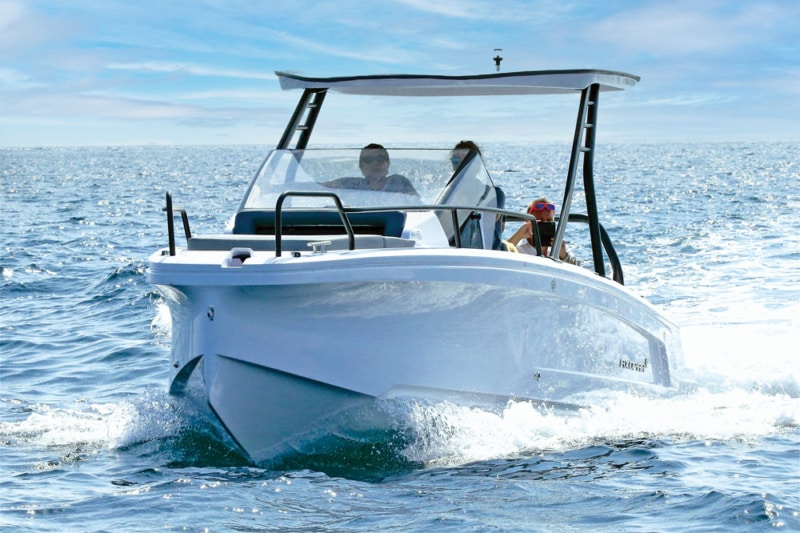 Unless you have been living off-grid in Borneo these past few years, you will certainly be aware of the Axopar phenomenon – Scandinavian style, practicality and seaworthiness all wrapped up in a versatile user package. The company's new 25 sport cruiser is an adventure boat aimed squarely at the family market. It introduces a clever forward cuddy cabin to the Axopar universe. The highest specified power is a Mercury 250hp outboard and Axopar say this is a 40-knot boat, so on a lumpy day in the Bay of Cannes, we set out to test that proposition.
All aboard
Axopar have a reputation for strong, rigid, hydrodynamically efficient hulls, all with their trademark raked stem. This hull is the product of a three-part mould. The compound curves and developed shapes used in the hull mouldings deliberately toughen up those elegantly sculpted-out panel sections. In addition, the Axopar 25 has a double step in the hull running surfaces for speed and stability, and these steps continue across the underside of the hull. While underway, air pockets are developed, and since water is denser than air, water friction is reduced. Note also that the slinky Axopar 25 has no rub rails.
Boarding is easy from a marina pontoon thanks to the bathing platforms either side of the outboard, and substantial grab rails make moving around the transom easy. The folding reboarding ladder lies to starboard, and large no-nonsense stainless cleats are found outside of any trip zone. To go forward you must step down into the cockpit, standing on the side cushions.
The rear cockpit has high gunwales and feels deep and safe. A step is set into the cockpit walls for boarding or alighting. Long and rather nifty handrails run fore and aft on either side and pass all the way forward to the cabin. Also set into the gunwales are five white speakers for the stereo.
On a sports craft of this type, the seating and its configuration is absolutely critical. Here, aboard the 25, there are three main seating options for the rear cockpit: a single transom bench with a more open cockpit; a transom bench with wrap-around U-shaped seating; and a 'multi-storage' option with a central upholstered pad plus a fore and aft backrest down the middle, with storage underneath.
There is a usefully sized lazarette under the flip-top transom bench too, while more substantial storage resides under the cockpit sole, accessed through a flush hatch. A table support is built into this hatch. Added cockpit cushions transform this area into a sizeable sun pad, and the side seats have large apertures in their lower faces. Day bags, ropes and fenders can be pushed or gently toed in, and a ledge all around retains them at sea. Of course, all this plays into the Scandi minimalist vibe that pervades this whole boat.
The vessel's frameless moulded acrylic windscreen is both clever and stylish. It can be moved, through an arc, higher or sleeker. There is no surrounding rail to grip, and there are no hand cut-outs in the 'droop snoot' itself. 
At the helm
The helm station is integral to the cuddy bulkhead. There is a flat area, suitably matt black, on top; a moulded-in fiddle rail would have been a bonus. The dual helm seats, taken from the bigger Axopar 37, are set onto a sturdy central plinth – often preferable to stalky pedestal captain's chairs. The seats are adjustable fore and aft, have flip-up bolsters and can be swivelled sociably to face the rear table-cum-conversation area. Like all Axopars, the helm is uncluttered and straightforward, with well-thought-out ergonomics. The wheel position in relation to the throttle was pure Goldilocks for a compact chap like me, though of course there can be no support for your throttle arm on such a helm pod. The test boat sported trim tabs, bow thrusters, a phone charging point, stereo controls and two rows of ready-use switches. There were also two stainless steel beverage holders. The flat dash is angled and big enough to incorporate almost any multifunction device of your choice, although Axopar supply Simrad as their electronics partner of choice.
Down below
Down below there is a cushioned V-berth, and two could certainly sleep on board. There is an opening hatch above for ventilation, big enough to admit lots of light, and also to escape through. If the deck cushions are in place, there is less light in the cabin. To balance this, there is a portlight above the bunk. Switchable electric lights are set into the deck head, and there is a run of LED mood lighting under a knuckle on either side of the berth. There are speakers in the cabin, so chilling out to your favourite tunes is definitely an option. There are also small storage nets here and there, but just note that you can't sit upright on the bed. In truth, the cabin is more of a cuddy at the berth position. Aft, there is a small sink with pumped water, the main electrics panel tucked away safely from the elements and a small cushioned seat. Lift the seat, and hallelujah, there is a pukka sea toilet. OK, it is not in a separate wet compartment with a shower, but at least the toilet is present. On the cabin bulkhead there is a detachable storage pocket. Overall, most of the essentials are in place, albeit in a very basic form. For weekending you would need to add a simple carry-aboard cooler box for food (and sundowners), plus a portable picnic stove. However, it would all work. It is worth noting that due to COVID-19, this is the very first hull to hit the water, and I do believe some additional refinement down below is planned for production models.
Going forward
The asymmetric foredeck is uncluttered. The port side has a walkway, with suitable non-slip underfoot, and non-slip also extends to the gunwale tops, assisting forward boarding. Low handholds fall naturally enough, but of course, this area is much shallower than the rear. Despite this, I did feel safe moving forward when the boat was underway – providing I kept my centre of gravity low! Set to starboard is a good-sized sun pad with a backrest. The latter was a little on the low side, but sufficed nonetheless. Altogether, a prized lounging spot at anchor. There are deck lights in this area, plus a large anchor locker, with options for an electric windlass. In true Scandi fashion, the pulpit rail is split to allow access over the bow. 
Driving the 25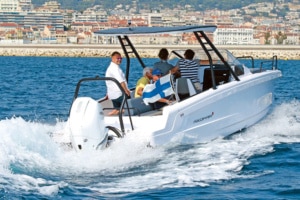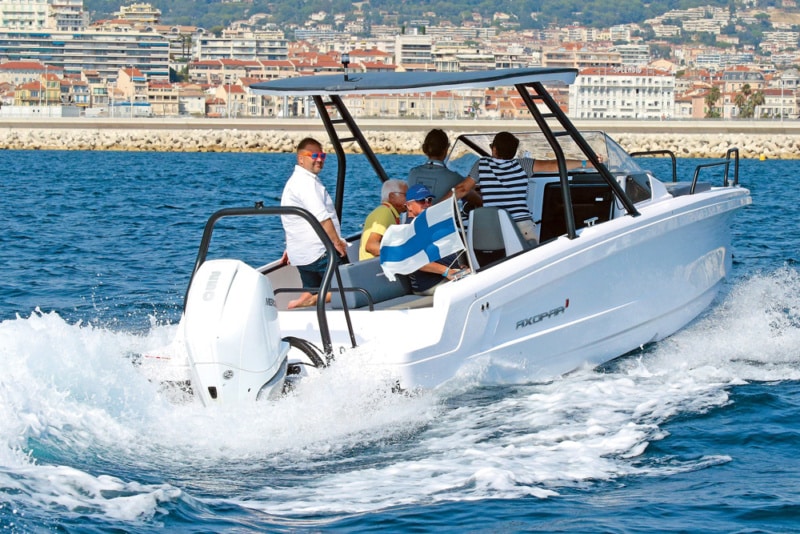 The relationship of the wheel to the throttle is excellent. The seats grip well, but this is a boat that cries out to be driven standing at the helm, and good seat bolsters make this a reality. They fitted me perfectly for standing, and the footrest gave me a useful bracing point. This was needed in fast, steeply banked sports boat turns, through which this hull tracked wonderfully. Sea trials were held in less-than-ideal conditions for speed tests – a lumpy, messy Mediterranean chop, with the odd unexpectedly deep hole. The fine entry dealt with the lumps, and on the few occasions we were airborne in the wakes of large passing craft, the landings were commendably soft. This is a surprisingly dry boat, but with the angle of the windscreen set higher, one has good shelter. Acceleration with the rather refined Mercury 250 was good, and I did not need to fiddle with the trim (less than 250hp would be a waste of this willing hull). Even in these conditions she proved to be a 40-knot boat, and we topped out at 41 knots. 
The 25 feels dynamic, corners tightly and generates thrilling g-forces. Driving in the standing position with the Mercury's enthralling deliverance of power at one's fingertips caused this 25 to feel like a true 'point and shoot' device. All in all, I would sum up by describing Axopar's latest offering as a great combination of sporting flare and functional finesse. I can't see it as being anything less than a sure-fire winner. 
What we thought
Pros
40-knot boat
Sea toilet
Authentic Axopar style

 

Safe, dry, great-riding hull

 

Minimalist but practical weekender

 

Good match to a Mercury 250 outboard
Cons
No cooker or fridge
Sea toilet in sleeping area
Windscreen area needs better handholds on bimini version
Specifications
Axopar 25 sports cruiser
LOA: 8m (26ft)
Beam: 2.23m (7ft 4in)
Berths: 2
Fuel capacity: 230L
Category: C Coastal
Max. speed: 40+ knots
Pricing
At the Cannes Boat Show the starting price was around €80,000 / £68,000 (inc. VAT).

 
Contact