Alex Whittaker tests these two prime contenders for your money, side by side
I saw my first Beneteau Flyer sometime late last century. She was full of riotous French waterskiers, making great progress just south of Perpignan. At the time, with her name written large in English on huge hull decals, I thought she was a new American boat. She had that broad-shouldered centre cockpit look. Little did I know that she was to be the first of a long line of Gallic Beneteau Flyers.
Commonality
You can buy a Flyer 7 in two distinct models. These have similar vital statistics, a light displacement hull and the same 200hp Suzuki outboard power. Both models share the same 21ft Air Step 2 hull. With shared engineering and many common components, the two new Flyer 7s provide an object lesson in efficient production engineering. Both have the same C8/C9 certification, though the SPACEdeck sports the black hardtop. The rather smartly executed helm on each boat is essentially similar, and both have similar upholstery options. In fact, buyers have a choice of two broad styling options: Standard (with stainless steel pulpits) or Elegance (with black pulpits). Both versions are purposely built to easily trailerable weights and have similar fuel and freshwater capacities.
Two flavours
Both models are centre console designs, each carrying their beam well forward to a usefully broad bow. To increase internal beam, both have slimmed-down gunwales compared to previous models. Both versions feature versatile seating arrangements. The SUNdeck has a large upholstered sun pad at the bow, which covers a sleeping cabin below. Beneteau's design mission for the SUNdeck describes her as 'perfect for coastal cruising'. In contrast, the SPACEdeck is a form of 'sporterised' bowrider, with a sizeable storage compartment below. Beneteau's design mission for the SPACEdeck includes 'wakeboarding, surfing, fishing, bathing or lazing in the sun'. Thus, the SPACEdeck has an impressive integral three-section fishing station at the transom. This is equipped with an aerated bait well and water pump. The cockpit on both models is wide at just over 7ft, a space accentuated when the clever integral folding side benches are tucked away on either side.
Stern to stem
Both models have a similar stern layout with twin bathing platforms flanking the outboard, plus a small walkway bridging them at the transom. The large stainless steel towing tower that arches over the outboard also provides a well-placed secure handhold when boarding or alighting. Since the SPACEdeck has a dedicated fishing station at the transom, its rather utilitarian and slim rear banquette folds down out of the transom moulding. In turn, access to the cockpit is via a port walkthrough, over a single-step coaming. Deck treatments vary according to function too. As you might expect, the fishy SPACEdeck has an easy-to-wash-down non-slip GRP deck in the front and rear cockpits, which I thought made excellent sense. Meanwhile her softer SUNdeck sister revels in some rather smart teak decking. Access to the cockpit is also to port on the SUNdeck. However, the SUNdeck has a bigger, better upholstered rear banquette, which is much more comfortable. It can also fold down niftily into a sun pad. Most significantly on the SUNdeck alone, this delivers decent storage beneath.
Ahead of their transom banquettes both models have clever integral side benches. These are hinged to fold out from the cockpit sides. Their matching padded bolsters on the gunwales are an excellent idea too. On both models this sociable cockpit seating can therefore surround a nifty table on a pedestal.
Beneteau quote capacities of eight persons for each boat. When I looked at the bijou table with all its surrounding seating, I did wonder if crew might have to eat in shifts! However, to be fair, the SPACEdeck version does have provision for fore and aft tables.
Helm seats
Just ahead on both models lie the twin skipper and navigator seats, each on its own pedestal. They can be turned to face the cockpit for dining and sociability too. These stitched vinyl seats are a good grippy design and are height-adjustable. However, I preferred driving both Flyers standing up, so I was pleased that both seats had useful flip-up bolsters. Most significantly, I had no trouble getting myself into the correct position to address the wheel.
Helm station
The attractively finished helm stations are very similar on both versions and work very well, managing to be both functional and classy at the same time. Pride of place goes to the large Garmin multifunction display, set in a matt charcoal panel. This MFD is superbly informative. I always appreciate a proper fluid-damped compass, whose operation is independent of any battery power failure. This one was sited correctly, exactly in my line of sight. The Suzuki data panel to starboard of the Garmin MFD also suited my eyeline. The chrome Suzuki engine control fell nicely to my right hand, but of course, there is no way to support one's throttle arm on such a console. The Suzuki engine trim switches and Trolling Mode switches lie to port, and the multifunction engine instrument digital display was extremely useful for computing fuel consumption too. Suzuki supply a separate engine Start/Stop/Throttle Only switch, with a separate motor Kill Switch.
I found that the Beneteau-branded wheel was comfortably placed. A row of various bilge and lighting switches lie immediately behind, on a ledge on the console. These flick switches had blue LEDs on their tips, so would be handy in dull light. There are no less than three stainless beverage holders, and there is a useful and sturdy hand grip built into the console too. The console moulding has a small open-topped space for slim items like folded charts. The SPACEdeck has the black hardtop above its console, so it has more grab rails fitted to its moulded helm. By the way, the said black top is covered in fabric, over a sturdy steel frame. Four rocket launcher rod holders adorn its summit, alongside a 360-degree white riding light. The SUNdeck makes do with a perimeter rail surrounding its smoked and moulded screen. I was pleased that the latter did not pinch my hand between the rail and screen when I gripped it. As for the polycarbonate windscreen, well, the distinct fold lines did produce odd aberrations from some angles, but on an open boat like this one can easily look around them. Cruising along in the evening chill, the screen really was a comfort.
Beam forward
Although both are centre consoles, the two designs diverge markedly beyond the helm seating position. The SPACEdeck has a large storage space immediately below and forward of the helm. This is accessed by a smart smoked perspex door in the console moulding. Fishing tackle, boards, lines, tables, covers, cushions, mothers-in-law and fenders can all be swallowed by this space. It's a bit deep down there, and although voluminous, I wondered whether the designers just ran out of ideas. I did not find access and egress particularly easy in a seaway. Mind you, on this 'water sports' version of the Flyer, I would not want to be without this glory hole. However, it is just not as accessible as a cuddy. Also on the SPACEdeck, there is a handy two-person seat built into the forward part of the console moulding ‒ not quite a front console seat, but not that easy to plant yourself on at speed. Ahead lie two moulded-in bow seats topped by vinyl-covered cushions on either hand, with hinged tops and good storage beneath. Vinyl-covered backrests line the two hull sides. It all looked very easy to wash down, which in my book is always a positive. There are four more beverage holders, and there is a step up to the bow anchoring arrangements, again with storage under. Navigation lights and cleats are nicely out of any trip zone, and the self-launching anchor has a teak-faced platform perched above it, on a steel frame. Incidentally, this brings the LOA up to over 23ft on both models. Since the beam has been so cleverly carried forwards, it feels wider than a normal bowrider up here. There is also a convenient base for another removable table, which I thought added great versatility. The perimeter metal rails are comfortably high, but they do have a necessarily raised height at the bow boarding gap.
SUNdeck cuddy
This version of the Flyer has overnight accommodation, which it cleverly combines with what might just be the 'largest in class' front sun pad. Once again, Beneteau's 'beam forward' design seems to have delivered the goods. As with her sister, there is a lockable smoked perspex door to port of the console to give access below, but here the treatment is very different. There is a comfortably wide asymmetric berth down in this cuddy, with a lot of storage under. The staggered deckhead height means that there is just enough depth for a lone skipper to sit upright to eat a sandwich out of the weather. It is also a useful place to get changed. There is room for a Porta Potti (quirkily Gallic in its siting, right next to the fridge) and even access to storage under the back cockpit. However, a trick has been missed with the ambient lighting. With no side windows to augment the good central hatch, it can feel like a bit of a cave. There is also quite a bit of visible low-maintenance gelcoat down here, but the oak-finished joinery does lift the tone ‒ just. Given the lack of a galley or wet bar, staying aboard this size of boat is always going to be a form of marine camping. But there is absolutely nothing wrong with that. Small boats like these usually provide big fun. Also, bear in mind that this cuddy cabin has a large bonus sun pad up top ‒ quite a neat trick when you think about it.
Performance
It's tough at the top. Our ogre of an editor forced me to jet all the way to the Med (pre-lockdown) to test both these boats. On test, both had 75% fuel and carried no potable water, though the SPACEdeck had a full seawater live-bait tank. The air temperature was around 18 degrees, and the Med sea state was a typically lumpy afternoon force 2. Later there was a bit of swell, which helped punch up some nice bow waves as I drove each boat. (I was also able to get out on both boats separately later as a passenger to test their crew appeal.) Both boats pulled away well and very briskly on the Suzuki 200 power. I confess that although I have never owned a Suzuki, I have driven friends' boats fitted with them over many years, and I have never heard any complaints about reliability, fuel consumption or performance. Now, when it comes to outboards, I tend to be a bit fussy. However, after three days playing in the Med, I was impressed by the quality of these 200hp Suzies. The hull on both Flyer versions always felt safe and predictable. There is only so much trouble you can get yourself into with such family-orientated designs and the power available, but I did try. For example, speed does tend to burn off in fast, tight turns. However, after imagining my kids with the ignition keys, I thought this no bad thing. Although entirely comfortable when braced by the wheel, seat and console, I found the ride a touch on the firm side at higher revolutions. As a passenger at higher speed I was certainly looking for places to hold on! Choosing a suitable fast cruising speed restored serenity. Throughout, however, I had ultimate confidence that this little vessel would always get me and my family home. I could easily imagine my family using this boat to get out quickly to quiet coves and calas for fun and sun. In either choice of Flyer 7 you really can take everything with you and go.
Spray control
I found that each hull controlled the spray very well, though to an outside observer it could look extravagant, as the photos show.
Trim setting
On each boat, I found that I needed to actively work the engine trim controls to get the best from the hull. I confess that I got the initial trim setting wrong on one 'hole shot', and while pulling quickly away from rest, the boat instantly protested. In this case, a fast dab of down trim restored harmony to man and machine. Although some might wish to strap on a bigger engine, especially if their family is large, I could find no fault with this factory-supplied hull and power package. The SUNdeck managed a top speed of 32.8 knots at 5500 revolutions while consuming 54.2 litres of fuel per hour, while the SPACEdeck topped out at 29.8 knots at 5550 revolutions while consuming 47.5 litres of fuel per hour. Bear in mind that these figures were taken with different crew and payloads, under slightly different sea states.
Performance data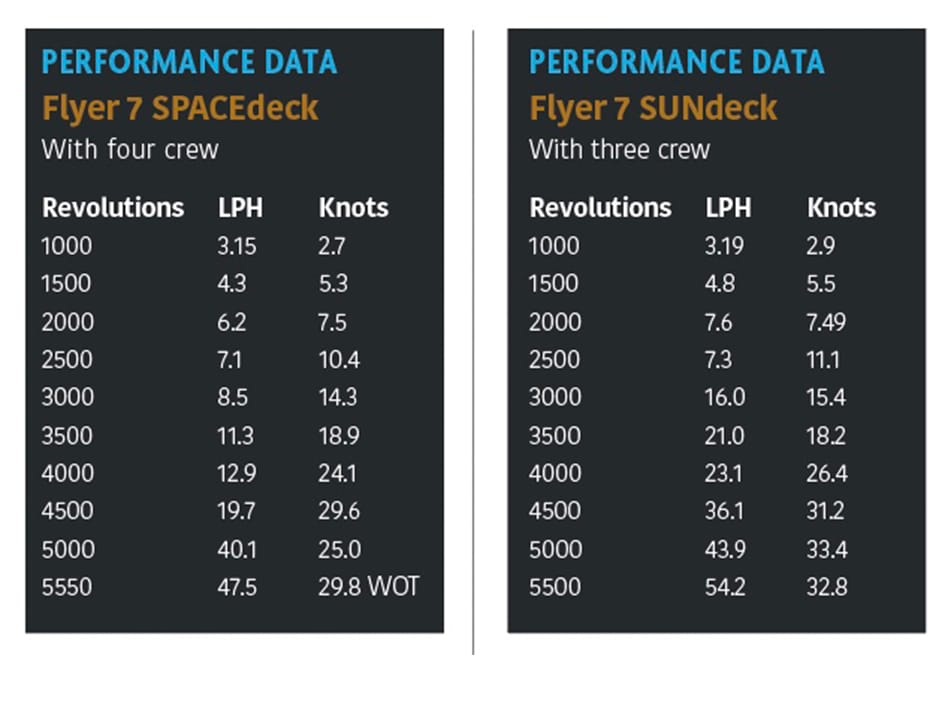 Shared specification
Length overall: 6.41m
Hull length: 6.13m
Hull beam: 2.45m
Light displacement: 1473kg
Fuel tank capacity: 170L
Freshwater capacity: 50L
Engine power (HP): Suzuki DF200 
CE certification: C8/D9
Contact
www.beneteau.com/en
www.bateswharf.co.uk
Prices – Boat Only
SUNdeck: From 22,200 euros (plus VAT).
SPACEdeck: From 21,200 euros (plus VAT)