National boating business boatfolk are now accepting bookings for Beyonder, a new boat subscription service. The subscription model offers a more accessible way for people to enjoy the boating lifestyle as the barrier of boat ownership is removed.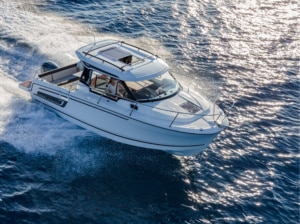 All the boats are brand new and commissioned to be on the water at Haslar Marina, and there are plans to expand the fleet with more boats to other marinas within the boatfolk group.
All Beyonder members become part of the nationwide boatfolk community, granting them access to overnight stays and facilities at marinas across the country, and all the training they need to be confident on their boat.
Piers Covill, Managing Director of Beyonder, commented: 'All of these new boats will be rigorously tested, cleaned, fuelled and kept in top shape, ready for when our members next want to take them out.'
Dominic Zammit, Director at boatfolk, added: 'These boats, and the wider fleet we plan to grow, will help provide the chance to get out on the water with family and friends and make the most of the benefits that boating provides.'