HMS steps aboard the latest offering from one of the RIB world's greatest ever success stories. Despite facing the gravest challenges in its company history, could this new Cat B status adventure craft from BRIG be their finest model yet?
As a company, the world-renowned RIB brand BRIG are currently riding out the biggest storm of their commercial history. BRIG came into existence back in 1991, following the collapse of the USSR, which saw a large number of aeronautical employees looking for alternative forms of employment to that which they'd previously held within the Soviet aviation industry. Business partners Slava Rodionov and Andrey Grebennikov led a group of graduates and students into the brave new world of RIB design and manufacture from their Kharkiv factory in Ukraine, and as a consequence, the fortunes of BRIG began to grow. 
Bit by bit, the company gained traction in different territories around the world. The formula that involved designing a growing line-up of models, all of which could be produced on an assembly line, proved well suited for growth and particularly overseas exports. Likewise, the simplified approach to offering customers a production craft with just a few interchangeable options, as opposed to a fully bespoke, custom-made product, was also welcomed by the market at large. The latter made the buying process easier, particularly for those entering the RIB market for the first time. 
Here in the UK, it was Paul McCarthy and his wife Sarah who first saw the potential this 'new' brand held, and as a result, their Wolf Rock Boat Company went from chiefly being a seller of second-hand craft to securing the exclusive UK distribution rights to BRIG RIBs. Upon doing so, they found themselves not only going head to head with the more established brands of the day, but actually winning considerable sales over these market rivals. The BRIG name and reputation began to gain serious traction, and in time, through the work and commitment extended it by the McCarthys' Devon-based team, BRIG became the most successful leisure RIB brand here in the UK, and one of the biggest and most successful RIB brands in the world.
A survivor is born
The subject of this feature, the all-new BRIG Navigator 26H model, is a boat that was in fact only granted its Cat B status 14 days before the invasion of eastern Ukraine began. In that sense, it's both an escapee and a survivor – a survivor of what tragically was to become, within days, a casualty of the Russian offensive. Kharkiv, home to the BRIG plant and the second-largest city in Ukraine, was, from the outset of the conflict, a strategic target for the invading forces. Hence it stood to reason that it wouldn't be long before the BRIG facility would be shelled. And indeed, shelled it was, and in the weeks to follow, we came to learn of the BRIG plant not only being very badly damaged but all its workers having to flee for their lives. Despite this harrowing set of circumstances, however, CEO Slava Rodionov remains defiant and upbeat about his company, promising that the BRIG name is by no means finished and that it will, one way or another, rise from the ashes. 
This test is important for two reasons. Firstly, the BRIG Navigator 26H Custom represents a decisive design change in the BRIG concept – one that features an all-new, deep-vee, cross-market offshore hull. Secondly, this new model is testimony to the BRIG success story and represents a fitting accomplishment at a time when the brand and all those involved with it deserve to have even more reasons to feel proud of what they've accomplished. 
The best yet?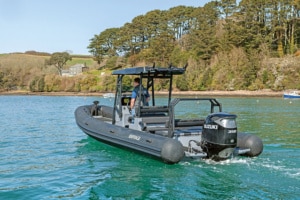 Let me start by saying that this is, without doubt, the best BRIG I've tested, and I've tested or sea-trialled most of them in my time. It's also the first BRIG that genuinely has the ability to fulfil the role of both an offshore adventure leisure RIB and a light commercial craft. It's a craft, in every respect, worthy of its Cat B status. The build is solid and purposeful, but certainly not 'agricultural'. Save one small gripe, namely the oddly cut leading edge to the helm console's front locker, the 26H's interior is superbly finished and wholly professional – just as one would expect from the likes of a leading manufacturer. The litmus test as to the standard of any vessel's build, though, is what can be found within its less seen nooks and crannies. Of course, stowage lockers and the wiring of the vessel's electrical system are obvious places to start, but I'm happy to report that in the case of the 26H Custom, the rigging and fit-out of the latter, along with the battery installation, is immaculate. 
As for stowage, this boat has locker storage in abundance. Whether she's employed for work or for play, I cannot imagine any owner complaining that the boat is lacking in storage accommodation. Besides which, for those who wish to own this RIB for her 'adventure boating' attributes, this Navigator's stern lockers are actually live fish wells and even come plumbed with seawater feeds. Coupled to the rear framework of the powder-coated Targa T-top with its array of rod holders, it's apparent that this seagoing projectile has been designed very much with a view to satisfying the wants of the serious-minded angler.
One feature I really like, and which completes the cohesive appearance of the craft's interior throughout, is the black SeaDek non-skid PE/EVA decking. This is a very cool product and not only enables absolutely perfect custom cutting and fitting to suit any craft, but also, if so wished, it can include computerised logo designs to be integrated into its hard-wearing, non-slip surface to give that professional, mon panache signature. Furthermore, this product's technical make-up, available in any colour, most definitely helps to mitigate shock through the deck, and no doubt will provide an element of sound damping too. 
The 26H's helm console design is clearly influenced by the modern trends found in the adventure boating market and associated offshore sector at this time. As a result, there's a clear emphasis placed upon functionality, and the entire helm position benefits from good ergonomics and a well-arranged dash to enhance the experience for both helmsman and navigator. Flush-mounted, multifunction electronic displays, providing both engine and navigation data, simplify the flight deck layout greatly, and the Suzuki drive-by-wire throttle installation, coupled to the vessel's high-quality cockpit seating, ensures that the driving experience is an absolute pleasure at all speeds. Furthermore, courtesy of the relative protection offered by the combination of the 26H's large expedition-style console, its generous windscreen and the T-top superstructure, one feels very secure underway. If additional, all-year-round weather protection was required, it would be quite possible, I'm sure, to add detachable tonneau panels to enclose the cockpit's sides and front face.
The boat offers an abundance of seating, including a generous lazarette to the aft deck, and secure, comfortable seating for crew and passengers underway. This is a craft you feel safe aboard, or more accurately within, and to complement the seating layout, the boat features plenty of good handholds and bracing points.
Other likeable features
The BRIG Navigator's dark-grey Fabric-Impression Orca tubes are not only of super quality, complementing the boat's high-spec custom appearance, but their colour livery also adds to the RIB's purposeful appearance. Other notable features worthy of highlighting include the generously sized swim platforms, the luxurious addition of a windlass anchor system, a freshwater shower, the sweep of Titanium Silvertex upholstery throughout and a top-quality SeaStar hydraulic steering system. Coming as it does with a very thorough inventory of both standard and extra items, I would describe this boat as a true, ready-to-go, turnkey package.
Power pack
As for the all-important partnering Suzuki DF350 ATX power pack hanging off the 26H's tail, this really is a fabulous example of modern marine outboard technology. What can I say? This flagship outboard model can be as tame as you wish and perform at non-existent decibel levels when gently trolling, or, at the command of the throttles, transform itself into a machine of loveable menace – one capable of propelling this 3310kg craft and its payload through the water as if the laws of nature had disregarded hydrodynamic drag as being an irrelevant inconvenience confined to the past. 
Handling and performance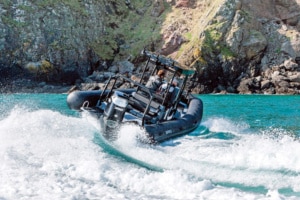 The Navigator 26H Custom is a pleasure to drive. Although on the day of the test we experienced a settled sea state, there was still sufficient movement in the water to get a genuine feel of the hull's character and abilities. Unlike previous models in the Navigator range, this new model boasts a true offshore deep-vee hull, devoid of the GRP transom extensions/fixed tabs typically associated with the BRIG hull design. This first example of the new hull design provides an even more sea-kindly experience and enables the helmsman to have complete mastery over the vessel's trim. The hull runs as straight as a dart and can be put into a hard turn without the slightest side slip, misbehaviour or prop cavitation. Full marks to the guys who rigged this boat and to the choice of propellor they made too, which delivered great bite and a very satisfying top speed on the day of the test. In fact, we hit 50 knots at wide open throttle even with 280 litres of fuel on board and a full 43-litre freshwater tank. You can reckon on burning something in the region of 110 litres per hour at this all-out speed while clocking 6000rpm on the rev counter. Alternatively, at a sensible cruising speed of, say, 24 knots, it would be closer to 28 litres an hour.
Suzuki's truly superb counterrotating prop technology also prevents any tendency for the boat to heel to port when trimmed in. The resulting effect of the latter means this RIB travels on a perfectly level equilibrium, and the whole helming experience is lightened as a consequence too. 
In summary
I could perhaps best sum this boat and engine combination up as being one that delivers a really pleasing combination of both sporty response and determined offshore assurance. Furthermore, my view is that the 26H's attributes will likely be appreciated equally by the professional operator and the leisure adventurer – in fact, all those seeking a really capable, 'go anywhere', 8m trailerable RIB. The 26H Navigator is a boat that is hard to criticise in truth, and it's most certainly my hope that the difficulties and losses inflicted upon BRIG as a company don't mean that the Navigator 26H Custom becomes a scarcity in the marketplace for too long. 
Specifications
Design category: C/B type (ISO 6185-3)

 

Length: 7.98m

 

Beam: 2.90m

 

Internal length: 6.20m
Internal width: 1.70m
Max. tube diameter: 0.58m
Sponson air chambers: 5

 

Passenger capacity: (C/B) 13/9

 

Empty boat weight: 1150kg
Displacement: 2110kg
Max. engines: 400hp

 

Fuel tank: 340L

 

Freshwater tank: 45L
Price
As tested: £120,205 (inc. extras & VAT)

 
Contact