Alex Whittaker climbs aboard the latest incarnation
 

of this best-selling pêche-promenade and finds a

 

craft breaking new bounds …

The new Merry Fisher 795 Sport S2 has large colourful hull graphics, a redesigned superstructure and a host of detailed improvements. This new model is available in at least two versions. We tested the one that was arguably more fishing orientated, which was powered by a peppy Yamaha 250 V6 4.2L outboard. 

Stepping aboard

Two sturdy teak-faced bathing platforms are split round the outboard well. The platform to starboard has a stainless steel handrail and a flush-folding four-step reboarding ladder. One can then walk down through on either side of the transom. On this version, the transom has an integral fishing prep station, backed by a fold-out bench. Once in the rear cockpit one immediately notices the deep side decks and broad footways. This sturdy little ship actually has bulwarks! The usual very clever Merry Fisher fold-away cockpit benches are present in each gunwale, and you can fit a self-standing table between – a hugely practical solution. These features also make the cockpit a very sociable area, but all the seats fold away to allow energetic fishing and water sports action. The sturdy stainless rails on the gunwale tops also make moving about the vessel easy in a boisterous sea. This deep rear cockpit feels very secure.

Pilot house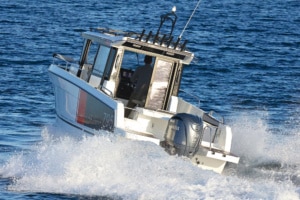 The deck cabin takes the form of a rectangular pilot house. This maximises interior volume and efficiency. Said pilot house even has the mandatory and rather stylish reverse-sloped windscreen – quite a departure from last year's model. There are deep windows all around, which aid 360-degree visibility from the helm. The cabin roof is also pierced by a large opening sunroof. Essentially, there are three versions of this boat's layout, and our test model had the rear 'patio'-style door, plus two further doors at the helm position. The helm doors are set in substantial apertures, greatly aiding movement throughout the boat. Inside, on this version, there are three seats, which may be angled to face each other. I did wonder why there was not a fourth. However, there is space for an optional galley, or maybe just a handy carry-aboard picnic stove for a quick brew. As it is, there is a blank plinth top, and a fridge below the rear seat. This cabin layout was clearly designed for serious passage making, and not for interior lounging, which I like to do on any boat. This particular version of the MF 795 Sport feels a bit more adventure orientated than its siblings. It does seem a bit Scandi commuter boat, or crew bus, at this point, but there is nothing wrong with that. The cabin has a superb floor-to-deckhead stainless grab handle to the rear. Interestingly, this is furnished with a table, which slides up and down to the required position. It is stored above one's head, hard up against the deckhead. It did not stir in a bumpy force 5. There is a further sturdy grab handle at the helm position. In a bumpy seaway, these all make moving forward inside the cabin safe and secure. Storage lies under the seat plinths and the vacant plinth on the port side, and there is additional storage under the cabin sole. Overall, one feels supremely secure inside this bright and airy cabin.
The helm
The piano-black helm is modern and minimal, like a big iPad. It is slim front to back too, maximising room below, and it proved a pleasure to use. The test boat had a Garmin multifunction display, a Fusion stereo head and a Yamaha engine management screen. There is also a very useful bow thruster control to the left of the steering wheel. A Zipwake system was also fitted to help control pitch and roll. There was a traditional compass along with two beverage holders, and both a large and small run of ready-use switches. Naturally in such a layout, with a door in the cabin wall, your throttle arm cannot be supported; however, the wheel and the engine controls fell readily to hand, either seated or standing. It all felt rather crisp. In commercial boat fashion, the Garmin VHF radio was fitted overhead, with a gas sensor system alongside. The latter is a very sensible feature on such a boat with an enclosed deck cabin with a rear door. The seats gripped well in the lumpy seas on test, and I was easily able to brace myself whenever I misjudged a wave. The huge curvy windscreen gave excellent forward vision and was fitted with wipers, which we needed when it got a bit wet and wild.
Helm doors
The opening helm doors are a constant delight. Too hot inside with all that glass? Open them. Too cool on a damp autumn morning? Close them. Want to feel the elements? Open them up again! A convenient helm door is a wonderful development on a vessel this size.
Lower cabin
The lower cabin opens up immediately to port of the helm, with no door. It's quite deep down there, and there is a grab rail to assist your transit. Once ensconced, hallelujah, at last there is space to sprawl! Although it's not quite as basic as the usual pêche-promenade, it's hardly plush. Easy upkeep, good storage space and decent headroom are the rewards. The similarly sensible no-frills en suite toilet compartment lies behind a neat door. It is all present, and it all works, but it is only a step-up from a cuddy.
Foredeck
Those secure and deep bulwarks make it easy to move forward to the bow. It was a surprise to find a substantial upholstered bench in a moulded recess above the lower cabin. More seating extended forward to port, with a padded rail offering a backrest. Infill cushions make a large sunbathing space up here – top marks! This was much more flexible and family-friendly than I expected. The pulpit rail is split for forward boarding, or for minding the anchor. A sturdy stainless steel grab handle is cleverly placed to assist either function, and the fore cleats are well out of the way. A nifty folding tubular ladder is almost disguised by the bow cushion. The anchor and windlass are set to starboard. All in all, this is a very practical bow area.
Driving the boat
On the appointed day in the Bay of Cannes, the weather was dreadful – just the job for testing powerboats. Low cloud, light breeze, poor visibility and the odd shock of cold rain tested quite a few of the available boat features. Hammering through the hard chop and toughing out the deep holes was very rewarding. This plucky little vessel inspires confidence and was noticeably responsive to the throttle. Whenever I misjudged a wave, the curtain of spray thrown up was impressive, indicating good chines. At times, we were cornering full-chat on our beam ends, and this little toughie took it all in her stride. I would definitely make a longer passage in this little craft. You are certainly going to get your family safely home in dodgy weather. Driving standing was the most fun, but after a bit, the battering we were getting caused me to try sitting down, which was a delight. The test boat was well harmonised and only needed trim adjustments towards the upper rev limit. The Yamaha engine was refined and smooth at all settings; I'd say this was a very good engine, and a great match for this hull. She topped out at 34 knots in these poor conditions, which was impressive. Frankly, I did not expect a boat honed for fishing to be so much fun.
The verdict
I applauded the neat pilot house looks and layout, and the whole design struck me as versatile. In poor conditions she handles beautifully, and I was surprised how I could chuck her about like a sports boat. The MF 795 Sport Series 2 sets a new high bar for similar Scandi and French fishing cruisers. The pêche-promenade has been reinterpreted for 2022. 
Pros
Toilet
Economic engine

 

Perky pilot house looks
Feels secure in bad weather
Well-evolved, versatile package
Cons
Galley is an option
Interior lounging restricted to lower cabin
Specifications
Length overall: 7.19m (23ft 7in)
Hull length: 6.97m (22ft 10in)
Hull beam: 2.79m (9ft 2in)
Standard draught: 0.92m (3ft)
Weight: 2177kg (4799lb)
Fuel capacity: 7L (2 US gal)
Water capacity: 100L (26 US gal)
CE category: C9
Test engine: Yamaha 250 V6 4.2L
Price
Please contact your local dealer.
Contact