Greg Copp reports on a radical Spanish 28-footer that
 

offers a social dimension that far exceeds its size.

Ten years ago when you went to trial a new middleweight powerboat, there would be only so many variations on what you might expect waiting on the pontoon. Today when something new crops up, even if it is a retro design, there is a good chance that you might experience something totally out of the ordinary, in this case the Spanish-built De Antonio D28 Open.

T-top walk-arounds are hardly groundbreaking in terms of new designs, but the D28 is quite different to most boats in this category. Approaching it from the stern, I did not initially realise I was looking at an 8.5m boat. Its 2.99m beam, enhanced by the appearance of tall vertical topsides and a very large sunbed, gives the impression of a much bigger boat. The design emphasis is on deck space and comfort, and in this department I can't think of many boats below 30ft that compete. The space at the helm is huge, as three people can sit with plenty of room to spare. The console that serves this triple helm is likewise massive, with room for more electronics than this boat could cope with – topped by a thick windscreen without the slightest hint of flex. Going forward, there is plenty of deck space either side of the console, safely enclosed by tall bulwarks. Behind the helm, two rows of seats catering for six face a large fold-out table, with a drawer fridge under the forward row of seats.

This boat has two competing areas when it comes to slack time at anchor. The enclosed foredeck has the typical V-shaped dinette with table, which converts with an infill to a very large sunbed. As is to be expected of a luxury T-top, it has a heads in the front of the console, but like the rest of the boat the emphasis is on size. Once you open up the top-hinging super-solid door, you are presented with a deep compartment that uses up every inch of possible height to create a toilet compartment that an adult man will not refrain from using. The internal fit-out here is of a very high standard, with synthetic teak flooring, a teak vanity unit with sink and tap, teak steps and an electric toilet. Under the foredeck sits a hidden compartment, accessed via a deck hatch or from the front of the heads under the steps. It is bigger than you expect and is aimed at being a generous wet locker, in which you can stash plenty of water sports gear, and the collection of stylish flat fenders that the boat is supplied with.




The sunbather's delight is the triple sunbed at the stern. Sitting fairly high and extending to just short of the end of the bathing platform, it also serves the purpose of creating an elevated diving platform. In this department there is a discreet bathing ladder, which retracts flush into the edge of the bathing platform. At first glance, you will naturally think that below the sunbed sits a sterndrive engine; but not so, as raising the sunbed reveals a 400hp Mercury Verado outboard. It manages this deception by extending the sunbed and bathing platform aft of the actual transom by half a metre. It is a clever concept, as yet again the design is not just making best possible use of every inch of space but is creating space that is not normally available in a boat that would otherwise have an overall length of 8m. This does, however, mean that you do not have the pleasure of displaying a supercharged 400hp outboard on your transom. Neither does it mean that engine sound levels are reduced, as the sunbed enclosure has a slight 'guitar box effect', which, to be fair, is not intrusive, especially as this is an open boat.

Construction is impressively solid throughout this resin-infused hull. All fittings, mouldings and bulkheads are likewise substantial. Attention to detail is very good, notably the neat 'trip-free' drop-down cleats, and the discreet fender eyes, which, placed down each side, provide a tailor-made means for securing the bespoke fender lines. They lock through and over the eyelet of each line, enabling the fender to sit at the perfect height. They can't be snagged when moving on board and do not require your crew to be able to tie a clove hitch on a guard rail. There is also what I call the 'cushion fenders', one of which sits on each beam. This soft rectangular pad hooks over the edge of the bulwark providing a constant fender and can be moved up and down the boat's length as required – or removed. A claw anchor pokes out of the vertical stem, fed by a long length of chain that resides in a generous anchor locker, all of which is controlled by an electric windlass.
Driving the D28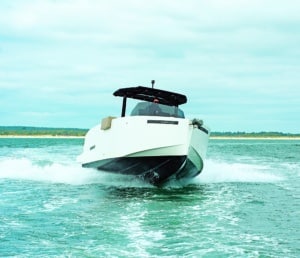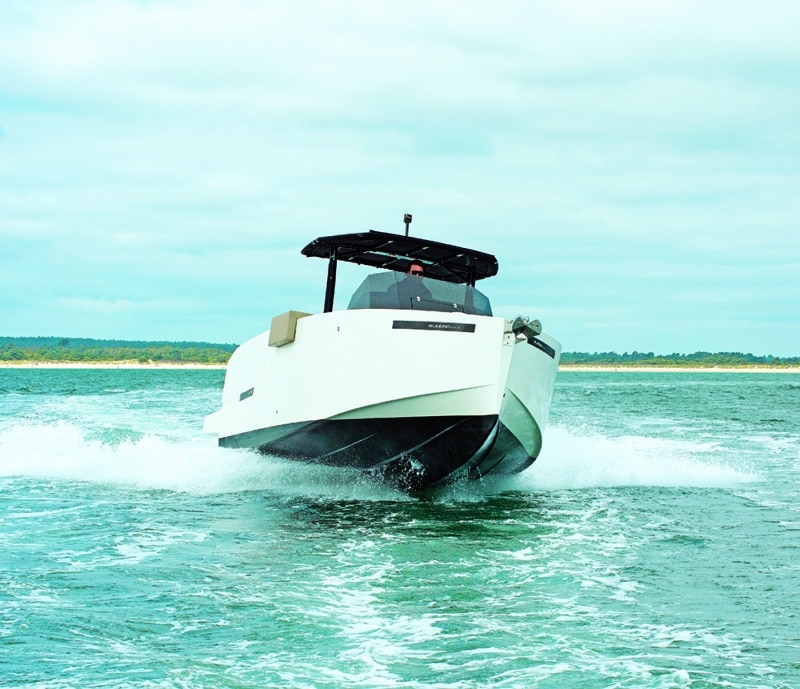 With a solidly built 2.9-tonne beamy boat there will be a trade-off in performance terms. If you desire a 40-knot wave crester, it stands to reason you will not want the D28. This craft has a beam of 2.99m and, bearing in mind it has a vertical stem, a hull length of 8m. With a length-to-beam ratio of 2.67 to 1, it suffers a small handicap in terms of hull performance. As a result, the engine needs to be spinning past 3500rpm before it starts to plane comfortably, and to a degree it needs the help of the automatic Zipwake interceptor system that our test boat was fitted with to get it up and going. A point that was made to me by Chris of Moonraker Yachts is that the engine possibly needs raising slightly, which I agree with. It planes comfortably once past 17 knots and pushes up to a maximum of 6100rpm at nearly 34 knots, providing you trim the engine out around 30%. 
Powering hard out of tight turns revealed two things: firstly, there was very little cavitation, which I did not expect considering the engine is pushing a relatively wide and heavy boat through a tight turn; secondly, the D28 is very stable and consequently does not heel excessively or lose grip on the water. The first point does support the concept of engine height, as although less outboard leg drag relates to a performance gain, cavitation in the turns can be a trade-off. The wide hull does provide a reassuringly stable ride – not just in tight turns but also in confused water. When coming down off waves or running through chop, the sharp forefoot, which, thanks to a vertical stem, runs the full length of the hull, does a good job of softening the ride. Forward sunbathers will be pleased to find that the downturned chines that run all the way to the stem keep out any spray. In rougher conditions, this boat will have its limits, but I don't doubt that its solid construction will have a positive effect in this department.
There is the option of twin 200hp Mercury outboards or a single 350hp Mercury Verado. There are also two other versions of the 28: the Explorer, which has a full-height windscreen that joins with the T-top, and the D28 Cabin, which has a twin-berth forward cabin with galley. 
Verdict
This boat is built for a purpose, and it is good at it. It is a luxury social boat that is also ideal for water sports. Maximum speed for minimum fuel burn is not what the D28 is about, as it is aimed at the calmer side of powerboating, with a bit of exploring thrown in. It is genuinely innovative, has a generous standard specification list, and is built and finished to an impressive standard that few boats of its size enjoy. 

What we thought
For
 

Virtually non-existent extras list, as only the £6,000 T-top was extra on the test boat

 

 

Responsive steering

 

Predictable handling

 

Solid build quality

 

Practicality/deck space

 

Comfort
Against
 

33/34-knot top speed for 400hp in a 28ft boat
Specifications
LOA: 8.49m
Beam: 2.99m
Displacement: 2900kg (with 400hp Verado – dry)
Power options: Single 350hp to 400hp or twin 200hp outboards
Fuel capacity: 420L
RCD category: C for 10
Test engine: 400hp Mercury Verado
Performance§
33.6 knots (2-way average), 70% fuel, crew 2, sea conditions F3
Price

 

As tested: £195,000 (inc. VAT)
Contact: www.moonrakeryachts.com