The place to be to find all the latest boats, tech, must-have gear, products, services and innovations
Whatever you're looking for, from a brand-new boat to must have gadgets and even things you didn't know existed, there's always something new to see at the boat show.  It's the ideal showcase for companies to launch their new products and gives visitors the chance to meet the experts, have time for discussions and demonstrations, and to consider, compare and choose from all sorts of new and innovative boat models, equipment, products, and services.
At the show you will find a whole host of World and UK debuts, so here is just a peak at what's in store.
This year sees at least 60 new boats making their World or UK debut at the show, with more being announced all the time.  These include Princess' S72, Sunseeker's Superhawk 55 and 75 Sport Yacht, Fairline's Squadron 58, the Dufour 41, Bavaria C46, Swan 58 and Spirit Yachts 72 Deckhouse.   There's the first chance to see the Arcona 50, Hanse 410, the Beneteau First 36, Beneteau First 44, and Lagoon 51 catamaran.  New to the UK models including the SunFast 30 and Jeanneau Yachts 55 sailboats, Cap Camarat and Merry Fisher powerboats, and the first British showing of the powerboat DB/43 which will also be on display in the marina.  We have the world launch of the Bavaria C46 yacht and UK debut of Bavaria's SR33 motorboat, the UK debut of the Nord Star 42+ Cruiser and the Monterey 235SS and 238SS luxury super sport powerboats.
As well as debuts of the Candela C-8 electric hydrofoiling boat, the 10m Scorpion Sting RIB, Sealine's S390 and Zego Marin's FATCAT 4500 Multihull.
Joker Boat RIBS have UK debuts for three of their most popular models – the Coaster 650 Plus, Clubman 22 Plus and Clubman 24. There is the UK premier of the Rodman 790 Ventura CC, and Pontoon Boats, highly popular in the USA, have their UK debut of the Regency 350 LE3 Sport.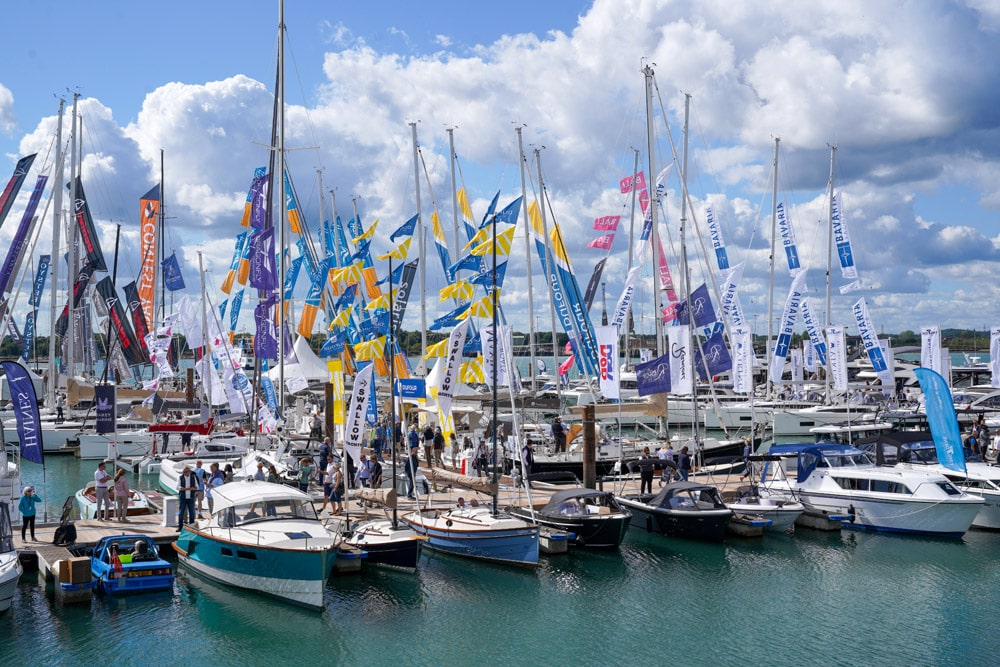 While shoreside you will find the new 4shaw 4.7m inflatable tender from Henshaw, Ribcraft 350, Highfield Sport 800 and Medline 5.8 from Zodiac.  Rebel leisure is showing a host of new models of Rebel Raider RIBs and Rebel Superyacht Series, whilst Specialist Small Craft is hosting the UK debut of its range of RotoTech polyethylene boats from 3.5m to 5m.  There's also a range of all-purpose and fast fishing craft on show, including Norden 600 from 3D Tender, on show from Ocean First Marine, Protagon 20 from Boatsmart, and Interboat Intender 950 Cabin from Val Wyatt Marine.  The Boat Club is showing three new models – the De Antonio Yacht D36, Invictur Yacht GT280S, and Lasai solar electric 20GL, whilst boatpoint has a new range of Ryds open console craft on display.
Alongside the incredible line up of boat debuts, you will also find a fantastic line up of additional debuts with everything from trailers to solar panels, decking to underwater lighting.
For boaters looking at ways to be more environmentally friendly and sustainable, this year sees the launch of the TEMO 1000 electric outboard.  Designed for large dinghies and sailing boats, it weighs just 10kg with 5kg removable battery, and it will be demonstrated at the show on the ultra-lightweight aluminium Featherlight RIB from Ocean First Marine.   Mercury will also be showing the Avator 7.5e electric outboard on its stand.
Solar Technology International's stand demonstrates all the ways to maximise solar energy with the launch of its compact and high energy Mono High Density (MHD) solar panels and new flexi ETFE solar panels designed for boats where space is at a premium.  From Denmark, and on show in the UK for the first time from Current Electrical is the Clayton Power LPSII lithium powered battery generator.  Providing 230V and 12V power for use on yachts, it can be charged from a mains supply, solar charged or wired through the starter battery and charged by the alternator whilst the vessel is moving.  Mactra Marine is launching the Power Up hydrogen fuel cell, which produces power with zero Co2 emissions, and also new to the UK, Advance Yacht Systems are launching the Remoran Wave hydrogenerators.
Throwing light on all this new technology is the Marine Lighting Store, showing a wide range of interior, exterior, navigation, LED, and underwater lighting.  From Marine Innovations, discover a host of new products being launched at the show including the Power Dome, which shows when your shore power fails, and the Auto Engine Blower to ensure engine bay safety.
From Osmotech UK Ltd, the new Mabru 12V DC air conditioning unit will keep you cool, whilst from Scanstrut the ATMOS 12V integrated air station enables fast and easy inflation of all your towables and paddleboards.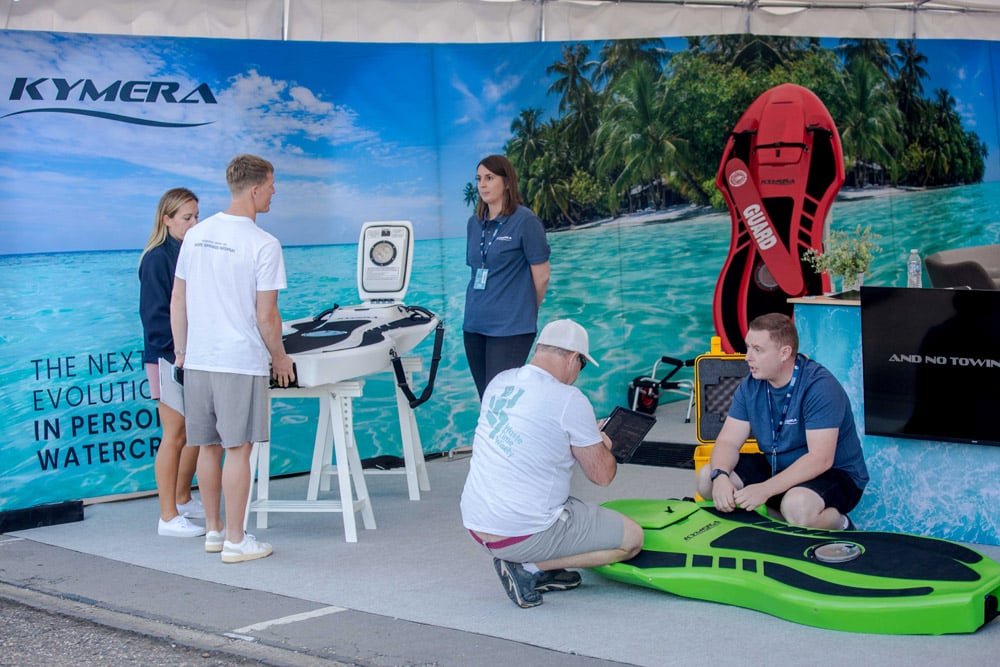 Maintaining communication is essential and Icom is introducing a range of new products including an ultra-compact user-friendly IC-U2OSR licence-free two-way radio, and new black box VHF radios with multi-station control.  MailASail is hosting the world debut of the Skylink Rugged Global Communicator designed to provide communications in the harshest and most remote areas.  It also includes a global internet hotspot allowing any device with Wi-Fi to access basic internet anywhere on the planet.
Learning new skills and gaining qualifications is now easier than before, with the launch of Ardent Training's new videos with online and interactive support for the RYA Yachtmaster Online Theory.
There are plenty of new products on show on the Barrus stand. Barton Marine are showing new carbon tiller extensions and TUPHblocks, alongside a new Rocna MKII anchor from CMP and boat cleaning products from August Race.  For maintaining your boats, take a look at the new Angelwax products from Ark Marine and for ultimate protection of all your assets lock them up safely with Squire's new Old English 555 marine grade padlocks.
There's plenty of clothing, footwear, and accessories too at the show. Visit the Riber stand and take a look at the new Riber Roll Backpacks, available in 12L, 30L and 55L sizes. The show also embraces lots of new companies exhibiting for the first time, including The Cornish Surfer with its range of luxury lifestyle and homewares inspired by coastal living.  The company is collaborating with Ocean Bottle to help reduce the amount of plastic in the sea – with every water bottle sold, 1000 plastic bottles are collected to avoid them entering the oceans; also, with a focus on sustainability, EVO decking is a synthetic alternative to real teak, available in a range of colours from Elite Teak.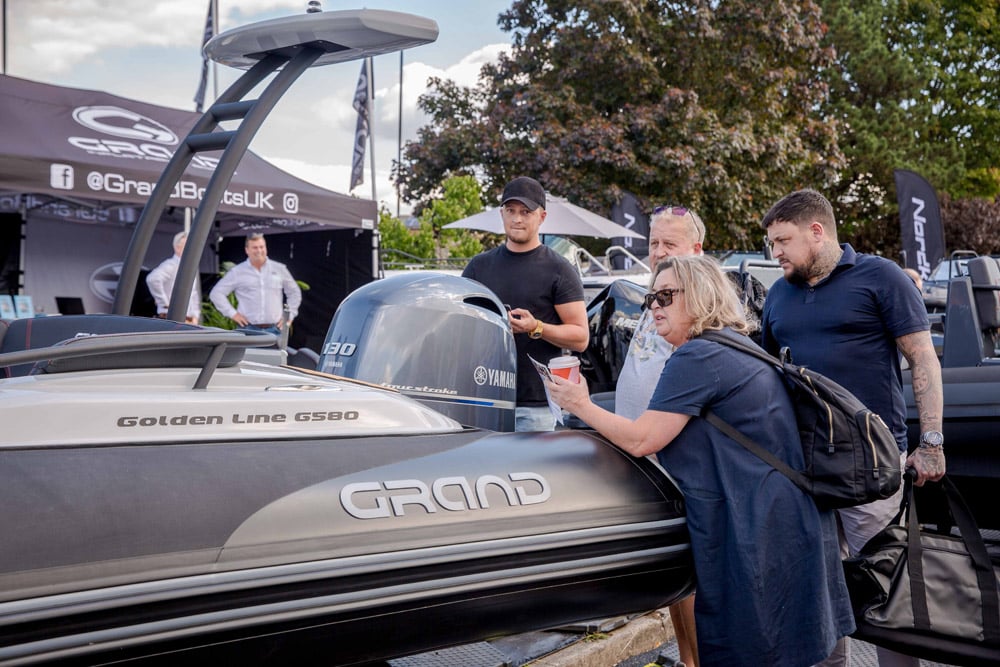 With increasing interest in towable boats, seek out the new coil spring independent suspension trailers from Vanclaes, which significantly improve stability and ride quality when towing.  And finally, don't miss the first showing of the live lightning-strike map which forms part of an interactive demonstration of Sertec Marine's CMCE Lightning Prevention Device.  Designed to protect vessels from lightning strikes, this new technology is on display for the first time at the show, with experts on the stand to explain how it works.
So, whether it's spotting a new brand, new boat or new technology, the latest kit or must have gadget, there's lots to seek out at the UK's largest and most exciting onshore and on water show.
For more information about the exhibitors at the show visit https://www.southamptonboatshow.com/exhibitors/ and for more information about the boats a the show visit https://www.southamptonboatshow.com/boats/
Get your ticket!
Tickets for the Boat Show can be purchased online at www.southamptonboatshow.com/visitor-information/tickets/
Upgrade your visit with the new and exclusive Quayside Club VIP package at www.southamptonboatshow.com/vip/
The show is open from 10am – 6pm daily except the final Sunday when the show will close at 5pm.