Electric propulsion has long since gone past that point of concept and
 

basic prototype. Five years ago, we saw about four e-boat projects a year,

 

now we have that number in this issue alone. How they stack up on the

 

water only time will tell, but what is apparent is that a lot of expertise

 

and funding are going into the idea of clean, silent horsepower.

 

We look at 3 such craft … Arc One, Nautique GS22E & Vita LION
1. Arc One
Designed by space engineers, the target is extreme efficiency through perfect power to weight.
Los Angeles-based company Arc intend to have their first $300,000 475hp 24ft electric boat ready for production at the end of this year. This project is the work of a team of former SpaceX engineers, headed up by Mitch Lee, and Ryan Cook – a man who has just spent seven years at Elon Musk's Space Exploration Technologies Corp, where he worked on the Falcon 9 rocket. This company has already raised $4.25 million in seed funding and is going into overdrive to produce a credible electric powerboat. They not unrealistically anticipate that lithium battery technology will soon drop substantially in cost, due to increased demands in this field, much of which is already coming from the automotive world.
The Arc One's 355kW electric engine produces the fossil fuel equivalent of 475hp, which is claimed to produce 35 knots. This is a modest claim for a 24-footer with 475hp, so maybe we will see some changes in the prototype. The battery banks have a 200kWh capacity, but considering the drain of a large electrical engine driving through a shaft, rather than a more efficient sterndrive, this boat will likely have limited fast planing time. It will be constructed using high-grade lightweight aluminium and advanced construction methods developed in the space industry. Consequently, it will be very light and will no doubt be able to plane easily at sub-20-knot speeds on a small amount of power. Its dual lithium battery packs appear thin enough to sit under the deck, providing a good centre of gravity, good weight distribution and plenty of internal space – enough to carry 10 people. If Arc's expertise results in a substantial battery weight reduction, coupled with the fact that electric motors weigh considerably less than petrol/diesel engines, this could be a very efficient electric powerboat. 
Contact www.arcboats.com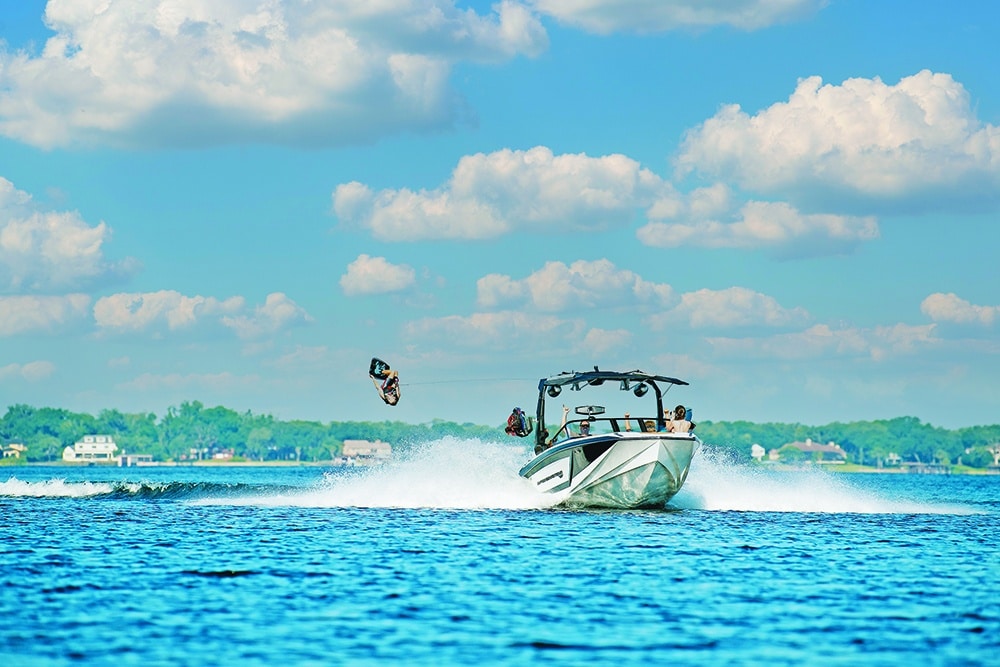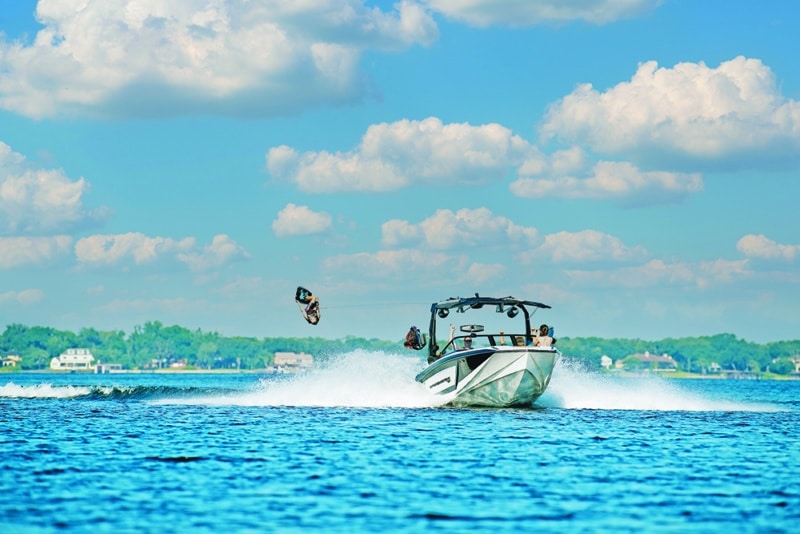 2. Nautique GS22E
A ski boat that makes maximum use of the concept of electrical power in all its facets.
The concept of an electric ski boat makes perfect sense: a clean water trail, masses of electric torque to pull up a skier and, as you do not run flat out with someone in tow, a relatively low battery drain. Nautique are a US company with a dealer outlet in the UK that has been making a range of high-tech ski boats for a while. Their latest, the GS22E, is capable of providing up to three hours of water sporting on a full charge. Nautique use an electric power plant made by Ingenity that produces a power delivery tailored for water sports. Ingenity claim that their battery bank has the highest energy density of any recreational boating battery, and it is actively cooled by a safe non-conductive liquid enabling high rates of discharge and recharge. Recharging is courtesy of a Combined Charging System that can be paired with either AC or DC chargers. This system can work with automotive-level fast chargers, enabling the battery to recharge in 1.5 hours, or alternatively get back into shape with an overnight 12-hour trickle charge.
The GS22E was designed to provide easy access to all vital information, via its MyNautique connectivity system. This enables you to remotely monitor information such as the state of charge, location, power reserve and running time at any given speed. It also provides the ability for diagnostics and over-the-air software updates. It has a host of clever features centred on providing the ultimate ski/wakeboarding experience, in particular 'Zero Off', which enables you to precisely adjust your speed settings. The Nautique Surf System (NSS), with wave plate technology, controls wave plates on either side of the transom, creating a tailor-made water sports experience. Like a lot of electric craft, it costs more than a petrol-powered counterpart, as this 22ft sports boat is priced at around $300,000 in the US, but it is then considerably less expensive to run.
UK Contact www.midlandsnautique.co.uk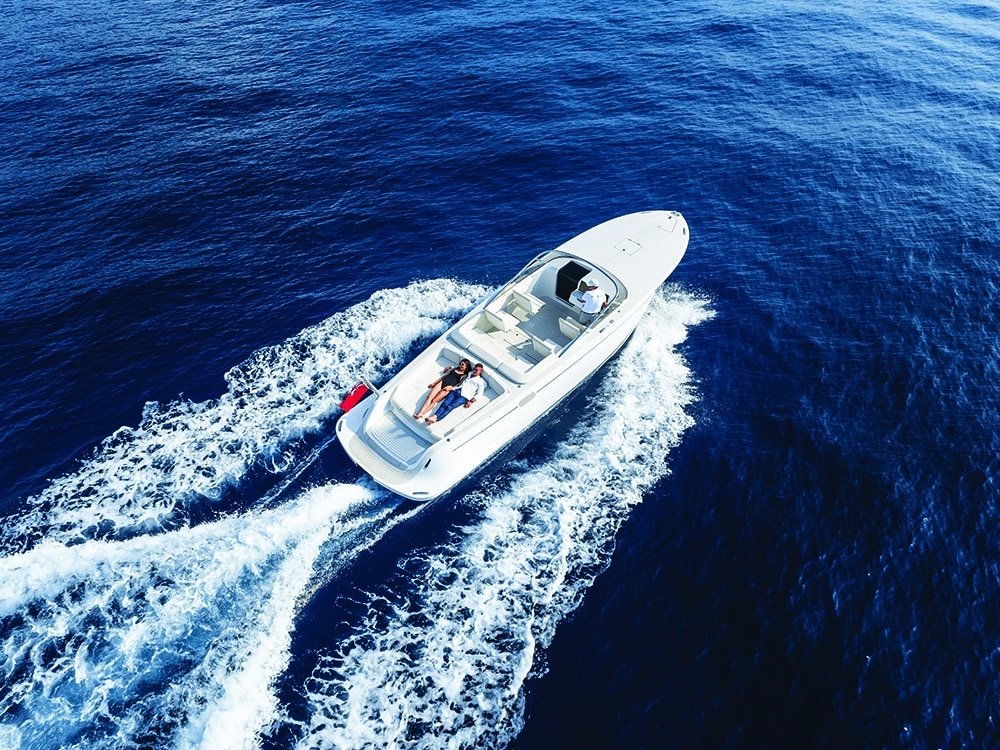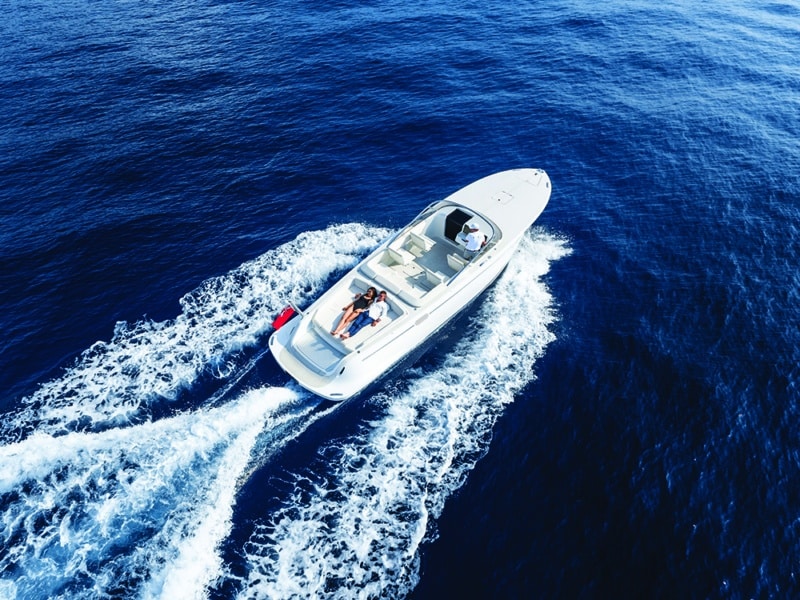 3. Vita LION
Stylish and serene, the LION is as Italian to behold as she is to drive.
There is no mistaking the drop-dead Italian lines of this boat, but until it powers away from the quayside you would have no idea that it is electrically driven. After all, it is typical of the many retro Italian designs housing modern high-performance power plants. So from this perspective, it is no different, as it has no less than 590hp lurking inside the engine bay – it is just not fossil fuel powered. The LION has a total of 440kW from two motors driving through Bravo 2 XR sterndrives, which provide a claimed 35-knot top speed, and a cruising speed of 24 knots. This is a realistic claim considering that, being constructed using carbon infusion, this boat displaces just 4.5 tonnes. 
The crucial question is: how long will it run for? The quadruple lithium ion battery bank has a capacity of 234kWh, which is far from modest, but the reality is that the range will be limited in fossil fuel terms. This craft has been primarily designed as a superyacht tender, so run time is not too much of an issue, especially as it is supported by the rapidly expanding AQUA superPower three-phase fast DC charging system. This will get a discharged LION battery bank back into full shape in one hour, it is claimed, which gives a different dimension to the e-power concept. At the moment, AQUA superPower is already installed along the French Riviera, in Monaco and in Italy at Ventimiglia, Portofino and Venice, and it is being installed along the south coast of the UK, as well as other European locations and the US. 
The Vita is C rated for eight, and the forward cabin includes a day berth, a heads with toilet and sink, and storage, while a Fusion hi-fi serves the whole boat. It costs from £750,000 with a lead time of eight months, and Vita themselves handle sales direct.     
Contact www.vita-power.com