HMS sea-trials the first in a brand-new series of leisure RIBs produced by the British RIB manufacturer Ribcraft. Still in prototype form, this 350 model packs a punch way beyond it's weight.
As many of you will already know, I've always been a fan of small boats. I love the way they allow you to experience even greater intimacy with the water and all it offers. A small boat can often allow you to get closer to wildlife – as well, of course, as the geological wonders of our beautiful coastline. Some would argue that the most special sea area of all is that which exists little more than a stone's throw from the shore. What better, then, than a small, well-found RIB to navigate this special zone?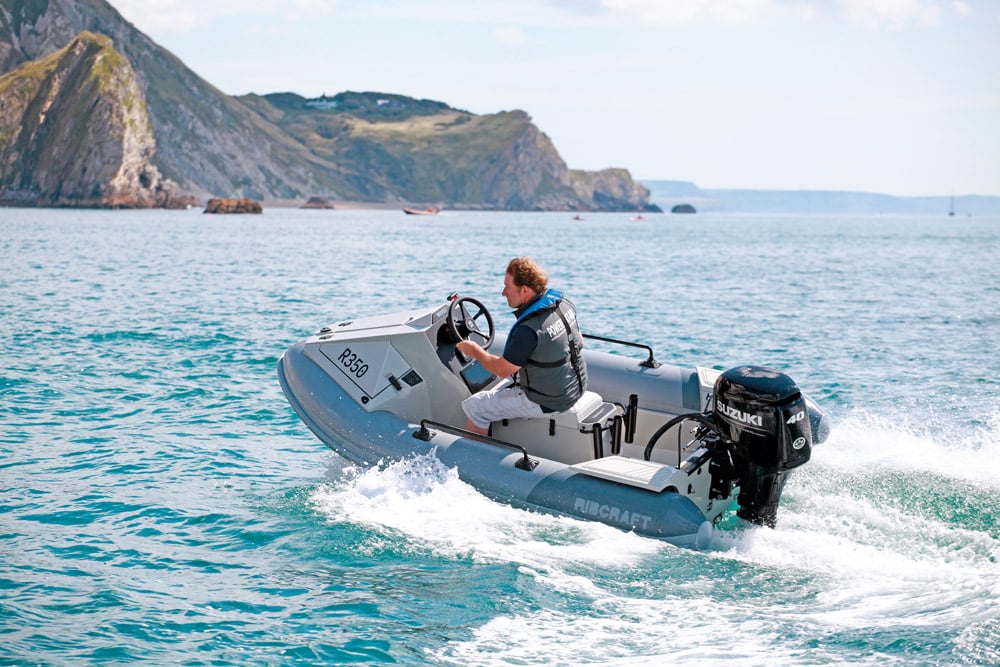 The renowned UK RIB builders Ribcraft are well known for the outstanding boats they manufacture. Over the years, I've voyaged several thousand sea miles aboard a Ribcraft 4.8m, including a full circumnavigation of Britain. It's a boat that never let me down – not once. In fact, I would go as far as saying that it continues to be one of the most capable and dependable small boats in the world.
Though Ribcraft have earned their reputation chiefly through servicing the needs of the commercial and offshore sector, the company's forward-thinking owners are now investing in the launch of a brand-new leisure range, including a 350m, a 585m and a 950m model. The first of these exciting latest editions to hit the market will be the 'mighty atom' of the range, the 350 – and thanks to an exclusive invitation extended to PBR by Ribcraft, we were given the very first opportunity to evaluate this new model while still in its prototype form.
Ribcraft CEO Toby Adams told us: 'We are genuinely excited about the launch of our new leisure range. Customers can be assured that the 350, 585 and 950 models will each benefit from the very same Ribcraft DNA that has caused our professional boats to be in such high demand these past 30 years or more. The new boats will obviously feature significantly redesigned interiors in order to appeal to the wide variety of leisure activities being enjoyed by private boat owners. But in terms of the 350, we see it being equally valid as a tender to a large motor yacht, as a baby adventure craft or as an inshore sport fishing vessel.'
A 360 of the 350
So, what are some of the standout attributes of the new 350? Well, let's start by saying that small boats are a joy to launch and recover and require little depth of water in this regard. Furthermore, when cradled on its trailer, you can virtually wheel this boat about by hand! Speaking of the trailer, you shouldn't even require one of the braked variety either. That means no seized brake drums!
As previously mentioned, at this stage the boat is still a prototype. This means that some aspects of the boat's fit-out remain under evaluation and may be modified or changed prior to the model going into production. But it's clear that the interior of the 350 is all about maximising every bit of space available. This has resulted in the design of the jockey seat unit, which features two inline seat pods. While still in the process of being refined, it reflects the contemporary appearance seen in the rest of the boat's interior: modern, purposeful, almost modular in look. Within this unit, there are two useful dry locker compartments – and, affixed to its outer, rearward face is a Railblaza multi-fishing rod holder bracket. At present, the chief grab points for the pillion rider are the two rigid grab rails to the top of the Orca Hypalon tubes, but other handholds may well be added.
The other notable element of the 350's internal make-up is the helm console that fully encloses the forepeak of the craft. This aids the 350's rigidity, and, due to the locating of the current 25L fuel tank within the unit, the balance of the boat is aided by keeping as much weight upfront as possible. It also affords a really functional helm position, along with a full dash, within which electronic items such as a small plotter, a VHF and a USB charger can be fitted. Accessed via the console's hinged front waterproof hatch, this section likewise provides a good amount of additional dry storage – an important requirement on a small boat.
The 350's free-draining deck is another noteworthy design feature. Ribcraft have cleverly lowered the height of the deck significantly by 'countersinking' it into the structure of the hull, whereupon the tubes sit on a GRP gunwale upstand, with the overall effect that you feel very much 'within' the boat – truly part of it. Either side of the central seating unit, the flat deck is finished in custom-designed SeaDek non-slip surfacing, which in turn completes the craft's internal appearance very convincingly. At the foot of the transom bulkhead, a small gully channels any deck water straight into a small scupper port and on into the bilge. I would like to see a larger scupper point here, and there's every likelihood that Ribcraft will address this in order to guarantee the quick exiting of any shipped water.
Lastly, the transom and aft section of the hull are stiffened further by the use of a moulding that features non-slip footplates on each side just forward of the engine. Cleats, matching those located forward, provide strong tie-off points.
Flying the 350
Driving a small boat requires you to adjust your approach to helming/driving. To describe it best, it may help to think in terms of 'flying'. It's a different technique and one that, in some respects, is more akin perhaps to driving a PWC, where you're riding the boat and the seas beneath you. With a small boat's lively action, it's important, as in the case of the Suzuki 40hp coupled to this prototype, to choose a propellor that will bite hard and not cavitate/spin in its own pocket of air upon re-entry. In this respect, our prototype scored highly.
The Ribcraft 350 may be small, but don't underestimate her abilities or the sea-kindly and stable attributes of her hull. Trimmed out, with the throttle pushed to the stops at just over 30 knots, this little RIB displays all the same seagoing qualities possessed by her namesakes. She's not only hugely fun to drive, but her capabilities really do inspire confidence and, strangely enough, after a little while, you barely find yourself thinking in terms of this craft being a small boat at all. Indeed, I'd best describe the feel the 350 gives as being that of a big RIB in a small RIB's clothing! And besides making a more than capable passage maker/mini-voyager, the 350's suitability for intimate, inshore coastal exploration would be second to none, in my view.
The last word
In conclusion, the new Ribcraft Leisure 350 is, of course, a very small boat indeed. But her seakeeping abilities can't be denied. She's stable at rest and underway and benefits from being a well-balanced craft that doesn't fly her head. She also responds well to the use of trim. She's very drivable and her hull possesses good lift, which equates to a dry ride. Moreover, with a Suzuki 40hp strapped to her transom, the 350 certainly doesn't hang about and will still perform very capably with two people up, including kit.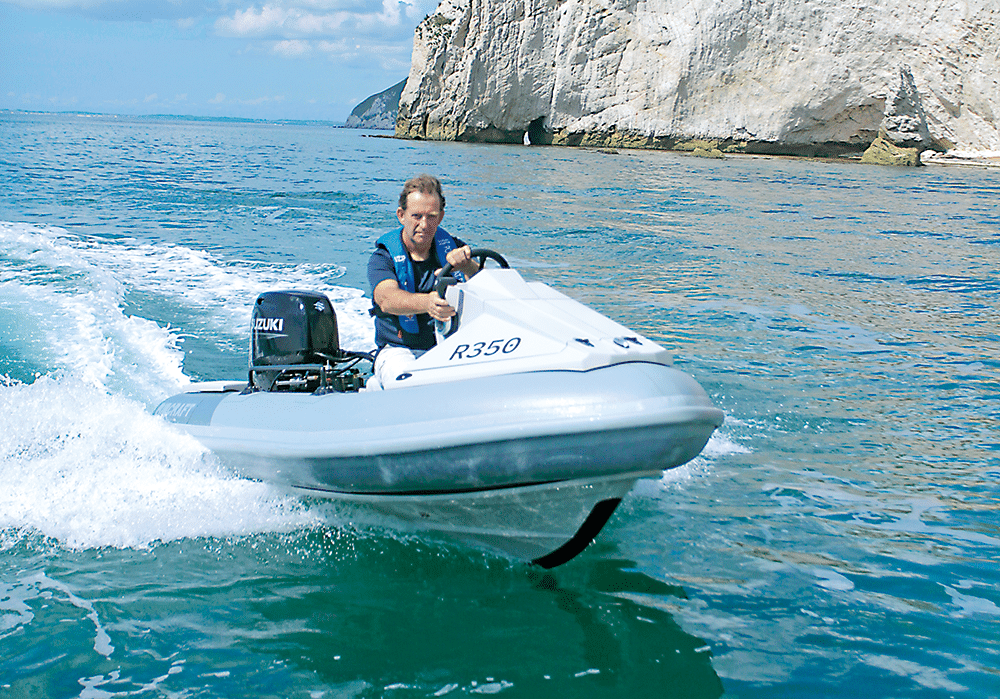 With a current top speed of in excess of 30 knots, she likewise cruises very comfortably and economically at 22 knots. As for running costs, coupled to a 40 or 50hp outboard, fuel consumption is clearly going to be a fraction of that used by larger engines. Based upon our day's trial, it's fair to reckon on the 350's detachable 25L tank allowing some five hours of sensible running time.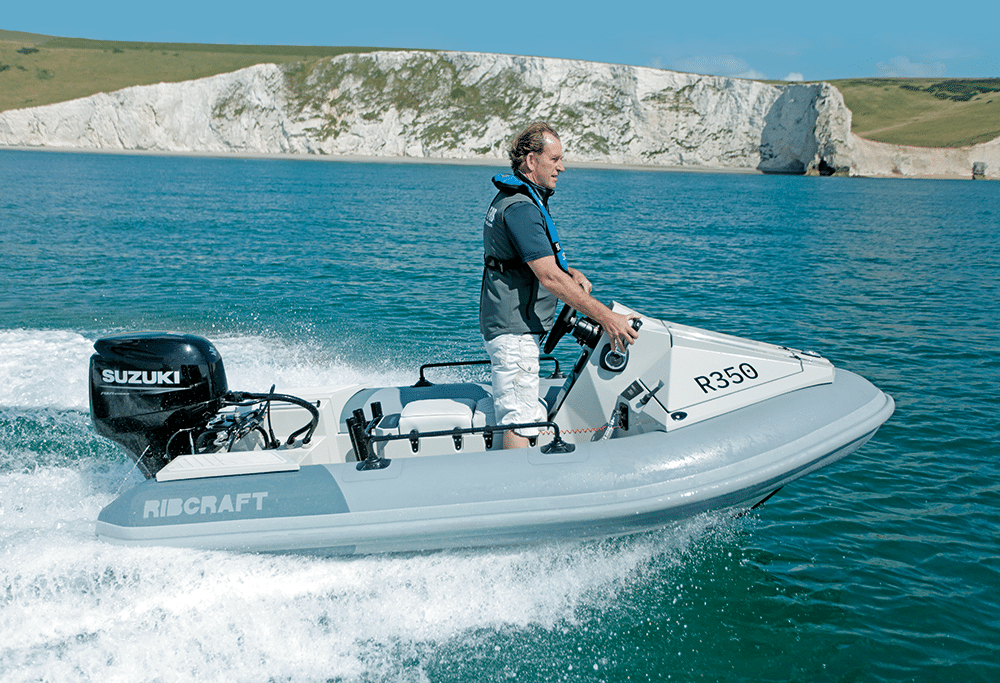 There may be pleasures and advantages in owning a bigger boat, but the bonuses of small-boat ownership can't be overlooked. In the case of the Ribcraft Leisure 350, all the early indications suggest that when the new model fully completes its development process, it's going to prove a genuine little winner.
View our walkaround video here
Specifications
LOA:

3.5m

Beam overall:

1.7m

Internal length:

2m

Hull weight:

200kg

Tube diameter:

380mm

Chambers:

3

Max. people:

4

Fuel – removable:

25L
Features
Stingray console with integrated bow locker, seating and under-seat storage.

1670dtex Hypalon tubes with pressure relief valves.

Heavy-duty rubbing strake.

Through-hull 4-point lifting eyes.

SeaDek foam decking.

Silvertex upholstery.
Additional features
Fishing pack (as tested)

40hp Suzuki outboard and hydraulic steering

9in Raymarine chartplotter with engine data, transducer and fish finder

Railblaza rails integrated into tubes

Railblaza rod holder mounds on aft quarters

4 rod trolling rod holders mounted to seat

(Under-seat live well designed and firmly planned)

Keelguard protection
Price
RRP of base model (outboard ready): £14,999 (plus VAT)
Contact