Southampton-based boatbuilder Falcon Tenders have been shortlisted for the Start-up of the Year Award in the third Maritime UK Awards after impressing industry judges with their stylish high-quality limousine that bridges the gap between performance and ocean preservation.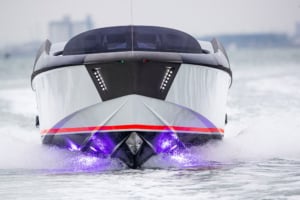 Sarah Kenny, Chair of Maritime UK, said: 'Organisations and individuals across the breadth of the maritime sector are making significant progress toward our shared Maritime 2050 ambitions, and the maritime sector is now being recognised as critical to the country's prosperity, sustainability, resilience and future.'
Falcon Tenders' design intent was to develop a superyacht tender with new lines, exterior and interior finishes and textures using sustainably sourced materials. Seating capacity, ease of launching, crew operation, passenger boarding and stowing of hand luggage have been carefully considered while combining style and performance and the smoothest possible quiet and dry ride.
To find out more about Falcon Tenders visit falcon-tenders.com.