Alex Whittaker drives a sports boat that seems to have it all … But does it?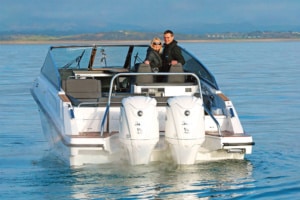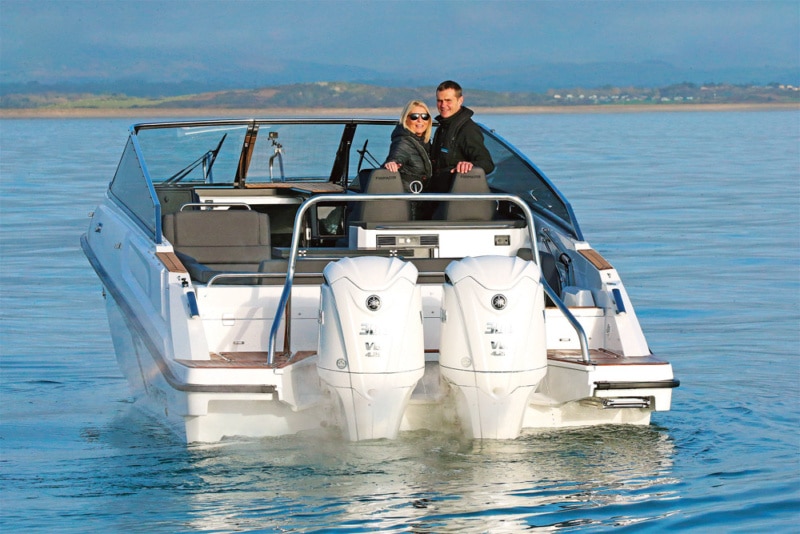 I like Finnmasters. I have driven friends' examples over the years. I have always found them versatile boating machines. Although they are a Scandi brand, recently Finnmaster seem to have discovered that the Baltic is not the only sea. Their new luxury sports boat wholeheartedly embraces the Mediterranean lifestyle. By this I mean that Scandi functionalism is certainly still present, but with an added luxury component. So now we are offered a greatly enhanced sunbathing, weekending and partying potential. The key point is that this almost 30-footer is much more than a large day cruiser.
The hull
The length overall is 9.04m (29.6ft), with a decent beam of 3.23m (10ft 5in). She draws about 0.58m or 2ft 9in. I was interested to note that the T9 has a deadrise of 17.5 degrees at the transom – not exactly a deep V, but sharp enough to deliver a smooth ride on test. Of course, keeping a modified V at the bow helps to carry the available internal volume for accommodation even further forward – important for that spacious forecabin!
Stepping aboard
The T9 has twin boarding platforms to accommodate the twin outboards at the stern. The fine teak flooring, which is a feature of this vessel, starts here. The boat as tested had twin 300s, but you could specify a single. The walkway through the transom is to port, stepping down into a well-protected rear cockpit. Also to port lies a run of comfortable well-upholstered L-shaped seating, terminating at the observer's seat. This seating arrangement is efficient and engenders a feeling of sociability but avoids cluttering the deck space. The convenient cockpit table is large and adjustable, so it may double with infills as a sun pad (the sun pad is then huge, by the way). To starboard there is a small padded seat. This lies just before the island bar containing the food prep station, which includes an induction hob. The island unit has a fold-down worktop-cum-lid. This is fitted with fiddles and a great grab handle. This sleek and solid console, in highly practical fibreglass, doubles as the wet bar, with storage, sink and fridge – ideal for entertaining all 12(!) hungry and thirsty revellers who might be aboard. The helm lies immediately forward. It has two substantial seats on a shared base with the wet bar console to its rear – a much better solution than twin seats on pedestals. Like the double-width observer's seat, the helm seats do not swivel. However, this is a very sociable arrangement since at least three crew face forward while underway. I noted that the observer's seat had a substantial integral grab handle – very convenient while going fore or aft in a rolling sea. 
The helm
The helm's overall fit and finish feels somewhere between a posh car and an upmarket light aircraft. Like the rest of this boat, the ambience is one of understated opulence, rather than mere Scandi utility. Like most modern moulded helm pods, the focus is on the multifunction display. The idea is to give you a blank canvas on which to put your selection of instruments and screens. So far so good, but this can lead to a certain blandness, without the traditional riot of chrome-bezelled analogue dials. Switching on the screen brings the helm to life. The test boat was fitted with a bow thruster, the Zipwake Dynamic Trim Control system and a remote-control panel for the Garmin multifunction touch screen. Such a remote unit can be easier to use than a touch screen in wild and wet conditions. I noticed that the helm had a Maxwell counter for the anchor rode, and, of course, for Scandi snow there are windscreen wipers. I had no trouble getting comfortable behind the wheel. All the controls, including the neat row of ready-to-use switches, fell easily to hand. I could brace my feet against the helm footrest, and the winged Recaro-style winged rally seats had substantial flip-up bolsters. Very grippy and secure. Incidentally, the observer gets a locker in the facing console, and a sturdy grab handle, plus a teak footrest. I also noticed a fire extinguisher tucked in its own niche under the skipper's helm seat – full marks.
Down below
To port of the helm lie the moulded-in teak-faced steps to the foredeck, and the sliding door down to the accommodation. This door is conveniently wide and can be locked in position. The boat is deeper here than you expect, but you step down (easily) into a well-appointed forward cabin. Because the T9 is a 'galley up' design, space has been released below. The Finnmaster designers have gone to town on the space down here. The forecabin has a very large double berth, which is actually the shape of an irregular polygon – six sides, I think – and there is storage under. The whole cabin has a good mix of natural and artificial lighting, from both above and the sides. This is delivered by large, stylish hull windows and large deckhead panels, all cleverly integrated into a very pleasing cabin. I particularly applauded the two-person settle or couch at the foot of the berth – great for pulling on your long sea boots underway, or indeed your high-heeled sneakers for a night in port. The T9 has been designed with a proper toilet and shower cubicle, which has good headroom. It feels much bigger than it has any right to do on a boat this size. At this point, I noticed there was a second cabin aft. This bonus feature has lower headroom and is more of a cuddy. However, in terms of space, it was surprisingly practical and airy. I really liked it. I could also see younger members of the crew adoring this space. In both cabins there were lockers and drawers for storage.
Foredeck
The teak-faced steps to the foredeck are utterly secure since they are moulded into the boat. As I passed the screen walk-through, I noticed the quality of the metalwork on the screen supports, which is excellent. The foredeck is wide, but the handrails are fashionably low. In wet test conditions I had to keep to the centre teak walkway, or trample over the (impressive) optional sun pad on top. Standing on the acrylic foredeck panels, or central hatch, could lead to slipping (don't ask me how I know). The sharp end is textbook Scandi, with split pulpit rails that are slightly higher for forward boarding. There is a convenient teak-faced anchor locker and step, and decent-sized cleats, well outside any trip zone. It was only when going aft back down to the rear cockpit that I felt a bit less secure. I learned that it is most important to close the cabin door before ascending or descending to the foredeck. This is because, if the cabin door is open on your return, it naturally reveals a yawning drop down into the cabin. 
Driving the T9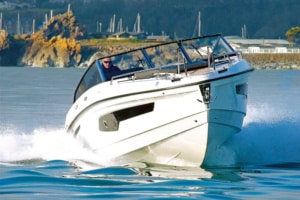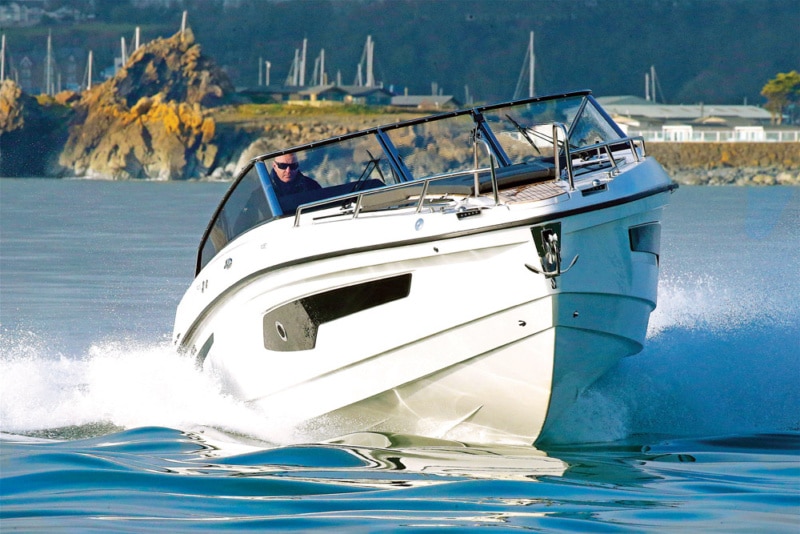 I found that I was in chime with the T9 – but first of all, a word about those gleaming engines. The Yamaha 300 is an advanced upmarket product, and the T9 has two of them. I must put my cards on the table: these stunning fly-by-wire appliances are currently among my favourite large outboards. Words like 'willing', 'well mannered' and 'refined' all come to mind. Their turbine-like power delivery is effortless. Even when (like all outboards) they get a bit vociferous at the top end, that cultured bellow remains a delight. With this well-sorted hull, opening the throttle translates to a stepless transition onto the plane. With the fitted Zipwake Dynamic Trim Control system, the T9 pushes through her own bow wave as fast as you can pour on the power. The hull maintains an almost flat attitude, which is very impressive, and performance figures for these twin 300s are very good. She is agile and performs like a proper sports boat – ideal for water sports, as well as a fast run up the coast or a good hammering over to the islands. The hull is beamy and it carries its weight well. This 10ft+ beam also delivers a decent rear running plane, so the ride is noticeably unfussed in all feasible conditions. Cornering is very good, with no unpleasant surprises for the driver or crew. All in all, this is a well-thought-out, well-engineered package that you want to drive, and then drive some more. 
What we thought
Pros
Opulent Med-style 40-knot sports boat

 

Great use of space plus two good cabins
More weekender than overnighter
Good bathroom
Great Yamaha engines
Loved the induction hob option
Cons
By no means a budget craft – but you get what you pay for
Dashboard a bit uninspiring, but you can customise it
Options can add up
Specifications
Length: 9.04m (29ft 6in)
Beam: 3.23m (10ft 5in)
Draught (hull): 0.58m (2ft 9in)
Weight: 3400kg
Engine: 300–600 hp
Persons: 12
Berths: 4
Fuel capacity: 417L

 

Water capacity: 95L

 

Category: C
Deadrise: 17.5 degrees
Contact
Pwllheli, The Powerboat Centre, Pwllheli Marina LL53 5YT
Southampton, Southampton Dry Stack, Drivers Wharf, 146 Millbank Street, Southampton SO14 5QN
Tel.: 01758 703 013
Email: sales@idealboat.com
Price