HMS shares his experience of boarding one of the most innovative, technologically advanced and luxurious 'tenders' currently afloat anywhere in the world. British made and an outstanding leader in its class, Falcon Tenders' inaugural creation really is a wonder to behold.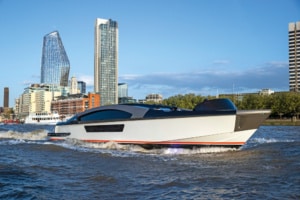 Falcon Tenders' design intent was to develop an extremely stylish high-quality limousine to bridge the gap between performance and ocean preservation, with completely new lines, and exterior and interior finishes and textures using sustainably sourced materials. Seating capacity, ease of launching, crew operation, passenger boarding and stowing of hand luggage have been carefully considered while delivering beauty along with performance and the smoothest possible quiet and dry ride.
The company has been in development for the past two years. To now have completed its first build has been the result of tireless man-hours and a huge degree of passion and commitment on the part of the entire Falcon team. The latter was very evident on the day of PBR's sea trial out of MDL's Ocean Village Marina in Southampton. Proud smiles graced the faces of the crew as we were treated to an exclusive VIP-styled tour and demonstration of this fabulous British-made vessel. Designed by the highly acclaimed Michael Leach Design studio, and with complementary collaborations with a growing list of superyacht grandees, it's evident that Miss Wonderly has been attracting attention from the moment she was achieved. 
Sustainability and delectability
Mark Pascoe, co-founder and owner of Falcon Tenders, explained: 'Sustainability is at the core of the Falcon Tenders brand, appealing to the younger generation of yacht owners today as well as being relevant to the owners of tomorrow. We manufacture our main structures and small component mouldings using plant-based epoxy resin coming from the latest innovations in bio-based chemistry. The hull and deck of the limousine tender used lightweight foam sandwich construction for a stiff structure. Faired and painted to superyacht standards in high-gloss black blue and signal white, all the components are of the highest quality with attention to serviceability and longevity. The edge-pressed bamboo veneers used for the main bulkheads in the interior are also sustainably sourced. Our clients demand the finest materials and extremely close attention to detail, and to that end we have sourced fine Scottish leather for the interior sofas from hides reared through a unique blend of animal husbandry and fertile grazing, combined with interesting textures and details from Foglizzo and Alcantara. The stone flooring is manufactured from lightweight 6mm porcelain, giving the appearance of natural stone.'
The 'inner sanctum'
Access to the main saloon is via automated compound curved chemically toughened laminated glass sliding doors, fitted with an inflatable seal system to prevent any undesirable wind noise or moisture ingress. But from the moment you step abord this exceptional craft, evidence of material quality, component fashioning, acute attention to detail and the sheer substance of each element employed in Miss Wonderly's make-up is striking and profound. Upon stepping down into the boat's luxurious interior, one is greeted by a total sense of calm, relaxation, even tranquility. The warm and welcoming space, blending subtle Baby Cane metals and pearls and Majilite fabrics with Alcantara headlinings, reminds us that this seagoing limousine doesn't bear her name without good reason. Putting aside the passenger cabin's naturally sourced leathers and sumptuous veneers, when was the last time you took a ride aboard a powerboat boasting a stone floor? Everywhere you turn, there's a feast for the eyes and features to admire. 
Pascoe continued: 'The main intention was to give the feeling of a superyacht saloon and not a "water taxi", as so many limousines resemble. This is exemplified by the sofas that we've arranged so as to appear to be free-standing rather than fixed bench seating. There are occasional corner tables too, and sympathetically positioned free-standing surround-sound speakers with an additional eight hidden speakers, all with the intention of helping to create an ambience akin to a world-class, private "lounge".'
One feature I absolutely love and consider personally to be one of the finest and most striking 'jewels' in Miss Wonderly's crown is her huge central circular skylight. It's a natural focal point and involves a construction that is equally impressive when understood from a design perspective. 'We wanted this "porthole to the sky" to be an unavoidable feature in terms of its own beauty and relevance to the rest of the cabin experience,' Pascoe said. 'Fitted with compound curved chemically toughened laminated glass, its contribution to the vessel's interior is its ability to create an amazing feeling of light and space, assisted by the cabin sole's blue feature and warm white cluster lighting.' There is little doubt that this unique component fulfils what Pascoe and his team were seeking to achieve. Yet more wonder!
Hybrid and highbrow
The hybrid technology Falcon have chosen for this 'tender of all tenders' maintained quiet, smooth and emission-free transitions throughout the port and inshore waters. This means seamlessly changing to combustion power in open waters and automatically back to electric drive when coming off the plane and arriving at the yacht. The system can also be isolated to use electric power only for inland waterways such as lakes or canals around Venice. Propulsion is provided by a self-charging, plug-in, hybrid electric system comprising twin Hyundai SeasAll S30 270hp V6 combustion engines and two Huracan Marine 20kW e-motors fitted with automatic clutch coupled to two Femak 20kW lithium-ion batteries that can provide up to an hour of silent, zero-emission running at low speed. A hybrid generator and 11kW lithium battery electrical system provide silent operation of the air conditioning, Seakeeper, proportional bow and stern thrusters, lighting and other house loads.
Be my guest
Externally, the limousine benefits from a large activity platform aft allowing safe stern or side boarding with the addition of side or stern-facing boarding pole sockets, all illuminated at night with a concealed warm-white neon LED strip and courtesy lighting. A swim ladder can also be fitted to the stern-facing sockets. The electrically operated one-piece engine hatch can be operated locally or from the helm station; this benefits from an inflatable-style seal creating a truly waterproof hatch completely resistant to backwash should the vessel slow rapidly. The large hatch area benefits from sustainably sourced natural teak decking laid in a custom design welcoming owners and guests on board. This also houses two crew seats, negating the need for the aft crewman to transit the saloon with ropes and fenders while owners and their guests are aboard.
A true 'flight deck'
The forward helm and cockpit area, I think you'll agree from the accompanying pictures, is a true 'flight deck' in every sense of the term and features a dedicated helmsman's rotating seat with an ergonomically designed control station. This highly original set-up offers superb control and comfort too either seated for helming those longer passages or standing for close-quarter manoeuvres. 'The main console is coated with a Lanzarote Nextel suede finish, avoiding any glare in sunlight or reflections during night passages,' Pascoe continued, 'and it has a custom Foglizzo Razza leather binnacle and matching fully adjustable billet stainless steering wheel. We installed a total of four multifunction displays (this gives the helmsman complete control of all the boat systems, including AC, gyro stabilisation, generator, lighting, pumps, etc.): one to port, two centrally located (dedicated to monitoring the full hybrid system) and one to starboard for navigation and depth sounding.'
The vessel offers both port and starboard folding bulwark steps with handrails and boarding pole for ease and safety of owner and guest transfers. After all, the type of passengers gracing Miss Wonderly's inner sanctum are certainly not the type one wants to lose over the side! Fitted with automated warm-white courtesy lighting, the latter leads down the two generously sized fixed steps to comfortable exterior seating for up to four guests for pleasant harbour transfers before moving into the closed saloon when heading out to open waters. Easy-access storage is also provided on both sides for guest hand luggage, with a large deck locker to easily accommodate safety equipment, life jackets, fenders and mooring lines without disturbing guests during transit. This is also fitted with an inflatable seal, keeping any items completely dry.
Not skin deep
As for the limousine's outer skin, this is fitted with sections of speckled platinum metal coating to the main window eyebrows and the bow nose cone section. The eyebrows conceal LED neon feature lighting and the main engine room air intakes, with the nose cone housing the LED navigation lights and custom bright-white LED day running and night docking lights. The hull, likewise, is fitted with 10 sapphire blue/white P24 underwater lights, and the transom has three, making the vessel truly eye-catching at night. 
As for the essential business of her lifting and launching, much thought has gone into making the boat not only safe and immensely stable to deploy and recover, but rapid to process too. The four fully custom five axis milled billet stainless steel lifting cleats and twin garage beam cranes aid the simplicity of this all-important aspect greatly. 
Testimony to excellence
In summary, it's abundantly clear that Miss Wonderly's construction and assembly are of the highest quality, with great investment having been made in the areas of serviceability and longevity. Her engine compartment is a wonder to behold, and in my 35 years of professional maritime journalism, I confess, I cannot readily recall witnessing a finer installation. Miss Wonderly's mechanicals, especially for anyone with a particular appreciation for such, are themselves 'wonders' in their own right. In addition, the attention to detail lavished on less frequently seen parts even ensures that such items as the tender's primary and electrical systems have all been clearly labelled so as to correspond to the drawings she comes supplied with. This is with the intention of making maintenance, fault finding and repair as straightforward as possible for on-site service engineers and yacht crew. 
Without doubt, this outstanding British-built craft, assembled to best boatbuilding practice and to full superyacht standard, is a credit to her makers and an achievement of which our nation's boatbuilding industry can be, and should be, rightly proud. 
Specifications
Length overall: 10.6m

 

Max. beam: 2.96m

 

Overall height: 2.115m

 

Static draught (drive up/down): 0.56m/0.85m

 

Weight with the basic engine package (dry): 5000kg

 

Recommended max. power: 600hp

 
Performance
Max. speed: 30 knots

 

Electric speed: 9 knots

 

Fuel capacity: 350L
Battery capacity: 50kW

 

Seating capacity (inc. crew): 16 people
CE category: Cat C
Price
Bespoke Price on Application
Contact