With 1200hp of petrol power, the 41 XP takes the walk-around concept to another level.
Launched just three years after the 41 XL, the new outboard-powered 41 XP is a T-top with a difference. Designed by Patrick Benfield, Fjord claim that this boat has the biggest T-top fitted to any boat and that it is the first production boat to be fitted with twin Mercury 600hp V12 Verado outboard engines. 
In its XL form, the Fjord 41 is offered with twin 340hp to 440hp Volvo D6 duo-prop sterndrives, which in the twin 440hp form provides a lively 38-knot ride. However, the 41 XP, with two 7.6L 600hp V12 Mercury Verado outboards, will have a top speed of over 40 knots, and quick whisper-smooth acceleration to match. Driving through a new series of contra-rotating dual propellers, the V12 is the only production outboard with a two-speed transmission. The first gear powers the boat quickly up onto the plane, and then the second gear automatically and seamlessly engages, providing better fuel efficiency further up the power spectrum. With the Verado comes Mercury's outboard joystick, which with the V12 Verado takes on a new dimension. The V12 has a steerable gear case, meaning that the powerhead and gearbox remain static, while the lower gear case can quickly turn – enhanced by a fast-acting electro-hydraulic steering system. Similar in concept to any sterndrive/outboard joystick set-up, a pair of V12 Verados is only really surpassed in terms of 'seamless joystick berthing' by pod drives.
Like the 41 XL, the XP has the benefit of a tough sandwich construction hull, with a robust inner grid of stringers. No doubt it will provide much the same reassuring rough-weather driving experience as its sibling, as well as the dry ride that the high topside hull is renowned for. How this outboard boat handles compared to its sterndrive counterpart will be determined once this boat actually hits the water this year. The XP is over 500kg lighter as a result of its outboard engines, but it has the capacity to carry an extra 100 gallons of fuel in order to feed two V12s.
Its distinctive T-top and the various windscreen options available provide a good degree of weather protection, while still giving that open-boat feel. The helm arrangement is focused on a central driving position, giving you a good view over either beam. There is the option to have up to three extra forward-facing helm seats, so the crew can also enjoy a bow-view drive. The ergonomics are good, either sitting or standing, with flip-up bolster seats and a high foot rail offering you the best of both worlds. Two large Simrad MFDs keep the skipper informed, while the wheel, throttles and joystick sit where you want them. The entire cockpit is shaded by what is claimed to be the largest T-top in this class – complete with four sunroofs. Its robust roof pillars are integrated into the bulwarks, providing maximum stability, without encroaching on freedom of movement on the walk-around deck. The deeply recessed side decks are about as secure as you can get, short of a trawler yacht.
Going forward takes you to a large sunbed on the forecabin coachroof, and a large anchor locker that hides beneath a deck hatch. Externally there is no evidence of an anchor or windlass. Fjord use a clever automated system, where the anchor is deployed through a hydraulic slide-out system via a hatch in the vertical stem. As this is out of view, it is monitored through an anchor-facing camera. At a glance, the drop-down cleats located atop the side deck bulwark are barely noticeable, and inside the bulwarks sit recessed fender storage cavities, housing bespoke rectangular fenders.
The deck space for a 41-footer is as generous as it is secure. The cockpit, with its extensive lounge area, is focused on two generous drop-down teak tables. These can fold in half when underway, revealing handholds and secure cup holders, while making fore and aft deck movement easier. Such is the deck design that this eight-person dining area is not remotely 'squeezed in' between the gigantic galley that sits forward of it and the quadruple sunbed behind. The galley is available in various options, depending on how large you want it, and what appliances you need. A large storage space is easily accessed under the electrically opening sunbed. Considering that in this boat's original design this area would have housed two large D6s, you can imagine the space available.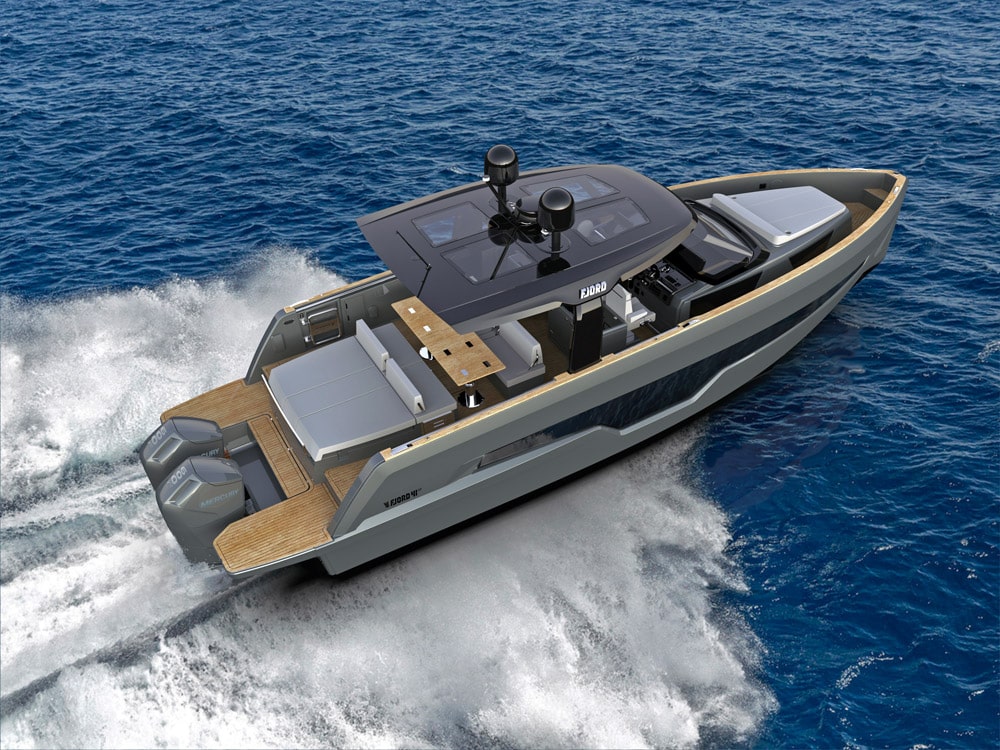 Below deck, the large hull windows not only provide a contemporary look but also flood the interior with plenty of natural light. Impressively, this 41ft boat boasts a total of 20 layout variants, and the interior is offered in four different design styles, each with a harmonious mix of colours and materials. Alternatively, the customer can create their own personal ambience with additional fabrics, woods and colours. The master cabin in standard form is, in effect, open plan to the mid cabin section and can be equipped with a vanity or office area on the port side. If preferred, you can choose to have a small second galley in this location, which makes good sense, as a fridge and a coffee machine down below are always welcome in the morning. A luxury heads with a separate shower compartment sits on the starboard side. The mid cabin section, though typically low in height, still offers a generous feeling of space thanks to plenty of light from the large hull windows. You can also choose to separate this from the rest of the lower deck should you want privacy. There is also the option of a second heads, but this is an unlikely choice as it would encroach on the lower-deck living area.
Fjord's new 41 XP is a stunning walk-around open boat, but practical and seagoing in the process. Coming from a company that likes to stand out in a crowd, having 15 litres of petrol power on the transom is not too much of a surprise. Sadly, I doubt we will see many around our shores, but the appeal of owning the 'ultimate day boat' will likely not be lost in warmer waters.
Specifications
LOA:

13.27m

         

Beam:

3.99m

Draught:

1.19m

Water capacity:

335L

Fuel capacity:

1430L

Berths:

4

Engine options:

2 x 600hp V12 Mercury Verado outboards

RCD:

B for 12

Displacement:

11 tonnes (dry)
Price
From 700,000 euros (plus VAT)
Contact