Greg Copp test-drives a fast, frugal and sure-footed
 

craft genuinely built to cover the sea miles.

With the big outboard making a strong presence in the marine industry, it is unusual to find a new RIB manufacturer with purely sterndrives on the options list. The FUGU 29, built by FUGU Boats, is a craft that bucks a trend, while looking to outpace its outboard competitors in the process. This boat offers impressive fuel efficiency, not just as a result of its diesel engine options but also because of its unusual hull design. This new Swedish company got together with hull designers Petestep to build a new boat using the Petestep hull design. Previously reported on in PBR back in 2017, the Petestep hull has been used to good effect in a variety of boats. 

A Petestep hull channels water aft, directly under the hull towards the transom, as otherwise it is considered lost energy. The V-shaped steps that comprise the Petesteps are raked aft from a point on the keel line. They are shallow and unobtrusive and only easily visible when the boat is planing. They are subtle enough not to adversely increase the level of disturbed water leaving the transom, but sufficient to direct the water flow aft rather than sideways. This hull design has no spray rails because it does not need them, as all spray is directed under the boat. Petestep claim this improves hull efficiency by producing more hydrodynamic lift, as pressure beneath the aft section of the hull will rise as a result of the increased volume of water. The FUGU also features two hull steps, in effect dissecting the V-shaped Petesteps.




The FUGU 29 is built as a Gran Turismo, aimed at those who intend to cover some distance. It is a striking boat in military black and, in the case of our test boat, equipped with some shock-mitigating Ullman seats. The hull and Hypalon sponsons are covered with a hexagonal textured heavy-duty rubber armour, which enhances its appearance while making deck movement safer. The hull construction utilises an aluminium rail system for mounting the tubes, so sponson replacement, if needed, is a 'slide-on affair', something not possible with conventionally bonded tubes. The foredeck, looking virtually reptilian with its hexagonal skin, is raised to help accommodate the low cabin beneath. This area converts to a sunbed with the cabin's V-shaped mattress cushions and is drained through two scuppers on the forward slope of the cabin roof. This is a crucial feature, as the foredeck does not connect to the aft section of the boat to provide a run-off to the bilge.




The Ullman seats fitted to our test boat are an option. The standard seats that come with the boat look pretty capable, being high-mounted jockey seats with 25cm of 'progressive foam damping'. They are also reversible, and the rear seats have the luxury of hot-air outlets in the back of the front seat pods – fed from the engine bay. The windscreen is suitably heavy-duty, though there is no grab rail around the top of it. Apart from preventing you from being pitched onto a hard edge in rough weather, this provides a crucial handhold when clambering forward, which this boat needs. On this subject, there are two very handy side decks mounted on the side of the cabin, designed to provide firmer footing than walking on the tubes. However, the starboard side deck had broken away from its fixing due to somebody walking on it. I was told that being boat number three, this was in effect a prototype of sorts, and the next FUGU built would have this problem solved.

The cabin is a basic overnighter affair, which can sleep two adults in the V-berth. My criticism is that the doorway is a bit of a squeeze, and for some reason the fire extinguisher is mounted on the aft cabin bulkhead – not somewhere where you can grab it in a hurry. Under the V-berth a small table is securely stowed, which when needed is mounted on the stainless deck fitting behind the seats. One of the design concepts of an only sterndrive design is the big sun pad, which like the rest of the upholstery is of a very high standard. It also features side decks, which we can suppose will also be strengthened on subsequent boats, plus neat powder-coated grab rails and cleats. On the bathing platform you will discover a stern anchor, something favoured in Scandinavia, which is driven by a power windlass within the engine bay. With the sunbed raised you are faced with Mercury's latest 4.2L V8 diesel engine, with adequate space around for access to most key service items. However, getting to the starboard-quarter section with a hot engine will require some dexterity, and I would have liked to have seen the only battery enclosed in its own box. The engine bay is where you will find the tube inflation system – a great bit of kit enabling you to inflate or deflate the tubes at the press of switch. 




Driving the FUGU 29

Planted in the Ullman, the helmsman's lot is a good one. Everything comes easily to hand, and the big MFD tells you what you need to know in the blink of an eye. What will strike you when you power up onto the plane is the distinctive turbo lag of this engine. This boat does not start to get its act together until the engine is spinning past 1800rpm, and then the power delivery is relentless all the way up to maximum RPM just below 4000. This does not mean this boat is either plodding at a 6-knot displacement speed or planing at 20 knots, as it is capable of planing at 14 knots. It just does not show its true colours until the turbo comes on song, and then she certainly can sing.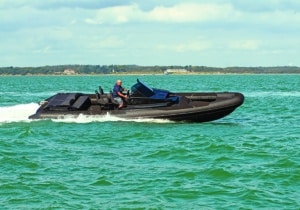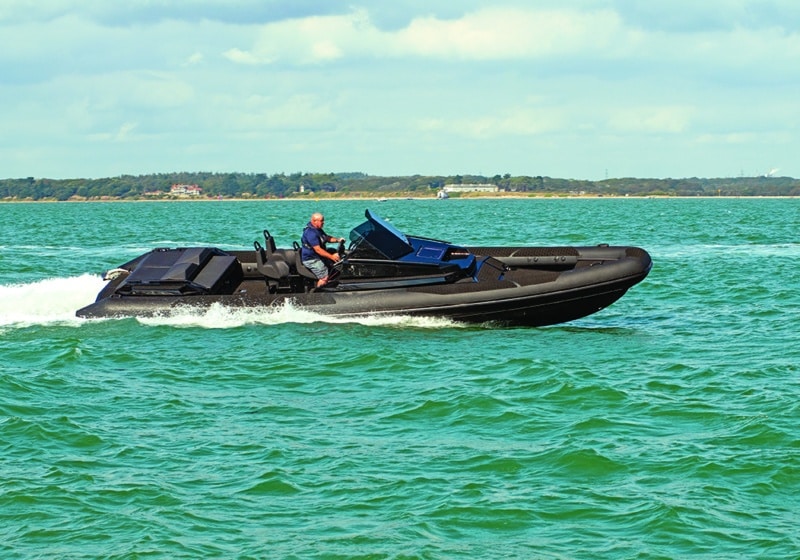 The engine is silky smooth, as is the hull. There is little impression of speed, and you will find yourself past 40 knots, and reaching up to its 53-knot top speed, before you know it. Hull stability at wide open throttle is remarkable, even with a degree of trim out on the sterndrive leg, which she needs for those last few knots. The hull feels planted, and in hard full-power turns she tracks round as if on rails. She is equipped with a Zipwake interceptor auto trim, but dialling this system off at speed has no noticeable effect, so credit needs to go to the hull. If you overtrim the sterndrive leg in tight turns she will cavitate slightly, as do many boats, but with such good natural attitude you find yourself rarely touching the trim switch. The big question is: how much of this is down to the Petesteps and how much is down to its deep-vee twin-stepped hull design? The fact is that this boat produces a lot of hydrodynamic lift at the stern, hence it planes at 1400rpm – well below the engine speed (2000rpm) at which the engine is starting to produce maximum torque. Not many planing boats can plane so low below the effective torque threshold, even with a trim system, so one thing seems certain: the hull is efficient. 
With a transom deadrise angle of 22 degrees, the FUGU is suitably sharp for dealing with most sea states. Running through the wake of a 30ft fishing boat at 45 knots was literally seamless, and jumping across the pattern of residual ferry wake that tries to catch you unawares in Southampton Water was a joy. In the sharper and often confused waters further out in the Solent, she simply excelled at cutting a blistering path in a typically composed manner. You just let it get on with it and enjoy yourself.  
Verdict
This boat is a Gran Turismo, so if you want a sports boat dimension for pulling up waterskiers, I would recommend either the 350hp or 430hp petrol engine options for better low-down power delivery. However, this is not what FUGU really designed this boat for. They aimed to create a fast and frugal long-legged boat that can run over to somewhere like the Channel Islands for lunch. For this it is perfect, as at 32 knots it returns a remarkable 4.7nmpg, dipping only to 4.3nmpg at 36 knots, which few 53-knot powerboats are capable of. There is the question of price, as £166,000 for a 29ft RIB with no heads compartment is no small amount. Once FUGU have ironed out the prototype issues with their subsequent boats, I suspect this craft will give some of our home-grown competitors a run for their money – literally.  
What we thought
For
 

Fast

 

Precise steering

 

Very sure-footed

 

Very soft-riding hull

 

Hull grip

 

Very good fuel efficiency

 

Superb seating and helm ergonomics

 

Impressive range
Against
 

The cabin doorway is fairly small.

 

The starboard side deck is loose – apparently this will be reinforced on later boats.

 

No grab rail around the windscreen

 

Slight gelcoat imperfection inside cabin
Specifications
LOA: 9.16m
Beam: 2.76m
Draught: 0.55m max.
Hull: Planing deep-vee twin-stepped Petestep
Transom deadrise angle: 22 degrees
Displacement: 1970kg (dry, no engine)
Power options: Petrol – Mercury 350 DTS and 430 DTS, both with either Bravo 1 or 3 sterndrives; diesel – Mercury 300, 350 and 370 with Bravo 1, Bravo 3 and Bravo 3 XR ITS

                                                                             

Fuel capacity: 350L (77 gal)
RCD category: B for 8
Test engine: Single 370hp MerCruiser TDI 4.2L 370hp with Bravo 3 twin-prop sterndrive

 
Price
From: £124,870 (inc. VAT) (single petrol Mercury 350 DTS, SeaCore with Bravo 1 sterndrive)
As tested: £166,000 (inc. VAT)
Performance
53.3 knots (2-way average), sea conditions F4, 3 crew, fuel 50%
0–40 knots: 17 seconds