Built for covert operations, this Black Sea boat is a great offshore
 

tool for UK waters, as Greg Copp explains …

This is the RIB that isn't. By that I mean that although it has sponsons, they are TPU polyurethane-coated solid foam fendering. Though not as buoyant as inflated tubes, the collar that runs around the boat is seriously tough. It should be, as this Ukrainian craft by Gala Boats is built for military as well as commercial and pleasure use. I would genuinely consider this craft, I make no effort to conceal the fact that 'ali boats' make good sense. They might not look as stylish as GRP boats, but they are lighter and much stronger. How many times have you come down off a wave at speed and the groans emitted from the hull made you wonder whether you have overdone things? With aluminium you are spared this enforced consciousness – only your spinal cord or your crewmembers will let you know when things have gone too far. 

The design of the Trident 7 is based on the concept of maximum space in any given hull length, and though this might appear to be a 7m boat, it is in fact a 6.5m craft. This illusion is enforced by the extra internal volume, provided by not having inflatable tubes robbing the inside of the boat of deck space. You get plenty of room to move easily around the boat, and the foredeck certainly benefits from this. This boat has the soft skin T-top option with four jockey seats beneath, something you rarely find in a vessel this size. You can specify it with more seats, including two in the foredeck, so if you need to use its 1.2-tonne load capacity to the full, this middleweight workhorse can punch above its length. 




It does not lack in storage either. In the foredeck area you have a large bow locker, and under the foredeck itself there is further space along the keel line. Under each jockey seat there is a cavity accessed by a waterproof hatch, and on the front of the console there is a similar hatch giving access to the meticulously neat electrics. Handy rectangular 'stash bins' sit inside each stern quarter as well as inside the bow on both sides – perfect for warps. There is no fender storage as such because this boat does not really need fenders. The stern quarters have a large flat section that, extending across the beam of the boat, is clearly intended to provide rapid access in and out of the vessel. This is made all the easier by the vertical T-top supports to grab onto – just don't trip on the stern-quarter fender rails. The engine enjoys a tough-looking transom guard frame, which, though designed for rough and ready commercial use, is ideal for attaching ski lines – you will just have to either fit a permanent bathing ladder or use a side-attached rope ladder. 

The crew/helmsman experience has been well thought out. The rear crewmembers get front grab handles, and the navigator gets an L-shaped handle on the console, just below a handy lockable compartment ideal for personal effects that you want to keep safe. The seat bases taper forward, providing a more comfortable seating position, insomuch as you do not need to open your legs beyond what is instinctively comfortable. For the helmsman the set-up is perfect, as the wheel and throttle come easily to hand, and the Simrad MFD is just above the wheel, where you want it. The primary switches sit high and central and have not been relegated to a position where they are a stretch to reach, as can often be the case. Likewise, the Simrad VHF sits high where you can easily read its display, and the sprung mic cable will not dangle where it can get caught. The windscreen, which is equipped with grab handles on each side that run up to the T-top, is mounted in a heavy-duty frame that provides the forward support for the latter. The T-top is actually a soft top mounted on a framework, with a rectangular platform on top for a radar dome and a searchlight, while the VHF antenna and navigation lights are where you want them – high up.  Not having a hard-skin top also keeps that high topside weight to a minimum. The deck hardware is blatantly hard-core in the form of three Samson posts.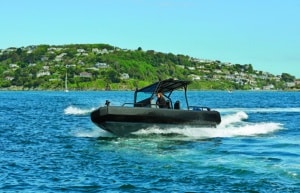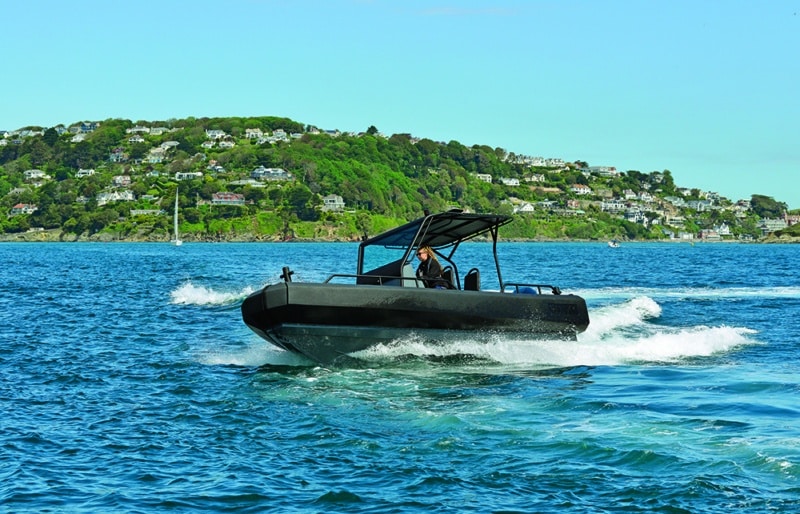 Driving the Galaxy 700
This is obviously not a sports boat, and though it looks heavy, it is by its construction far from overweight at 880kg bare boat. However, with the smallest engine option this is a 38-knot craft, which, though far from sluggish, could be quicker with the 250hp and 300hp Mercury engine options. The 200hp Mercury SeaPro is not a bad match, as it is not only the lightest engine in its class, being just shy of 220kg, but it also has a good spread of low-down torque. Consequently it gets to 30 knots from a standstill in a respectable nine seconds, and then pretty quickly up to 35 knots. Above this speed you need to trim the boat just 25% to top out at 38.2 knots. The natural fore and aft trim is very good, helped by a moderate displacement and having a helm just forward of amidships. This no doubt helps in providing what is a very good ride into the weather. The forefoot is sharp and it has no tendency to even remotely reach for the sky when coming off waves running into the wind flat out. This is definitely a boat that will get you home on a bad day, not to mention the fact that its granite-like aluminium hull seems to have no concept of being abused, and the full-height windscreen tends to cut you off from the reality of what you are doing.
It could benefit from more power in certain circumstances, particularly if you are having to work the throttles up and over a big wave pattern with a full crew. As a sports boat you need to keep a reasonable degree of power on coming out of the turns. This would be easier if you had Mercury's 4.6L V8 250hp SeaPro, which has a superb power delivery. The steering is reassuringly predictable, although for hard turns it is not fingertip responsive – but then it is not a wakeboarding tool.   
Verdict
This is one of the few boats I would consider with the smallest engine option – not because it would not benefit from an extra 50hp or, dare I say it, 100hp, but because at 30 to 35 knots it happily cracks on in most sea conditions, and this craft is simply not about a manic white-knuckle sports boat experience. Not only does its construction make it safe, but moving about on deck really does not get much easier in a boat this size. Simple things have been well thought out, which serves to reinforce its practical personality. I can really only fault it for a lack of a heads compartment, which I suppose is unfair, as it is primarily a commercial boat; it's just that I promised my better half that the next boat I bought would have a toilet.  
We were unable to obtain fuel figures as this boat did not have its Simrad MFD configured to show fuel consumption. However, at 20 to 25 knots when the 200hp Mercury SeaPro is producing max torque, it should return around 4nmpg, and at 30 knots you could expect 3.5nmpg. 
What we thought
For
 

Good price

 

Strong acceleration

 

Super-solid aluminium construction

 

Bulletproof foam-filled sponsons

 

Very neat welding and overall attention to detail

 

Helm ergonomics
Against
 

The stern-quarter fender/grab rails need to be lower so as not to present a trip hazard.
Specifications
LOA: 6.5m
Beam: 2.50m
Internal beam: 1.9m
Displacement: 1100kg (with 200hp Mercury SeaPro)
Load capacity: 1200kg
Power options: 200–300 hp Mercury
Aluminium hull thickness: 5mm

 

Fuel capacity: 200L, plus an optional extra 200L tank
RCD category: C for 10
Test engine: 200hp Mercury SeaPro V6

 

Price

 

From: £58,000 (inc. VAT)
As tested: £69,995 (inc. VAT) with Mercury SeaPro 200hp
Contact
Wills Marine Ltd, The Quay, Kingsbridge, Devon TQ7 1JF   
+44(0)1548 852424