If ever a port of call was aptly named, then Ocean Village must surely stand at the top of the list. For centuries, this port has been at the heart of Britain's maritime heritage and served as the start and journey's end for countless epic ocean voyages. Mark Featherstone tells us more …
I can count myself among the several thousand or so mariners who have had the privilege of embarking from Ocean Village to navigate the seven oceans of the world. In my case, it was an adventure under sail that will stay with me for the rest of my life. Indeed, the MDL-owned marina facility you'll find here today really does form the perfect springboard for all manner of adventures at sea, be they around the world or in and around the marina's Solent home waters.
The approach
Upon leaving the Isle of Wight astern, then exiting the Solent at Calshot Spit to navigate the length of Southampton Water with its busy commercial shipping movements, you'll find entry to Ocean Village a straightforward affair courtesy of the River Itchen. At the mouth of the latter, you'll come hard to starboard, whereupon the river draws you ever onward, upstream, towards the gracious sweep of the Itchen Bridge. While observing the strict speed limit, within a few minutes' steaming, you'll see the large welcome sign to the marina emblazoned above the sea wall off your port-side bow. The marina's location is both unmissable and uncomplicated to navigate.
Idling into the wide-mouthed haven, you'll be immediately greeted by a shoreline development of contemporary and futuristic buildings that not only include towering residential blocks but all manner of quayside leisure outlets fringing the waterborne heart of this 21st-century complex. Undoubtedly, the jewel in Ocean Village's crown, however, is the five-star Southampton Harbour Hotel, which rises majestically on the western shore like a mighty cruise ship waiting to slip its moorings. From its huge, east-facing, tiered balconies, the breathtaking panoramic views over the Solent to the distant Isle of Wight are considered by many to be the finest in the whole of the city.
Facilities
Firmly established as one of the most prestigious marinas along the south coast, Ocean Village is owned and run with super efficiency by Marina Developments Ltd (MDL). A facility that offers 326 berths, it can even accommodate vessels up to 60m LOA. Well-appointed shower and laundry facilities guarantee berth holders and visitors alike a comfortable night's stay, while provisioning is made easy thanks to the Tesco and Co-Op convenience stores located just a few feet from the harbour wall. In terms of fuel, though Ocean Village itself now no longer provides such, the nearby MDL-owned Hythe Marina offers both dockside petrol and diesel as well as limited boatyard services and a chandlery at nearby Shamrock Quay. On your approach to Hythe, it's best to call on Channel 80 first before seeking entry to the locked marina, whereupon you'll be greeted by a dock master on hand to take your lines. Despite its lock gate entrance, Hythe is accessible 24 hours a day at all states of tide.
But upon entering Ocean Village, I recommend heading for the floating marina office beneath the balcony frontage of the Southampton Harbour Hotel. Here you'll be allocated a berth and be able to collect your passes for all the marina's facilities, including the codes to the marina exit/entry gate.
For those aiming for the marina by land, a large multi-storey car park is located a mere three minutes' walk away. Additionally, if you are requiring somewhere local to launch, then boats can be launched upriver at MDL's Saxon Wharf facility. Here, trailer parking is also available.
It's interesting to note that, according to Ocean Village marina manager Lauren McCann, more and more powerboaters are using the marina as a staycation port, not only for day-cruising to the popular destinations along the adjacent coast, but also then using public transport to visit the New Forest and surrounding area.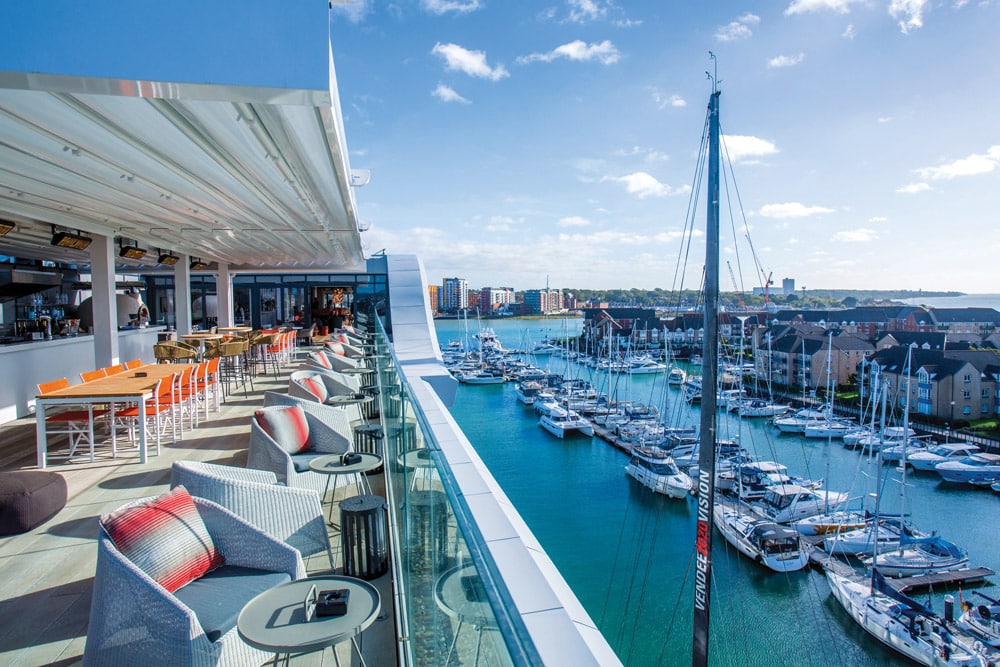 Much more than

 

just a marina
There's something for all your family and crew right here in the marina itself. Alternatively, within a few minutes' walk into the heart of historic Southampton, you'll quickly find more options again, including the famed Westquay shopping centre with its major retail outlets. But on the waterfront of the marina itself, the Harbour Lights Picturehouse has a bar and a bustling café and offers everything from blockbusters to 'art house' movies. For the youngsters, InJoy is an indoor activity centre with trampolines, soft play areas and a climbing wall. While the kids are at play, Mum can visit the Ocean Rooms Beauty Salon too, which brings luxury coupled to beautiful surroundings.
Unquestionably, however, as previously mentioned, the true star of the show has to be the magnificent Southampton Harbour Hotel. Upon our visit during the Southampton Boat Show, the hotel and marina felt like an oasis, a haven of calm away from the madding crowds. In fact, on the first day we visited the marina, we popped into the hotel for coffee in HarBAR on 6th, an atmospheric lounge and bar located on the hotel's sixth floor that achieves both opulence and a welcome atmosphere in equal measure. It's the view from this bar that really astounds, and in the glorious sunshine of our visit, it was a real treat to rest and recharge while looking out over the marina to the Solent beyond. However, food lovers take note: the magnificent ground-floor 'The Jetty' restaurant is helmed by its much-regarded Chef Patron, Alex Aitken. Alex is a man who takes the greatest pride in sourcing his menu ingredients from the region's artisan growers and suppliers before then transforming them into works of culinary perfection. Likewise, the hotel's sommelier, Kevin Tabor, is an absolute expert at his profession.
The marina boasts a five-star package for berth holders with exclusive access to all the services and facilities at the hotel, further enhancing its reputation as a prestigious destination in its own right. Visiting short-stay berth holders can also book in advance to use the Harbour Hotel's spa and heated pool.
Walking around the marina is a pleasant affair, and here you'll find locals and mariners alike enjoying sitting at the tables that spill out from popular cafés such as Banana Wharf and Maritimo Lounge. These marina-side eateries offer food from all around the globe, which, I have to say, feels in keeping with the worldly vibe of the marina itself. In addition, a 10-minute walk will take you to Southampton's popular Oxford Street, home to even more independently run restaurants.
A springboard for adventure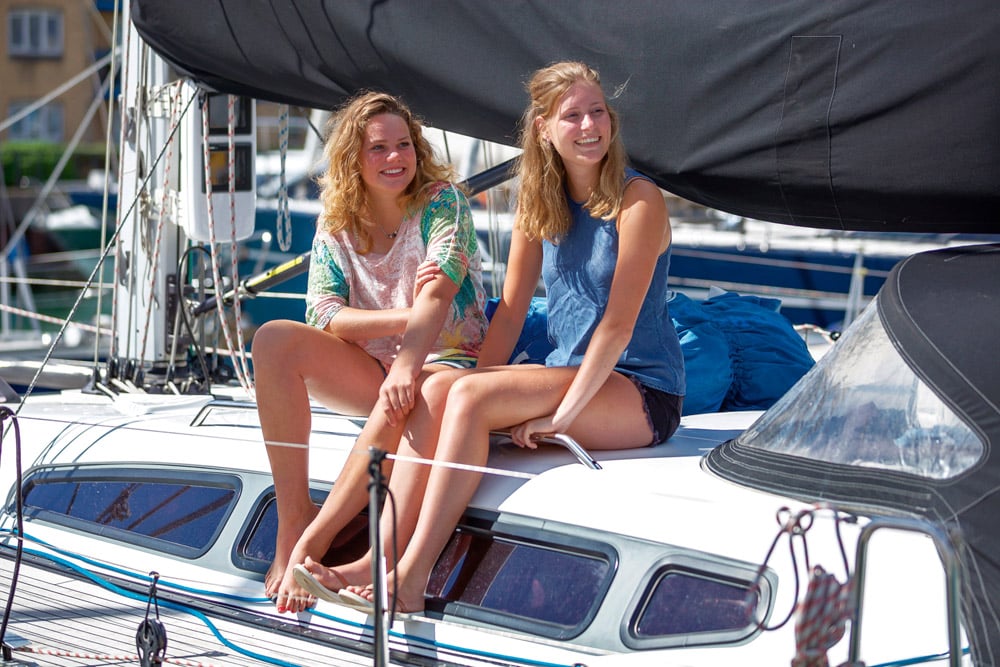 The Global Challenge yacht races started out from this venue in 1992, 1996 and 2000, and the Clipper Round the World Yacht Race set sail from here too in 2011. More recently, Ocean Village has become a hub for powerboating exploits, with plenty of high-octane action from the many powerboat races that are staged within the Solent. RIBEX, owned and run by this magazine's forerunner, RIB International, and a show dedicated to the RIB market in its entirety, was once staged here at Ocean Village. But now, 2023 will see both the South Coast Boat Show and the Green Tech Boat Show being held here.
Indeed, Southampton Water and the Solent are a true powerboater's paradise, and once clear of the marina and docks, you'll find the waters here largely unrestricted. The Solent's unique double high tide gives unusually prolonged periods of high water, but beware the infamous 'Solent chop', as it's capable of giving even the most capable craft a hard ride! With the conditions in your favour, however, fast cruising 'sprees' can be enjoyed to such destinations as Buckler's Hard on the banks of the Beaulieu river and the Isle of Wight's Newtown Creek, as well as Lymington, Yarmouth, Cowes and, of course, Portsmouth.
The ideal location
Ocean Village is also a tried-and-trusted 'gateway' to the English Channel and Western Approaches. As we said in our opener, countless mariners have struck out for the seven oceans of the world from here. With its mix of ancient and modern, Ocean Village is a genuinely unique location. Few are as visually impressive, as modern or can boast as many excellent attractions as this marina facility. Coupled to first-class yachtsman's facilities and a team of friendly marina staff to assist, this marina really does take some beating.
The place to stay
HMS and his wife Michaela stayed at the Southampton Harbour Hotel upon the occasion of the 2022 South Coast Boat Show. He reliably informs me that it was one of the finest hotel and dining experiences he and Michaela have enjoyed, not only in the UK, but anywhere in Europe. The attention to detail, the service and the quality of both the balcony room and the dinner served were, he reported, 'impeccable'. If you do choose to visit, we also recommend you try the 'Jetty pods'. These are a genuine novelty, located right on the water's edge, and they afford the perfect ambience and outlook for an intimate and unforgettable 'crew' dinner.
Date for your diary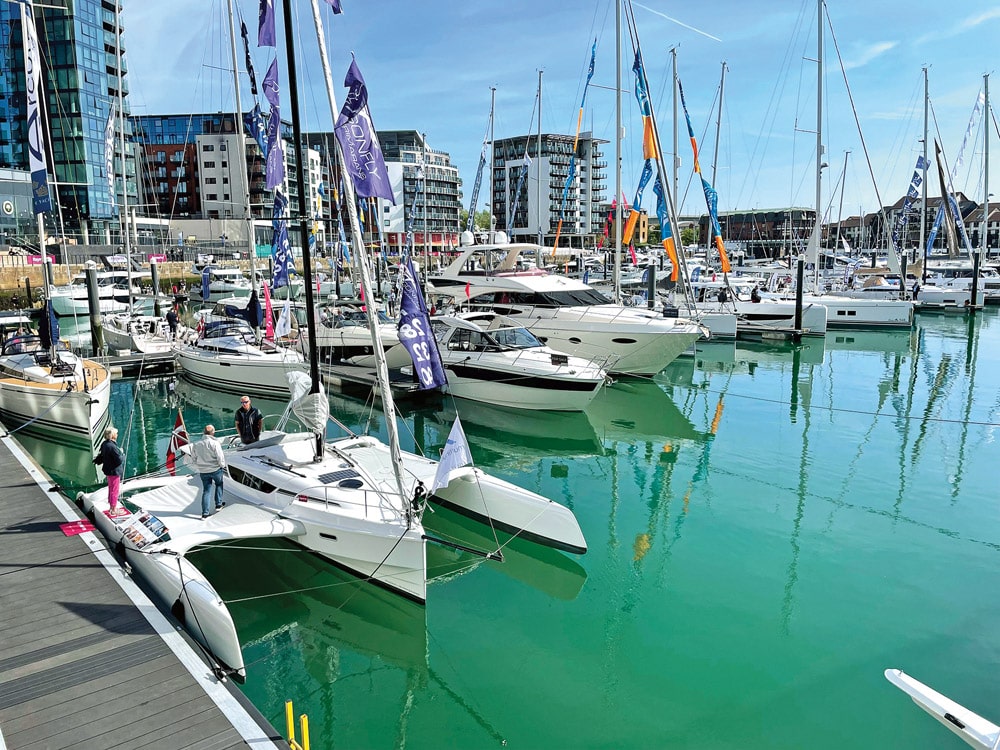 Make a date to visit MDL's Green Tech Boat Show, held at Ocean Village Marina from 19th – 21st April 2024, when this specialist event is to be encompassed within the already well-established South Coast Boat Show. Combining two events will no doubt give visitors and trade alike even more reason to attend and participate. Features are set to include new boat exhibits, the latest technologies, green and sustainable maritime solutions, sea trial opportunities, clinics and expert advice, as well as attractions such as live music and a selection of food and beverage stalls. Visitor attendance is free.
Navigation tips for a busy waterway
It is vital to be aware of the specific regulations in force when entering a busy shipping channel – particularly so in the case of the Solent and Southampton Water, as very large as well as high-speed vessels ply these waters. However, navigation is relatively straightforward, with perhaps the chief exception of the Bramble Bank, which dries 1.2 metres directly in the middle of the Solent. My top tip is to avoid it at all states of tide, unless of course you fancy taking part in one of the famous cricket matches held here   at spring low tides!
Collision avoidance checklist
Cross shipping channels quickly and at right angles.

Be alert and look out for shipping traffic, fast leisure craft and, in particular, high-speed ferries coming up astern.

Ensure your craft can be seen, especially at night. Beware, some marks are not lit in these waters.

It's wise to know your whistle signals. Five or more = 'Keep clear!'

Listen in on Channel 12 and/or dual watch Channel 16.

Use up-to-date navigation charts. Read 'Local Notices to Mariners', which are available/posted in the marina office.

Take care to observe and obey the buoyage. Southampton Water is a prime example of this need, because even here, areas of shallow water can catch the unwary.

Upon turning into the River Itchen, take note of the speed restrictions.
Nature conservation
The neighbouring area of the south coast is one of the most important places for wetland birds in Europe and a 'twitcher's' delight. In winter, the coastline here attracts large numbers of wading birds, ducks and geese, which migrate from Greenland and on out toward Russia. In spring and autumn, the Solent provides a vital stopover for birds migrating to their distant wintering and breeding grounds. In the summer months, common sandwich, as well as little and roseate terns, all descend to nest and breed on the local sand and shingle beaches.
The mudflats and many other habitats in Southampton Water are designated as part of the Solent European Marine Site, along with its 'special protection areas' for the many populations of birds found here. Bird Aware Solent raises the awareness of internationally protected birds that spend the winter on the Solent. This group encourages people to identify the wildfowl and educates them as to the importance of respecting their space and habitats.
Historic Ocean Village
Ocean Village's futuristic marina complex, surrounded by its high-rise living and array of restaurants and night spots, belies a wealth of history to explore. This long-established port can trace its DNA back over 1,000 years to when King Edmund II died, leaving the crown of England to the Viking king, Canute. Upon exploring Southampton, you will see many references to this warlord. Canute Road, in fact, runs past Ocean Village and is home to the former Canute Hotel, a building that bears a plaque to commemorate the great legend of Canute and the turning of his back on the tide! Some say the story is really an apocryphal anecdotal testimony to Canute's pride. However, what isn't in doubt is that that historic event is said to have taken place a mere stone's throw from Ocean Village itself. Opposite the Harbour Hotel, you'll also find Canute Chambers, which housed the offices for the White Star Line, owners of the ill-fated RMS Titanic. The SeaCity Museum Titanic exhibition tells the ship's tragic story, and in all, there are more than 165 memorials or graves connected to the ship across the city. The plaque outside Canute Chambers, however, is particularly poignant, as the White Star Line office was besieged by anxious relatives desperate to read the handwritten survivor lists being posted up on the walls of this building.
Already a busy port, Southampton became busier still when the London and South Western Railway arrived in 1840. This brought passengers from London to the docks for onward journeys across the oceans. The estuary's deep water meant that larger ships could berth with relative ease. Merchant ships discharged timber, grain, fruit, coal and even woollen stockings onto waiting rail wagons lined up alongside these quays. You can still see some of the original railings from that bygone era, and sections of the marina wall are officially listed and thereby protected from development. An auction saleroom once stood on this now modern marina site. Here, cargos of fruit were landed and sold before being shipped out. A long warehouse also stretched right along the quay, which is where the Pitcher & Piano Bar and Banana Wharf restaurants now stand. Indeed, Ocean Village was once a thriving hub of commercial maritime trade and industry.
Cruising Destinations
A favourite of PBR's cruising destinations would be Yarmouth, it is a short distance from Ocean Village and a quick dash across the Solent.
Useful contacts
Ocean Village Marina: Channel 80, or call 02380 229385
Southampton Vessel Traffic Services (VTS): Channel 12, or call 02380 608208
Southampton Harbour Hotel: www.harbourhotels.co.uk. Tel.: 023 8110 3456
There is lots of useful information on www.southamptonvts.co.uk, including port maps, navigation, live information and weather.