With a generous power-to-weight ratio and impressive hull, this boat drives well and is as good as it looks, as Greg Copp reports …
Something that always impresses about Grand RIBs is their completeness. Wills Marine, importers for the Ukrainian-built Grand, take a comprehensive approach to selling boats. Their range comes fitted, as you would expect, for use at sea, and the new Golden Line 750 is a perfect example. The only significant upgrade to our test boat was the Yamaha F250, as opposed to being rigged with the smaller F200 or F225 outboard options. 
It comes with a wealth of standard features. The tubes are Orca Hypalon, the upholstery is premium Silvertex and it comes with soft SeaDek synthetic teak decking. Silvertex and SeaDek are what you would often expect to see on an extras list, especially the SeaDek – crucial for bare feet on a hot day. On the basis that nobody should go to sea without a chartplotter and a radio, the Golden Line 750 has a 12in Garmin MFD and VHF fitted as standard. If you really want to go to town in this department, you can choose to have a second 12in Garmin in place of the Fusion hi-fi and Yamaha engine display. This does not mean you lose these items, as Garmin's latest MFDs can interface with an internally mounted 'Fusion black box' as well as Yamaha engine data – and I am informed that this upgrade actually costs less.
The inbuilt fuel tank is a sensible 260 litres, giving the Grand 750 a range of around 160 miles with a 20% reserve – important when you keep the boat in a location where local dockside fuel is not available. With a strong focus on water sports, it comes fitted with a contemporary ski pole, which, powder-coated black, matches the rest of the rails and hardware. Access from the water is courtesy of a hidden ladder in the port-quarter bathing platform. You will also discover the concealed shower in the port-quarter coaming, before stepping into the boat itself. Below the aft bench seat is a large locker, which also gives access to the twin-battery set-up – something Wills Marine fit as a safeguard for those that forget to isolate their primary battery when leaving the boat. Like all of the storage cavities, the internal gelcoat is of a high standard.
The windscreen is spot on, as you and any companions are shut off from the windblast. The helm ergonomics are good, with the wheel and throttles a short stretch away whether you sit or stand. You get a perfect view of the plotter and the engine display, as they sit at the top of the console. The twin helm seats are flip-up bolster types, with an angled footboard for those who want to stand. The only improvement I could envisage in this area would be wrap-around seatbacks, considering this boat's sporting credentials. Behind the helm seat sits a small sink, and underneath this you have the option of a fridge or a cooling drawer, both of which our test boat lacked. I should add that although these are tempting extras, costing £3,000 and £1,510, respectively, you might opt for something else to keep your drinks cold.  
On the front of the console is a realistic heads compartment. Our test boat had no toilet, but you can either put in your own chemical toilet or, for £3,560, have an electric toilet and holding tank fitted. There is also the option of transforming the foredeck into a sun pad from the console to the bow with an optional infill section. In terms of storage, this boat is as good forward as it is aft. As well as an anchor locker and windlass, there is deep under-seat storage in the bow section beneath the V-shaped bow seating.
Driving the Golden Line 750
When you get behind the wheel for the first time, unless you are devoid of the characteristics that entice people to drive powerboats, you will love the Golden Line 750. It is blatantly rapid, with a power delivery that not many boats of its size and type enjoy. It is, after all, meant to be a family boat, but few family boats accelerate to 30 knots in 5 seconds, with 40 knots flashing up some 3 seconds later. It has the benefit of a punchy 4.2L V6, which at 250kg, though no longer the lightest 4-stroke in its class, is still pretty trim. One thing that struck me was the fact that we were easily planing at just 2500rpm/18 knots and returning nearly 4nmpg. There is much to be said for good weight distribution, torque and a perfectly pitched prop. However, the reality is that you are going to drive this boat quite a bit faster than 18 knots, as it simply begs to be driven hard. Unless you are tone-deaf, you can't help but be drawn to the distinctive Yamaha howl that the engine emits. The boat's hull is thankfully steady and predictive, and with the hull deadrise angle sharpening from 20 degrees at the transom to 25 degrees amidships, the ride is reassuringly soft. 
Our test day started fairly mild but luckily began to rise to the occasion at midday when an increasing south-westerly brought in a more challenging seaway. Driving into the weather revealed two things: firstly, driven with no more than 50% trim out, the boat cuts a reassuringly planted path up to about 40 knots; secondly, if you want those last 5 knots, you need to trim the leg well out. In this second instance the ride is slightly less stable, as you might expect, but the boat really does enjoy the extra trim, as the performance response is noticeable. In reality, you would keep the bow trimmed in running into the weather and drive it in 'manic mode' downwind or on calm days. In the turns she is reassuringly sure-footed – no hull slip, and no cavitation driving hard out of the corners. 
The steering is hydraulic, with fly-by-wire Yamaha steering soon to be offered. This would be worth having, as although the hydraulic steering of the 750 is safely predictable, you get the impression that a quick-responding fly-by-wire system would enhance the sporting experience further. This boat has Yamaha's latest engine controls, complete with wireless key fob and a push-button engine start panel. This new system has a neutral engage feature, which, activated at the press of a switch, stops the gearbox from being engaged from the throttle lever, so you can't inadvertently knock the engine into gear when moving around the boat during berthing. 
Verdict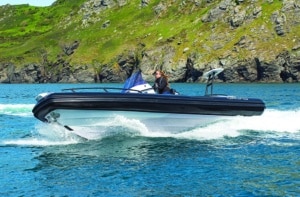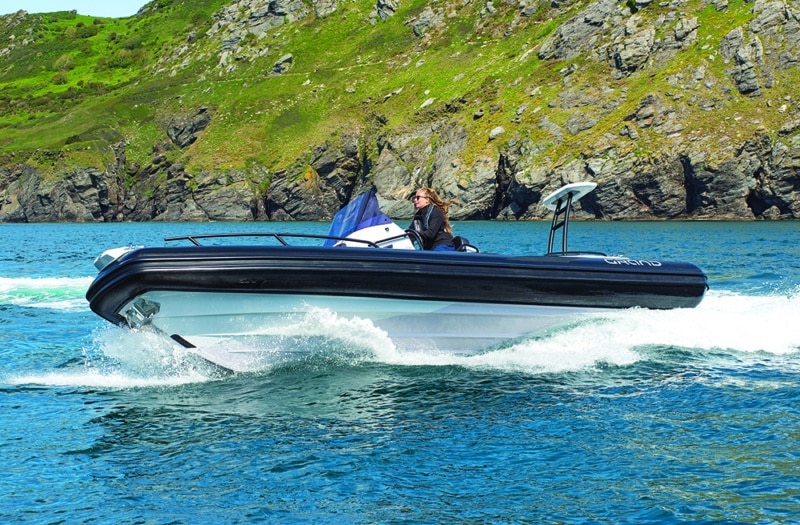 The Grand Golden Line 750 is as good to behold as she is to drive. As is typical of this brand, no space is wasted in creating a 7.5m RIB that has pretty much all the key features that a seagoing RIB should have in standard form. Our test boat did not have the optional toilet, which no doubt is customer specific, but it is an option that is increasingly seen as crucial in any boat of this size and larger. It also lacked a few other niceties that cost extra. There is a strong argument that says that 80K buys a lot of hard boat, so why spend this on a rigid inflatable? This has been, and will always be, a contentious point. The reality is that Grand are a serious contender in the home-grown competition, and at a price that often wins hands-down.
What we thought
For
 

Performance

 

Solid construction

 

Attention to detail

 

Excellent finish

 

Good storage
Against
 

The extras list may be limited but the few items on it are expensive
Specifications
LOA: 7.5m
Beam: 2.85m
Displacement: 1500kg (with Yamaha F250)
Power options: 200–250 hp Yamaha

 

Transom deadrise angle: 20 degrees
Fuel capacity: 260L
RCD category: B
Test engine: 250hp Yamaha

 
Price
From: £78,000 (inc. VAT) with Yamaha F200 (no windlass)
As tested: £89,295 (inc. VAT) with Yamaha F250
Performance
45.2 knots
Range: 160 miles at 27 knots with 20% reserve with a Yamaha F250
Contact
Wills Marine Ltd, The Quay, Kingsbridge, Devon TQ7 1JF  
Tel.: +44(0)1548 852424