Malcolm Thomas makes a visit to his local lifeboat station on the River Hamble to find out more about this famous indie operation as well as the challenges facing our independently funded lifeboat stations across the UK …
On 25th September 2022 at 06:20, Hamble Lifeboat's pagers sounded in response to another 'Mayday' call. A 40ft sailing yacht with one person aboard was taking on water near Marchwood, close to Southampton Docks. The crew mustered at the station before launching 'On Service' with HMCG at 06:34. The 'ETA to Casualty' was calculated as being just 14 minutes. This was one of the 108 calls answered by the independently run Hamble Lifeboat in 2022.
The differences
But what are the differences between the 'independent station' and its RNLI (Royal National Lifeboat Institution) counterpart? Firstly, both forms of lifeboat station have coexisted since the founding of the RNLI in 1824, but in actual fact, the first independent station was formed well before that, way back in 1776. Many of those early stations were 'adopted' over time by the RNLI, while others continued to remain independent. The RNLI, though, is a single charitable organisation and funds all its stations and their respective interests without government support. On the other hand, each 'indie' station, though also for the most part being of charity status, operates autonomously and is completely self-funded. Until very recently, the indies had no national association representing their collective interests. But more about that in a moment.
Independently speaking
You might be surprised to learn that there are around 60 independent lifeboat stations operating around the UK's coastline, with yet more stationed on estuaries, rivers and lakes. Many of these are on call 24 hours a day. Some are even former RNLI lifeboat stations that have since been reintroduced as independent stations to meet the increase in leisure boating. But the presence and profile of the RNLI, both in our national psyche and around our coastline, can mean the public often assume that all lifeboats are operated by the RNLI. This lack of awareness can put the indies at a significant disadvantage when it comes to fundraising, and the latter is crucial as they have to fund their own boats, equipment, training and station upkeep entirely without any 'central' support or coordination.
All search and rescue lifeboats have to be operated too in accordance with the Rescue Boat Code and when available are 'declared' as a resource to HM Coastguard as the UK's search and rescue coordinator. Keeping pace with this high standard of operational readiness requires constant revaluation and investment. After all, HM Coastguard, a section of the MCA, makes no distinction between independent and RNLI resources and, as a matter of practice, will task the most appropriate resources available to meet the immediate needs of the casualty.
Prior to 2022, indie stations were stand-alone operations that had no cohesive or comprehensive representation. But in that year the situation changed, thanks to the formation of NILA, the National Independent Lifeboat Association, an initiative formed with the aid of Anthony Mangnall MP. NILA's mission? 'To give a voice, assistance and advice to the growing community of independent lifeboats across the United Kingdom.' The result has been to create, for the very first time, a valuable, professional and recognised resource for independent water-based search and rescue organisations. This has undoubtedly changed the dynamic of the indies as a group, and it is hoped that the association will now strengthen their profile and ambitions.
Hamble to the rescue!
My local indie station is the famed Hamble Lifeboat. Based at their handsome modern station on the Hamble River foreshore, the operation was one of the founding NILA members. Formed in 1968, in response to the large number of casualties occurring in Southampton Water and its associated rivers, Hamble, Itchen and Test, the Hamble Lifeboat is a station that largely came about as a result of the RNLI possessing no boat suitable for the area. Indeed, a fast, powerful boat capable of operating in particularly shallow water was needed, and so, starting with a 17ft dory, which performed over 100 taskings, as funds grew, a succession of ever-bigger, more powerful and capable boats followed. These finally culminated with the station's current two mighty Halmatic Pacific 32 RIBs, one of which is always in service at any given time.
The Hamble itself offers some 3,200 permanent berths and moorings in just 2.5 miles of its river length. Prestigious marinas are home to large motor cruisers and sailing yachts, but in addition, you'll find day boats of every kind, performance craft, dinghies, paddleboards, kayaks, rowers and even wild-water swimmers plying the waters here. The Hamble flows directly into Southampton Water with its commercial traffic of container ships, cruise ships, oil tankers and fast ferries, all of which have to share the very same waters populated by hundreds of leisure craft. It's one of the UK's busiest patches of water, and testing by nature too, as the fierce ebb tide flows out after the waterway's double high to pour its way over Calshot's long shingle bank at Southampton Water's troubled mouth. Sounds like the ideal location for a lifeboat station, wouldn't you say?
Lifesaver station
Hamble Lifeboat moved to its current site at the quay in Hamble village in 1974, and in due course, a small boathouse and slipway were built. By 2003, it was clear that a larger replacement station was required. So architects' drawings were accordingly prepared with the intention of building a new boathouse large enough to accommodate a 10m RIB with space to work around the vessel, stow equipment and carry out crew training. Fundraising began for a new building that very same year. Over the course of the next 14 years, drawings were submitted, a 99-year lease was secured on the site and planning approval was granted. It was a long and impressive achievement on the part of all involved.
Costs were initially estimated at a whopping 450K, but subsequent changes to the building specification thankfully reduced that figure. Discussions with Hamble Parish Council led to the inclusion too of a public shower and WC facilities in the side of the building, which all helped to release the necessary grant aid for construction.
In 2016, the new boathouse structure was finally completed. The John & Violet Hurrell lifeboat was proudly pulled into the new boathouse to have her refit completed, and a willing team of volunteers from the nearby Marks & Spencer store at Hedge End decorated and furnished the crew room. Mission accomplished!
The crew and their training
Hamble Lifeboat currently has 26 operational crew, a team of six dedicated fundraisers and five trustees. All are unpaid volunteers. The crew themselves comprise both male and female volunteers who each contribute to the overall need with their own unique abilities and expertise. They include former military personnel, qualified medics, yacht masters, powerboat trainers, nurses, engineers and even media professionals. It's an impressive line-up of human resources.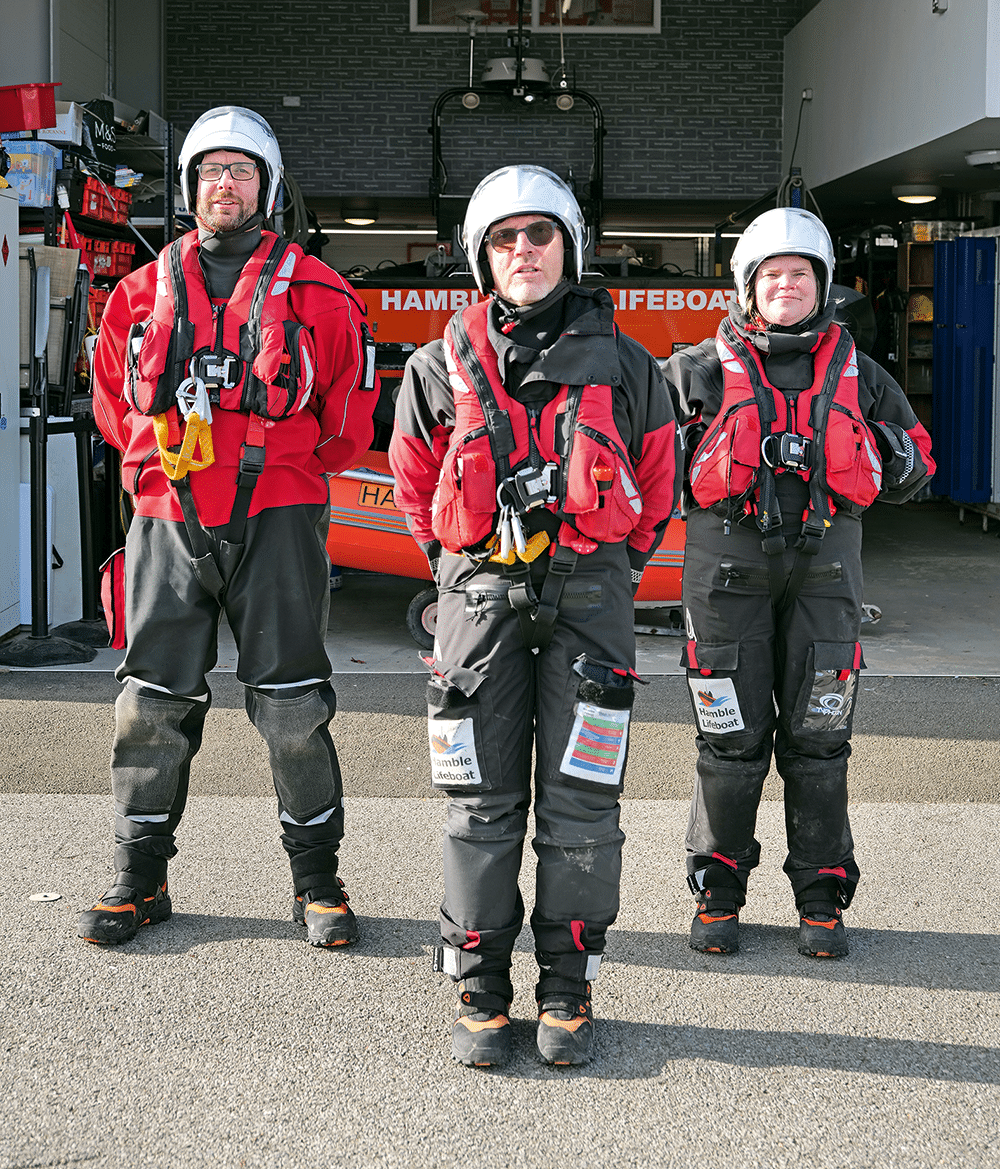 Each crewmember, be they crew, senior crew, coxswain or senior coxswain, goes through a comprehensive in-house training regime, and individually they also hold qualifications in first aid, sea survival and VHF operation, as well as an RYA Powerboat Level 2 qualification. Training sessions are held at the station and/or on the lifeboat every Wednesday, and coastguard training, including helicopter operations, is carried out monthly.
Every second counts
In the event of an incident requiring the services of the Hamble Lifeboat, a coastguard SAR coordinator will contact the 'duty launch authority', a senior lifeboat crewmember who has the authority to activate a launch. Once the decision is made to raise a 'shout', the race is then on as pagers are activated and the crew scramble to assemble at the station without delay. While drysuits, helmets and life jackets are being hastily donned, the lifeboat is prepared for launch by the launch team. The process is both slick and well-rehearsed because, in an emergency, quite literally, every second counts.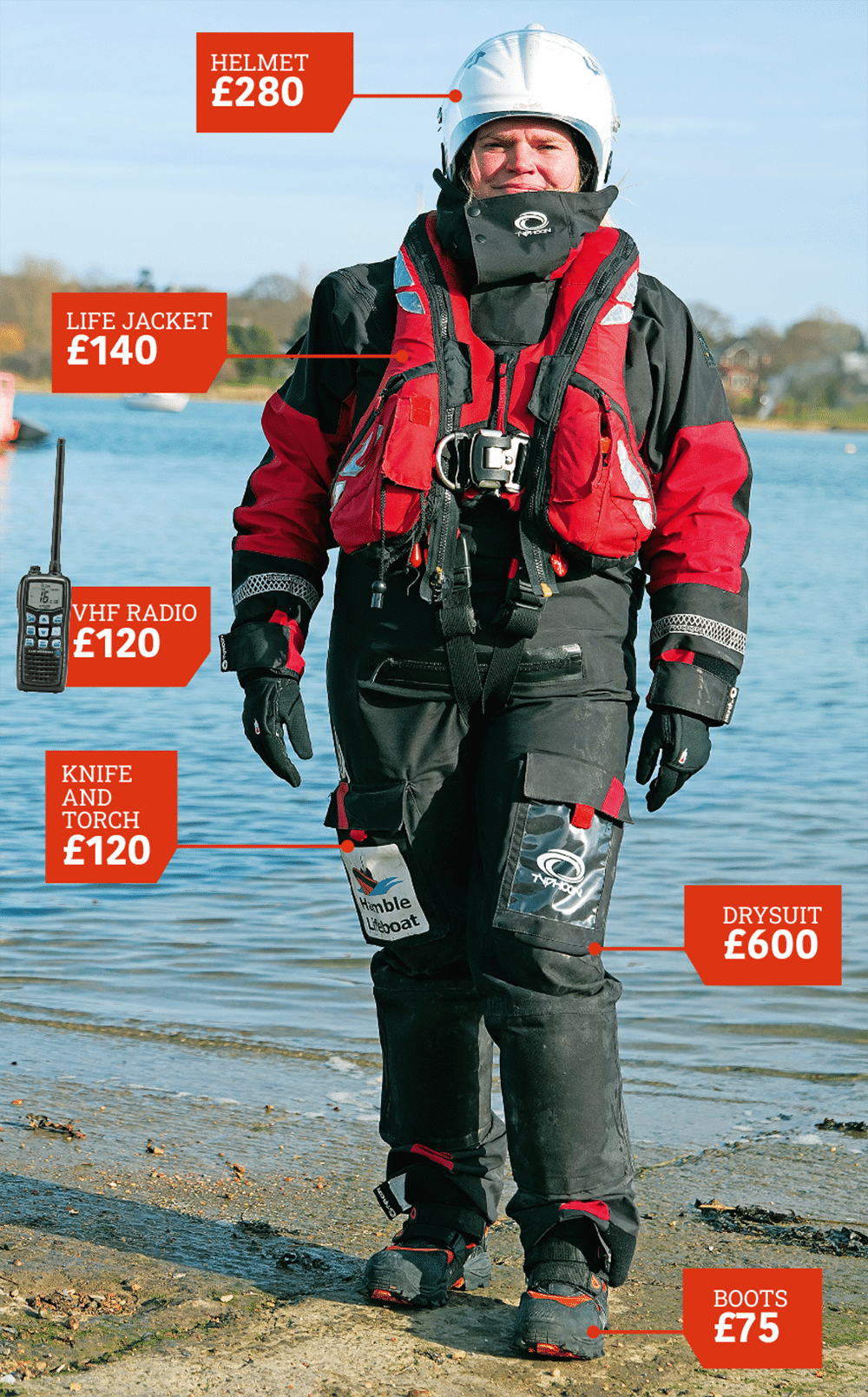 The hardware
The 32-knot John & Violet Hurrell Halmatic 32 RIB is the more modern of the two lifeboats on station. A craft powered by twin Iveco 330hp engines, coupled to Castoldi water jet propulsion units, the Halmatic's comprehensive fit-out is designed wherever possible to include fail-safe systems. These include an emergency backup steering system, which can be called upon if the main hydraulic system fails. The equipment the vessel carries, of course, is essential to its operation and the variety of tasks the crew may be called upon to execute. The inventory includes a 50m lead-weighted anti-recoil tow line, a roll-up Kevlar stretcher, an AED (automated external defibrillator), a spinal board, a Honda water pump, a searchlight and first-aid kits. Helm electronics feature a Raymarine chartplotter/radar/depth sounder, dual Icom VHF radios, an AIS transponder, a DF (direction finder) and a highly useful FLIR hand-held night vision monocular. When required, the station also has a small foldable RIB (FRIB), which can be deployed for use in shallow or difficult-to-enter rock-strewn waters.

Income and awareness
Keeping the cash flowing is as important as any other aspect of the lifeboat's functioning. But, as you can imagine, it's no easy undertaking, as fundraising team members Helen Ray and Paul Ackland make clear: 'People often assume we are part of the RNLI. In fact, some folk actually tell us they've donated already and are then surprised when we inform them that we receive no funding at all from the RNLI and we're actually a separate entity entirely.' With basic annual running costs of approximately £60,000 per annum, Hamble Lifeboat would simply not exist without the support of the local community. So locals and holidaymakers alike are encouraged to support the station's all-important fundraising initiatives, which take in open days, river trips and other imaginative events, as well as the book and merchandise shop operated by the team of willing local volunteers.
Plans afoot
Substantial funds are now in the process of being collected and set aside for the much-needed replacement of the second, older lifeboat. It's a big ask, but the need is a genuine one, so the decision has been made to reach out to businesses in the area in order to attract corporate sponsorship as well as getting local media on board to help further by raising awareness. Meanwhile, the crew are busy being involved in the design of the replacement lifeboat and its modern, all-important casualty recovery features. The vessel will be a rapid-response craft designed, if possible, to arrive on the scene even faster than the John & Violet Hurrell. And while being capable of handling the toughest conditions the Solent can throw at it, the new boat needs to be efficient and less impactful on the environment. But with younger crewmembers coming up through the ranks, the promise of a brand-new addition being made to the fleet, and a new national association having now been formed to better represent Hamble and its fellow indie stations, all in all, the future looks bright.
There's little doubt that the independent stations around the UK make an invaluable contribution to the overall safety of our nation's seas and riverways. It is our hope that, especially now with the formation of NILA, the indies, including Hamble Lifeboat, will grow in their cohesive abilities to not only survive but also thrive as the worthy charities they most certainly are and have been for the last 200 or more years. 
The first indie
The first recorded independent lifeboat service was established in 1776 at Formby, 7 miles south of Southport. It remains in active service today as an independent lifeboat.
Hamble
Lifeboat V
essels
1969 – The St Andrew, a 17ft dory with twin Mercury outboards.
1974 – The St Andrew II, a 21ft Boston Outrage dory with twin 50hp outboards.
1981 – The St Andrew III, a 30ft Atlantis Eagle RIB with a single 212hp diesel and Castoldi 06 water jet.
1989 – The St Mary, a 7.4m Humber RIB with a single 250hp Iveco engine and a

 

Castoldi TD238.
1992 – The St Andrew IV, a Halmatic Pacific 30 RIB with twin 250hp Iveco engines and twin

   

Castaldo TD238s.
1997 – The Harry Childs, a Halmatic Pacific 32 RIB with twin 330hp Iveco diesel engines and twin Castoldi TD238s.
2006 – The John & Violet Hurrell, the second Halmatic Pacific 32 RIB with twin 330hp Iveco diesel engines and twin Castoldi TD238s