Professional skipper Paul Mahy steps into the breach to test Jeanneau's latest Série2 incarnation of the company's ever-popular, Yamaha-powered, 10.5 Cap Camarat WA centre console cruiser.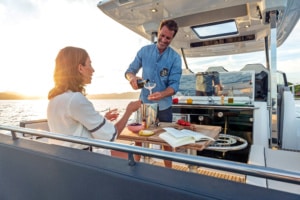 Henry Jeanneau first started building fibreglass boats in 1958, thereafter shortly going into production with the Sea Bird range in 1963. A practical and fun water sports craft, the Sea Bird became a model that inspired many other leisure boat builders back in those carefree, swinging sixties. 
The first actual Cap Camarat model was a 5.75m open boat of centre console design, which earned itself a reputation for being both sturdy and capable. In fact, the hull's attributes came to be further proven on the powerboat racing circuit with much success. Fast-forward and the company determined it should expand not only its horizons but also its production capabilities to include well-appointed motor cruisers. The Prestige arm of the business was born and, at this time, has some 2,500 flybridge and motor yacht craft currently in use worldwide.
The Cap Camarat range, the focus of our attention here, has developed into a highly successful array of models, known internationally for their wide appeal among a great swathe of the leisure boating market – be it those seeking a sports craft, a weekender, a boat to fish from or even, as in the case of this latest version of the 10.5 model, a capable and well-appointed centre console cruiser. Jeanneau's 10.5 WA Série2 slots neatly between the 9.0WA and 12.5WA models in the current Cap Camarat range.
Blackrock Yachting of Chichester, as on previous occasions, were PBR's hosts for the test and, upon our arrival at the yard, gave the film team and myself the courtesy of a tour of the vessel's external layout and accommodation features. Lying at rest on her berth, her twin 4.2L 300hp Yamaha outboard installation looked tailor-made for the 10.50WA's transom, both in terms of proportion and styling, helping to make this mighty power pack a seriously impressive 'double act'.
On deck
Once aboard, it's immediately noticeable that the generous aft deck gives direct, unhindered access to the cockpit area. The boat's open-air seating configuration, boasting both comfort and functionality for up to 10 people, will surely prove to be one of the 10.50's key selling points. The open layout makes the perfect setting for social living and entertaining, and like so much about this boat, while its design and choice of materials could rightly be described as luxurious, its styling never falls into the trap of being ostentatious. It's perhaps not surprising that this French approach to boatbuilding has proved so popular with the Brits over the years. 
An outside bar, complete with cooker, fridge, drinks station, stylish table, drinks holders and ample storage provided within all the seating units, completes a very comprehensive set of external facilities, all of which can be covered if so required, with an optional weather protection awning. 
On the port side, the bulwark and bulkhead lower to form an access point, and again, this design feature serves to enhance the sense of space. A neat transom swim ladder affords safe re-entry from the water, and the associated deck area is both generous and uncluttered.
Moving forward to the flight deck, you'll find three superbly crafted helm seats designed to provide comfort and support whether set in their bolster/underway mode or when fixed in the sitting position for relaxed driving and/or socialising. 
At the helm
A full technology suite that includes GPS colour plotter, sonar and radar is positioned in the line of sight ahead of the helm, and then, falling nicely to hand, come the throttles, complemented by the controls for the bow thruster, trim tabs and the overhead searchlight. The Yamaha throttles, being a 'fly-by-wire' system, afford various preset modes that include a useful trolling setting and single-lever power control. The latter simplifies the operating of the dual throttle shifters hugely when underway and auto-synchs each outboard's RPM in the process. 
To further aid protection from the elements, particularly when underway, the section between the hardtop and the console windscreen can be neatly filled by means of a high-quality transparent panel. As we were testing on a brisk and seasonally chilly day in mid-February, the decision was made to have this in place, but with the corresponding side panels left open. The shelter the former alone afforded was impressive, but with the clear side panels in position, occupants will enjoy an even better-protected open-backed cockpit. Thanks to the quality of the removable clear-view panel screens and their design, we found no issues in terms of visibility, and in a sense, this adaptable arrangement affords the best of both worlds, enabling this open craft, if so required, a similar degree of protection to that of an all-weather cuddy.     
Space enhanced
Moving along up to the foredeck is an uncomplicated process, with ample-width walkways and stainless handrails provided to heighten on-board security. The foredeck itself features a generously sized sunbed of the type you'd normally find on a much larger vessel. An unhindered working area up in the prow means the business of working lines and anchor monitoring, etc., is made easy too. 
Talking of space, this is maximised from a design perspective by the use of outboard power. A few years ago, a craft like this would have undoubtedly been diesel powered, but the ways of the world have changed and Jeanneau are not the only ones embracing marine outboard technology thanks to its potential for increased deck space and deck furniture, perhaps even an aft cabin, as well as the simplifications outboards afford in terms of their relative ease of rigging and servicing.
Down below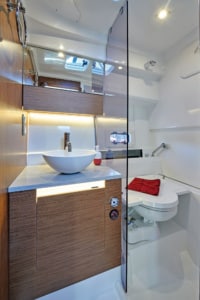 Within the port side of the helm console, the companionway steps lead on down into a bright and airy saloon that features a neat galley area also located on the port side. A horseshoe of plush seating then envelops a table that will seat eight comfortably. The modern and attractively designed interior is enhanced by a laudable degree of light that streams in through the long ports on each side. Storage abounds everywhere, but to starboard you'll find the heads compartment, and where many incorporate the shower and the heads tightly into the same space, this Cap Camarat has given over a generous separate area for ablutions. It's all very civilised. But we're not done, because at the rear end of the salon, a door opens to reveal a double berth that extends aft under the cabin sole. Its entrance benefits from full-head-height access, which reduces to a mere stoop at the head end of the double berth. Here too, light streams in through the portlights.
The 10.50's well-thought-through interior, with its choice of laminates, upholstery and cloth, and its judicious use of trims and enhancements, etc., is not only tasteful and modern in its expression, but the fit-out is also very practical. It all adds up to offering much more than what one might expect from a 'weekender'. But it's my view that this Cap Camarat WA Série2 has the potential to prove a very attractive proposition for those seeking a mini cruiser too. 
Underway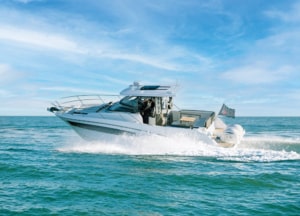 Leaving the dock and negotiating the adjacent pontoons is a stress-free experience aided by the boat's excellent 360 visibility and twin-engine configuration, which allows one to play one engine off the other. There's no denying that the thruster fitted to this craft simplifies close-quarter manoeuvring hugely, but if you plump for the optional joystick control, though it comes at a cost, this increases control at the helm even more. 
Winding our way through the picturesque Chichester Harbour, the twin Yamahas were inaudible and wholly unobtrusive through the calm waters of the approaches as we headed out toward the eastern Solent. A gentle push of the throttles and we climbed up on the plane effortlessly before settling into a steady pace of 25 knots. This is a great cruising speed for this length of hull, but push her harder and the boat is capable of delivering a perfectly respectable 42 knots – the top speed we found ourselves averaging, in fact, on our timed runs.
This Cap Camarat definitely has the feel of a bigger boat thanks to her beam and substance. She may not be a racehorse, but the 600hp on her tail provides a great feeling of power and sure-footedness. She's certainly not a boat that's going to be deterred by an angry Solent chop and she punches through the sea admirably, responding to the trim in fine fashion, helped by her inherent good balance. At 37 knots, the hull's response to the helm was as predictable as it was confidence giving, with no side slip and certainly no misbehaving from this pedigree deep-vee. Her handling said much too about the standard of Blackrock's engine set-up and choice of propellers, etc. Even in the tightest turns, the 10.5's motors gave no hint of any cavitation.
We found the driving position and its corresponding seating configuration worked well in relation to each other and this added to the overall driving experience. I had no issues with the cockpit ergonomics. Furthermore, Jeanneau's accumulated design experience really showed in terms of the cockpit layout and the manner in which its systems were integrated in such a pleasing and functional fashion. 
Of course, not everyone stays on deck when underway, so I spent a bit of time too in the salon to test out the ride from down below. I'm happy to say that it was a very pleasant and comfortable experience, and all the more so upon finding that this inner space was devoid of unwelcome rattles or disturbing creaks – testimony to the vessel's solid construction. 
In conclusion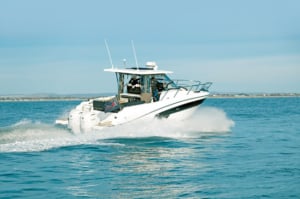 Jeanneau's 10.5 Cap Camarat WA Série2 is a thoroughly well-thought-out centre console weekender-cum-cruiser. Her components and standard of finish throughout ooze quality. Her design embraces the benefits of space and is evidenced in her skilful deck plan, as well as her ability to capture natural light down below. Her decks inspire socialising while her accommodation displays a tasteful and comprehensive appreciation of comfort. For many reasons, you could rightly describe this 10.5 as a genuine 'family boat', but one that I'm sure will also appeal to mature boaters seeking a refined yet not outlandish solution to their on-water activities. 
Protection
To further aid protection from the elements, particularly when underway, the section between the hardtop and the console windscreen can be neatly filled by means of a high-quality transparent panel. As we were testing on a brisk and seasonally chilly day in mid-February, the decision was made to have this in place, but with the corresponding side panels left open. The shelter the former alone afforded was impressive, but with the clear side panels in position, occupants will enjoy an even better-protected open-backed cockpit.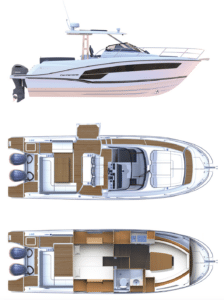 Layouts
Jeanneau 10.5 Cap Camarat WA Série2 layouts
This craft displays a laudable approach to the creation and use of space throughout.
Specifications
Jeanneau 10.5 Cap Camarat WA Série2
Overall length with options: 10.93m

 

Overall length: 9.95m
Hull length: 9.31m
Overall beam: 3.25m
Hull draught: 0.73m
Weight without engine: 4280kg
Fuel capacity: 2 x 400L

 

Water capacity: 160L
Max. engine power for twin engines: 2 x 425CV/hp

 

Engine shaft length (twin engines): 762mm
Berths: 4
CE category: B-8/C-10
Architect / designer: Sarrazin Design / Michael Peters Design / Jeanneau Design
Contact
Price
As tested: £250,826.72 (inc. VAT)
Performance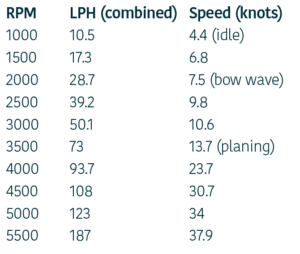 Jeanneau 10.5 Cap Camarat WA Série2 powered by twin Yamaha 300 V6 motors (2021 specification). Conditions on day of test: light SW winds with a 2ft swell. 
Best average speed achieved on day of test: 42 knots, 5800rpm, burning 206Lph