Alex Whittaker gets underway aboard a highly versatile 25ft sports craft with the potential for adventure …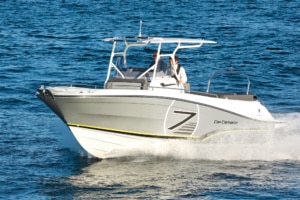 For many years, Jeanneau have cornered the European market with their centre consoles. Year after year they make refinements, and it shows. The new Cap Camarat 7.5 Centre Console S3 is a deceptively simple but enviably well-thought-out powerboat. Sassy sports graphics and snazzy hull-colour options make this a sleeker-than-expected centre console design. Its many missions include fishing and family fun. However, with its double berth, sea toilet and cockpit galley, this is more of a weekender than a mere overnighter. We tested this new boat in decidedly inclement weather in the South of France.
The hull
This hull, designed by Michael Peters, really is a monohull. I'll explain: the hull is formed as a single unit with the topsides in a hi-tech injection moulding process. It is seamless, and in simple terms, this equates to there being no joins between the vessel's hull and topsides.
Stepping aboard
Boarding is easy with twin bathing platforms set around the single outboard. Safety is assisted by a large-diameter stainless steel upright handrail, topped by a ski-tow loop. The port platform has a pull-out reboarding ladder, with an additional stainless steel grab rail adjacent to it. There's even a rope locker under a small hatch. Forward entry to the cockpit is via a small transom door to port, and you step down into it at the transom.
Aft cockpit
The main cockpit immediately feels spacious. This is because, in typical Jeanneau style, the three large cockpit benches fold away back into the gunwales and transom. This 'declutter' feature, plus noticeably deep gunwales, greatly assists this boat's fishing mission, but also keeps the crew safe on fast family cruises. When all three benches are in place, a table can be inserted between, giving a sociable eating area. The impressive al fresco island galley immediately forward means that the chef (or wine waiter) can easily communicate with the diners (or quaffers). On the version tested there was a full galley with stove, sink, fridge and storage. The other, more overtly 'fishing version' can have a see-through live well and pump. The fore end of the galley supports the dual helm seats. On the fishing version this can be an American-style leaning post. The cockpit sole hosts a good bit of storage, with a large central lazarette underfoot, and a longer, slimmer storage area to port. I noted these hatches had rubber gaskets.
The helm
The seats as tested were utterly secure, since they were directly mounted on to the galley moulding. They gave good grip in the corners, and they had flip-up bolster cushions and stainless steel handrails, so you can drive securely standing up. I was able to brace myself against the moulded-in footrest in the lower console. The superb powder-coated hardtop tubes offered good handholds and added to the feeling of security at the helm. I noted that the substantial frameless windscreen was thick glass and not some wimpy polycarbonate. The low-glare grey and piano-black helm is well sheltered behind the windscreen, with stainless steel handrails on either side. As tested, the helm had a Garmin multifunction display, the usual Yamaha engine instruments, a Fusion stereo head unit, a bow thruster joystick and a Zipwake trim control panel. (This hull was not at all sensitive to trim, by the way.) The usual Yamaha engine control lever lies to starboard of the console, with some lateral support offered by the hardtop tube. Seven ready-use switches lie between the wheel and the engine controls. The smoked acrylic door to the cabin is to port. Overall, the helm looks minimal and smart, with enough space to house any MFD or instruments you might wish to specify from new. 
The cabin
The cabin sets this centre console apart from many in its class. It is more than a basic cuddy since it has better headroom, a plumbed-in sea toilet and two places to enter or egress. I could stand and dress, or swap boots, at the aft end of the V-berths. Inserting the cushions then makes up a berth for two. I tried it and could stretch out. The headroom manages to dispel that enclosed-cave cuddy feel. The sea toilet under the starboard bunk and the galley on deck make this boat a proper weekender, rather than a mere overnighter. For the UK, except in the most benign weather, I reckon that the cockpit would benefit from the canvas option for weekending.
Fore cockpit
This area feels like an 'enhanced bowrider'. It is easily accessed since the footways past the centre console are wide. They offer no pinch points to body or foot. The hardtop greatly assists when you are looking for handholds going forwards in a swell, as do the deep, safe gunwales. The comfortably upholstered U-shaped seating at the bow also has novel swing-out backrests port and starboard. This allows crew to face forward while underway. There is another forward-facing upholstered bench on the console/cabin top. Unlike some foredeck 'suicide seats' I have tried on other vessels, this bench has the substantial hardtop tubes for handholds on each side – a well-designed feature. Cleverly, this whole bench top hinges up to give access to the cabin below. A table can be added between all the bowrider benches, and infill cushions can make up a large sun pad. In this necessarily raised area, the gunwales are sensibly topped with stainless steel rails. The tops also sport handily recessed beverage holders. At the stem there is a small moulded-in platform, a substantial anchor locker under a hatch, a Lewmar electric windlass and a self-launching anchor. Cleats lie to port and starboard outside any trip zone.
Overall, this fore cockpit is very companionably niche. It is a great place for family to laze back at anchor. Such comfy lounging is not normally associated with such an advanced fishing machine!
Driving impressions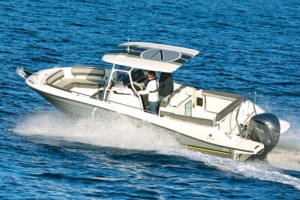 Test conditions were ideal for real-world testing, i.e. breezy with a deep swell, occasionally overlaid with a sharp Med chop – too lumpy for family boating, but ideal if you craved a bit of wave-top adventure. The bow thruster really helped getting off the berth in the crosswind, and low-speed handling in the marina was good, with no obvious weaving. Two up, we left Cannes and pressed on towards La Napoule. The hull was very taut, and with the engine trimmed well in there was no slamming. There was enough shelter at the helm to dodge the odd breaking wave, but the chine knuckles on the hull controlled the spray excellently. The hardtop really aids overall rigidity, and the whole boat feels tough and well sorted. We managed a 25-knot cruise in these poor conditions, and a rather impressive 39 knots flat out. Mind you, I could not hold that speed for very long, as it was too rough for my helming skills. By the way, I could see no compelling reason to go up to the 300hp option. I had every confidence in this hull, and in rough conditions, the helm, top rails and hardtop offered enough handholds and brace points to feel secure at all attitudes. Blasting round big donuts at high speed was a gas! 
The verdict
This is a very versatile package and will equally fulfil the role of a weekender, a centre cockpit, a fishing boat or an enhanced bowrider. It's my considered view that this Jeanneau Cap Camarat 7.5 Centre Console will relish taking on any one of the roles with aplomb. Without doubt, she has the makings of a great family vessel, and her designers should be commended for packing so much into her 22ft hull. Furthermore, as we discovered on the day of our test, when the going gets decidedly tough, this boat is a true 'get-you-home device'. 
Pros
Deep gunwales
Hull is safe and secure
Practical hardtop design
Double berth, galley and sea toilet
250hp option is the sweet spot
Cons
Galley options all add up
Canvas preferred for UK weekending
Marina will charge you for a 25-footer
Specifications
LOA: 7.74m (25ft 4in)

 

Hull length: 6.9m (22ft 10in)

 

Beam: 2.55m (8ft 4in)
Weight (no motor): 1483kg (3269lb) Motor as tested: Yamaha 250hp DETX
Berths: 2
Fuel tank: 330L
CE certification: C9/D10
Contact
https://www.jeanneau.com/en-gb/boats/powerboat/5-cap-camarat-center-console/5-cap-camarat-7-5-cc/
Price (INC. VAT)
Guide price: 66,990 euros
As tested: 113,860 euros