Wide-open throttle or sizzling in the sun, the Joker has more than one face, as Greg Copp discovered …
Every pack has a joker, but this wild card is predictably serious. Built in Italy by Joker Boat and imported by Marine Matters of Warsash, this latest addition to the Joker range is your typical Med-spec RIB. Mediterranean RIBs have been increasing their presence for many years in UK waters, simply because they have a logically broad appeal.
Jockey seats and drysuits are the order of the day for the offshore RIB brigade, but the UK passion for rigid inflatables is extensive, and this includes the family boater. Just like the modern family car has many of the features previously only found on upmarket cars, the family RIB has evolved too. The Joker Clubman 22 is a perfect example. It looks expansively comfy with a big emphasis on sunbathing, but on the transom and below the waterline is where this boat ticks.
Driving the Joker 
The Clubman 22 has a generous power-to-weight ratio. The wetted surface area of a 7m boat and 250hp on the transom make for a lively drive, and in this case a predictable one. Not surprisingly, it takes off rapidly, hitting 40 knots in just over 10 seconds. If you want the best from her beyond this speed, you need to trim the outboard up past 50%, as her normal point-and-shoot trim setting of 25% will see you topping out at 43 knots. All this, in our case, was with three on board, and around 30 gallons of fuel; apparently, with just one on board, 48 knots can be achieved.
The Joker's natural poise is well balanced, thanks to good weight distribution. Running flat out towards the southern end of Southampton Water where the sea state was starting to increase from a southerly force 5 proved a good test. With the white horse crests sharpening, I expected some degree of uncertainty, but at 40 knots with a small amount of trim out, this 7m boat is impressively predictable. She shows no tendency to chine walk, and if you trim her out further to squeeze the last few knots from her, you will simply get a more exciting ride, albeit more focused. Dropping down to 35 knots in these conditions, you get the feeling that you could crack on in a near-leisurely manner, depending on your crew, of course.
Given that the boat runs very level, I was expecting some degree of spray on board, but the wide flared bow does a good job of keeping it out, helped by the blunt nose sponsons, which as they run aft are not far above the waterline. You would normally expect a fairly bumpy ride from a hull that at first glance does not look particularly rakish; however, on close inspection you can see that the lower section of the hull forefoot sharpens quite a bit. The transom deadrise angle is 19 degrees, so not deep-vee, but rather what could be termed 'deep-medium vee', which, considering the wide beam, is relatively generous.
The helm set-up is pretty good. You get an angled footboard for that all-important standing position, but if you are turning hard you will want to push your feet out past the console for lateral stability. When seated, you get a degree of security from the enclosed seat, and if you intend to soak up some leisurely sea miles, this is the stance to take. Wheel and throttle ergonomics work well in both positions, and the windscreen gives you full weather protection. In the turns, the SeaStar power steering does a good job of making life easy. Anyone can comfortably throw this boat about with one hand on the wheel, with no overreaction and good feedback. What is evident is a small degree of cavitation when powering out of the hard turns this boat can execute, but given that you have 250hp on the transom, this is not too surprising. I could not induce any hull slip either, and I did try. If this boat were built with a truly medium-vee hull, such spirited driving in the turns could be a different kettle of fish. You get a reasonable amount of hull lean, but the low sponsons will only let things go so far.
Layout, design, features and fittings
Like any open boat, it is built to enjoy the sun. The Joker uses the well-worn concept of being able to convert seating areas into sunbeds – in this case, both fore and aft. This is no mean feat for a 22ft boat, and it does it with little compromise, as the aft sunbed is simply vast. The transom seat backrest folds down, and the double helm seat folds forward to create another extension. This area is also well enclosed by the raised coamings on each quarter. Not only do they provide security for sunbathers, but when this area is being used as crew seating, it offers good security underway. Padded sections extend past the helm seat, where you need to squeeze by going forward, potentially knocking your knees. In dining mode, the folding teak table, normally stowed in the huge storage locker under the back seat (otherwise creating the infill for the sunbed), provides realistic dining for six. There is no inbuilt electric cool box, however, so unless you install one – for example, in the port-side locker in the console – you will need to rely on something like a portable Igloo cool box. For water sports fans, you will need to step over the back seat onto one of the bathing platforms – the port side contains a concealed slide-out bathing ladder.
Going forward, you find a large sunbed sitting over a cavernous forward locker – big enough to swallow more water toys than this boat can tow. Like all the lockers, of which there are no fewer than seven, the finish of the internal laminates is of a high standard. In the forepeak lurks a very serious windlass – typical of the Italian mindset that appreciates the need to be able to pluck a reluctant hook from the seabed.
Verdict
The Joker Clubman 22 is a very solidly built boat, which is not just evident from poking around behind the scenes, but also when you drive it hard. The quality of the fittings is high, down to the stainless sponson valves, big cleats and a stainless steel fuel tank. The upholstery is neatly finished and available in many colours – other than the bottle green of our test boat. The synthetic SeaDek decking at £1,250, like the other extras, is reasonably priced, and the extras list is actually pretty small, so I suspect that few will order this boat below the specification level as tested.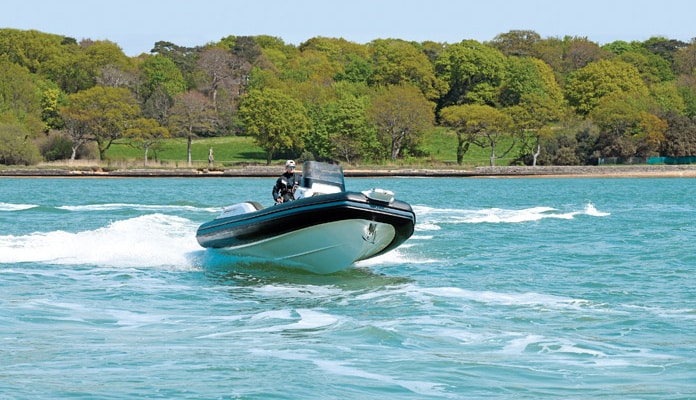 What we thought
 

For
Responsive steering

Predictable sure-footed ride

Soft-riding hull

Good fuel efficiency

Plenty of storage

Comfort

Solid build quality
 

Against
Kill cord location too close to wheel (apparently this is now going to be moved to a better position)
Specifications
LOA:

7.01m

Beam:

2.77m

Displacement:

1.6 tonnes dry with Suzuki DF250 and fully fitted.

Petrol power options: Single Suzuki DF250 outboard.

Fuel capacity:

210 litres

RCD category:

C

Test engines:

Single 250hp Suzuki DF250
Performance
46.1 knots (2 way average) sea conditions F3 to F4, crew 3, fuel 30%.

0 – 40 knots in 11 seconds
Price

 

(INC VAT)
Contact
Marine Matters, Unit 4, Stone Pier Yard, Shore rd, Warsash SO31 9FR.