Spacious and versatile, the sturdy Karnic 651 is more than just a Jack of all trades, as Greg Copp reports …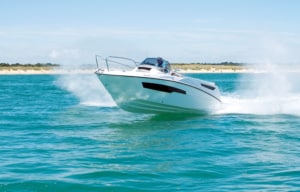 This Cyprus-based company has never been slow in coming forward in terms of innovative designs. Karnic have a good track record in regard to maximum utility and safety, which their cuddy cabin walk-around boats have proved. Their newly launched four-model 6.5m range is the latest example of this design ethos, particularly the open version 651. Walk-arounds have proved hugely popular with the offshore fishing community for decades, notably Boston Whaler, who made the case that fast fishing boats could have another dimension. Now we have many family-orientated walk-around boats, which, unlike some of the low-freeboard bowriders of old, make great use of every inch of space, while providing reassuring security.
For a 6.5m boat, the freeboard is high, as the deck is pushed down as low as possible, and the bulwarks come up to being slightly shy of your waistline. Side-deck width either side of the console is very good – no crabbing to get forward. The sense of security is enhanced by the tall guard rails, which increase in height as they go forward to a broad pulpit – wide enough for someone to step off onto a dockside comfortably. A deep anchor locker sits in this SeaDek-covered forepeak, which for £1,542 can accommodate a windlass. The forward section of the boat offers three very neatly lined lockers under the removable seating, which when set up as such can convert with an infill to create a substantial sunbed.
Karnic have equipped the 651 with what they call a 'console cabin'. This area has a lot more space than you would expect, as it extends slightly under the foredeck. Sleeping here is not a realistic option, but storage is. You can actually get into the console cabin without crawling on all fours, so securing and retrieving large items, which can be secured by straps on either side, is a lot easier than you might expect. It also offers the option of a chemical toilet, which our test boat did not have – a rare commodity on a boat this size.
The cockpit area can either be configured with swivel helm seats or, as our test boat was, with fixed bolster seats, with a wet bar including sink, removable gas cooker and 51L Igloo cool box beneath. The Igloo can be replaced by a 41L fridge-freezer, but given the size and good insulation qualities of Igloo boxes, chilling and filling one at home has advantages over powering up a 12V fridge shortly before casting off. This particular boat was fitted with the aft bench seat. This can also be configured differently as an open design without seating, providing quick access to the optional bathing platforms (£901). However, the transom bench seat does provide folding sections on either quarter, providing access to the bathing platforms, with the starboard one housing a concealed bathing ladder.
Engine options
Through the UK dealership Fine Design, this boat is available with either the Yamaha F175 or the Yamaha F200. It is rated to take up to 225hp, so you could choose Yamaha's F225 4.2L V6 engine, but the extra 40kg in weight over Yamaha's F200 does not provide such a clear advantage, unless you anticipate carrying a full crew on a regular basis. The F200 is the lightest engine in its class, and its 2.8L offset-crankshaft 4-cylinder design gives it a broad spread of power, and good fuel efficiency, which is evident in the 651's ability to return 4.1nmpg at 3500rpm. The F175, based on the same engine block as the F200, offers no bonus over its more powerful sibling, apart from a slightly lower purchase price.  
Driving the 651
The driving position is spot on. You can stand, as many people will, with the seat bolster raised and your feet located on the conveniently angled footboard. Alternatively you can sit, totally shut off from the wind blast. Standing gives a great view over the bow, which is ideal when running into some weather, and the wheel and throttle come easily to hand. The Garmin ECHOMAP UHD 75sv chartplotter, engine display and binnacle compass sit inline under your line of sight over the bow, so glancing down at the on-board state of affairs while reading the oncoming wave pattern is quick and intuitive. 
Karnic describe this boat as having a deep-vee hull. Though I was unable to ascertain what its transom deadrise angle was, from how it performed in some moderate chop, I will hazard a guess that it has a deadrise of 20 degrees – just in deep-vee territory. The ride is fairly soft, providing you keep the bow trimmed down into the weather, otherwise you will hear a few bangs from the hull midsection. It is, of course, relative, so dropping down to the mid to low 20s produces a quieter ride than running at 30 knots, and to be fair, this is a family sports boat, not a white-knuckle blaster. The build quality is evidently good, as with the bow trimmed down and running at the boat's maximum speed, the Karnic does not complain as some boats can when driven enthusiastically.
Throwing the boat into some tight turns revealed three things: firstly, a reasonable degree of heel – enough to provide that sporting feel; secondly, a firm grip on the water without any hint of hull slide; and thirdly, cavitation when powering hard out of the corner. This final aspect did tend to spoil this boat's sporty credentials, as you simply could not nail the throttle hard to drive out of the turn. I strongly suspect this is down to the fact that the boat is overpropped, as the engine would not run past 5100rpm to its maximum operating speed of between 5500 and 6000 rpm. This is also reflected in taking 12 seconds to reach 30 knots, and a top speed of 38 knots – which took a bit of time to squeeze out once past 35 knots. With the correct-pitch propeller, I suspect the Karnic will exceed 40 knots, and accelerate to 30 knots in under 10 seconds. All this said, our test boat was a great drive, as the steady steering and its planted hull feel provided for a reassuring ride when throwing the boat about.      
Verdict
Walk-around boats have a huge amount of appeal, as they provide plenty of everything apart from sleeping accommodation, which in a sub-7m boat is often bottom of the list of priorities. If you have children and/or pets, then knowing they can safely circumnavigate the boat is pretty much priceless, and opting for the portable toilet simply enhances its versatility further. It is also keenly priced, which is not reflected in the 'cost-effective' construction, though as is often the case, it does have a fairly long list of extras.  
What we thought
For
Build quality Practicality
Deck space

 

High bulwarks providing enclosed safety
Below-decks storage
Against
Slightly larger cleats would help

 

Fairly long extras list
Specifications
LOA: 7.15m
Beam: 2.45m
Displacement: From 1150kg (dry, no engine)
CE rating: C for 8
Outboard power options: Yamaha F175 – Yamaha F225
Fuel capacity: 200L
Test engine: 200hp Yamaha F200

 
Performance
38.2 knots (2-way average), sea conditions F3, crew 2, fuel 50%
Price
From: £51,000 (inc. VAT) (175hp Yamaha F175)
As tested: £61,000 (inc. VAT) delivered to UK
Contact
Fine Design Marine, Cobbs Quay Marina, Poole Harbour, Dorset BH15 4EL