Laser Tools' new rectangular oil funnel kit features a screw-on spout for snug fitting as well as a tube adaptor for filling straight into the dipstick tube or hard-to-reach areas.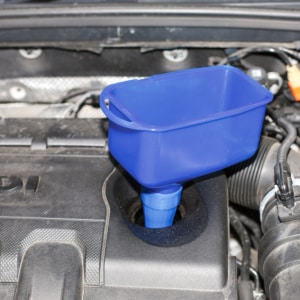 Sized to take standard 1-litre oil bottles, this compact funnel measures 142mm x 70mm x 78mm. The side handle makes it easy to hold the funnel steady as the oil is poured.
The new funnel kit is suitable for a wide variety of applications on boats, cars, light commercial vehicles, motorcycles, etc. The tube adaptor is particularly useful for gearbox oil or automatic transmission fluid top-ups on older vehicles.
Full details are available at www.lasertools.co.uk.