As the only UK magazine invited to the global launch of Mercury Racing's latest high-performance outboard, PBR flies to Charleston, South Carolina to test the all-new 500R. TMS, PBR's very own 'master of speed'
reports on this high-revving 'screamer' …
There's little doubt about it: the new 500R outboard engine from Mercury Racing is a true engineering triumph. Featuring enhancements from the powerhead to the lower unit, this outboard's technical attributes represent anything but a 450R that has simply been rebadged with an ECU upgrade. Rather, Mercury's brand-new 500R is a ground-up revised edition of the V8 platform with enhancements in every section of the engine.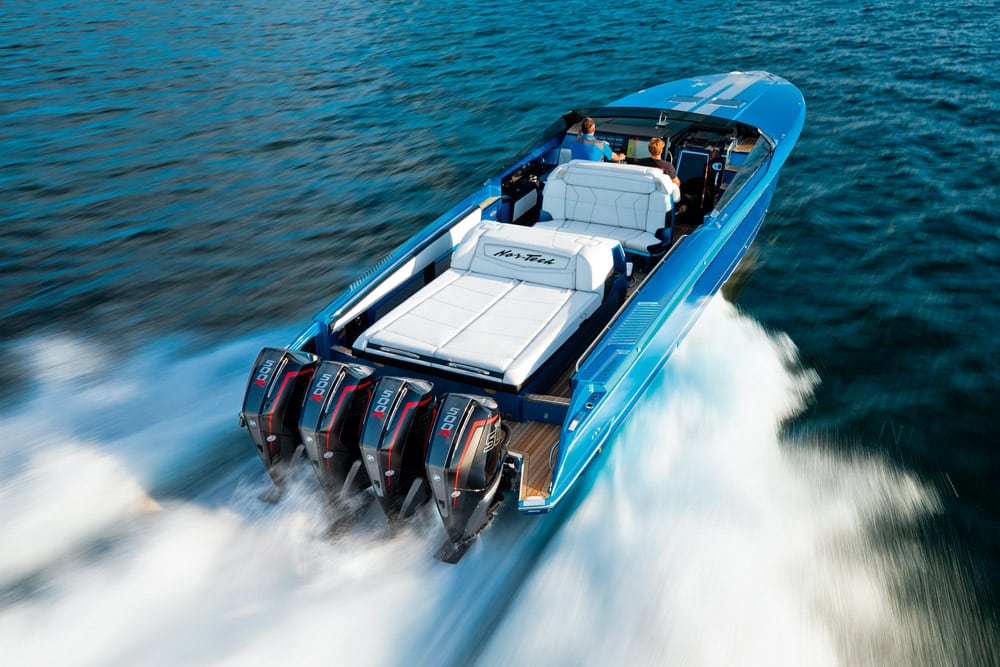 Powering ahead
The powerhead of the 500R boasts several upgrades aimed at maximising performance. These include a low-inertia flywheel that ensures the engine exhibits lightning-fast response times. This was particularly apparent when driving the Nor-Tech 4000 Supersport, which exhibited race boat blistering acceleration right through the engine's entire rev range. Without question, the Nor-Tech's hull really allowed this technology to shine. A redesigned crankshaft too, featuring larger driveshaft splines and main bearings, enhances durability and strength. Strengthened pistons, connecting rods and rod bearings ensure that the engine can handle increased power and stress as well. As a result, and perhaps not surprisingly, the team at Mercury are very confident indeed in the new motor's engineering and bolstering of components. The fact that they have awarded the 500R an additional five-year warranty on top of the standard three years underscores this. In fact, a full eight-year warranty on a race engine of this size is an industry first.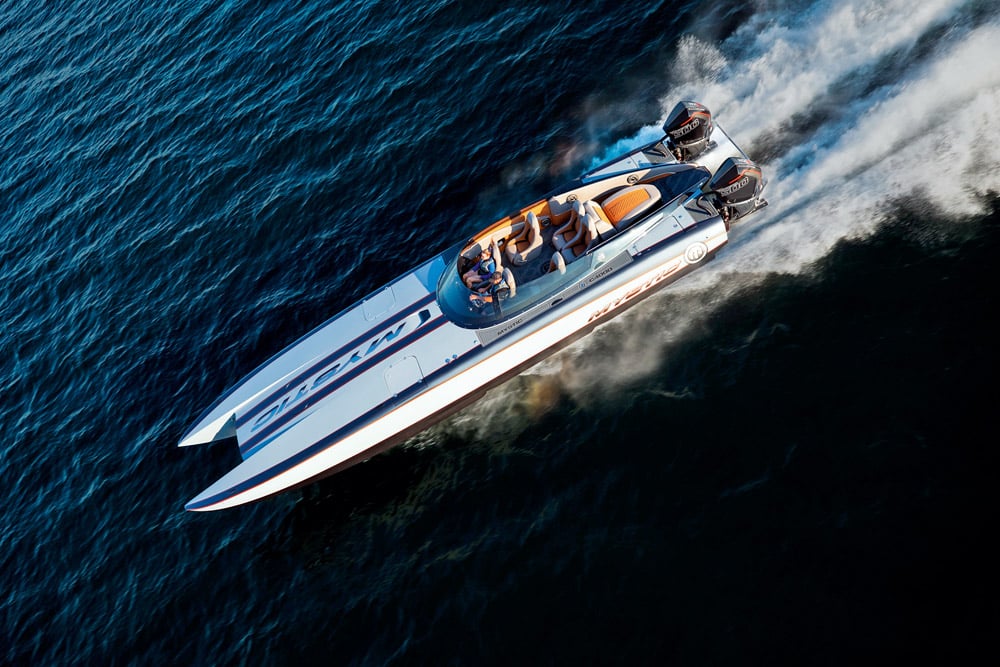 The engine is notably high-revving, peaking at 6600rpm, but this, of course, heightens both performance and top-end speed. The result is a real 'screamer' of an engine and a petrolhead's absolute dream. In my view, even highly experienced powerboat drivers will be astounded by the 500R's ever-climbing, ever-responsive, high-revving aggressiveness. But perhaps even more importantly, the increased RPM, paired with the new gearbox ratio (more on this standout feature in a moment), allows for larger 17in propellers. This in turn not only increases the prop options, but also allows a maximising of the larger-horsepower potential – something that will be greatly appreciated by the large catamaran and high-performance boat sector.
Inducing induction
The induction system of the 500R has been meticulously engineered to optimise airflow and boost pressure. A larger intake improves air intake efficiency, while the enlarged 92mm throttle body promotes increased power through enhanced airflow. The supercharger now operates at a massive 26% higher boost pressure over the 450R, resulting in impressive performance gains. The charge air cooler's flow pattern has been optimised for improved cooling efficiency, while the engine utilises 'humidity compensation' technology to ensure optimal spark timing in various atmospheric conditions. This ability is especially ideal for the likes of the Florida climate and other areas of the world that are typically more humid. This technology essentially allows for the engine to run at optimum performance, even on humid days when traditionally performance might be slightly suffocated.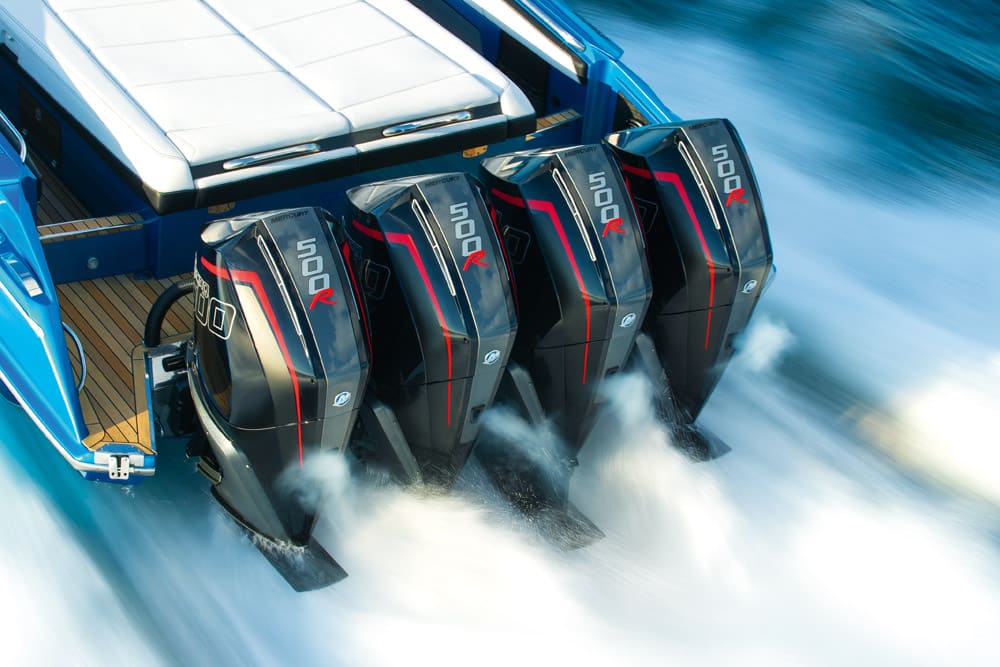 The combination of additional boost pressure and a larger throttle body unleashes an exhilarating mid-range punch that is nothing short of extraordinary. This power-packed upgrade delivers exceptional torque, which is particularly beneficial for European boating applications where single, twin and even triple installations are prevalent. For larger Mediterranean RIBs and offshore driving, this increased torque becomes invaluable, ensuring the boat remains on the plane even in challenging seas. Moreover, the enhanced power is the perfect pairing for any modern stepped performance hull, providing race car-like acceleration and instantaneous throttle response that, when paired with a well-engineered vessel, truly sets the experience apart.
Nice waistline
The midsection of the 500R has had development work. It's needed too with all this power and torque running through the transom and mounting componentry. Hence, the midsection is equipped with advanced racing core technology for improved stability and performance. Two additional trim booster rams, alongside the main cylinders, enhance trim control, while a reduced trim rate speed enables smoother and more precise adjustments. The application here is not so much required for those more typical centre consoles, large RIBs and day boats, but more for the high-performance cats running 130mph+ where a slower, more precise trim speed provides for safer and more accurate running of the vessel.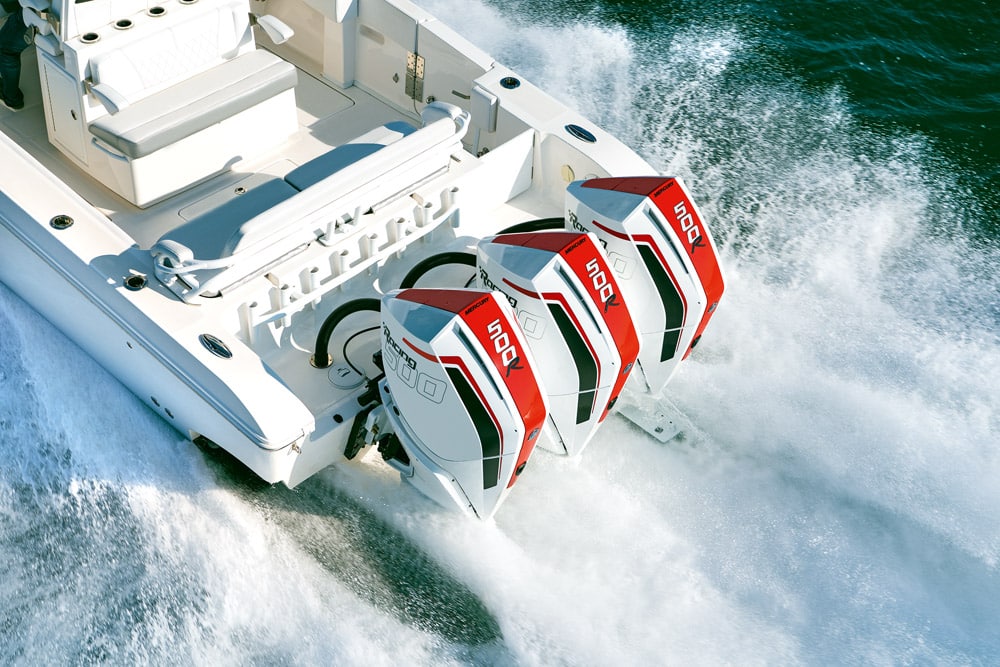 I was really impressed by how little the engines moved about on the transom. Even with the 300R and 450R, you will at times see the engines jump around a bit as they push large displacement craft at insane speeds offshore. However, this is reduced further still, with precision-fitted guide plates contributing to enhanced handling and stability, while stiffened engine mounts increase rigidity and durability.
Electrical current
The electro-hydraulic power steering cylinder provides 18% more torque for precise steering, complemented by a 20% stronger steering arm and steering tube. In truth, many electric steering systems are a bit vague and lack feeling through the helm. However, the new Mercury Racing unit is fast, direct and very smooth. When at the helm, you feel you're driving some very refined technology indeed. But it's worth noting one point here: Mercury's Joystick Piloting and Skyhook system is the norm these days, especially for larger craft. On the 500R, certainly for the short term, no JPO system is offered. For this the 400R V10 or the 450R will, in the short term, continue to be the engine offerings of choice in Europe for those that want that ease-of-docking technology. This is due to the fact that the hydraulic tie bar and systems in place for the JPO to work are only compatible with 450hp and under. The 500R is an insanely fast engine, and the torque requirements for steering and the loads experienced at high speed are, for now, best suited to a fixed tie bar. Nevertheless, we're confident that in 18 months' time, we will see this technology develop further.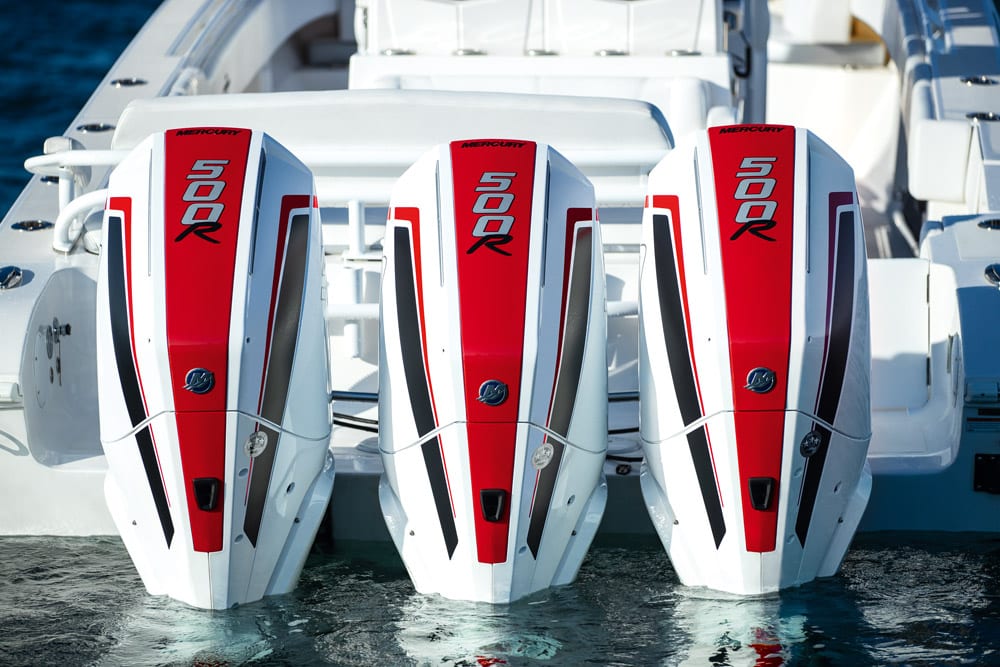 The low-down
The lower unit of the 500R is designed to maximise performance and reliability. Equipped with 5.9in torpedo-size lower units, the engine offers two variations: 'Torquemaster' gearcases are now replaced by 'Race-Drive' for submerged/transition applications in the 85–100 mph range, and the traditional sports master case is replaced by 'Race-Drive Sport' for surface applications at speeds over 100mph. An ultra-high-strength aerospace stainless steel alloy propeller shaft further ensures durability again, while a longer lower-unit skeg enhances stability and control. The lower unit is also furnished with an intermediate spray plate, optimising water flow for superior performance.
Traction
The 500R comes with an array of racing propellers to suit different needs. The new 15in Rev 4/Lab Finished HD line provides enhanced performance. With a total of 10 prop line options available, boaters have versatility at multiple price points. The engine also features a new 1.25in R-Series Hub Kit with double-nut fastening, ensuring secure propeller attachment with the increase in power and torque.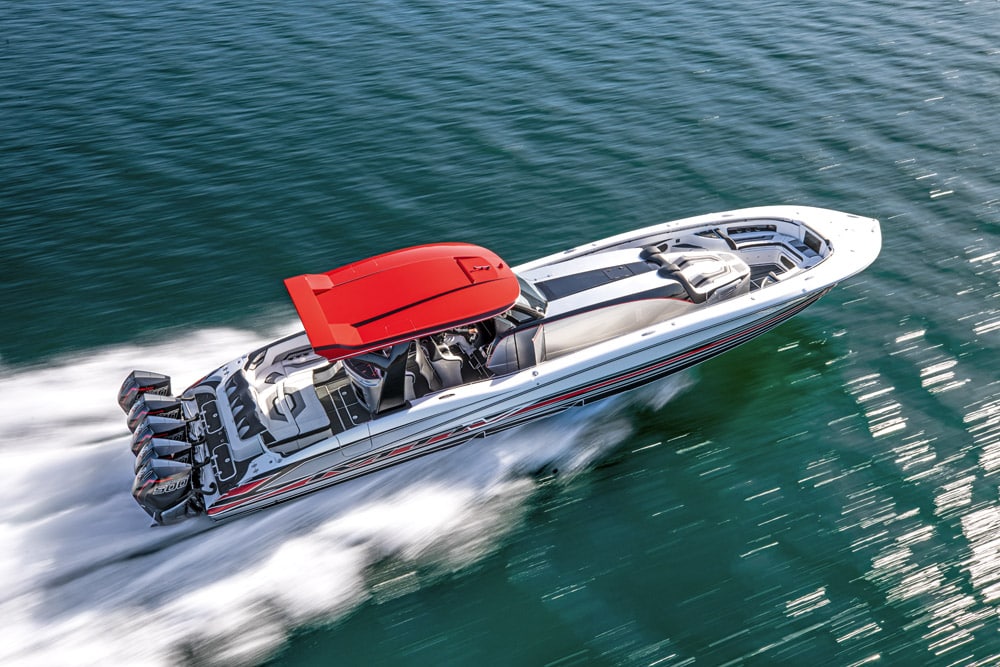 Make your choice
Despite its power-packed enhancements, the 500R weighs only 4% more than its predecessor, the 450R, making it a lightweight powerhouse with an insane power-to-weight ratio. The engine is available in various driveshaft housing lengths, including the new 35in option. Boaters can choose between front steering and rear tie bar steering options, as with the 450R, if they want to crank up the performance applications. Moreover, the rigging process and components remain consistent with those of the 450R, providing familiarity and ideal for those wanting to re-engine to the larger power or who are midway through a new build.
In conclusion, the 500R from Mercury Racing delivers exceptional power, performance and versatility. With its range of enhancements across the powerhead, induction system, midsection and lower unit, it sets a new standard for high-performance marine engines. Whether you're seeking speed, reliability or optimal control, the 500R is a game-changer that will undoubtedly leave boaters exhilarated and craving more on the water.
Key Features
Powerhead
Low-inertia flywheel

New crankshaft (larger driveshaft splines and main bearings)

Strengthened pistons, connecting rods and rod bearings

RPM increased to 6600
Induction
Larger-intake attenuator

Larger (92mm) throttle body 

26% higher (supercharger) boost pressure

Optimised charge air cooler flow pattern

Humidity compensation technology for optimal spark timing
Midsection
Advanced racing core midsection

Two trim booster rams in addition to main cylinders

Reduced trim rate speed

Precision-fitted guide plates

Stiffened engine mounts

Electro-hydraulic power steering cylinder, 18% more torque

20% stronger steering arm and tube
Lower unit
5.9in torpedo-size lower units

Race-Drive for submerged/transition applications, 85–100 mph range

Race-Drive Sport for surface applications for speeds over 100mph  

Ultra-high-strength aerospace stainless steel alloy propeller shaft

Longer lower-unit skeg

Lower unit furnished with intermediate spray plate
Racing propellers
Compatible with current portfolio of

outboard racing propellers.

New 15in Rev 4/Lab Finished HD line

10 prop line options for maximum versatility at multiple price points

New 1.25in R-Series Hub Kit with double-nut fastening
Other attributes
Only 4% higher weight than 450R (approx. 15kg)

20in, 25in, 30in and new 35in driveshaft housing length models available 

Front steering and also, like 450R, rear tie bar steering models available

Same rigging process and rigging components as 450R, including diameter of fuel supply lines used on 350/400 Verado 400R and 450R
For further information go to www.mercuryracing.com