At this year's Southampton Boat Show, abrasives manufacturer Mirka UK will be showcasing their Polarshine Marine cleaning product range, designed to enable boatyards and owners to maintain their boats in top condition all year round.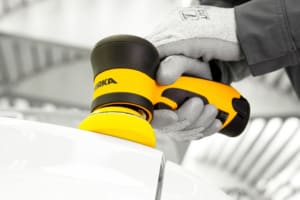 Products to be showcased include Polarshine Marine Boat Wash, which can be used on sensitive surfaces, stubborn dirt and for the cleaning of outboard engine hoods and cowlings, and Polarshine Marine Final Finish – a high-quality finishing agent that protects and cleans a gelcoat surface. 
Supplementing the cleaning solutions on display will be Mirka's cordless tools, spearheaded by the Mirka ANGOS, which can be used for multiple applications, including metal grinding, paint removal, surface conditioning, cutting and deburring. 
Chris Brook, Business Sector Manager Transport and Industry for Mirka UK, said: 'Since we last attended the show, our product portfolio for the marine sector has grown because of the needs of our customer base and the way the industry has evolved, and we are looking forward to highlighting how our growing product portfolio meets these requirements.'