Greg Copp examines the new M225 from Monterey and discovers a solid and fuel-efficient craft that provides a predictable point-and-shoot driving experience.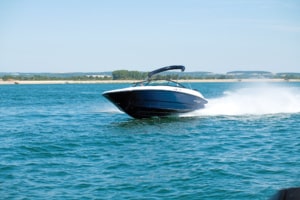 The archetypal bowrider is an American concept, and over the years they have proven popular on both sides of the pond. Chopping out the foredeck to replace it with lounging space may not be to everyone's taste, but considering what most sports boats get used for, it can make good sense. Miami-based Monterey have 30 years' experience in this field and a proven track record in providing solid boats at sensible prices – their M225 proving a good example. Exclusively outboard powered in the 200hp to 250hp range, this boat has a good power-to-weight ratio and is pretty frugal to boot. In boating terms, it is keenly priced, coming in sensibly specified at around 75K. For those that must have a sterndrive, there is the M22 version, which can be ordered with a 350hp 6.2L MerCruiser for anyone with 'extreme needs'.  
On-board space is a key design consideration, hence this boat's beamy topside blunt-bow design. In the foredeck area this enables two short parallel sofa seats, which with an infill converts to a wide sunbed. More significantly, it can also be configured as two separate forward-facing recliners for those that want a wind-in-your-face sunbathing experience. Behind the forepeak sits a bilge storage cavity accessed by a deck hatch, and the blunt bow provides enough space for a sensibly sized anchor locker. In bowrider terms, this is pretty generous, as many simply offer you bow section seating, which can be more of a token than a reality.
In the cockpit you can shut off the elements with a typical windscreen gate, and if need be, you can button down the bow section with a cover when running into the weather. Previous designs of the M225 have been configured with a port-side aft-facing sunlounger, in place of a navigator's seat. Our test boat had twin bucket seats, which can be swivelled to face any direction, thereby satisfying the need to provide an observer when towing skiers or wakeboarders. This is a better set-up, as the alternative does not provide two secure bucket seats, which tend to prove their worth in lively sea conditions.
A substantial storage locker sits under the central section of the cockpit, and cup holders can be found at arm's reach from anywhere where you can sit or sprawl. Recognising the need for cockpit sunbathing, a recliner is located on the port quarter. This also serves as the lid to a huge storage locker – a catch at the foot of the bed opens up a cavity that stretches down to the bilge, and back to the transom. As well as providing crucial board/ski/wetsuit storage space, it enables you to gain access to the battery box. A hinging aft bench seat sits over a 50L Igloo cool box, which is securely located in a quick-release deck mounting. Access to the bathing platform is on the starboard side, via a 'step-up companionway', which shuts off the cockpit with a low gate. There is a temptation to step over this gate rather than open it, which really needs be avoided from a trip hazard perspective. The bathing platform is impressive for an outboard boat, where the tendency is often to simply bolt on two separate platforms either side of the engine. The Monterey has a full-beam platform, which, apart from providing that crucial platform space for water sports, enables easy access to the boat from either side. This has been achieved by effectively extending the transom aft, providing sufficient space for a splash well and creating a mounting point for the engine.  
Engine options
Though Montereys have in the past been offered with Yamaha engines, Mercury is the current outboard fitment. The M225 is offered with either the 200hp V6 FourStroke, the 225hp V6 FourStroke or the 250hp V8 FourStroke. All are excellent engine options, offering very good fuel efficiency. The V6 3.4L FourStrokes weigh in at 216kg (lightest version), while the V8 4.6L FourStroke is just 239kg (lightest version), making all these engines the lightest in their class. All offer a broad spread of power, making them ideal ski boat engines, and if you have the slightest hint of being a petrolhead, you will love the V8 howl of the 250hp FourStroke.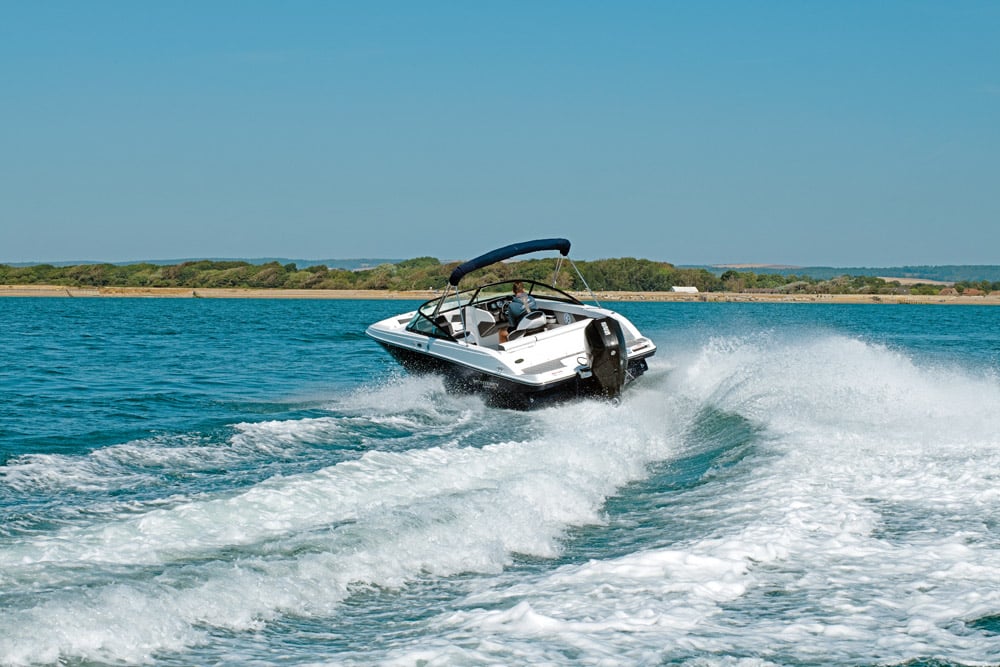 Driving the M225
This boat comfortably planes at 14 knots and displays very little bow-up attitude during transition to planing. Consequently it does not suffer from its low seating position, which would otherwise shut the horizon out while climbing the hump. It picks up quickly and is off past 30 knots in 8 seconds. It has good fore and aft trim – no doubt helped by having a light engine, and the fact that the hull produces plenty of lift at low planing speed.
The dash set-up is simple – just primary gauges with no room for a chartplotter, and any VHF needs to be mounted off to one side or underneath. It is a water sports boat, so such extras are not deemed crucial, though the Fusion hi-fi mounted on the port side is standard fitment.  
Being a beamy boat with a transom deadrise angle of 19 degrees, you will not get the softest of rides running into the weather once you start getting past 35 knots. This is to be expected, and provided you do not overtrim the outboard, the ride is reasonably steady. It needs very little trim out on the outboard leg, so if you do overdo it in this department, running into the wind you will get a small amount of chine walk. This is human error and no reflection on construction or weight distribution – you just need to come to terms with keeping the trim meter under 50% at wide open throttle.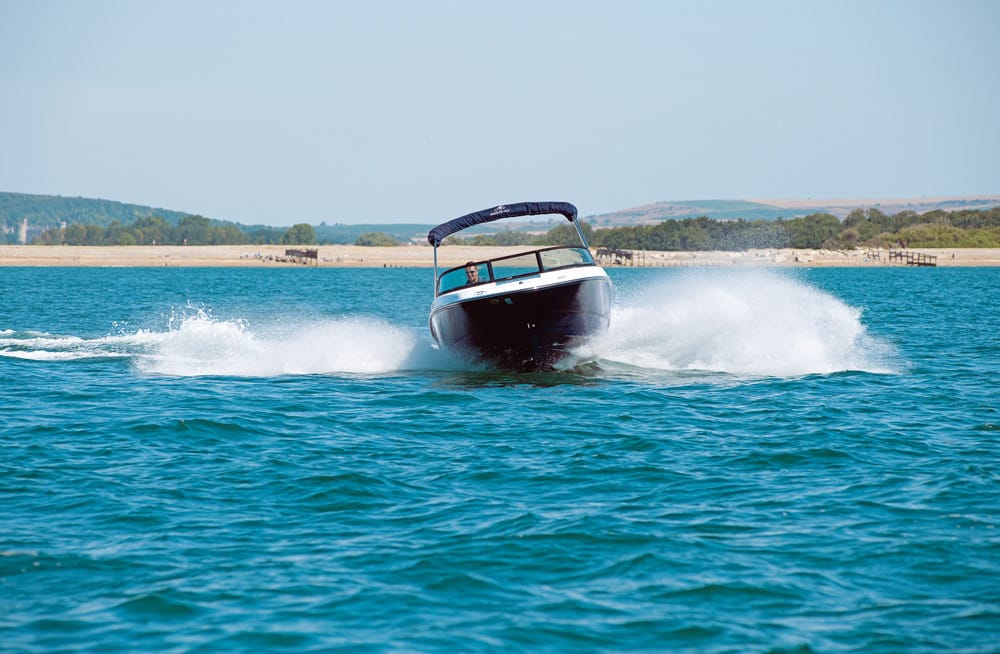 In the turns, the M225 generally does what it should by providing a steady turn with limited hull slip. You can get the back to step out slightly if you really pile on the power – only indicated by the fact that the hull quickly gets a grip and then digs in. The steering is well balanced and composed, though it is not 'fingertip light'. This is no bad thing as the less experienced helmsman will be less likely to inadvertently slingshot whoever is hanging on the tow rope.
Verdict 
Available with a wide range of extras, like a wake tower and synthetic SeaDek decking, the M225 is still a keenly priced boat. It focuses on the sun-loving water sports experience and is capable of catering for seven comfortably, though its rated maximum capacity of 10 would be a squeeze. It is also well constructed, uttering little in the way of complaints when driven past 40 knots, and its fuel efficiency is testament to Mercury's claims regarding their FourStroke outboard range. In terms of engine choice, considering this boat's potential for catering for large groups, the 225hp V6 and 250hp V8 power options will be best suited. 
What we thought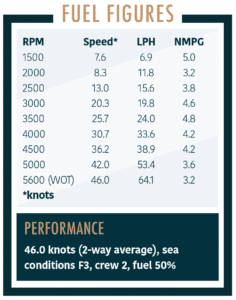 For
 

Price

 

Solid construction

 

On-board space

 

Fuel efficiency

 

Performance

 

Storage

 

Large bathing platform
Against
 

Would benefit from having dash space for a small chartplotter

 

Fairly small cleats
Specifications
LOA: 7.57m
Beam: 2.59m
Displacement: From 1588kg (dry with Mercury V6 engine)
Draught: 0.8m
Air draught with wake tower: 2.5m
CE rating: C for 10
Outboard power options: 200hp Mercury V6 – 250hp Mercury V8
Fuel capacity: 200L
Test engine: 225hp Mercury V6 FourStroke

 

Transom deadrise angle: 19 degrees
Performance
Top speed: 46.0 knots

 

0–30 knots: 8 seconds
Lowest planing speed: 14 knots at 2600rpm
Contact
Boat Shop, Littlehampton Marina, Ferry Road, Littlehampton, West Sussex BN17 5DS