The latest SOLAS-spec beacons are something
that every offshore skipper needs to consider.
ACR Electronics have increased the safety dimension for those that venture offshore with their new mobile-connected AIS EPIRB. This next-generation EPIRB offers full regulatory compliance for vessels operating under SOLAS regulations, while meeting new updated IMO (International Maritime Organization) Maritime Safety Committee EPIRB rules, which came into force on 1st July 2022.
The ACR Electronics GlobalFix V5 EPIRB features integrated AIS (Automatic Identification System) to increase the speed of location, and compatibility with Return Link Service (RLS) alerting. The combination of local assistance from nearby AIS-equipped vessels and global rescue is a big bonus for such a system, whether it is for a vessel using an EPIRB or a crewmember with a PLB.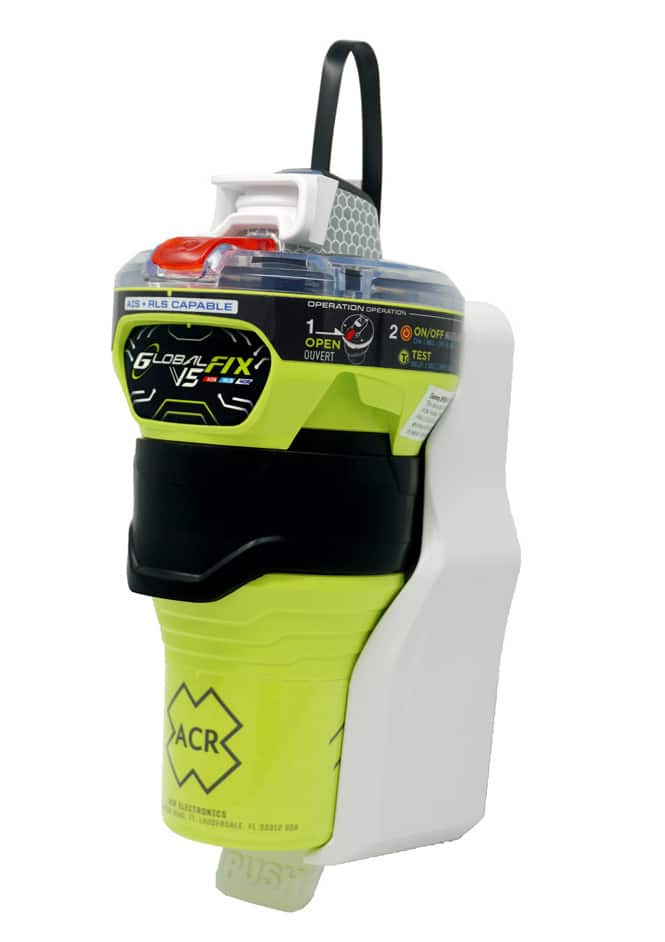 The GlobalFix V5 delivers mobile connectivity to a cellphone with a free mobile app. This industry-first benefit is due to the introduction of NFC (Near Field Communication) technology. This enables users to monitor their beacon, review self-test results, view GNSS test locations and check its maintenance schedule by simply scanning the beacon with their mobile phone. This pulls the EPIRB data into the ACR mobile app for viewing. It has a 10-year battery life and includes GNSS (Global Navigation Satellite System) positioning, 406MHz Cospas-Sarsat distress signalling with MEOSAR compatibility and a 121.5MHz local homing signal with an infrared strobe. The price is to be announced.
Those needing a smaller portable alternative will find that Ocean Signal's rescueME PLB3 does not come far short of the bigger GlobalFix V5. This is not really surprising given that Ocean Signal are part of the ACR Group of companies, including ACR Electronics.
Designed for installation within a life jacket, and for semi-automatic activation upon inflation, the PLB3, once activated, transmits an AIS man-overboard signal that will be picked up by any AIS-equipped vessels within VHF radio range and automatically plotted onto a connected chartplotter or ECDIS system. This new-generation PLB3, like the bigger EPIRB, also combines a global alert with AIS. Specifically, the PLB3 integrates GNSS (Global Navigation Satellite System) positioning, 406MHz, 121.5MHz signals, AIS transmission and the new Galileo Return Link Service (RLS) technology – transmitting even if the survivor is incapacitated. Ocean Signal have also introduced Near Field Communication (NFC) into the PLB3, enabling owners to monitor their beacons in the same manner as with ACR's EPIRB, by simply holding a mobile phone over the beacon's designated NFC area, and likewise the latest beacon information is automatically transferred into the Ocean Signal mobile app for viewing.
The beacon features multifunctional clips to ensure that the device can be easily installed in a life jacket or carried on a person. Weighing just 0.42lb (190g), the rugged PLB3 measures 20cm (L) x 3.6cm (W) x 3.0cm (D), is capable of operating for 24 hours and has a five-year battery life. It costs from around £520.