Greg Copp hops on board the T11 walk-around from Nimbus and finds a multi-tasker that soaks up the sea miles while keeping a smile on your face.
This is a case of the T11 revisited, as back in 2020, when this boat first hit our shores, we wasted no time getting behind the wheel. However, it has taken until now for me to get on board, and get under the skin of, what is one of Nimbus's most exciting boats.
This Swedish company, well known for its range of all-weather cruisers, has taken this established DNA and injected it into a boat with a higher pulse rate. This is not to take anything away from its bigger siblings as every craft has a purpose, and in this case, this boat aims to serve up performance and practicality in spades. It still sports that useful Nimbus blunt bow, deep side decks, huge cleats, big storage lockers and great weather protection, all served up in a twin-stepped rakish hull with a healthy dose of horsepower. It is a distinctive craft, as most 41-footers carry more beam and height, and its overall length of 12.4m enhances its dagger-like appearance. If a wheelhouse design is more your bag, there is the C11. However, the practicality of the T11's four-piece cockpit cover set, tall windscreen and T-top gives this boat a realistic UK dimension while still retaining open-boat credentials.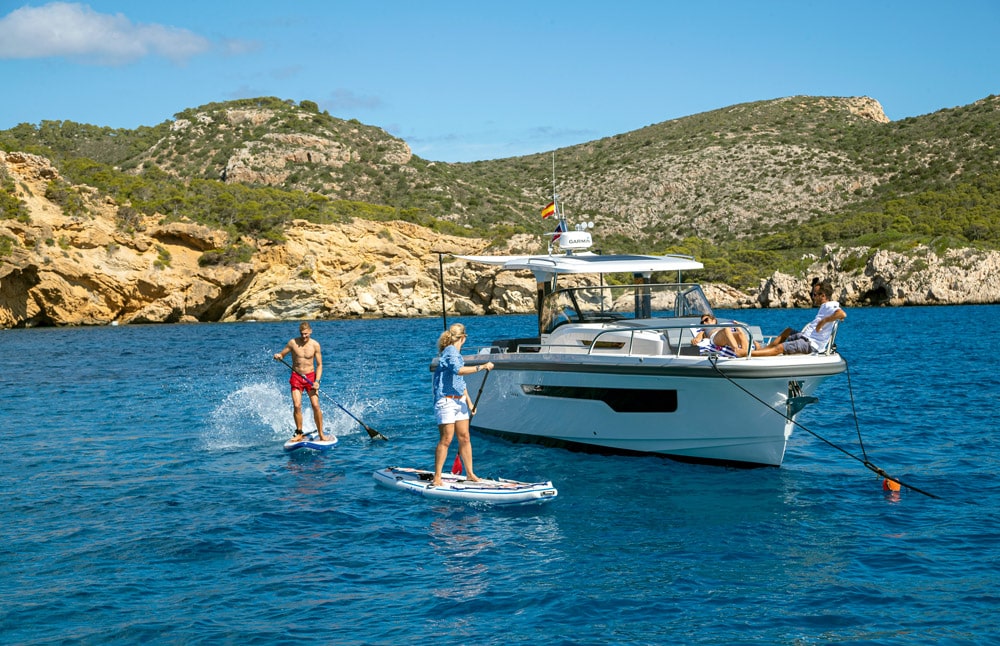 Offering three different configurations, the cockpit seating design is very innovative. The default setting for many will be the dining set-up, where the sofas provide U-shaped seating surrounding the table. However, for a fast passage, this is quickly changed into 'Drive Mode', providing two rows of forward-facing bench seats. When you reach that deserted cove, there is 'Chill Mode', where the back section of the rear sofa folds flat to connect to the aft sunbed, thereby creating a long sunbed. Alternatively, if you need to sleep six, and with the cockpit covers in place, you could have a 'topside double bed' across the beam. Behind the triple helm seats is the galley, complete with hob, a large sink, a pull-out drawer fridge and four drawers. Crockery and glasses are housed in two drawers located under the forward cockpit seating. The fit and finish both inside and out, like the chunky teak table, is of the highest standard.
On-deck storage is nothing short of superb – that is, with the outboard-powered version. The absence of two Volvo D4s housed forward of the transom means that when you power up the aft sunbed, you are presented with a huge storage cavity. You could easily house an inflatable tender, and more, down here. If you really need some extra storage, there is another, albeit smaller storage area located under the table, accessed by a manual hatch. This area is primarily aimed at giving access to the batteries and fuel tanks, but it also serves as somewhere to stash anything extra. Probably the most appreciated 'locker spaces' sit on the aft quarters inside the bulwarks. These are purely designed for fenders and warps and are just the right size and in the right location for those on fender duties. Going forward down the super-safe deep side decks takes you to a deep anchor locker housing the windlass. This is fitted with specific storage and hanging points for bowlines, plus space for a couple of fenders if need be. As you tour the boat, the substance of the stainless work makes itself apparent, from the abundance of handrails to the tall trawler-like cleats.
Stepping below, you realise this boat is actually taller than she appears. Being a relatively long day boat, the T11 gets away with carrying height in both the topsides and the coachroof without it showing. In the cabin, you briefly have 6ft of headroom, but this shortens to 5ft 9in in the area aft of the double bed. In the great scheme of things, this is quite reasonable considering you are not going to stand in this part of the boat for any period of time. There are two seats on either beam, and the sleeping area can be separated from the rest of the cabin by a curtain. Should you need to, the forward end of the coachroof opens up, providing direct access to the foredeck. A low-level mid cabin sits under the forward section of the cockpit, and although a couple of adults could squeeze in, it is better suited to children.
The heads compartment has an internal rotating glass door that can separate the toilet/shower section from the sink, so you can avoid drenching the compartment if you choose to use the shower, and the toilet has a hinging cover so you can sit when showering. Given the space available, it is the best possible compromise as any space gain below always comes at a price elsewhere. Opposite the heads, the T11 is normally offered with an under-lit storage cupboard, which can be specified with a second fridge. Aft of this sits a small hanging locker, and a Perspex door gives convenient access to the breakers, switches and domestic controls for items like Isotherm diesel heating. 
Engine options
Thanks to the expansion in the range of big outboards, the T11 is offered with diesel or petrol engine options. Though it could have been made available with twin 400hp Volvo D6s on DPI sterndrives, the current diesel option offered by the UK importer, Offshore Powerboats, is twin 320hp Volvo D4s with DPI drives – a frugal choice in terms of running costs compared to petrol outboards, but with an £80,000 price hike (plus VAT) over the twin 300hp Mercury Verados that our test boat was fitted with, the cost saving stacks up to more petrol than you will likely ever burn. However, a pair of D4s will give you performance of around 43 knots and a range of over 300 miles with a comfortable reserve, as well as the ability to refuel at many French Channel ports that do not sell dockside petrol. Petrol options are 300hp V8 Mercury Verados, 350hp L6 supercharged Verados and 400hp L6 supercharged Verados, and Mercury's new 350hp/400hp V10 outboard has just become available – a perfect match for this boat.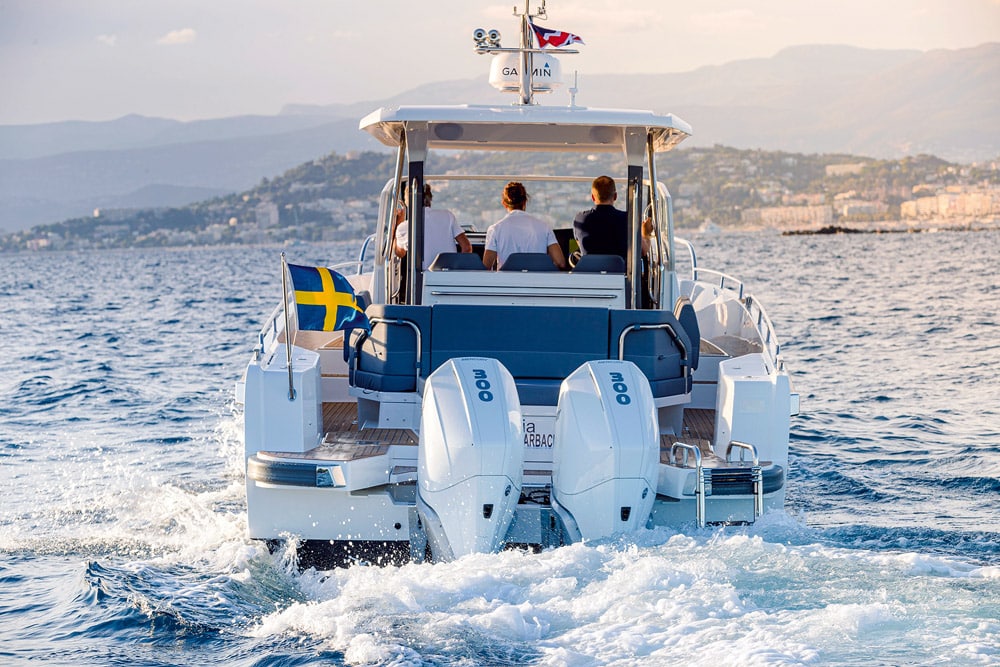 Behind the wheel
The driving position is well protected from the elements, and the bolster bucket seat offers you total security, either sitting, or standing with your feet on the elevated footboard. Due to the seat height, I felt little need to stand, especially as this boat seems to have virtually no discernible transition to planing, so the bow makes no attempt to block your view. With the wheel and throttles where you need them, you can really get into what this boat is all about, namely driving. In normal cruising mode, you can leave the Zipwake automatic trim tab system on, as it does a good job of keeping the boat on an even keel, especially in a beam sea. However, if you want to drive this craft to its 'full sporting potential', turn it off and crank the boat into some full-power hard turns. She heels perfectly at angles your mother-in-law would not like, while her long deep-vee stepped hull hangs on doggedly, without the slightest hint of losing the plot. This is a 41ft boat, but when you are flicking her effortlessly from lock to lock at 35 knots, she seems to shrink in length.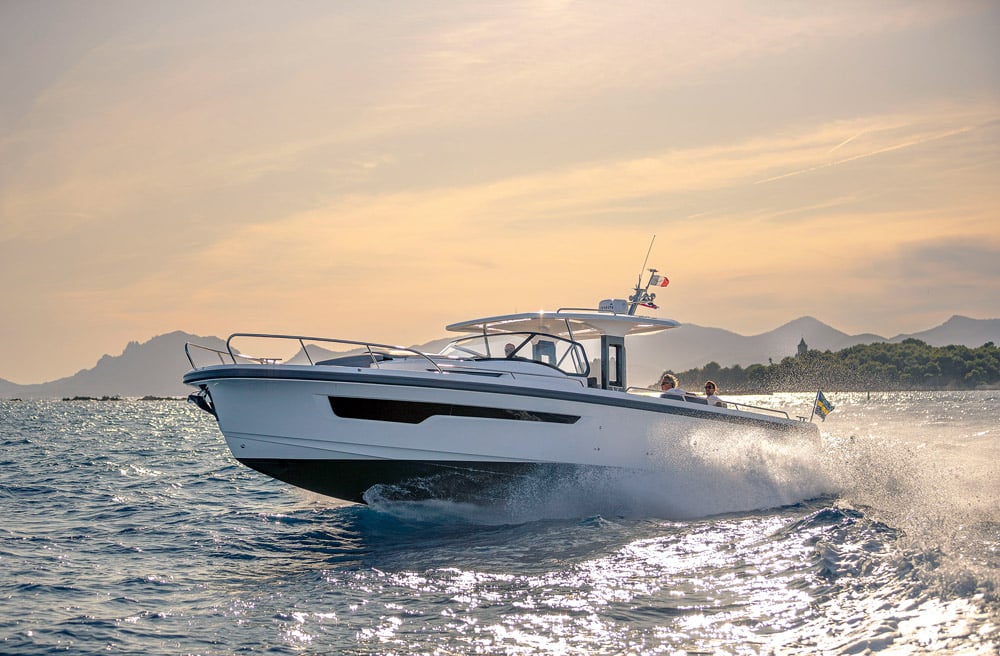 Having good weight distribution, helped by the fuel tanks being located under the galley, natural fore and aft trim is about as good as it gets. Trimming the boat at wide open throttle needs very little 'leg out'; in fact, it is best left at just over zero degrees, unless you really must get that last knot from her. Her sharp forefoot and narrow forward hull lines did a good job of cutting through what seaway I encountered. Some of the water was steep and confused, which posed no problem at this boat's fast cruising speed – realistically ranging from 30 to 35 knots. Running flat out also produced no complaints from the hull in these conditions, and the tall topsides and flared bow made the windscreen wipers redundant. The T11's hull really excels in the rough, made all the better by the fact that you are secured in a driving position, enabling you to easily focus on the job in hand.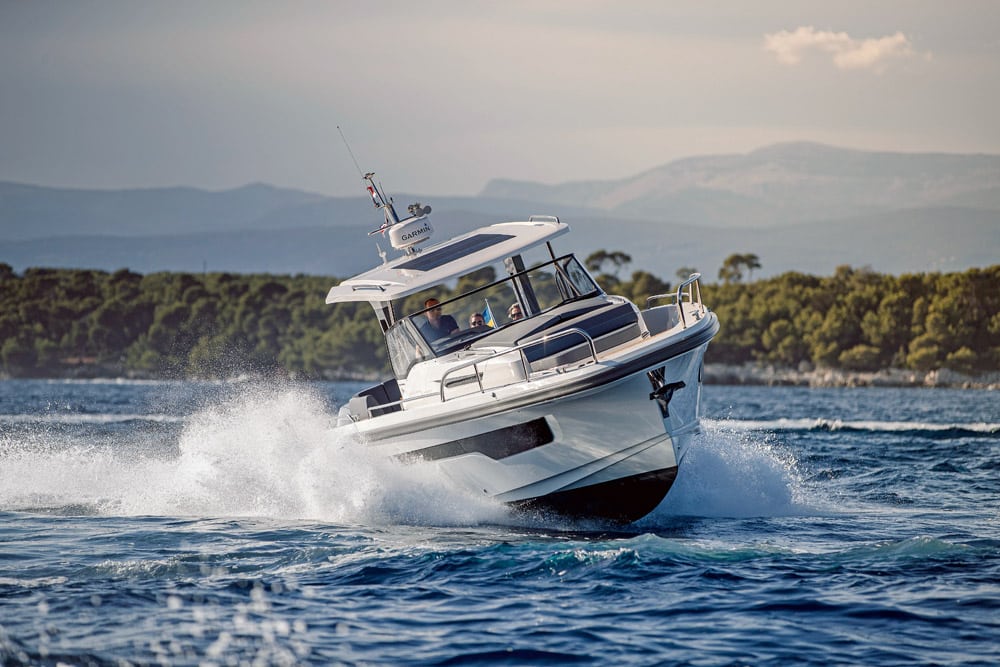 There is also a serene side, in that this boat can plane at 14 knots while returning around 2nmpg. However, with such little impression of speed, you will easily find yourself pushing past 30 knots still thinking you are living life in the slow lane. Though the T11 is long and thin, it is easy to berth thanks to a bow thruster, a joystick, a lack of windage and a deep-vee hull with plenty of low-speed grip.
Verdict
The T11 is typically Nimbus insomuch as it is a great multi-purpose boat, and with a Jekyll and Hyde persona when needed. You may wonder, as I did, whether twin 300hp petrol outboards are enough for a boat this size when it can be ordered with 320hp diesels. The truth is: they are. Why? Because of the following factors: this boat is light for its length; it has a length-to-beam ratio of around 3.3 to 1; it has an efficient stepped hull; it has great weight distribution; and Mercury's 300hp V8 4.6L Verado is the largest-capacity 300hp outboard in production with an impressive spread of torque. All this having been said, when running at 22 knots, the engines are spinning at 4000rpm, a highish engine speed for a low cruising speed. However, the recent arrival of Mercury's 350hp and 400hp V10 will add a new dimension to this long-legged driver's boat.
What we thought
For
Fast, responsive, sure-footed steering

Soft-riding hull

Weather protection

Good performance

On-deck comfort

Safety and practicality

Great finish
Against
As is often the case, a long extras list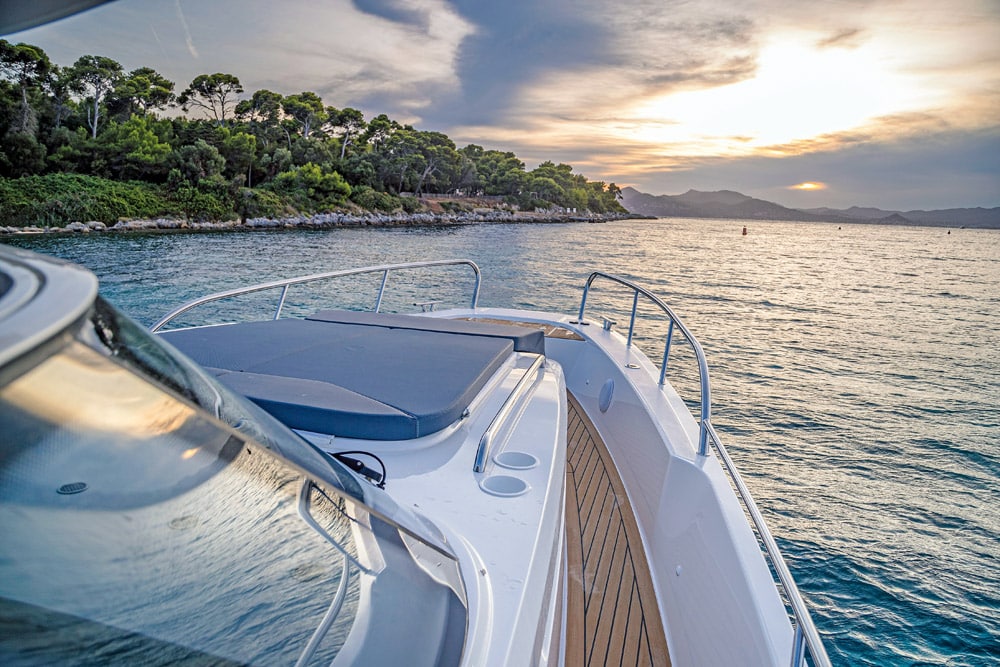 Specifications
LOA:

12.4m

Beam:

3.46m

Displacement:

5.6 tonnes dry

Petrol power options:

Twin 300hp – 400hp Mercury outboards

Diesel power options:

Twin 320hp Volvo D4s with duo-prop DPI sterndrives

Fuel capacity:

850L

Water capacity:

135L

RCD category:

C for 12

Test engines:

Twin 300hp V8 Mercury Verados
Performance
42.2 knots (2-way average), sea conditions F3 to F4, crew 2, fuel 25%

0–30 knots in 10 seconds
Price
From: £360,000 (inc. VAT) with twin V8 300hp Mercury Verado outboards

As tested: £396,748 (inc. VAT)
Contact
Offshore Powerboats Ltd, Lymington Yacht Haven, King's Saltern Road, Lymington SO41 3QD