Few passage makers stand the test of time like a Grand Banks, as their re-engineered 54 shows. Greg Copp reports on the redesigning of a classic …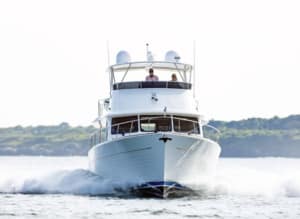 With a 60-year proven pedigree, Grand Banks have always been seen as one of the gold standards in trawler yachts. For good reason, this company has seen little need to make many changes to its product. Yet the 're-engineered Grand Banks 54' has undergone significant alteration, though to look at it, you would think it is still the GB54 of old, and you would not be too far wrong. 
This boat is still Grand Banks to the core, it has just moved with the times. It is stronger, faster, lighter and more frugal, and sporting twin IPS950s as one of the engine options it can reach a claimed 33 knots. Traditional 725hp D11s on shafts are the base engine option, and they will no doubt still prove popular. However, the 20% efficiency bonus claimed for IPS in today's times cannot be ignored, especially if you intend to run this boat at cruising speeds past 20 knots. With twin IPS950s, at 25 knots Grand Banks claim the new 54 will burn just 216Lph (48gph), relating to 0.5nmpg, which is a good return for a 25-tonne trawler yacht. However, in a blue-water market where skippers intend to clock up sea miles, this boat's ability to return an impressive 7gph fuel burn at 10 knots with conventional D11s on shafts is noteworthy. This gives this craft the potential to cover 1,000 miles with a 20% reserve still in hand, making a good argument for the old-school laid-back approach to passage making. 
In keeping with its bigger siblings, the boat's construction has taken a leap forward. The new GB54 features advanced composite construction techniques, including a fully infused fibreglass hull and infused carbon-fibre decks and superstructure. The weight saving moves the yacht's vertical centre of gravity lower, improving stability and comfort at anchor and displacement speeds. For extra strength and rigidity, a fully cored structure is constructed using SAN Corecell PVC linear closed-cell foam in selected areas. This is sandwiched between skins of stitched multi-axial e-glass, which is then bonded with vinylester epoxy resin. This is supported by infused composite panels in a robust grid system. The hull is still the proven 'wave-slicing' forefoot semi-displacement hull designed by Grand Banks CEO Mark Richards. The design draws from his experience in working on high-end sailing yachts, notably for the America's Cup. In particular, his focus with the GB54 was balancing the vertical and longitudinal centres of gravity to improve the ride further.  
The first GB54 launched features a twin-cabin, galley-down layout, in what is stated to be the standard configuration. This places the starboard master cabin amidships on the starboard side, with an en suite heads, complete with walk-in shower. There is also a substantial hanging locker with enough stowage for extended cruising. The large forepeak guest cabin has an en suite heads located to port, which also serves as the boat's day heads. The galley is just a few steps down the companionway from the main deck. Located to port, the galley has an enhanced open character, as it sits beneath the raked windshield, creating an airy space with natural light. 
There is the option to bring the galley up to the saloon, enabling a third cabin on the lower deck. This option places the galley on the main deck on the port side, opposite the helm. Some will prefer this due to the continuity of the galley with the saloon and the helm. The master cabin is located in the bow, with a private heads to port. A pair of double guest cabins sit amidships in a side-by-side configuration, separated by a central passageway. The starboard guest cabin has private access to the second heads, which also serves as a day heads.
As with all newer Grand Banks, the interior design is contemporary but with a traditional character. In terms of interior colour schemes, the design emphasis is on warm colours to complement the company's signature teak joinery. Both layouts benefit from a large salon seating area with an L-shaped settee to port, served by a long dining table. Opposite is a pair of double seats in a fore-and-aft arrangement, served by a small table between. The cockpit provides al fresco dining courtesy of its long transom seat. Stairs on the starboard side of the cockpit lead to the flybridge, where an aft boat deck supports a 3m tender with a 30hp engine, and a davit. The upper helm station offers two helm seats, while an L-shaped settee and table can comfortably seat six additional guests up top.
Like all Grand Banks-built yachts, safety at sea has always been a major design aspect. High bulwarks encase the boat, and protection from the elements includes a fully covered cockpit as well as covered side decks. The design maximises flexibility, allowing owners the ability to handle the vessel as a couple, or even single-handed. Great visibility from the helm, a starboard-side helm door and uncluttered flow from the helm stations to the deck maximise ease of operation. 
Impressively, the standard equipment list includes: a 15kW generator, reverse-cycle air conditioning, an entertainment centre, a refrigerator, a freezer, and a tender and davit installed on the boat deck. Also, all canvas is fitted to the owner's specifications prior to shipment. Of course, there are some extras to choose from, and in particular, the choice of navigation electronics is left to the owner's discretion. There are also some other significant additions that one would not normally expect to be standard: IPS will cost another $100,000 if pod drives are your preference, a passerelle comes in at $36,000, and if you are considering long passages at displacement speed or long periods at anchor, then the Seakeeper SK9 at $97,000 is a must.
Externally this traditional craft may have changed little, but internally the new Grand Banks 54 is keeping abreast of the times. Like all of its bespoke contemporaries, it has an eye-watering price tag, yet there never seems to be a shortage of skippers looking to sign up for its horizon-stretching lifestyle change.
WE LIKE
Spacious twin-cabin
Galley-down layout
En suite heads with walk-in shower.

 

Two guest cabins
Flybridge – space for a 3m tender.
Al fresco dining.
Amazing visibility from the helm.
Style and comfort levels are great.
The understated seamanlike design which has strong appeal with powerboaters and yachtsmen alike.
SPECIFICATION
LOA: 18.41m
Beam: 5.40m
Draught shafts: 1.09m
Draught IPS: 1.21m
Displacement (half-load): 25.5 tonnes
Engines: 2 x Volvo Penta D11 725hp on shafts, or 2 x 725hp IPS950
Fuel capacity: 3500L
Water capacity: 1000L
Performance IPS950s: 33 knots
Performance D11s: 29 knots
Fast cruising speed IPS950s: 28 knots

 

Fast cruising speed D11s: 26 knots
Range: From 400nm with 20% reserve at 21 knots

 
Price
From: $3,100,000 with D11s (exc. VAT).
Contact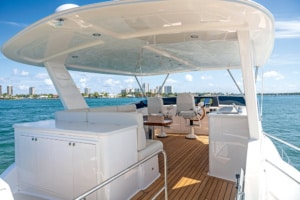 GRAND BANKS have a long and highly respected history associated with deep water, displacement hull sea-keeping. The Grand Banks has become a classic in its own right, with a timeless design that has remained loyal to its very first convictions, one that could be summed up in the words 'understated capability'.