With its tall hull and tough no-nonsense appearance, this is an adventure craft with few rivals, as Greg Copp reports …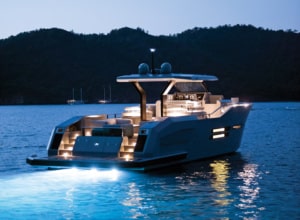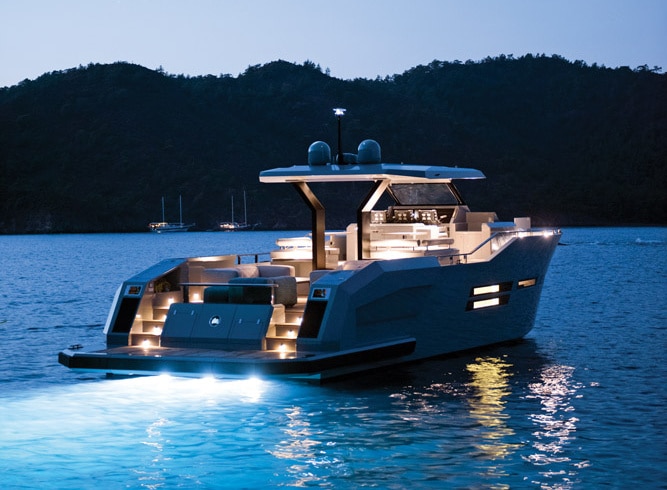 The new Mazu 62 is the latest in a line-up of six luxury hardtop and open models offered by this distinctive Turkish brand. In its relatively short history, this yard has made a name for itself with its fast all-weather passage makers – boats that manage to combine clinical opulence and practicality with a distinctive trademark style.   
Her sporty lines and military-style paintwork, in conjunction with Mazu's trademark long hull windows, give the 62 a profile that is hard to mistake – even at a distance. What strikes you is the expansive deck space, giving the unmistakeable impression that this craft has taken the 'walk-around concept' used by smaller boats and hugely enlarged it. Providing you keep this boat somewhere warm, the idea is a good one. Let's face it, if you have a 43-knot boat that, thanks to a pair of 900hp 1350 IPS pod drives, can cut some serious turns, why would you want to shut out that wind-in-your-hair experience that only a driver's boat provides?
The design actually started out as a 58-footer, but it was increased in size to provide more deck area and interior volume for greater comfort. On deck, this relates to some impressive social areas. The forward section is unique in its dimensions, even for a boat this size. Sitting behind the patrol boat-like bow (which houses no fewer than three large deck lockers) lies a wide sofa/double dinette arrangement, which could host a small dinner party. Alternatively, the twin tables can drop down, enabling sunbed infills to create a sunbather's paradise. For those that want a spectator's foredeck ride, a wide bench seat sits in front of the helm. Not surprisingly, the side decks want for little. The ample 5.3m beam has plenty to give away in this department without encroaching on the topside structures, and the height of the bulwarks makes this a super-safe, family-friendly boat.   
The helm is a triple affair equipped with armchair Shoxs shock-mitigating seats, no less. Their military character and robust construction fit perfectly with this boat's 'tough boat image', as does the hardtop. Mazu have not felt inclined to stretch the hardtop out to the limits of the beam, but instead have kept this topside structure trim. A glass sunroof, reinforced by black cross members, sheds plenty of light into the cockpit, while black beams, partnered with a suitably hard-core windscreen frame, support the roof. This enhances the cockpit's 'open-boat effect', while still giving plenty of weather protection to the forward part of the cockpit. The covered forward section of the cockpit is fitted with two tables flanked by L-shaped sofas. This dining area is served by a substantial wet bar, fitted with a griddle, a sink and two large fridges beneath the helm seating. 
Should you want shade from the sun in the long aft cockpit section, there is a bimini sunshade that can be used to cover the additional sofa seating, and sunbathing that can be enjoyed here. The aft section is a step down from the forward dining area, and for those that do not need the additional seating offered here, this part of the boat can be reconfigured. This involves tender and toy storage, which, considering the large seating and dining deck area in the bow, hardly encroaches on the Mazu's social credentials. For bathers there is a neat hydraulic diving platform, which emerges from the bathing platform when needed. It can also be submerged to provide steps down to the water, or to launch or recover a tender.
The clinical neatness of the boat is emphasised not only by the drop-down flush cleats on the bathing platform, bulwarks and bow, but by the fact that each stern quarter houses a second pair of hidden cleats located in the aft coamings. With stern-to mooring often on the agenda in the Mediterranean, an IPS joystick also inhabits the hidden port-side coaming compartment.
The below-decks design benefits greatly from the tall hull that distinguishes this boat, giving it plenty of internal space. Naturally the owner's forepeak cabin enjoys the most headroom, but the two identical en suite guest cabins that sit amidships also have full standing headroom, and a generous amount of floor space. In between the guest cabins and the owner's cabin lies a central saloon including a galley – ideal for making breakfast and morning coffee. If the three en suite bathrooms are not enough, there is also a day heads located on the port side, which is accessed from the central saloon. There is an option for a single crew cabin located in the starboard quarter, and there is the choice of two cabins as opposed to three. In this case you get a huge amidships owner's cabin stretching across the beam, which, if you do not need the extra sleeping accommodation of three cabins, would be an option that is hard to ignore.  
The Mazu 62 is one of the biggest walk-around open boats on the market, and although the term 'walk-around' is a bit misleading considering its size, it is effectively that. It is a high-end 'adventure craft' built for fast cruising in most sea states, water sports and exploring, and all with a touch of luxury on top. It certainly aims to be different from the rank and file of middleweight generic gin palaces, and is likely to grab more than its fair share of admiring glances when slipping into some Riviera watering hole. 
Specifications
LOA: 18.15m
Beam: 5.30m
Draught: 1.40m
Displacement: 29 tonnes
Engines: 2 x Volvo Penta 725hp IPS 950 or 2 x 900hp IPS 1200
Generator options: 1 x Fischer Panda 8kW or 1 x Fischer Panda 15kW

 

Fuel capacity: 3000L
Water capacity: 450L
Performance IPS 1200: 43 knots
Cruising speed: 33 knots
Contact