Clean and green, and with limited servicing needs, the electric Pulse 63 RIB is set for the commercial sector.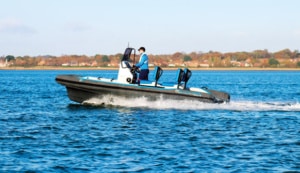 The concept of electric planing power may be in its infancy, but there is an ever-increasing movement pushing this technology forward – and rightly so. RS Electric Boats have launched the latest electric RIB, and it is a British-built one at that. As an offshoot of RS Sailing, RS Electric Boats are naturally inclined towards the green dimension of boating.
The Pulse 63 RIB is powered by the company's own integrated propulsion system, rather than a third-party product. The 46kW (60hp equivalent) RAD40 electric drive, featuring a trim system similar to a conventional sterndrive, is fed by a 'Hyperdrive GEN4 14-cell battery pack'. This is a series of marinised automotive lithium-ion batteries, sealed and waterproofed to IP54 standards. They sit along the keel line and have a discharge cycle of 2000 to 85 %. The hull has unusual underwater lines, insomuch as it has shallow tunnels between the keel and the chines in the aft section of the hull similar to a Landau 20. 
Out on the water it is evident that this hull planes, but the transition from displacement to planing is virtually seamless. The hull tunnel design provides extra lift in the stern sections, and much of the ballast created by the long series of batteries is forward of amidships, so it is fair to say this combination works quite well. However, in terms of performance, I suspect this boat could benefit from some further tweaking. It has a claimed top speed of 22 knots, yet with three on board it managed only 13.6 knots. At lower speeds there is a fair degree of engine noise for an electric drive system, although it does reduce with speed. I think it is fair to say that a bit of time spent on prop pitch/height testing may not go amiss. To put this into a roughly similar perspective, back in 2013 I tested the Torqeedo Deep Blue 67kW outboard (80hp equivalent) on a 6m RIB, which managed 30 knots and displayed plenty of low-down electric torque. 
Real-time system monitoring is crucial in any electric boat, and the first port of call in this department is the touch screen display. Battery capacity, along with speed and range at the current power output, can also be viewed on your phone via an app, or via connection to an external MFD. The engine is sealed for safety purposes, so no access is possible, and as it is not an outboard there is a flat platform at the stern with a central Samson post. The only real storage is a bow locker, where you would store the anchor and chain. The seating arrangements can be tailored to specific needs, as can the boat itself. 
In terms of likely use, this boat has been built with the commercial sector firmly in mind, particularly harbour authorities and fishery patrols, and it would also be ideally suited as a superyacht tender. If it did not cost £74,000 (plus VAT), it would be perfect as a sailing club safety boat, especially as it has a stable hull at low speeds. It has a claimed range of 100 miles at 5 knots, and 25 miles at full power, which throws up the question of how viable it is as a RIB. These figures will massively reduce in rough weather, and you need to factor in a reserve of 20%, so this boat can't realistically be considered in a true offshore perspective. Great though the concept is, the boating fraternity still has a while to go before fossil fuels are relegated to second place. 
SPECIFICATIONS
LOA: 6.3m
Beam: 2.3m
Displacement (light): 610kg
Engine: 46kW 400V sterndrive
Battery: 14-cell battery pack – lithium ion
Max. performance: 23 knots (claimed)
Range: 45nm at 15 knots; 100nm at 5 knots (claimed)

   
Contact