Exclusive yet practical, this rare bird is
certainly a driver's boat.
New to our shores but not to the industry, Schaefer have been building motor yachts and sports cruisers for over 30 years. They are Brazil's biggest boatbuilder, and with Gibbs Marine now importing them, we are likely to see more of these eye-catching Med-style sports boats. The V33, which debuted at SIBS last year, is the most striking of their models available in the UK. You could quite rightly be forgiven for thinking that this contemporary Porsche-blue T-top hails from some Italian yard. After all, Schaefer's main European market for the V33 is clearly the Mediterranean, and its style department has got this boat spot on.
Like many sporting middleweights, power options are either diesel or big outboards. The diesel option that Gibbs Marine offer is a single 320hp Volvo D4 on a DPI duo-prop sterndrive, and the outboard version has twin 300hp V8 Mercury Verados. This is quite a contrast as the diesel version will likely reach a top speed of 30 knots, while the outboard boat should be good for 45 knots. The V33 reportedly is offered with outboard engines ranging from twin 200hp to twin 300hp – all Mercury, though Gibbs only specify twin 300hp Verados, which is the most realistic choice for this 5-tonne boat. It has already been tested with twin 250hp V8 Verados, producing a top speed of 42 knots and a cruising speed of 28 knots at 4200rpm. Though this is far from sluggish, twin 300hp Verados will be able to maintain this cruising pace at a more leisurely 3700rpm, with lower fuel consumption and with plenty of grunt on hand should you want it. In terms of economy and range, the twin 300hp V33 should return about 1.5nmpg at 28 knots, providing a range of around 200nm (with a 20% reserve), which is not too bad, all things considered. However, if driven to its full potential, you can expect a more sobering 1 nmpg.
The hull looks typically rakish, though it has a fairly conventional length-to-beam ratio of just over 3 to 1, and having the ever-popular vertical stem bow, the hull carries most of its waterline length forward. The forward section appears to sharpen considerably in comparison to the sub-19-degree transom deadrise angle at the stern – a good formula that combines the hydrodynamic lift advantages of what is a deep medium-vee hull aft with a sharp deep-vee hull at the bow. 
The helm is built around a generous double fold-up bolster seat that could accommodate three at a squeeze. There are two levels of footboards, and two levels of seating depending on what height you want to sit at. Alternatively, you have effectively three levels at which you can stand, with your feet either on the footboards or the deck. A high windscreen keeps you well protected, and the tall T-top provides that crucial sunshade, while not being so low as to reduce visibility when tucking into the tight turns that this boat is clearly capable of. The dash can be built around one or two 12in Raymarine/Simrad MFDs. There is an adjustable wheel, and easily reached throttles to starboard.
Movement on deck is all the safer thanks to a zero-compromise attitude towards deck design. The bulwarks are an impressive 27in high and lined internally with removable padded sections so you do not bang your knees on a choppy day, while discreet drop-down cleats sit on the top. Though it has an open transom for easy pontoon access, there are also fold-out steps inside the bulwarks amidships, which are ideal for stepping up to quay sides or mother ships. Decking is either teak or the increasingly popular soft synthetic SeaDek decking. Both the cockpit and the foredeck areas have the benefit of soft top shade covers, which attach to the T-top when required. 
Sitting on the back of the helm, the big cockpit galley provides a large electric hob, top-opening electric cool box, sink, large under-top fridge and storage. The seat backrest on the aft-facing settee can be reversed, providing forward seating facing the galley. Alternatively, it can be configured looking aft, facing across the cockpit table to the aft bench seat, whose seat backrest can also be reversed to look over the transom. The teak cockpit table can be raised/lowered electrically, and with the outboard-powered V33 you get an expanse of storage space beneath the cockpit in lieu of housing a D4. This under-deck cavity also provides plenty of space to house the generator needed for the galley hob, and the air conditioning. The foredeck surrounds a double sunbed atop the forecabin coachroof, the fore section of which hinges open to provide access and air circulation below.
The sleeping accommodation is a typical infill V-berth affair, but sizeable, and with 6ft 1in of headroom and enough space to undress comfortably. There is plenty of natural light thanks to the long rectangular windows, and lots of storage. Sitting on the starboard side, the heads compartment is typically finished to a high standard. It has full headroom, a toilet, a Corian top vanity unit with a sink, and a shower, but not in a separate compartment. Opposite sits a sideboard set-up that either provides extra storage or can be configured as a small morning galley. Conveniently, generator and air-con controls are located on the aft bulkhead by the cabin steps.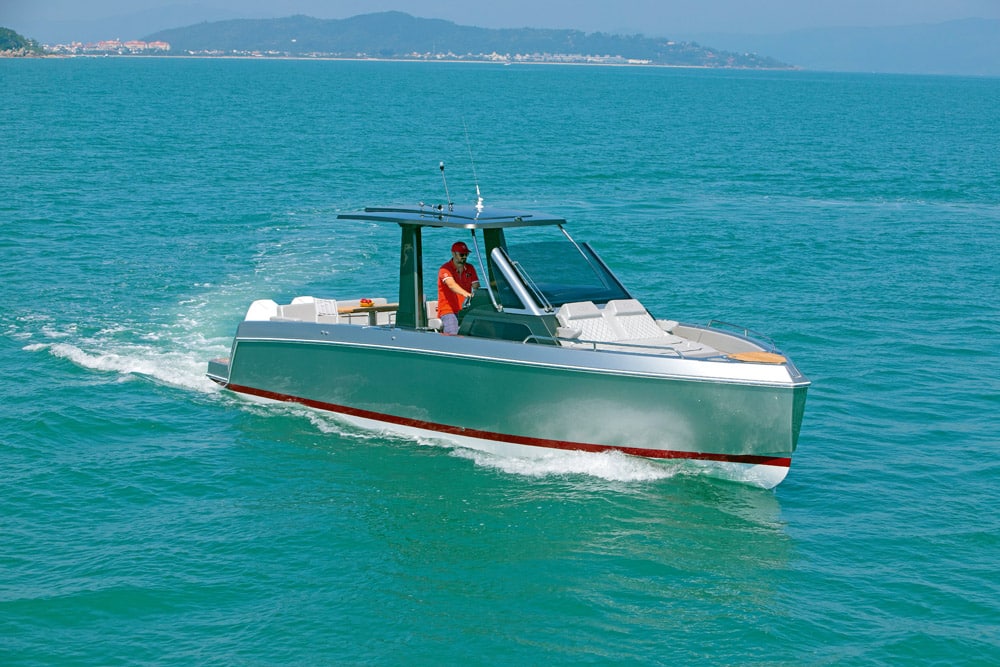 Like any premium product, this boat has a premium price, and though T-top walk-around boats are now more popular in the UK, the V33 with its Porsche-blue hull and super-clean lines is always going to stand out. Its drive is likely as good as its looks, which we will discover in earnest when we get behind the wheel in the next issue.
Specifications
LOA:

10.79m

         

Beam:

3.35m

Draught:

0.74m

Displacement:

5000kg (dry – both engine options)

Transom deadrise angle:

18.9 degrees 

Water capacity:

150L

Fuel capacity:

700L

Berths:

2

Petrol engine option:

2 x 300hp V8 Mercury Verado outboards

Diesel engine option:

1 x 320hp Volvo D4 with duo-prop DPI sterndrive 

RCD:

C for 10
Price
£345,000 (inc. VAT)

as featured

   
Contact