Italian in name and by nature, this retro cruiser has a century of heritage behind it. Greg Copp reports.
The great thing about the Italian boatbuilding industry is its discreet magnitude. There seems to be a never-ending range of yards producing high-quality vessels, which often go unnoticed for years, if not decades, by the British boater. Patrone are one of these companies. Launched back in 1922 by Giuseppe Patrone, the company built handcrafted wooden sailing boats before it became a low-volume builder of high-quality powerboats that most of us have never heard of.
To commemorate this centenary, Patrone have launched the aptly named Patrone 100 – a 10m retro-styled 'gozzo boat', whose rounded schooner-style stern and tall topsides give this vessel a distinctive signature. It is one of many boats following in the very popular trend of combining traditional style with modern technology – something Italians are very good at. The task of designing this centenary craft fell to Tommaso Spadolini, a man with a substantial superyacht portfolio. His mission was to design a boat that celebrated the iconic Patrones of the 1960s. However, this vessel had to have a modern twist in order to appeal to the generation likely to be buying it. So apart from its distinctive lightweight contemporary T-top, it can be specified with outboard engines, as opposed to its normal complement of two shaft-driven 250hp diesel engines.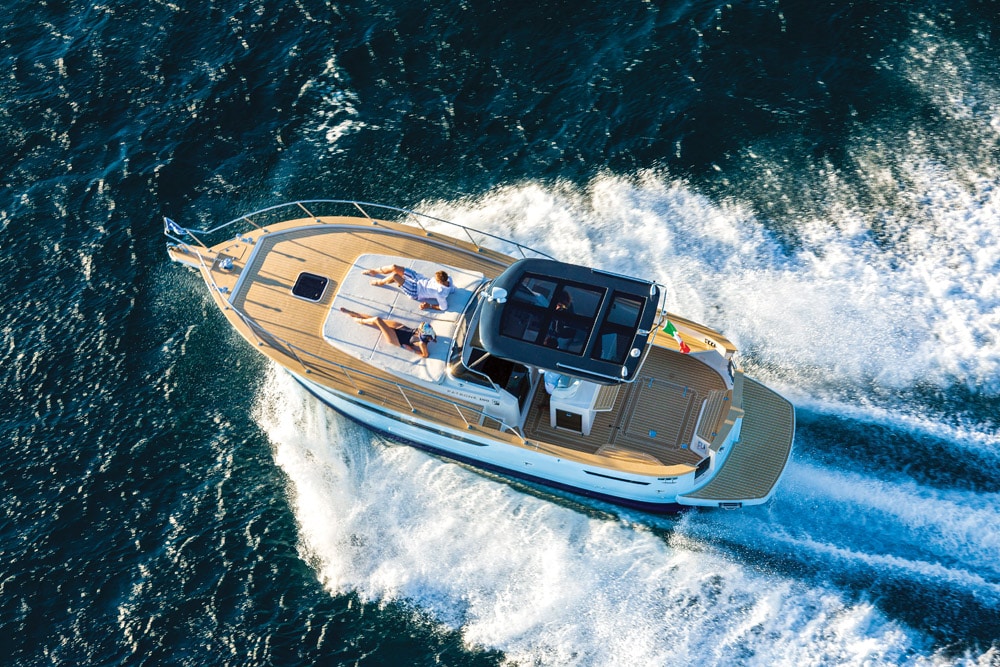 Tommaso realised that the boat had to be as habitable below deck as it was practical on deck. Below, this involved building a 33ft boat that had nearly 6ft 8in of headroom, and importantly a generous master cabin. The Patrone 100 comes in two versions: the Deluxe version and the Family version. The Deluxe has a big master cabin, a large heads and a sizable saloon. The Family boat, on the other hand, has a second cabin for children or guests and so pays the price of losing space in the saloon and heads. Whatever model you choose, you get a lot of below-deck space for a vessel this size. This is down to the boat's beam and tall topsides, which extend internal headroom to the limits, while enhancing its retro appearance.
Deck space is likewise extensive, notably the large foredeck area, which has a triple sunbed sitting atop the cabin coachroof. All deck space is clad in 'eco teak' in accordance with the company's commitment to sustainability. Catering is courtesy of a grill and sink sitting beneath the folding helm seating, and a fridge that lies under the navigator's seat. The T-top, with its six glass panels, has been designed to provide a good combination of natural light and weather protection. Dining space is provided by a cockpit table that is surrounded by four bench seats. These seats are mounted on the bulwarks, the transom coaming and the back of the helm seating. Served by twin stern gates, the substantial bathing platform is a key feature of the boat, providing easy boarding access. In the case of the outboard-powered Patrone, we understand that an engine mounting bracket extends from the transom underneath the bathing platform. I can't help but feel that outboards on this retro boat will look somewhat unusual, and are less likely to appeal to the customer who wants a traditional vessel.
The Patrone 100 may be a perfect size for the UK middleweight market; however, to date, this rare bird is still to grace our shores directly, so if you fancy one, you will have to take a flight to northern Italy.
Specifications
LOA:

11.0m
Beam:

3.30m

Draught:

0.85m

Displacement:

8.7 tonnes

Category:

B

Engine options:

2 x 250hp diesel shaft drives or twin outboards (power unknown)
Fuel capacity: 500L

   

Water capacity:

200L
Performance
Contact