Cattewater Harbour Commissioners have recently commissioned two new visitor pontoons to improve access into the city for vessels when visiting Plymouth. Using the vessel's tender, visitors can make the short trip to the popular Barbican Dinghy Pontoon and immediately disembark into the heart of the waterfront.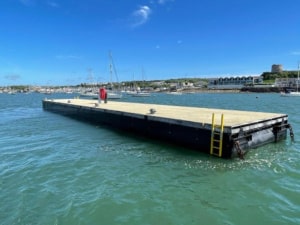 Captain Richard Allan, Chief Executive and Harbour Master, Cattewater Harbour Commissioners, said: 'With Plymouth playing host to SailGP again in July, and with the British Fireworks Championships in August, visitor moorings will again be at a premium. These newly installed pontoons offer leisure sailors another option to use when visiting the city from the sea. We also received great feedback from Polish sail training ship Pogoria when she berthed on the pontoon after her recent visit to the city and are keen to build on this experience and encourage similar ships here in the future.'
The visitor pontoons are suitable for a range of recreational and commercial vessels, and enquiries to book can be made directly with the Harbour Office.