Alex Whittaker visits Boatfolk's marina within Portsmouth Harbour and discovers a feast of sights and
 

facilities on offer …

Haslar Marina is situated right on the eastern Solent, in the south-west corner of historic Portsmouth Harbour. On your approach from the sea, the myriad of naval and commercial vessels plying the harbour means that you need to keep a sharp lookout at all times. Of course, for most of us, that jumble of craft is the central charm of Portsmouth. All boating life is there. Just note that boats under 20 metres must use the small-boat channel. On entrance, all vessels must keep watch on VHF Channel 11. There is a 10-knot speed limit to be observed in the harbour, and all vessels must keep 50 metres away from MOD ships and property. They must also stay 100 metres away from Her Majesty's submarines. The Queen's Harbour Master VHF Channel is 1, with the call sign 'QHM'. Conveniently for visiting skippers, all up-to-the-minute tidal and navigational information for Portsmouth Harbour is readily available online, 24/7, from the Royal Navy, no less:

https://www.royalnavy.mod.uk/qhm/portsmouth/local-notices 
The marina
Access is straightforward, since this is the first marina one encounters from the sea. To make matters even easier, Haslar has its own highly impressive green lightship, Mary Mouse 2, which doubles as a sea mark and marina restaurant.
Boatfolk
Boatfolk are a significant player in the marina business. In fact, they have 11 marinas up and down the country. Boatfolk Haslar Marina lies in Haslar Creek, which is sheltered from the prevailing wind. There is also a new 170-metre wave screen that protects the northern end of the marina from ebb tides, plus the inevitable boat washes from the harbour. Haslar has 360 fully serviced berths and offers a comprehensive range of marina services. The marina is open all year round, and Gosport town centre and its ferry terminal for Portsmouth are barely a 10-minute walk away. The inland end of the marina is wonderfully peaceful, almost a sleepy backwater. However, the seaward side is full of the panoramic bustle of historic Portsmouth Harbour. One can spend a long time doing not much else but gawping at the small craft, shipping, yachts, ferries, tenders, RIBs, powerboats and visiting military vessels – a truly remarkable spectacle. From Haslar you have unrivalled views of one of the great maritime cities of the world. All in all, Haslar Marina is a very interesting place to be.
Fuel
At the time of visiting, there was no fuel berth at Haslar. However, this is hardly a problem since petrol and diesel are available immediately next door at Gosport Marina fuel pontoon.
Laundry, lavatories and recycling
All the laundry, toilet and shower facilities one might expect were present and correct during our visit in summer 2021. However, there are multimillion-pound plans, already in hand, to further develop these facilities for 2022. In addition, as well as normal recycling, waste oil and batteries have their own disposal point. Such things matter. There is clearly a concentrated effort by the marina staff to respect and protect the varied marine environment that surrounds their marina.
Slipways
Visiting trailer boaters have a choice of slipway. The marina's own slipway has just been upgraded, and the public slipway is very close by.
Gas
Bottled Calor gas, in two sizes, is available from the marina office.
Chandlery
There is no chandlery on site, but it hardly matters. Established local businesses YouBoat Chandlery and Arthur's Chandlery are both a short walk away in Gosport.
Wi-Fi
Wi-Fi is free to berth holders. I asked one berth holder whether they could stream movies over the Wi-Fi connection, and the answer was an emphatic 'Yes!' Very handy for family boats.
Launch and store
'Boatcare' is the in-house name for Boatfolk's own range of marine and boatyard services. Boatcare offers a full range of boat support services, including all the normal boatyard services one expects. Boatcare also offers launch and store. This is a service for motorboats up to 10 metres from their designated powerboat centre at Haslar. This includes a specialist powerboat yard with room for storage ashore, plus slipway launch and recovery – a useful service for visiting RIBs and trailer powerboats. Larger motorboats and sailboats can be accommodated ashore at Deacons Marina and at Portland Marina, where more complex work like keel removal and Coppercoat antifouling can proceed. In addition to all this, Boatcare offers boat lifts up to 10 metres. Also note that Gosport and Portsmouth have the full range of boat services one might require, dotted about the harbour.
Restaurants
When we visited in summer 2021, there were two very convenient dining options within the marina: Trinity's at Haslar and Trinity's at the lightship Mary Mouse. They are both pleasant options but differ in character. The former was a bright and airy, more casual dining experience – an ideal café for families. As a guide, a BLT cost £6.95, a ribeye steak £17.95, and fish and chips £13.50. Full Sunday lunch cost less than £15, so you are getting value for money as well as on-site convenience. Trinity's at the lightship Mary Mouse was also great fun, if a bit more formal. Dining on any historic ship is a buzz, but dining on a lightship is a very special experience. Drinking something cold on the back deck in the hot afternoon sun while watching the ships go by was a delight to savour. This restaurant is noted for its seafood dishes. As an example, a three-course meal for two, with house wine, cost around £85. Both places have good local reputations for their food and service. In our view, neither had silly prices; it was all very good. However, as part of the new Boatfolk investment programme, Trinity's at Haslar will be resited over the road from its present location near the car park. From spring 2022, it will be at the marina proper, with greatly enhanced views. Trinity's at the lightship Mary Mouse is also undergoing an upgrade for 2022. These are welcome upgrades, but frankly, they were already interesting venues as we found them. Having said that, the choice of two eateries at any marina is always very good news to any visiting skipper or berth holder.
Admiralty charts
Admiralty 2036 
Also: Admiralty 2037, 2045, 2628, 2629, 2631, SC5600
Electronic charts
We used the Navionics app on our iPhones and iPad Pro. Note that the Navionics app is available on all prominent platforms.
Marina contact details
Telephone: 02392 601201
Email: haslar@boatfolk.co.uk
VHF: Channel 80
Gosport town centre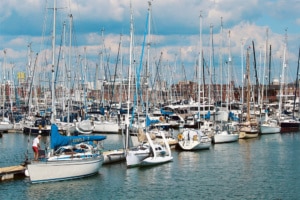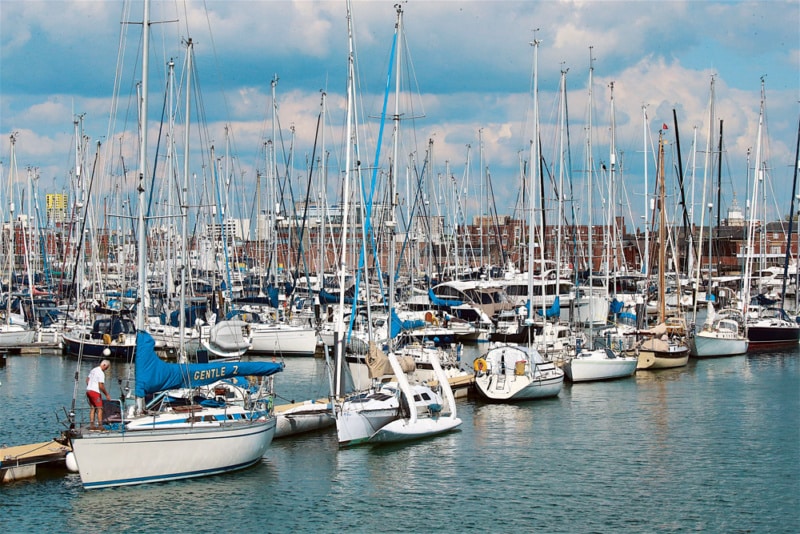 Gosport is a few minutes' walk away, and there's no need for a taxi unless you are returning with heavy shopping. It is deal for victualling, chandlery, pubs and eateries. We had an al fresco breakfast of toast, butter, jam and coffee at A Little Slice of Heaven in the main street for a princely £2.50! The artisanal bread was superb too. Gosport also has a Wetherspoons, a Travelodge and a Premier Inn. The ferry port is situated at Gosport, right by The Great Wall Chinese restaurant. In the past, Gosport was a major naval town associated with the defence and supply infrastructure of Her Majesty's Naval Base (HMNB) Portsmouth. Over the years, extensive seaward fortifications were created. The first fortifications were installed in 1678, during the reign of Charles II. Gosport is still home to HMS Sultan and a naval armament supply facility, as well as a helicopter repair base. Altogether there are three modern marinas around the town.
Portsmouth
A short ferry ride towards the majestic Spinnaker Tower and Gunwharf Quays opens up the internationally famous fleshpots of Portsmouth. Portsmouth has too many pubs, bars, restaurants and clubs to list – it's a truly superb landfall for all crewmembers of any age. It is also replete with history in the form of specialist museums like the D-Day Story, Portsmouth Dockyard, the Royal Armouries and Portsmouth's historic Tudor sea walls. There is even a beach at Southsea. All in all, a great English venue.
Environment and wildlife
Portsmouth Harbour provides a rich wildlife habitat. We were astounded to be told that besides the harbour porpoises, there was a colony of seals thriving in the harbour. The area behind the marina is like a mini wetland, with much to observe with a pair of binoculars.
Getting there
Road: Follow satnav directions for Haslar Marina, Haslar Road, Gosport, Hampshire, PO12 1NU. Keep an eye out on your left-hand side and the car park is clearly marked by two big green buoys.
Rail: Turn left out of Portsmouth Harbour railway station and follow signs to 'Gosport Ferry' – a two-minute walk. After taking the Gosport ferry, with an approximately four-minute crossing, turn left out of the ferry terminal and follow the footpath south towards the prominent green lightship. Either enter the marina via the north gate or continue along the footpath until you reach the marina office – a pleasant eight-minute walk.
By air: The nearest airport to Portsmouth is Southampton, which is 15.9 miles away. Other 'nearby' airports include London Gatwick (47.7 miles), London Heathrow (54.3 miles), London Luton (81.3 miles) and London Stansted (95.9 miles).
The verdict
Haslar has all a berth holder or visiting boater could need. Staff are friendly and helpful, Haslar's proximity to the main street of Gosport is extremely convenient and the ferry to Portsmouth is very handy indeed. The proposed new Boatfolk developments will only add to Haslar's lustre. However, for us, one of the abiding pleasures of Haslar Marina was just watching the whole panorama of Portsmouth Harbour unfold before our very eyes. Recommended! 
Haslar upgrade plans
Boatfolk have invested £3.5 million in a development plan to improve Haslar Marina. Works are currently underway and are due to be completed within the next 18 months. The details and timings of the plans to enhance Haslar include:
A brand-new on-site restaurant, situated in an area that overlooks the marina. Construction will start in early 2022, subject to planning.
The creation of nine premium hotel rooms, available from spring 2022, subject to planning.
Installation of an enlarged and revamped galley on board Haslar's green lightship, allowing it to cater for a larger number of guests at peak periods following its reopening in spring 2022.
Installation of a new floating events space adjoining the lightship, subject to planning.
A new enlarged boatyard with a newly created waiting pontoon at the bottom of the slipway.
Complete renovation of the pontoon washrooms. The front of the existing facility will be cleared to create space for a new veranda that will be built to accommodate nine new unisex family pods.
Lifting and refurbishment of Haslar Marina's Sealift is underway and will be ready to accept customers again in November 2021.
Dredging throughout October and November 2021 to help maintain existing marina berths and make way for an extension in due course.
Portsmouth Dockyard
Portsmouth Historic Dockyard is one of the top tourist attractions in the country, with some 750,000 visitors each year. Historian Paul Brown notes that the biggest attractions in the dockyard are the historic ships, including: HMS Victory, Nelson's flagship at the Battle of Trafalgar; the revolutionary HMS Warrior, the world's first large iron-hulled warship; HMS M33, the WWI monitor that fought in the Dardanelles campaign; and the Mary Rose, an important Tudor warship that was raised after spending over 400 years on the seabed. The dockyard is also home to the National Museum of the Royal Navy, which will soon include the Royal Marines Museum in the same location, all housed in some of the fine Georgian and early Victorian buildings that grace the site. The remaining, operational part of the former royal dockyard is now HM Naval Base, Portsmouth, the home port for the Navy's two new aircraft carriers, the Type 45 destroyers and some of the Type 23 frigates.
Cruising destinations
At Haslar, the whole eastern Solent is on your doorstep:
Osborne Bay
Osborne Bay is one of the most popular lunch anchorages in the Solent. Situated on the north-eastern face of the island, it is the first bay you will see coming out of Cowes (eastbound). The bay is usually very sheltered from the wind, which makes it a great suntrap in the midday sunshine and thus an ideal spot for an afternoon swim. As the bay is in the central Solent, it is around a 20-minute cruise from the mouth of Portsmouth Harbour.
Hamble River
Heading west from Portsmouth, it's a short blast to the Hamble River, home of some of the south coast's largest marinas, where you can berth overnight. Or you can make your way along the Hampshire coast to the delights of Buckler's Hard on the Beaulieu River where you can visit the National Motor Museum at Beaulieu.
Lymington
The old market town of Lymington is set in the New Forest.
Bembridge, IOW
The Isle of Wight shoreline offers many delightful havens and beaches, from Bembridge Harbour and Priory Bay in the east along to the Medina River and Cowes sailing centre. Newtown Creek and Yarmouth Harbour are wonderful contrasting locations, and beyond are the bays at Colwell as well as the spectacular Alum Bay and the iconic Needles.
Poole Harbour
Venturing further west brings you to Totland Bay and the coloured sands of Alum Bay. Then it's out past Hurst Castle to Poole Harbour and Studland Bay.
Littlehampton
Heading east from Portsmouth you can explore the fishing town of Littlehampton, Shoreham Harbour and the vibrant city of Brighton.
Chichester
Passing Southsea's seafront, a short trip east will take you to Chichester Harbour and some of the most beautiful cruising havens and anchorages, including East Head and Hayling Island. A trip up the northernmost creek brings you to Emsworth, with its two visitor pontoons and the many lovely pubs and restaurants in this delightful village. Other creeks lead to Bosham and Itchenor, both with excellent pubs. Chichester Marina puts you in easy reach of the cathedral city of Chichester.