PBR's very own port and haven 'hunter-gatherer', Alex Whittaker, dons his kilt and heads north to the bonny banks of the Clyde, whereupon he discovers every boat owner's dream: an entire boating village! Let's see, then, what Largs has to offer the modern-day seafarer …
Largs lies on the legendary cruising ground of the Firth of Clyde, in North Ayrshire, about 33 miles by good roads from Glasgow. Its setting on the Clyde, tucked between land and strand, and overlooking Great Cumbrae island, is nothing short of magnificent. Then there is the whole innovative idea of a purpose-built 'marina village'. I have seen a number of attempts at this bold concept before, both in the UK and on the Continent. However, Largs is easily the best formed, least contrived and most satisfyingly realised example that I have yet to find. For a start, there are no chi-chi penthouse apartments, split-level flats or ruinously expensive houses overlooking the basin. In fact, there is no residential development. Largs has been conceived as a marina, pure and true. 
Village hub
The central hub of Largs marina village is its courtyard. Sight lines have been carefully considered, proportions optimised, and the scale of the enfolding buildings kept harmonious and human. One immediately notes that the whole village is continuously maintained to a very high standard. Mind you, this is no budget marina. You pays your money and you takes your choice, and frankly, we would pay. The forms of the buildings do not clash with each other, nor their rural maritime surroundings. It all feels peaceful, well groomed and refined. Even the technical areas have their own tidy aesthetic. Trust me, this is all good, very good.
Approach
Largs marina lies in a well-sheltered position on the Firth of Clyde: 55° 46.6' N, 04° 51.5' W. The most northerly tip of Great Cumbrae island provides good shelter in most conditions. Most significantly, Largs is accessible at all states of the tide, with no immediate hazards. Nor does any significant swell develop in the channel between Largs and Great Cumbrae island. There are deep waters on the approach. 
The minimum depth below chart datum (CD) is 2.5 metres, with several areas having deepwater berths with 3 metres below CD. The deepwater approaches to the entrance are marked with a lit safe water mark (L.Fl.10s). The approach to the marina is via the Largs channel. Navigation lights mark the port and starboard breakwaters (occulting 10s).
Berths and berthing
All the staff we spoke to were unfailingly helpful, polite and knowledgeable. If you had a query, they took ownership. Largs has over 700 fully serviced berths, a trailer-friendly slipway, and all the necessary shoreside services and businesses. Going online to the berthing enquiry page will give you up-to-date berthing fees, special offers and packages: 
https://www.yachthavens.com/largs-yacht-haven/annual-berthing-enquiry
Shoreside facilities
As a marina village that has been carefully planned from scratch, Largs proved to have all the creature comforts, dining and shopping facilities (plus intriguing little extras like a takeaway) that we expected. There is a nifty Scott's bar and restaurant on site. Last year we were very impressed by her sister outlet at Troon marina. The Scott's at Largs was very good and did not disappoint. It was bustling and friendly with a range of dining opportunities at prices we thought were very reasonable. We also liked the nearby Bosun's Table deli and cafe. This was a funky mix of varied eating options, including that takeaway mentioned above. Sometimes when it's hot and sunny, all you want is an evening meal on your own back deck, without the faff of cooking. The Bosun's takeaway filled that family need admirably. Also, if you have teenage crew, they may not always want to be dragged off to a pukka restaurant in the evening. We could see such informality, and the range of options on offer, appealing to younger crewmembers. Plus, of course, during the day there is a handy Bosun's food store and delicatessen. Thus, alongside Scott's, we felt most bases were covered when it came to victualling, snacks and eateries. When we visited Largs marina, happy families were dining al fresco in the sun at tables positioned around the village courtyard. Overall, we felt that good eating was available at most price points at Largs without leaving the marina. Finally, as hinted at earlier, the full range of marine support business are available on site. We felt that we could trail our boat here for a happy summer season on the Clyde and be perfectly satisfied. It really is a magical place for boating people.
Fuel
The alongside fuel berth is easy to access. To our relief and delight, there was petrol as well as diesel. The fuel berth also has Calor and Campingaz, takes credit cards and is open 24/7. A luxury touch was the availability of ice for our back-deck G&Ts. Full marks once more to refined Largs.
Shower and toilet facilities
On inspection, these were first rate. There is also a very useful laundry. Seemingly small touches like this make Largs a great cruising base if you are a long way from home.
Recycling and pump-out
Sewage pump-outs, we noted, were free, fostering a sympathetic environmental approach. The marina had a similar attitude to waste recycling for glass, cardboard and oils, etc. They made it easy for crew to sort things, so the latter wanted to use the facilities.
Chandlery
We always feel that a well-stocked on-site chandlery offers peace of mind, even if we never need it. We liked the range of boating requisites stocked in the Largs chandlery. On our extended boating trips at home and abroad, we have found that such things as cheap bilge pumps, ropes, fenders, and specialist oils and lubes often topped our 'wanted list'. Largs chandlery easily passed this simple trailer-boater test. The chandlery is open seven days a week, and we even bought some non-chandlery gifts to take home. The staff were very helpful. 
Water, Wi-Fi and electricity
All berths have water and electricity. It was interesting to note that the latter was available in two flavours, 16 or 32 amps. Our water heater aboard requires the 32-amp version or it trips out, so this was good news. Free Wi-Fi is available at every berth, so teenage crew and captains of industry alike would be happy.
Bike hire
Handy for a quick run into Largs, or further afield, bikes for hire for adults and kids were available on site – very useful for a compact fast cruising boat like ours, which is not big enough to stow a bike.
Food store
There is a very handy food shop in the Bosun's Table. This has the aforementioned deli and covers all the basics. There is a full range of shops in Largs town, but you have to walk or cycle.
Cashpoint
The closest is nearby in Largs town (a fine seaside resort, by the way), at Morrisons supermarket. Allow about 20 minutes to saunter into town. If we were grabbing cash and shopping we would walk there but take a taxi back. However, you can go entirely cashless at Largs. Everything we bought or paid for at the marina was via card.
Sales and service
Over the years, I have often read about Euroyachts, a famous Scottish boat business. We were intrigued to see the size of their operation first-hand. It was impressive. Also on site we spotted DDZ Marine, who were clearly very busy too. (The Largs marina website lists all the on-site businesses, of which there are many.) We were pleased to note that the marina operates an 'open-site policy' when it comes to getting people to work on your boat. So if you have a preferred contractor, or you need a specialist, you are able to use your own choice of third-party contractors. There's no daily access fee to pay, but contractors are asked to share a copy of their insurance documents with the marina office before commencing work. We liked this policy.
Car and trailer parking
There is extensive car parking, so no bother there. We did notice two electric vehicle charge points too. We also enquired about trailer parking, and there is a locked compound by the slipway. By the way, the whole site has CCTV surveillance.
Dry berthing
For RIBs and motorboats up to 8m, Largs offers an inclusive dry berthing service. The idea is that you keep your boat in pristine condition all year by storing her ashore and letting the marina launch and recover her whenever you want to go boating. It is not necessary to antifoul, so performance is better, fuel consumption is reduced and there's no need to worry about the boat filling with rainwater. The deal includes unlimited launch and recovery for Largs' dry berthing customers, seven days a week, all-year round, at just two hours' notice. Trailers can also be stored on site. As a berth holder elsewhere, it is easy to appreciate why such options are growing in popularity. 
Weather and tides
The Largs marina website has a dedicated Weather and Tides page. This very useful resource was our first stop every morning. You may also download the tide tables, which is very handy indeed:
https://www.yachthavens.com/largs-yacht-haven/at-the-marina/weather-tides
Largs Sailing Club
Largs Sailing Club is on site and is housed in a very impressive building. It has a superb terrace and bar, and the club has an extensive range of activities for all ages and abilities. It is our normal practice when visiting ports and marinas to check out sailing clubs and yacht clubs – this is because they are full of enthusiastic people who can offer you useful local sailing directions. The beer is usually cheaper too.
Motorhome pitches
Largs is licensed with the Caravan and Motorhome Club to provide five serviced pitches throughout the year. The views from these pitches over to Great Cumbrae are stunning. Largs marina also offers yard storage for motorhomes, caravans, camper vans and RVs. A trailer boat and camper combo could spend the season here very well!
Scottish midgie alert
Every time we go to Scotland, other boaters ask us about the afeared Scottish midgies. Well, there were no midges at all on our visit to Largs. Not one. Another good reason to try Scottish boating this season.
In summary
When we weighed up all Largs marina had to offer, we considered it an excellent venue to keep a boat. The access Largs gives to the classic cruising grounds of the Firth of Clyde, and on to the legendary kyles and islands, is truly astounding. On the other hand, easy day cruising from Largs offers a huge range of exciting opportunities. Remember, at every turn, the views are truly spectacular. 
The distinguished Sir Chay Blyth had this to say about Largs: 'Largs is the jewel in the crown of Scottish sailing.' Enough said.
Getting
there by road
Connected by the A737 to the M8, Glasgow and the M74 to England. Punch the postcode KA30 8EZ into your satnav. Trailing your boat to Largs from the South and England is easy since it is motorway most of the way, and thence fast A roads. If you were visiting Largs on a recce mission by car, we would suggest taking the scenic route and leaving the M6 just north of Carlisle at Gretna Green. Then strike across country to Ayr, near the airport, and drive up the coast. It's a delightful run on a sunny day. 
By rail
Largs train station is 2 miles away. The service to Glasgow runs every hour, taking 50 minutes.
By air
Glasgow Airport is 35 minutes away and has daily flights to London, Ireland and Europe.
Ten fun facts about Largs
1. Largs means 'slopes' in Gaelic.
2. The Scots thumped the Norwegians at the Battle of Largs in 1263.
3. Largs holds an annual Viking Festival.
4. Actor and comedian John Sessions was born in Largs in 1953.
5. Knock Castle was designed by Thomas Rochead, designer of the Wallace Monument in Stirling.
6. The parish church in Fairlie has a weathervane shaped like a yacht ‒ a memorial by the family of local yacht designer William Fife.
7. Largs was a centre for handloom weaving and fishing before becoming a popular seaside resort.
8. Sir Thomas Brisbane, after whom the Australian city is named, lived and died in Largs.
9. Three Largs women were made to confess to being witches in 1650 at the Auld Kirk.
10. Nardini's ice cream parlour at Largs is renowned for its art deco building and huge range of ices.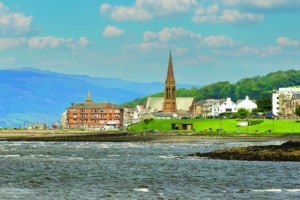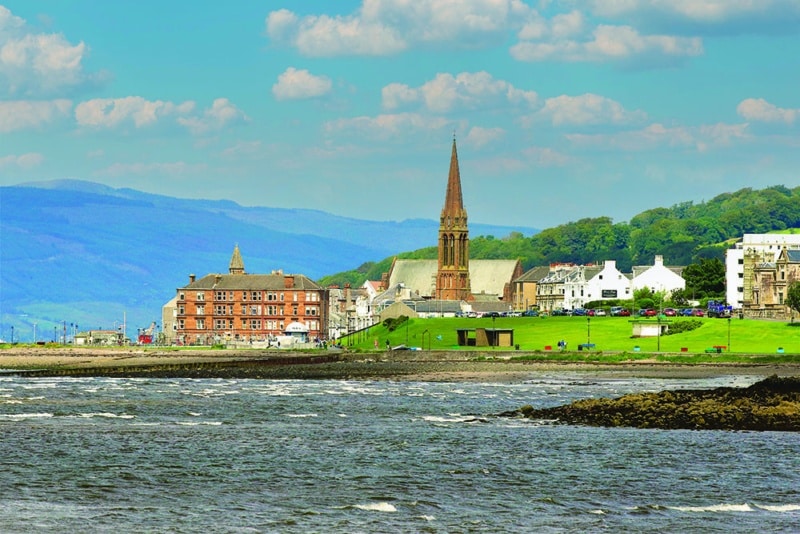 Contact details
Largs Yacht Haven
Irvine Road, Largs,
Ayrshire KA30 8EZ
Tel: 01475 675333
VHF: Channel 80
Call sign: 'Largs Yacht Haven'
Cruising destinations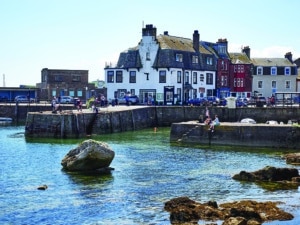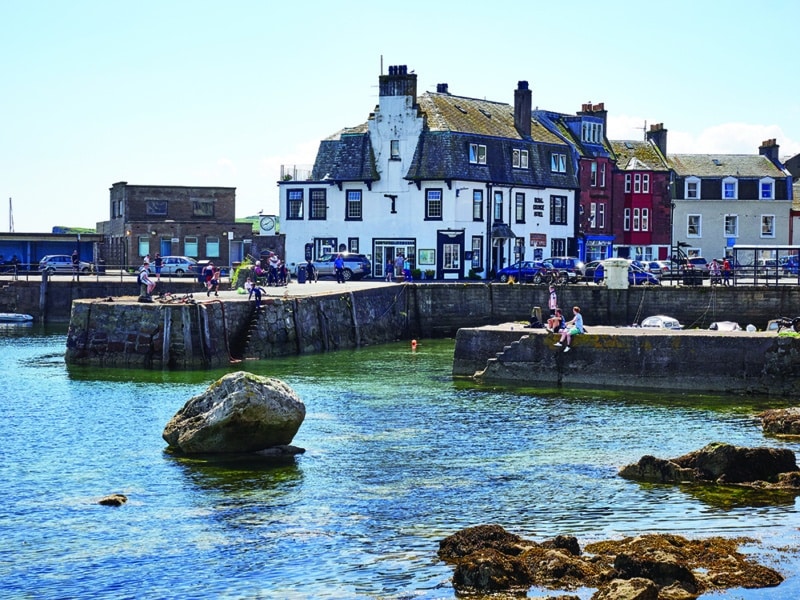 Millport: 4nm
Millport is a great venue for shopping, golf, fishing and cycling. Millport also has a lovely sandy beach – perfect for young children. You can also hire bikes from the marina and take them with you for the day to cycle around the quiet cycle paths on the island.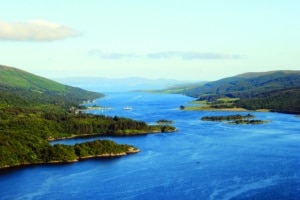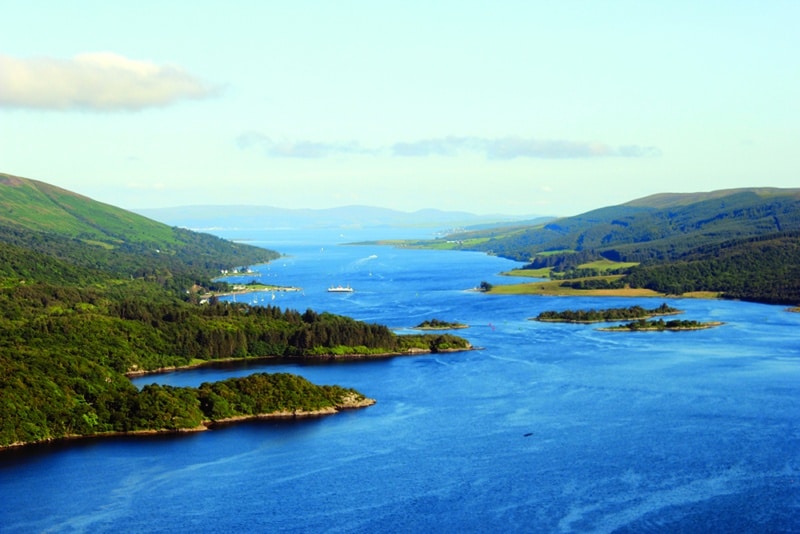 Kyles of Bute, 
Rothesay: 6nm 
Cross the Largs channel and enter the channel known as the Kyles of Bute. The pretty fishing harbour and lively town of Rothesay is perfect for a stroll ashore, or for an ice cream – or just cruise along the stretch between the Isle of Bute and Argyll.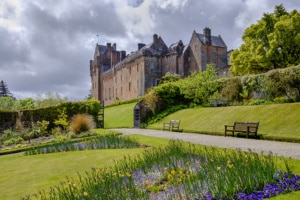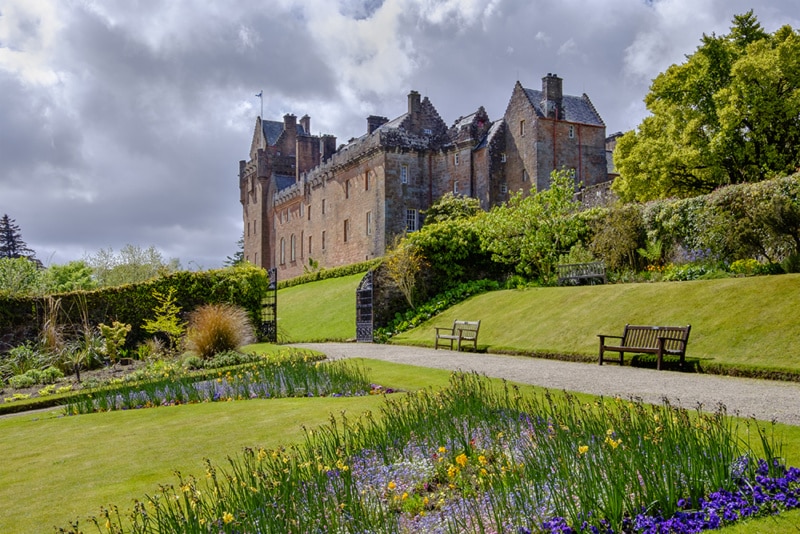 Arran: 16nm
A swift passage to the Isle of Arran allows you to visit the picturesque anchorages at Lochranza with its whisky distillery and ruined waterfront castle. While there, take in Brodick with the magnificent Brodick Castle and Gardens, plus the long sandy beach. Finally, try Lamlash, in the lee of Holy Island, made peaceful by the resident Buddhist monks.
Troon: 20nm
Down the coast, Troon has beautiful scenery, some of the finest golf courses in the world and gourmet dining. Last year we enjoyed a few fine whiskies on the terrace at Scott's overlooking the marina. While we were there, we stayed at the new marina hotel, The Salt Lodge. It was excellently and stylishly furnished, with great views of the marina.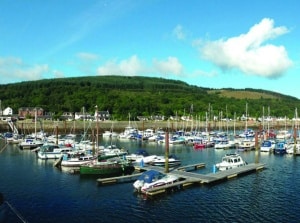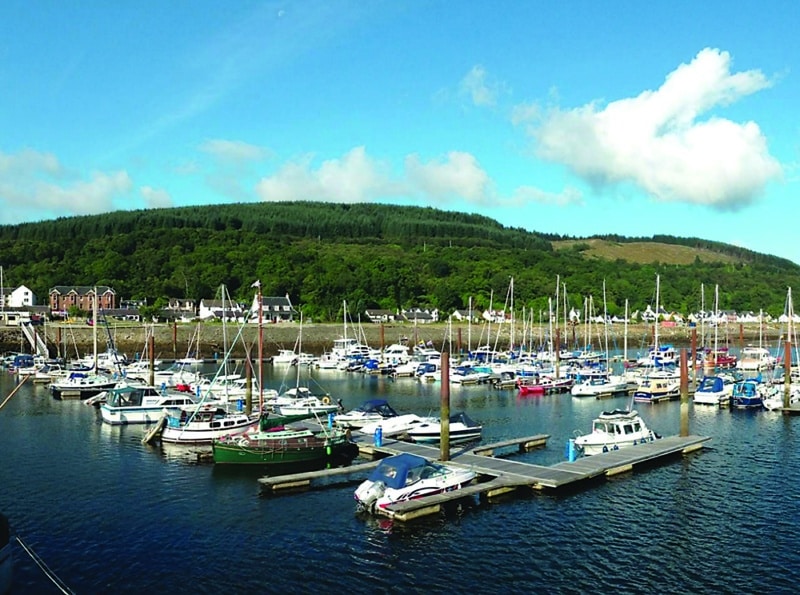 Holy Loch: 18nm
Head north up the Clyde to Holy Loch marina and majestic forest walks ashore. Or continue sailing further to Loch Long, Carrick Castle and Garelochhead.
Ardrishaig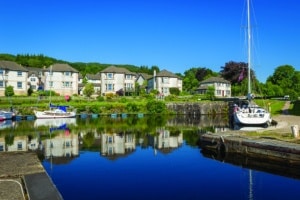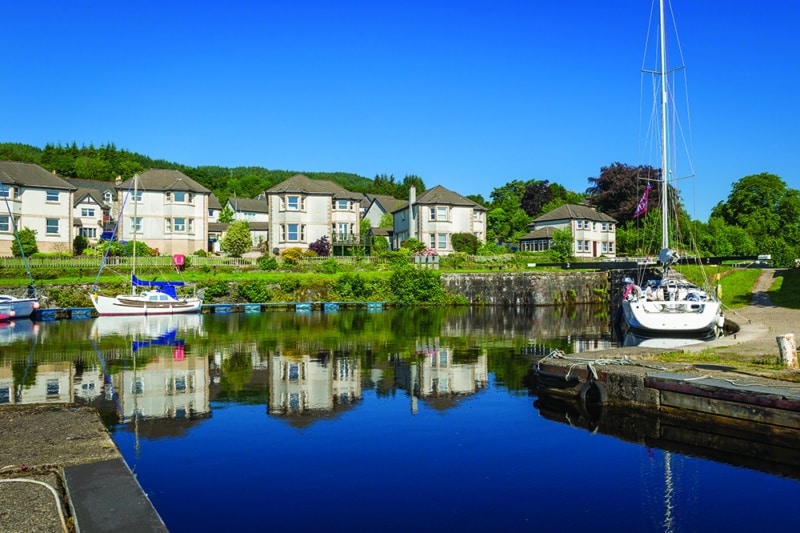 (Crinan Canal): 32nm
A great location to enjoy a variety of outdoor activities and explore local areas, Ardrishaig marks the beginning of the Crinan Canal, known as 'Britain's most beautiful short cut'. It's also the gateway to Puilladobhrain, Mull, Iona, Coll and beyond.