Mark Featherstone discusses how to extend the boating season, and make savings too, by including a trip to the Algarve and the award-winning Vilamoura Marina complex.
Drifting past the myriad of tempting stands at the Southampton Boat Show, a huge photo caught my eye of a busy southern European marina, a sparkling blue sea and a horseshoe of bustling shops, restaurants and villas built from the warm coloured stone of the region. Later in the week, Vilamoura Marina went on to win the coveted 'International Marina of the Year' award for the second consecutive year running and the sixth time in total. This got me thinking: as the summer is so short in the UK, wouldn't it be wonderful to be able to enjoy your boat for longer by wintering it in an award-winning marina like this? Not only could you add October and November to the boating year, but by storing your boat in the milder climate, you could make the most of the wonderful weather through April and May before trailering it back in time for the UK summer months. With such an enticing possibility of an extended boating season swirling around in my head, a jaunt to the southern shores of Portugal beckoned to find out more …
My flight took me to Faro, just a 20-minute drive away from Vilamoura Marina, situated in the Algarve's 'Golden Triangle' on the southern coastline between Faro and Albufeira. Vilamoura is a luxury resort chiefly located in a privately owned and unspoiled territory. Originally built around a small harbour, the marina is the perfect base for exploring an area known for its breathtaking natural beauty, pristine beaches and dramatic cliffs. Approaching by sea is straightforward, with east and west beacons clearly guiding you into the waiting arms of the outer harbour, whereupon one is led to the marina itself and its team of marina staff primed to provide you with 24-hour mooring assistance.
A boat owner's heaven
On visiting the marina, it's immediately evident that the staff here take a huge pride in their marina and its surroundings. Walking past a bustling working boatyard, we spotted the generously wide main slip and the care that was being taken to jet its concrete surface clean. Indeed, everywhere was immaculately kept and very secure too. Then, upon arriving in the marina's newly refurbished marble-clad reception area, we were met with a warm welcome and the chance to chat to the staff in the comfortable and contemporary-styled berth holders' lounge. Seen as something of a pioneering development in Portugal, over the last four decades, the marina has become recognised as one of the finest in the world. With 825 berths for boats ranging from 6 to 60 metres in length and up to 4 metres worth of draught, the services offered here are second to none. The fuel jetty, for example, is likewise most impressive, with multiple pumps stretching along one of the longest fuelling pontoons I've ever seen. No queueing for fuel here! The jetty also boasts a free pump-out system for waste water. Water and electricity are also supplied on the pontoons, and there are the usual shower, toilet and laundrette facilities, all of which are pristine and plentiful on both sides of the marina. Lift-out services, dry storage and trailer parking then complete the picture.
I was impressed by the array of ancillary businesses offering all manner of services to accommodate the needs of those keeping their vessels here. The boatyard provides general maintenance, marine electronics, gelcoat repair and even an upholsterer should the need arise. With a chandlery located next to the marina reception and even more chandlery outlets along the quayside, boat owners and berth holders are spoilt for choice.
Trailering: all part of the experience
Vilamoura Marina certainly ticks all the boxes for boat owners who either wish to cruise or trailer their boat to southern Portugal. My top tip is to trailer your boat, catching a ferry to Bilbao or Santander, before then taking one's time to meander down to Vilamoura. When the temperatures are high and the sea breezes are moderate, Portugal is the perfect base for autumn and spring adventures. After all, there's nothing more galling than investing in a boat, only to have the weather dictate a realistic family boating season of little more than a few short summer months. Added to this, the excellent storage facilities in a much warmer climate in winter will be kinder to the boat and its equipment.
Once your boat is launched and settled in her berth, with flights to Faro Airport being so plentiful, you have the flexibility as well to visit your boat throughout the autumn and spring. Vilamoura has lots of apartments and hotels to suit all pockets if you don't have accommodation on your boat. If your pocket is sufficiently deep, you might consider a stay at the stunning five-star Tivola Marina Vilamoura hotel, located on the east side of the quay. Offering superb fresh food and local cuisine, as well as such niceties as indoor and outdoor swimming pools and a spa in the most opulent and manicured of surroundings, many of the Tivola's hotel rooms also overlook the marina. The latter, therefore, can provide owners with a bird's-eye view of their boat.
Benefits and features
We found all the marina staff to be incredibly friendly and very helpful. Elisabete, a key member of the Vilamoura team, was keen to tell us about the new concierge service being offered by the marina. I recommend using this service, in fact, as there really is so much to experience in this beautiful location. The two beaches are owned by the same entity as the marina complex, with each beach displaying the same high degree of presentation, attention to detail and services as the other. With daybeds and parasols, wheelchair-accessible walkways, and beachside restaurants serving light lunches, sunset cocktails and fresh fish suppers, everything's comprehensively catered for in style. For the more adventurous, adrenaline-pumping parasailing trips, diving activities, and surfing and fishing experiences can all be booked here too.
The marina quay is a lively mix of enticing shops, attractive bars and chic restaurants that overlook a harbour filled with a wonderful array of powerboats, the white hulls of which lie afloat, glistening in the sunshine. From the quayside here, you can also book wine-tasting and historical tours to nearby Loulé and Albufeira. There are no fewer than five renowned championship golf courses and world-class equestrian facilities nearby. A little under 30 minutes' walk from the town itself, you'll find a delightful nature trail. Beginning on the banks of the Ribeira de Quarteira, the route takes you on a restful ramble in search of orchards of carob, almond and fig trees.
Adventures abound
Families and couples alike can have so many wonderful land-based and seafaring adventures from this glamourous port. Heading west, the 6km-long Praia da Falésia stretches from Vilamoura almost all the way to Albufeira. It's regarded as one of the finest beaches in the Algarve, with golden sands backed by peach-coloured cliffs and accessible by boat from either end. Albufeira is the largest resort town in the Algarve, with cobbled streets leading up to the old town of whitewashed houses. However, it's best to avoid the newer part of Albufeira town if you wish to evade the lively nightlife!
A trip to the Benagil sea cave is a must-see and perfect for paddleboarders to access from the beach. Turning east from Vilamoura Marina, I recommend heading for Culatra Island with its anchorage located at the entrance to the channel leading to Faro and Olhão. Walking around the island is the best way to see the area and enjoy the slower pace of life here.
The verdict
So, is Vilamoura worth the ferry crossing and making the 800km road trip through Spain to Portugal? As we know, the good old British climate can be fickle and often conspire against us. But having the flexibility of being able to fly in and out to enjoy the 'shoulder months' in more temperate climes makes the likes of Vilamoura a very attractive prospect. The saving made on berthing fees and storage costs in Vilamoura could also offset the travel costs involved.
Our boats give us the opportunity to enjoy adventures and make memories, and extending your boating season will unlock, increase and enhance the precious experiences that only a boat can deliver!
An eco-friendly marina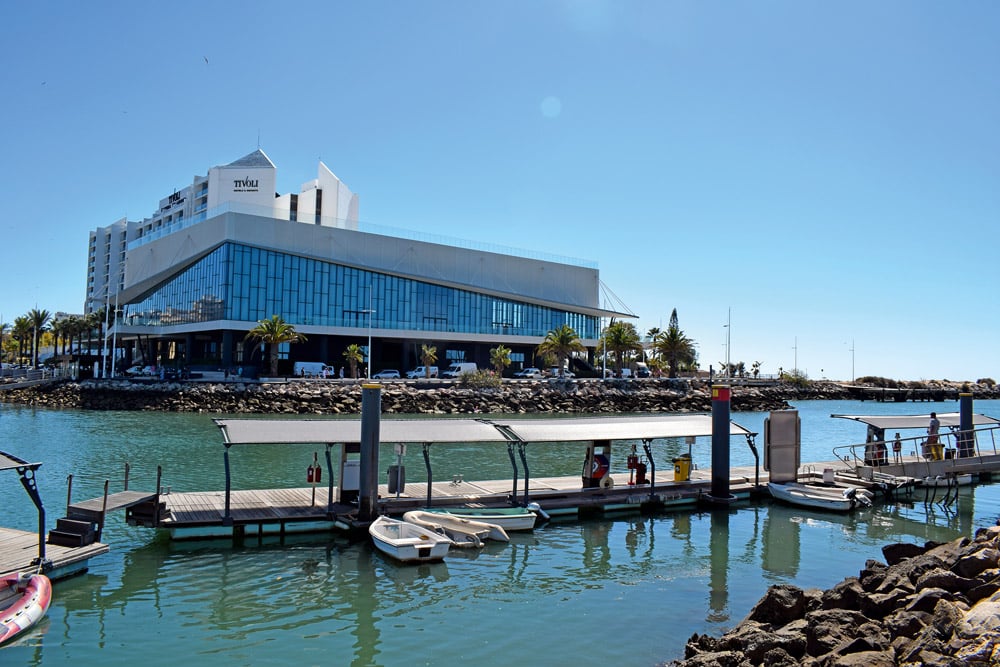 One of the greenest countries in Europe, Portugal has high aspirations for its eco-conscious citizens. The marina certainly takes its ecological credentials very seriously and operates under an internationally recognised Environment and Quality Management System, which aims to ensure that all activities and practices minimise the environmental impact. This isn't just limited to recycling – although the 'ecoponto' bins are certainly a feature of the marina – as any waste generated by maintenance and repair work in the yard is treated by licensed companies and the marina's water quality is monitored monthly by an accredited laboratory. Berth holders and visitors are actively encouraged to think about ways to contribute, and only biodegradable products can be used for washing down, while the use of antifouling paints with tributyltin (TBT) is prohibited.
Brittany Ferries
Ferries run as follows:
Portsmouth to Santander: Every Monday and Friday throughout the year.
Plymouth to Santander: Every Wednesday and Sunday from April to the end of October.
Portsmouth to Bilbao: Every Thursday and Sunday from April to the end of October.
Distances by road:
Santander to Vilamoura: 645 miles

Bilbao to Vilamoura: 665 miles. This equates to approximately 13 hours' travel time.
Vilamoura
Environmental Park
Established to ensure the conservation of valuable ecosystems, the park enjoys a wealth of wildlife and has two bird observatories, a circular trail and a visitor centre, which also carries out environmental research. With a diverse landscape of reed beds, farmlands and lakes, there are plentiful bird and flower species to spot, and even otters and striped-back tortoises. In autumn, the surrounding fields are frequented by migrating birds such as grey stonechats; then, during winter, you'll find white wagtails, tawny pipits and rare birds such as the purple heron. Typical trees of the Algarve region can be found all along the route and include carob, almond, olive and fig. The park's information panels highlight the vast flora and fauna to be seen.
Cruising Destinations
Lagos – 27NM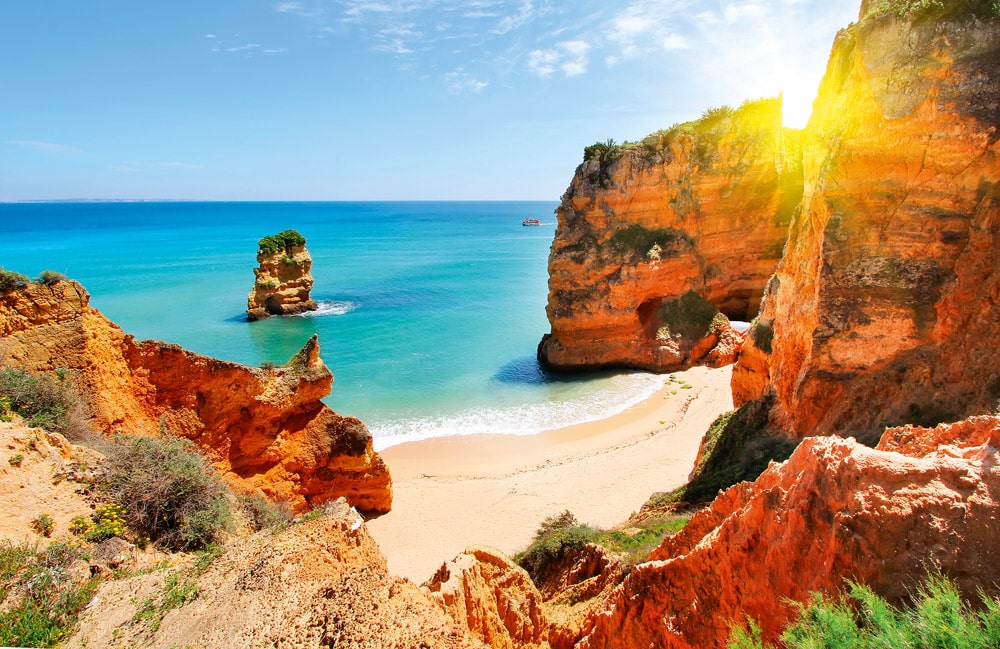 It's a delight to meander along the coast here with its limestone sea stacks and network of caves and tunnels. You can anchor off the shoreline of Lagos Harbour or use the large Marina de Lagos to take advantage of its amenities. Once here, I recommend visiting the old town to wander around its cobbled streets and sun-soaked squares, all bound within the remains of Lagos's 16th-century walls.
Culatra Island – 19NM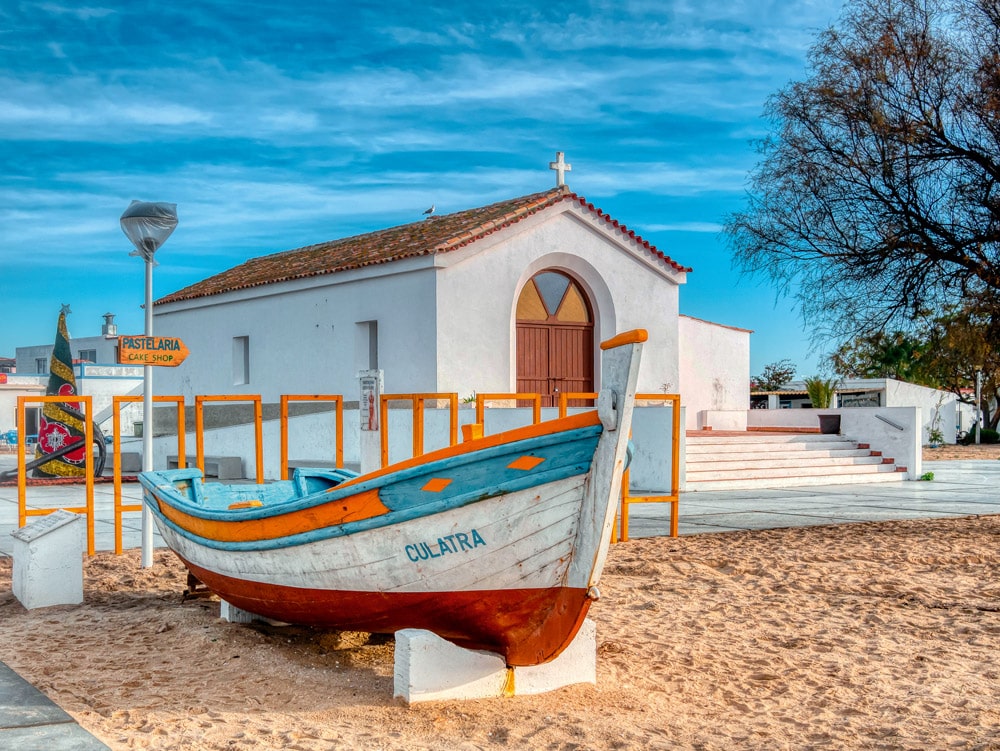 You can anchor off the entrance to the channel leading to Faro and Olhão and then enjoy walking in this national park, which has no paved roads of any kind. The calm, crystal waters along Culatra's south coast are perfect for swimming, and the beautiful scenery and abundant wildlife are the main attractions here.
Tavira – 30NM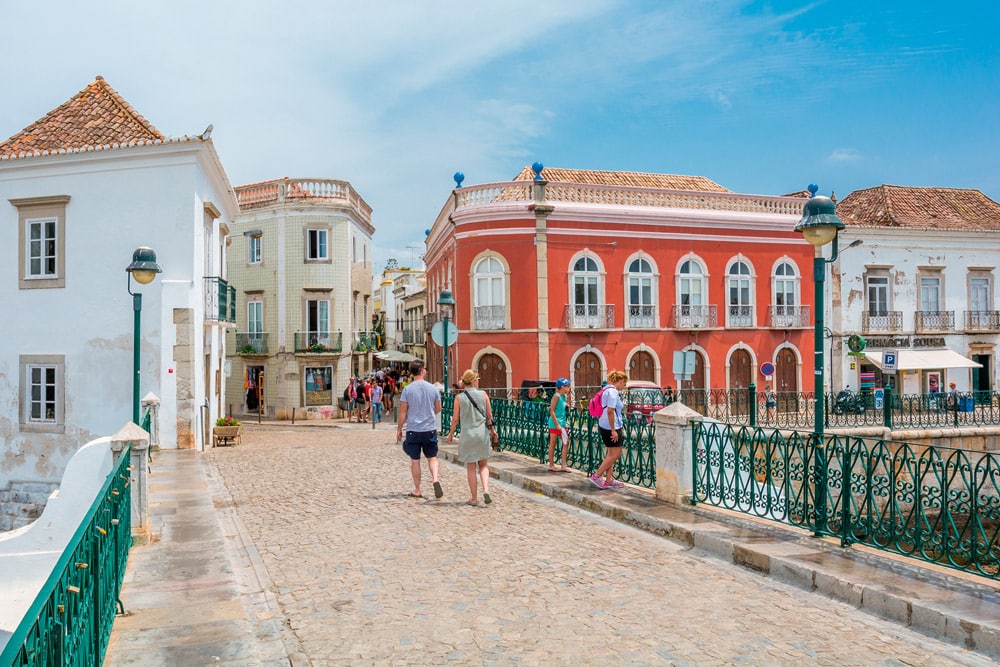 Lying on the Gilão River is one of the most charming towns in the Algarve. Tavira is a delightful mix of traditional Portuguese heritage and Moorish influences. Spring and autumn are the perfect times to visit as sunny weather dominates. Benefiting from few crowds, you are free to enjoy the local historical architecture, and once you  have built up an appetite, the fresh sardines, served in the many family-run restaurants, are there to savour! Before anchoring within Tavira's shallow channels, take care to check your charts and pilotage guides carefully.
Benagil cave – 25NM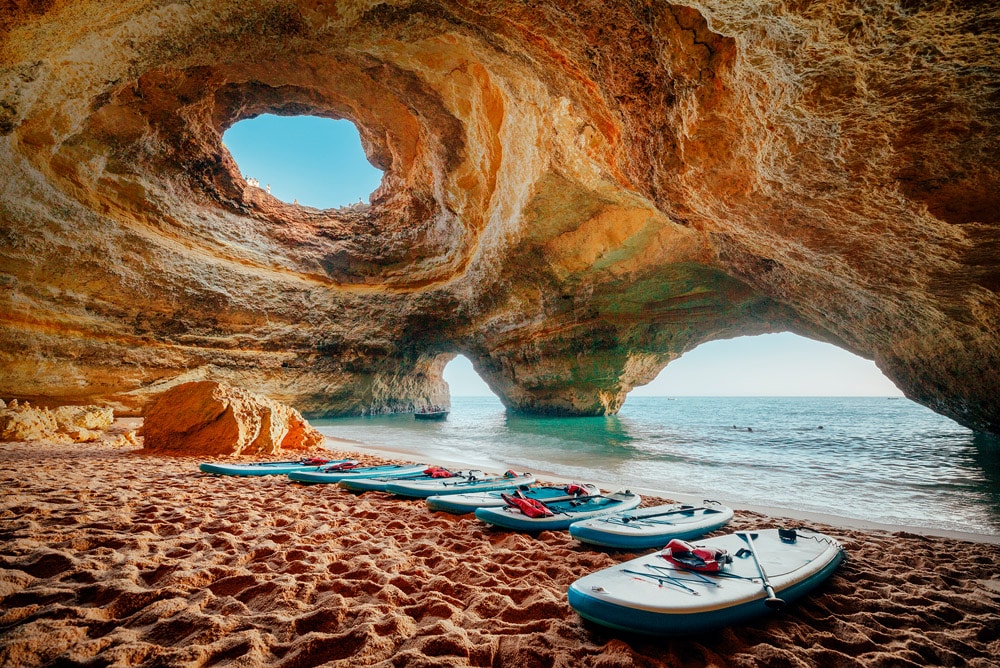 Benagil is a small fishing village, and the local fishermen still use the beach to bring the catch of the day ashore. The main attraction here is the stunning Algar de Benagil cave, with its hole in the ceiling framing the blue sky above. You can walk around the cliff and look down into the cave, but the best way to visit is to use a paddleboard. This makes for a truly magical adventure.
Top six reasons

to winter

 

your boat in the Algarve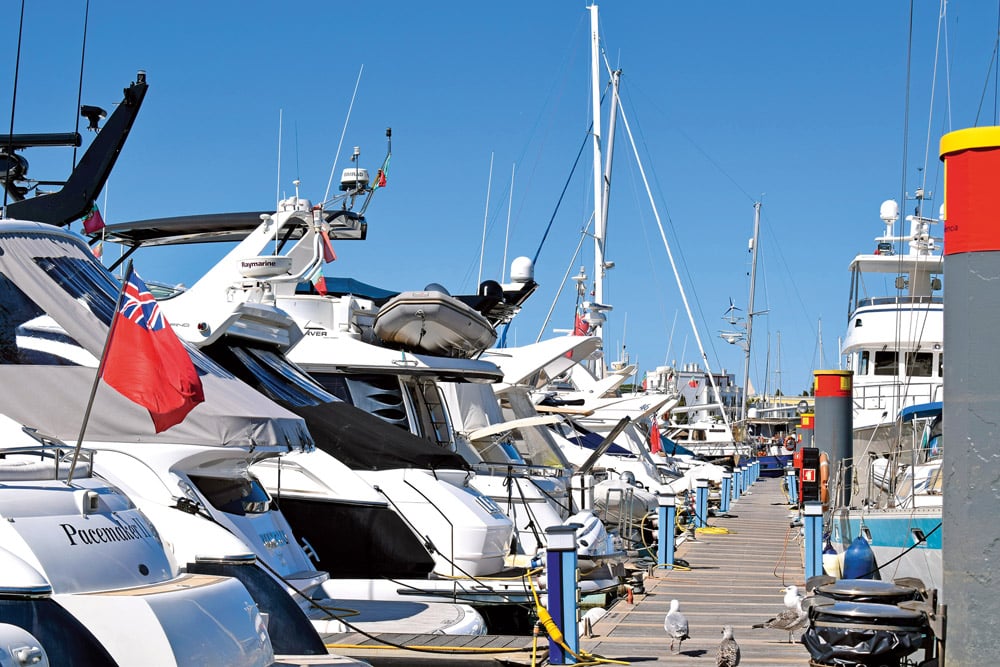 Accessibility: Brittany Ferries operate regular ferry crossings from the south coast of England to Santander or Bilbao on Spain's north coast. Enjoy the journey – it will take you two days, but I recommend a stop in the ancient city of Salamanca en route. It's a place famous for its wonderful ornate sandstone architecture.

Accommodation: If you need accommodation, there's a huge amount of choice at low-season prices. We loved the five-star Tivoli Marina Vilamoura located right on the quay, but just 1km from the marina, the Hilton Vilamoura is in a slightly more tranquil location and offers a shuttle bus to the marina, which boasts a superb slipway, great storage facilities and associated engineering services.

Flying made easy: Just 20 minutes' drive from the marina, Faro Airport offers excellent flight connections to all major UK airports, which means you can leave your boat and visit as often as you like. Ryanair, British Airways, easyJet and other smaller airlines all fly out of Faro.

Practicalities: With an average yearly temperature of 18°C and low rainfall, the climate is going to be kinder to your boat than a winter on the hard in the UK. With a wide slip to launch from, the storage facilities and associated services are fantastic, and you will also have peace of mind as the yard is surrounded by high walling and provides 24-hour security teams, CCTV and electronic access to the pontoons.

Berthing and savings: Berthing costs are so much cheaper in the Algarve. A berth in a premium Southampton marina for a 12m boat costs £7,862 for six months. A similar berth at Vilamoura Marina will cost 2,370 euros. At around a third of the cost of a UK berth, even when taking flights and accommodation into consideration, there are potentially some very real savings to be made.

Legalities: Under EU law, British-registered UK tax-paid boats can be kept in Europe for a period of 18 months.