For this UK exclusive, TMS heads out to the legendary Lake X, Florida, to test the much-anticipated additions to Mercury's Verado line-up, namely the all-new 5.7L 350hp and 400hp V10 models. Do these engines do justice to Mercury's ongoing two-billion-dollar R&D investment programme? Let's find out …
Like many of you, no doubt, I appreciate a fine watch for its delicate engineering and the sheer brilliance of its craftsmanship. Of course, a watchmaker's work is extraordinarily precise, and painstakingly intricate. Every detailed element of a timepiece's design has to be refined again and again until it finally achieves engineering perfection. And besides functionality, a master watchmaker will deliver an object of flawless internal and external beauty. Take, for example, a watch crafted by someone like Audemars Piguet. A miniature engineering miracle such as this may take a team of highly trained watchmakers an entire year to create. But despite this, the wearer will likely never get to see the brilliance of the watch's internal engineering.
It is no exaggeration to suggest that the challenges confronted by marine outboard design engineers are similar to those faced by their contemporaries in the watchmaking world. Function, form, reliability and performance all have to be achieved within near-impossible constraints, not least those dictating size and weight. Within this critical and exacting framework, an engineering miracle has to be delivered.
Mercury Marine's latest Verado engines share many common engineering challenges and accomplishments with such miniature marvels. How so? Firstly, 'refinement'. This was impressed on me more than ever upon my being given an access-all-areas pass to Mercury's legendary, though for many years secretive, Lake X test facility in Florida, USA. It was here, then, on the lake's famed waters, that PBR was given the exclusive UK media privilege of evaluating Mercury's all-new 5.7L 350hp and 400hp V10 engines.
The new V10 may not be a racing motor, it may not be the most exciting big-block outboard we have ever evaluated; it doesn't 'bark' in sports mode like its punchy, smaller V8 cousin, and it doesn't even feature the all-new gearcase and lower-section redesign that its bigger V12 sibling benefits from. But the outstanding quality that the new V10 most certainly does possess is to excel in everything asked of it. You will not be surprised to learn that this has been achieved by means of the process referred to as 'technological refinement', the result being that every design feature, component and mechanical item combine to work in perfect harmony to form a singularly refined engineering masterpiece.
So what's new?
The new V10 engines are the quietest and smoothest in their class. Their maker, Mercury, states that these motors run 45% quieter than their closest competitor when driven at cruising speed. But one new feature I particularly liked was the V10's optional dual-mode 48V/12V alternator. This can pair seamlessly with Navico Group's Fathom e-Power technology, an integrated lithium ion auxiliary power management system that provides boats with the opportunity to eliminate an on-board generator system – something that can often cause unwanted noise and vibration through the hull of a smaller vessel.
Chris Drees, Mercury's President, commented: 'We are convinced that our all-new Mercury V10 Verado outboards are exactly what boat owners have been wanting from a 350hp to 400hp platform.' Indeed, up until now, if you had wanted a 350hp or 400hp motor, you might have found yourself in something of a quandary. Over the last five years, the release of Mercury's V8 and more recently that of the V12 have undoubtedly represented valuable additions. However, for those applications requiring a 350hp or 400hp engine, the choice has been limited, leaving only the great but older Mercury 2.6L L6 as a solution. This meant Merc lovers could have been tempted to go 'off-brand' in search of a Yamaha or Suzuki alternative.
Comparison to the competition
In terms of this sector of horsepower bandwidth and technology, the Yamaha F425 5.6L V8, for example, weighs in at 442kg, with its weight-saving attributes being achieved by means of the fact that it possesses the smallest midsection configuration of its type. This equates to 0.9hp per kg, with the F425 5.6L V8 engine revving out to peak at 5500–6000 rpm. The new Verado, on the other hand, is a 5.7L V10 platform, which means that the Mercury 400hp is 25hp down on the Yamaha. Nevertheless, the Mercury only weighs 316kg, which constitutes a power-to-weight ratio of 1.26hp per kg. This, according to Mercury, has resulted in a 55% faster 0–20 mph acceleration time (established utilising a 26ft boat, centre console, 2267kg test craft). Peak RPM on the new V10 can also run all the way to 6400. This is useful to know, because the Mercury's additional RPM allows one the option of running larger props in order to gain even greater speed and performance. This power-to-weight ratio advantage is achieved by ensuring that every element within the outboard's design is made to substantiate and maximise its purpose. As in the analogy of the watch, every element of space is utilised to the 'nth' degree, resulting in a powerhead that is both compact and intelligently designed. The V10's durable aluminium engine block and weight-saving cowling materials further enhance performance by minimising weight on the transom too.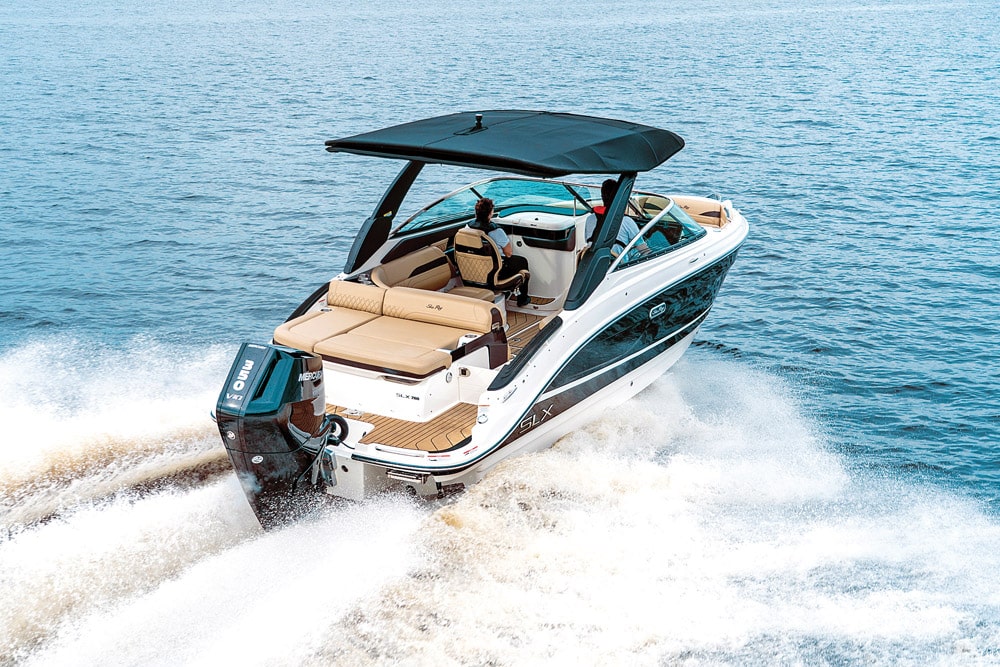 Performance
We mentioned propellers, but Mercury have also designed an all-new stainless steel prop specifically for the new V10 engines. The Revolution X, as it is known, is designed to extract every last element of performance out of these power packs. Designed for pairing to the new 6.4in V10 gearcase (more on that later), the large-diameter Revolution X's prop attributes ensure hearty degrees of additional punch, right up through the rev range. I drove this matched combination on small bass boats and other size categories of craft right up to 45ft catamarans. As a result, I can confirm that whatever the pairing, the grip these Revolution Xs achieved was impeccable. Suffering no cavitation/aeration, the propeller helped in a valid and notable way to ensure that torque was maximised right through the rev spectrum.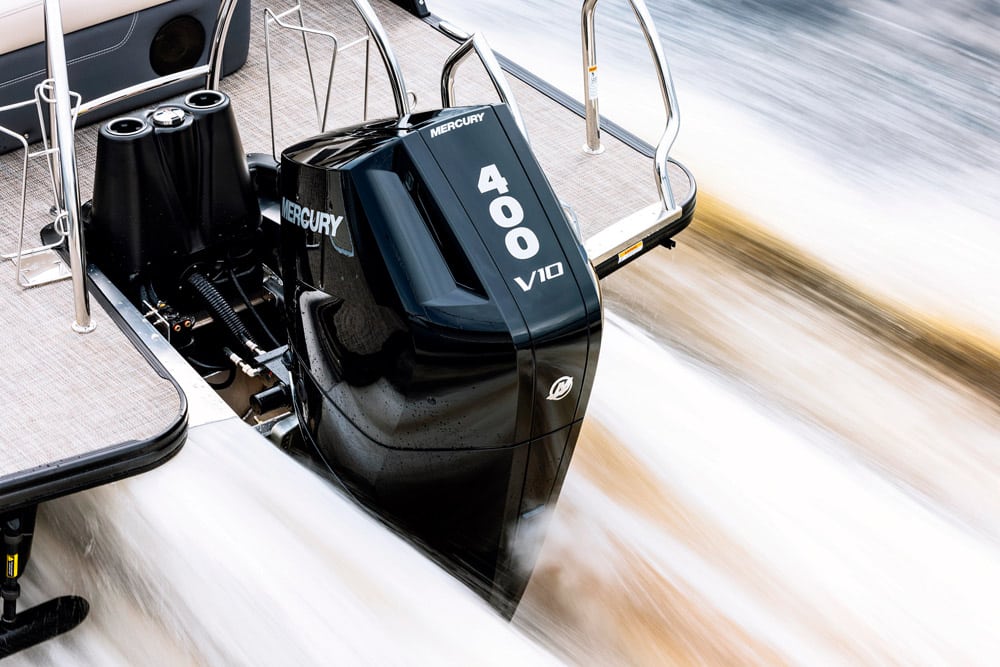 As previously stated, these new V10 Verado engines are not race machines and thus they do not carry either the R insignia or the sporty Pro XS branding. Rather, they're designed for consistent, everyday use across a broad scope of boat disciplines. Nevertheless, make no mistake, they pack a mighty powerful punch and it's doubtful that even performance boat diehards will suffer anything approaching feeling disappointed. During the course of my on-water evaluations, when making a long banking turn with mid to higher RPMs where one might expect engine torque to wane, upon pushing for that last 10%, I found the amount of continuous power on demand to be nothing short of addictive! This was the case even when helming an 11-tonne-plus centre console (the latter thanks largely to the engine's adaptive speed control – an intuitive technological feature that maintains the engine RPM regardless of load or conditions).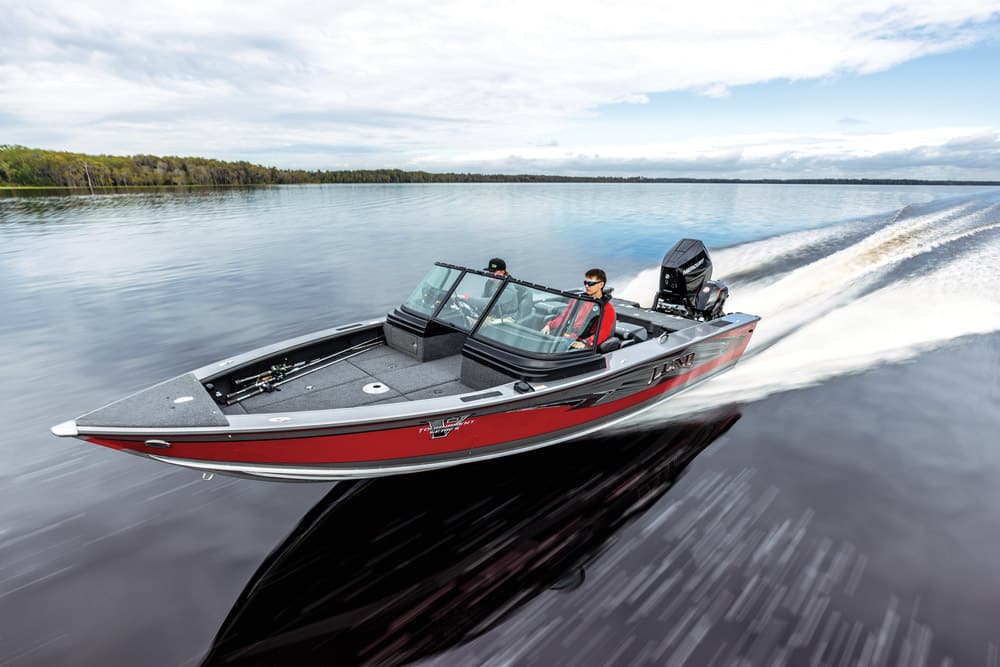 Further advances are made by pairing this latest V10 motor to Mercury's new electronic steering system for multi-outboard vessels. In truth, full electric systems can at times be a bit woolly and vague to helm, as they can fail to provide the desired feedback and the feel one seeks through the helm. But thanks in part to Mercury's ongoing, utterly eye-watering two-billion-dollar R&D investment programme, originally initiated in 2008, the new steering system completely smashes current steering technology right out of the park! Besides its superb responsiveness, other benefits include simplified rigging and a reduction of as much as 50% in energy consumption over a 'traditional' power-assisted set-up. As regards this technology, though, one of the challenges faced by the Mercury engineers was working out how to incorporate technologies that make boat operation and maintenance intuitively simple. The answer appears to lie in the relative straightforward design of the steering system and the electronic rigging assembly, most of which are plug-and-play components. This will no doubt aid the refit market for those seeking to repower their existing hulls with a new engine and reduce labour time on new build production assemblies.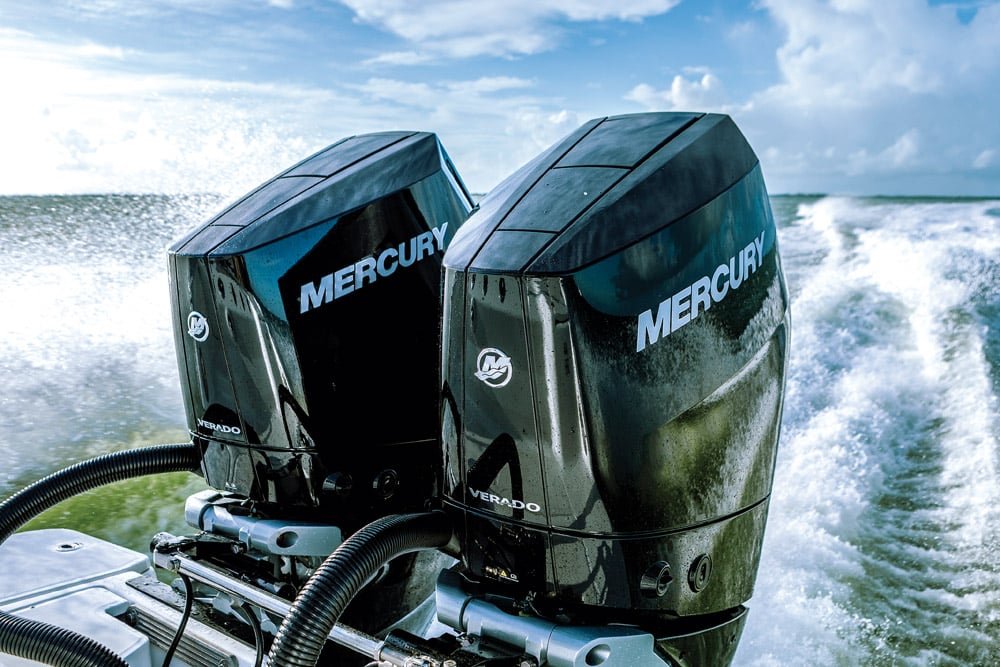 One important feature of the new V10 engine is its larger gearcase. This new component has been engineered to heighten performance and durability while at the same time achieving that critical hydrodynamic advantage to maximise fuel efficiency. The larger-diameter, wider blades of the Revolution X prop paired with the ratio of this new gearcase give great handling and really superb acceleration. Testing was devoid of any heavy gear clunking too, especially on the Skyhook and JPO system. However, I did make one observation. While the gearcase's larger-diameter torpedo and the larger prop create great lift in the stern, for those larger, heavier performance craft, unless the system is dialled in correctly, it's possible for some porpoising to be experienced. This is especially the case if the craft hasn't been balanced correctly in the first place. The engine set-up will no doubt create the desired stern lift, but this can also result in the hull's wetted surface moving forward as the forward chines seek to create lift, whereupon a 'seesawing' effect can be induced. To be fair, I only noticed this once or twice aboard two of the larger vessels I tested and believe this could be rectified with additional set-up time. But the smaller, 21ft, 72mph Pro-Bass craft from Lund didn't suffer any such handling characteristics, and neither did the Boston Whaler Outrage. Rather, it was an issue found chiefly on the non-Brunswick-manufactured craft among the test fleet.
Fuel efficiency and round-up
During my week at Lake X, I test-drove over 25 different boats. This gave me a great opportunity to gauge the abilities of the V10 in both its 350hp and 400hp guises. Likewise, this process revealed the overall performance with single, twin, triple and quad applications. Upon reflection, I would say that for the majority of the market, the 350hp model will prove the likely winner. It not only comes in at a couple of thousand dollars less than the 400hp, but the performance advantage of the latter over its smaller stablemate is relatively marginal. Thus, from a customer's standpoint, one may not consider the difference to be sufficient to warrant the extra outlay. Both models displayed great fuel efficiency, and even when trialled on larger craft running triple 400s at 60mph plus, these motors burned something in the region of 90–95 litres per hour. Between 3500 and 4500 rpm, at around 30–40 knots, depending on the vessel, I was able to dial in the consumption to between 35 and 45 litres an hour. On a single 350hp rig aboard the Sea Ray 260, full speed was 48 knots and we achieved 109Lph. The 400hp on a Ranger 622, at 6200rpm and 70mph, brought home 124Lph, with a mid range of 42Lph at 35mph.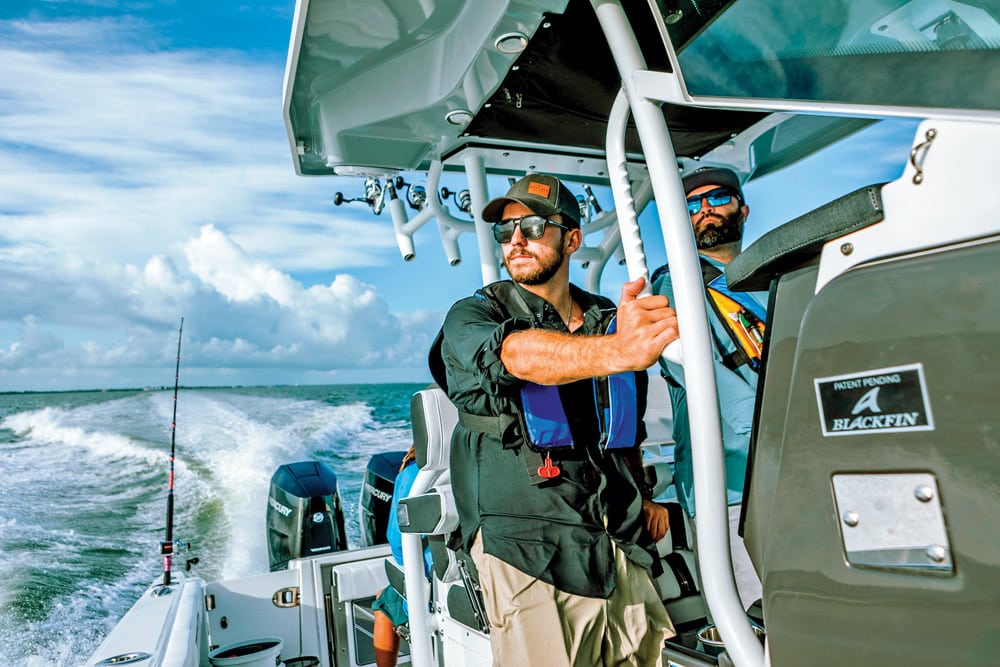 For those wanting the 400 badge and looking to add the last few miles an hour, the 400hp, without doubt, most certainly scores. But of course, it will all be down to personal choice and how much value customers place on owning those extra 50 horses. Offering generous warranties over its race-branded Mercury alternative, being lighter than the current competition, quicker too in hole shot and, by all accounts, being the quietest in class, both these new Mercury Verado engines represent a worthy replacement for the L6 2.6 Verado they succeed. Plus, they complete the line-up of Verado engine models that boast the latest technology in sync with the rest of the Mercury engine family.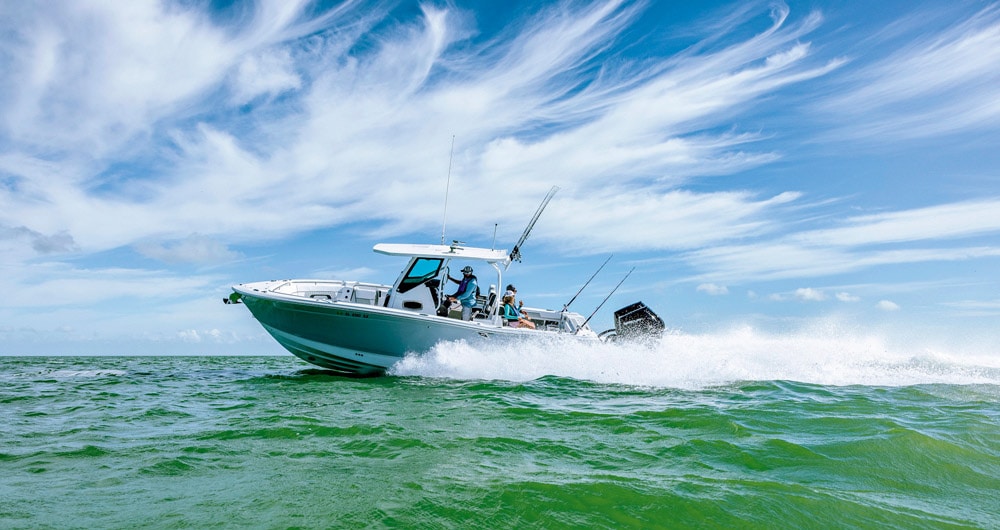 These new V10 motors take the sporty feel, performance and look of the plucky V8, then couple this to the refinement and sophistication of their V12 big brother. They offer customers a classy powerhouse for sure, one that subtly makes a statement at the dock while at the same time harnessing the very latest 'know-how', to ensure that the driving experience, in particular, lacks nothing in the way of performance and sophistication. As I said, the torque delivery is massive and will potentially be seen by many owners of heavier/larger craft as a very attractive proposition. Over the months to come, it will be intriguing to see how the other big players in the market respond to this next leap forward in outboard motor technology.
The famous Lake X
In 1957, Mercury Marine founder Carl Kiekhaefer purchased a 1,440-acre body of water, which he covertly named 'Lake X'. It was perfect for undercover testing, being close enough to his Orlando headquarters for convenient access but far enough away to ensure that nobody outside the company would see what was being developed and tested there.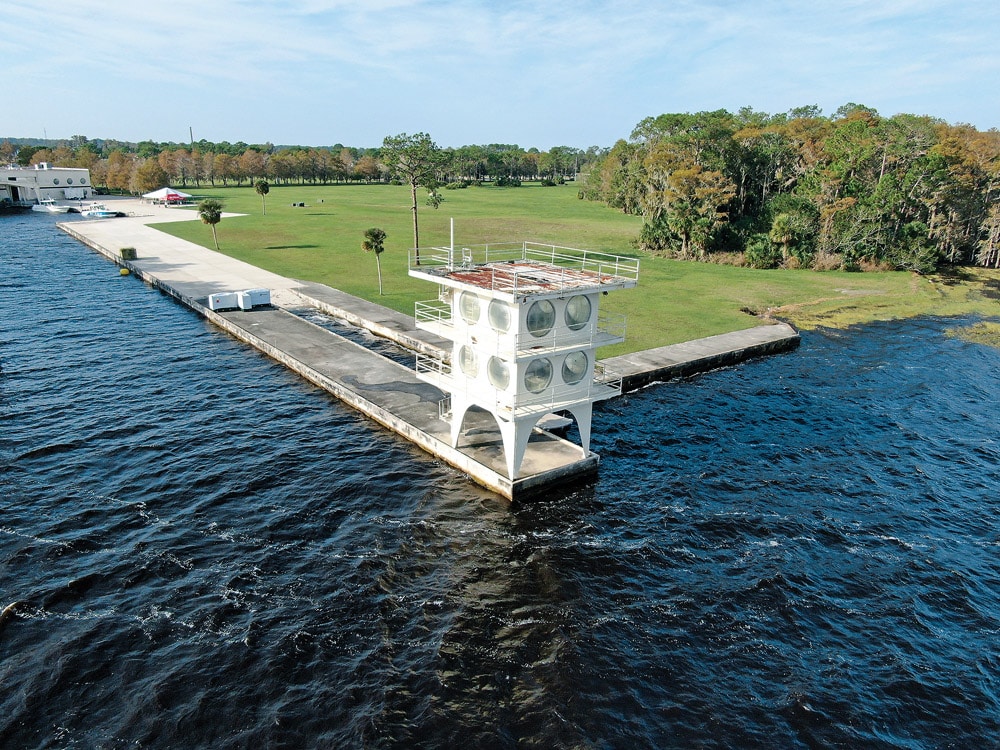 The original 1950s boathouse and shoreline observation tower are still standing and look straight out of early-60s sci-fi. Over the years, Mercury have used Lake X for both product development and publicity stunts. On the latter front, the company conducted a 50,000-mile endurance test in 1957, running boats, continuously, 24 hours a day around a 5.8-mile course. Even refuelling was done underway!
In due course, Lake X would become a temporary home to race teams and boatbuilders from all around the world who sought improved performance from their craft. The 6in 'Dialled in at Lake X' decal was, and remains today, coveted by serious performance boaters.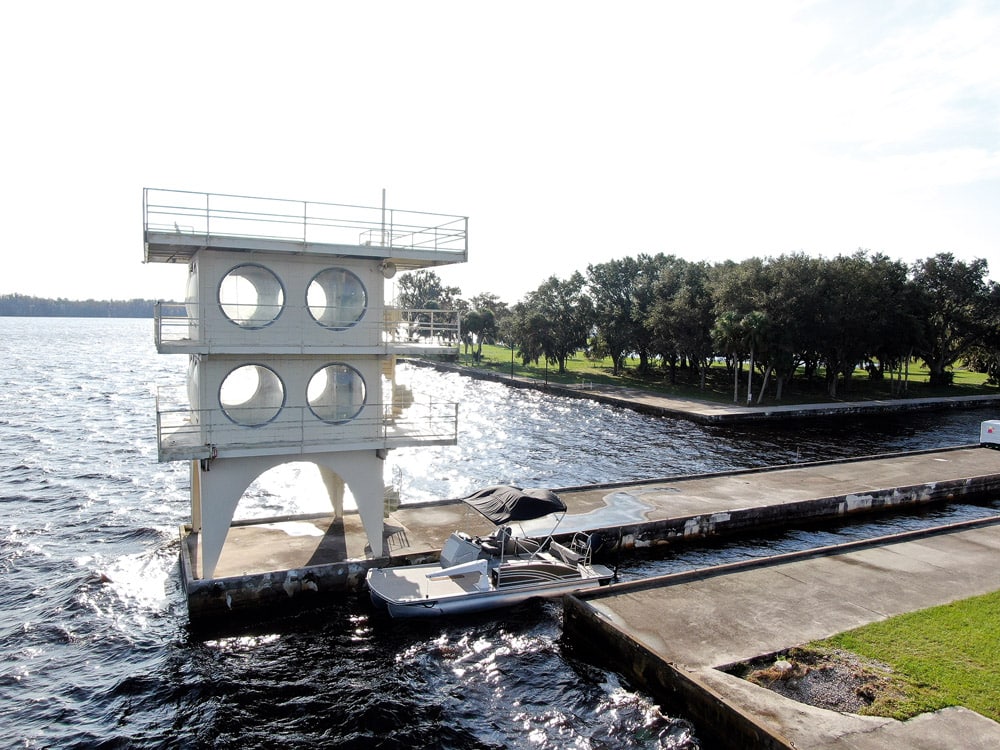 Perhaps the most legendary project at Lake X, though, was the historic 'Operation Atlas'. To counter criticism aimed at the longevity of his products, Kiekhaefer conceived a non-stop 'around the world' endurance run using two boats, each powered by Mercury Mark 75 outboards. After 34 days, 11 hours, 47 minutes and 5.4 seconds, the lead boat completed its 4,526th lap of Lake X after a total distance of 25,003 miles. It was followed only minutes later by the second boat, enshrining 'Operation Atlas' as the most exotic of all endurance events in maritime history.