This is the first-hand story of how Tommy Sopwith's historic 1963 Bertram 31, Thunderstreak, a vessel that has won every race she's entered since her relaunching, came to be painstakingly restored to her former seagoing glory – a true and undeniable labour of love …
My passion for fast boats – and particularly rather noisy ones – can be traced to my teenage years watching Sir Max Aitken's Daily Express Cowes–Torquay race in 1963. Then, the 'must-have' Offshore Class 1 racing hull was a Bertram 31 'Competition', propelled by a pair of 400bhp 7L Ford V8 engines, and this was exactly what blasted past me off the Gurnard turn mark – piloted by the legendary Tommy Sopwith in his brand-new Ray Hunt-designed Thunderstreak, leading the race to Torquay. It was love at first sight – but also love at first sound.
By 1971, I had completed a season in Class 3 with a 15ft Tremlett, Black Gipsy, and hung up my helmet. Never did I imagine that, 50 years later, I would own and race Thunderstreak. It was summer 2017 in Cowes and there was H400 prominently moored on the River Medina. The unmistakable exhaust notes of a pair of American V8s had announced her presence, and I had just stopped to admire her classic lines when the owner, Robin Ward, appeared and invited me for a sea trial. The transaction took all of two minutes, and Thunderstreak became mine. Ahead, however, there would be years of restoration, frustration, comedy and painful detail. 
A long and pain-filled journey
H400 was hauled ashore at Solent Marine Services (SMS) in East Cowes in Clarence Boatyard. The engines were asthmatic, the drivetrain antiquated but still strong, and the instruments and navigation gear were very outdated. The hull was in poor condition, with topsides scuffed. The cabin roof required strengthening. Worn stern glands and underspecified steering gear all needed modernising, and the engine bearers were in a frighteningly soft condition. I assembled a team, led by my skipper Peter Hewitt (himself a former Class 2 racer), and set about planning the restoration, beginning with stripping out the hull to assess its condition first. 
The antiquated 7L 1970 Ford V8 engines had scored bores and burnt-out cylinder heads. They were despatched to Tommy's old engineers, Saunders Motor Works at Cadnam, who stripped, cleaned and balanced each and every moving part. New exhaust headers (4), pistons (16), rings (48+), gudgeon pins and white metal bearings were ordered from the USA, along with four shiny, high-lift rocker covers. Crankshafts were balanced. Silicone piping replaced old rubber ones. New chrome pulleys were sourced to carry belts made of higher-tech material. Then, the rebuilt units were dispatched to a specialist for dyno-testing and calibration to reveal horsepower and torque outputs across the rev range. Drivetrains (including her original Velvet Drive gearboxes and Aquaglide V-drives) were sent to fabled Mike Bellamy's Lancing Marine in Shoreham for inspection.
All the shiny new components had been reassembled by November 2018, and another Ford V8 had even been traced from a camper van in Yorkshire for spares. Confidently, we launched H400. That still, crisp, cold winter's morning was shattered by her V8s firing up, and off she went to refuel with the yard crew and my skipper aboard. Next morning, disaster. One engine had seized solid and our Yorkshire spare proved impossible to adapt. 
Big decisions
Major decisions needed to be taken. Junk the whole project? Start again with the original engines? Or take a leaf out of Tommy's book and fit the latest engines and drives to go racing again. This third choice was the most attractive and then provided three interesting and different options, all giving similar horsepower: an off-the-shelf 8.2L fuel-injected MerCruiser V8; Swaymar Marine's beautiful small-block Chevrolets; or the lighter option, Volvo Penta's 5.7L V8s as fitted to the highly entertaining V24 one-design racers. 
So phase two restoration began, and we chose big, lazy and easy-to-maintain MerCruisers, together with a pair of Bravo 1X sterndrives and standard stainless 26in-pitch four-blade props. But first, race boat designer Adam Younger sketched up how the new reinforced transom and engine bay should tie in with the old stringers and hull, and from the very beginning, Winn Willard (President of Ray Hunt Design, USA) followed our progress, offering advice and enthusiasm in equal measure. Thunderstreak owes its restoration success in no small measure to these two knowledgeable marine professionals.
Next, the SMS team set about rebuilding H400's stern to accommodate sterndrives in place of ancient V-drives and shafts. The team measured up in the traditional manner – plywood templates, pencil mark-up and string – to reposition the new motors closer to the centreline and get the centre of gravity as low and central as possible. The transom required massive additional strengthening to carry nearly 900bhp and had several layers of marine ply and GRP laminate. Then, substantial new knees and engine beds were constructed from GRP to tie the transom to the hull, and a pair of new 450L petrol tanks were squeezed in between the reinforced stringers. Two new consoles carried Raymarine's Axiom navigation chartplotters and digital instrumentation for racing. And a pair of bright-red racing bolster seats were installed, along with a new engine box, wiring, plumbing and fire-suppressant equipment. 
'Let's see how she goes, then!'
Thunderstreak was not simply going to be a weekend toy – she was going racing again. Research revealed that Sopwith could just touch 50mph with the original 1960s engines on shafts and V-drives. So I set the restoration team a speed target of 50 knots (57.5mph). Sea trials began in 2019, revealing a max velocity closer to 60mph, but with nervous handling above 48mph. The cure was to squeeze four aluminium water ballast tanks in, which gave H400 nearly 500kg of centreline ballast just forward of the centre of gravity. The yard also recommended a pair of big, quick-reacting Lenco trim tabs instead of the expensive racing MerCruiser K-Planes.
Joyous sound of victory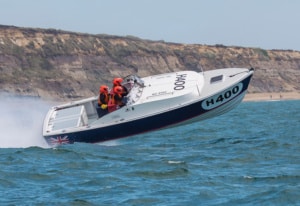 Perhaps the greatest delight in owning H400 is the unsolicited joy she brings to all who see, and hear, her in this new 21st-century iteration: shining deep-blue hull with red-boot top, which were Sopwith's own racing colours, along with his historic number 400, both of which he gave kind permission to use, and sparkling new stern gear with four huge exhausts, stainless steel Lenco tabs, outdrive tie bar and a bespoke 'shower' over each gearbox to keep them cool. Thunderstreak's revised cockpit now possesses two bespoke consoles (the pilot's carrying the full engine instrumentation), switches and a separate throttle box with MerCruiser fly-by-wire throttle and gear levers. A pair of bright-red racing bolsters look the business and provided a safe, padded home for crew at the UKOPRA race meet at Poole in August 2020, where she romped home to win Class 4 (Historic Offshore) in her first outing. 
After winter ashore, spring 2021 saw her relaunch and further sea and prop trials. Over chilly March and April, the team tested nearly 20 different prop combinations to see if we could exceed 70mph – cleavers, choppers, three-blade, four-blade and even five-bladers. I cannot thank Ian and Christian Toll (who field the glorious classic Dry Martini in Class 1) enough for their support and generosity in lending my team their time, thoughts and a dozen of their racing propellers! Yes, we failed, but her best one-way run remains a closely guarded secret. However, as one former offshore racer commented, 'She's doing double her original design speed, so just enjoy that!' 
The 2021 UK offshore powerboat racing season kicked off over the May Bank Holiday with the two Poole Bay 100 'Shakedown' races. H400 snatched first place on both days in Class 4 (Historic Offshore). Not only was she, at 58 years, the oldest entrant in the 20- to 30-boat fleet by several decades, but the crew's average age was 'comfortably north of 71'. Truly, this is one for us 'oldies', but the hero was (and remains) undoubtedly the boat. 
Perhaps one tale sums up three years of restoration and frustration. One tough, seasoned competitor in the race – driving a younger but superbly prepared classic rig sporting the noisiest V8s that day – contacted SMS's Tristan Ormiston and barked: 'What the *!*! have you done to that Bertram?' Tristan, slightly taken aback, asked politely what he was talking about. 'Well,' the competitor growled, 'we were flat out along the start/finish chute and Thunderstreak went past us as if we were standing still.'
Thunderstreak then entered the 60th anniversary Cowes–Torquay–Cowes races over the August Bank Holiday. In near perfect conditions, she romped home to capture four top prizes: the British Powerboat Racing Club Class 4 winner's trophy, the Lombard North Central Salver for Councours d'Elegance, the Tim Powell Trophy for first Classic race boat home, and the unique Classic Offshore Powerboat Club 'Tommy's Carb' trophy. During 2021, she won every race she entered – a remarkable record for a near 60-year-old boat. Tommy would have been pleased.