Coinciding with the launch of the paperback version of Saved from the Waves, the Royal National Lifeboat Institution (RNLI) has revealed an increase in the number of our furry friends it plucked from the seas in 2022.
Man's best friend made up the majority of the 209 creature call-outs last year with the charity recording 164 dog rescues. But there were also some surprises on the list of animals saved; in 2022 the charity was called upon to rescue 27 dolphins, two deer, a rabbit and even a snake.
Saved from the Waves – launched in paperback on Thursday [13 April 2022] – is filled with first-hand accounts of dramatic animal rescues and takes the reader on a journey with volunteer lifeboat crews as they face the dangers of the sea to save beloved pets, wildlife and livestock.
From dramatic and heart-rending dog rescues and a walrus that made a lifeboat station his home, to saving a stranded cat on the River Thames and a seal pup caught between rocks, the book demonstrates how RNLI crews stop at nothing to save lives.
The book shines a light on the necessity of animal rescues, not only to save the animals at risk of drowning but to prevent people putting themselves in danger when trying to rescue their furry friends. 
The paperback edition goes on sale on Thursday 13 April 2023, with royalties from all sales supporting the lifesaving charity.
The book includes incredible stories like the rescue of Flossy the dog, who survived a 130ft cliff fall on Anglesey, North Wales.
Flossy, a Bichon Frise-Shih Tzu mix, was on holiday with her owners Clare and Terry and their daughter Beatrice when she disappeared over a grassy mound. When she didn't return when called, Clare started to worry.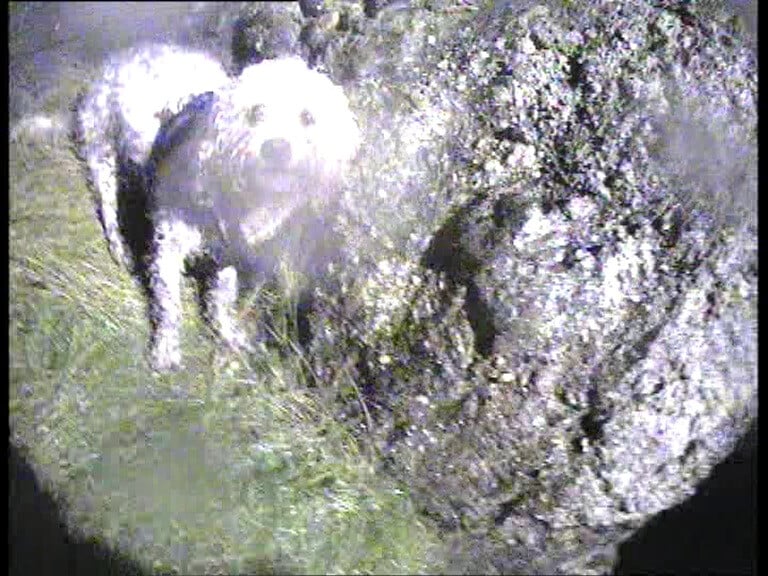 They quickly realised that Flossy had fallen into an isolated cove and was trapped on a ledge. After running to get her phone, Clare dialled 999 and asked for the coastguard who were quickly on scene.
She said: 'The coastguard team started looking for a way down, but it quickly became clear that it was too dangerous even for them to attempt. My heart sank as a member of the coastguard team explained that the only way to get Flossy would be from the water.
'She has to be okay, I pleaded silently to myself. She has to be. The coastguards said that they had alerted the RNLI and were sending a lifeboat. "The RNLI?" I said, surprised. "They do that?"'
The volunteer crew from Moelfre RNLI were tasked to the bay, and made their way into the cove. After going ashore and coaxing a confused, cold and tired Flossy into their arms, the beloved bet was reunited with her owners.
One of the crew that night was station mechanic and helm Vince Jones. He said: 'There was no doubt it was incredible that Flossy had survived such an enormous fall and escaped completely unhurt. 
'Although it was just another rescue to us, it was much more than that in so many ways. It was another life saved and a family reunited. I felt a huge sense of pride.'
Watch Flossy's rescue –
Also included is a story about the crew at RNLI Chiswick Lifeboat Station, who helped rescue a black cat on a rapidly diminishing patch of shingle at the foot of a 6m high wall on the Thames.
The cat greeted the crew by snarling and spitting, and then tried to climb the sheer wall. They finally managed to get hold of the cat, only for it to start swimming away. 
After wading in and some gentle encouragement, they managed to wrap it in a blanket and took him onto the lifeboat. The cat was brought ashore and released unharmed. True to form, the cat then shot off, being chased by a dog.
Watch the cat's rescue –
RNLI Chief Executive, Mark Dowie, said: 'Saved from the Waves is a heart-warming collection of stories which highlights the bravery of our crew when it comes to saving lives, whether that is a person or their pet. 
'As a dog owner, I can identify with anyone who would instinctively head into the water to rescue their pet and we know well there's a chance their fellow humans will enter the water to attempt a rescue. This can and has led to tragedy. As such, many of the rescues featured in this book have indirectly saved human lives.'
Steve Backshall, explorer, presenter and writer, wrote the foreword for the book. He said: 'I deeply admire the RNLI lifesavers who are prepared to preserve the lives of animals as well as human beings. Saved from the Waves contains a fascinating range of stories, showcasing how the RNLI's crews and lifeguards have gone to the aid of wild animals from seabirds and deer to a humpback whale. 
'If you love animals, I know you'll really enjoy reading this book. It's also wonderful to know that it will help to raise the funds that equip and train the lifesavers, ready for the next rescue.'
Saved from the Waves in paperback is available to order online from Amazon and all good bookshops, and is available to buy in hardback from the RNLI online shop: https://shop.rnli.org/products/rnli-saved-from-the-waves-book. 
When visiting the coast with your dog the RNLI's key safety advice is:
Keep dogs on a lead if you're close to cliff edges or fast-flowing rivers.
If your dog goes into the water or gets stuck in mud, don't go after them. Move to a place your dog can reach safely and call them.
If you're worried about your dog, call 999 or 112 and ask for the Coastguard