This rakish RIB offers a wealth of features, and a level of performance rarely found in a 7m boat.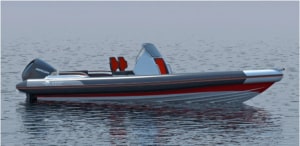 Athens-based Salamanis Marine, with their history stretching back over 30 years, are a company well established in their local waters as a benchmark in high-performance RIBs. However, in recent years we have seen their designs become more popular in other waters, and their newly launched Blade 7 is a boat that looks destined to raise some eyebrows in the ever-hungry UK RIB market.
At 7m, it is that perfect size – not too small to be unseaworthy offshore, and not too big to tow, berth or dry-stack at an affordable price. It also does not need a lot of power to hit the 50-knot barrier, as Mercury's punchy lightweight V6 200hp reaches a claimed 53 knots, while Suzuki's 4-cyilinder DF200 apparently pushes the Blade 7 to 50 knots. There is also the option of a 150hp Mercury PRO XS, which, being a great performer for its output, has it running at 48 knots, and Salamanis claim that this boat can plane at as little as 10 knots.
The hull is designed by Adam Younger of K4+, a UK company well known for the performance and efficiency of Adam's double-chine convex designs, which the Blade 7 uses. Performance figures provided by Salamanis Marine show the Blade returning 0.9L/nm (5nmpg) at wide open throttle with the 200hp Mercury, while the Mercury PRO XS achieves 0.8L/nm (5.7nmpg). The hull is a non-stepped deep vee, with a transom deadrise angle of 23.5 degrees – sharpening to a dagger-like 55 degrees in the forward section of the hull. It has a hard bow, which, apart from giving the boat more substance when hitting large head seas, provides a secure location for the standard-fitment electric windlass, anchor and chain. High-quality materials, notably isophthalic gelcoat and resins, are used in the construction of the hull, while the sponsons are made from Orca 1.670 dtex. The deck is self-draining, which is always a good idea in a fast offshore boat, as are the anatomical helm seats and the tall weather-protecting console, complete with carbon fibre dash. The rear U-form aft sofa seating can convert into a flush area 1.3m long by folding it flat to meet the table. It also has a lot of other standard equipment that you would normally be shelling out for, namely a transom shower, auxiliary outboard bracket, Silvertex upholstery, twin battery system, and bow and stern tables.
There is an interesting extras list – in particular, you can specify a heads compartment in the front of the console, which is always a good idea, plus cool box, covers and bimini. For those that want to take the Blade 7 to the next level, there is the Blade 7 Carbon Edition. This version has carbon fibre in the bow and stern sections, shock-absorbing helm seats, a Simrad GO9 electronics package, underwater lights and an MP3-USB sound system. There are also two other notable extras available to both models: Eva Faux Teak/Synthetic Teak, and an electrohydraulic outboard bracket with a 5in setback and a 6in vertical travel range – just what is needed for fine-tuning the boat for maximum efficiency and performance.
If you want a Blade 7, at the moment you can only buy from the yard direct, which they will certainly facilitate. This does tend to have a price advantage, but it means a flight to Athens. This may change soon with a UK dealership, but this is to be confirmed.
Specifications
LOA: 7m
Beam: 2.42m
Displacement: 700kg
Transom deadrise angle: 23.5 degrees

         

Engines: Outboard 115hp to 200hp – Mercury or Suzuki
Fuel capacity: 200L
Water capacity: 60L
Performance 200hp Mercury: 53 knots

   

Performance 150hp Mercury: 48 knots

               
Contact