With a 27-year production run, the latest version of this long-legged sea warrior still cuts the mustard, as Greg Copp discovered.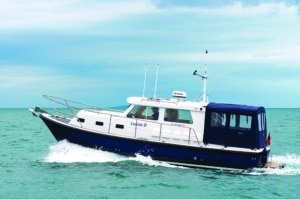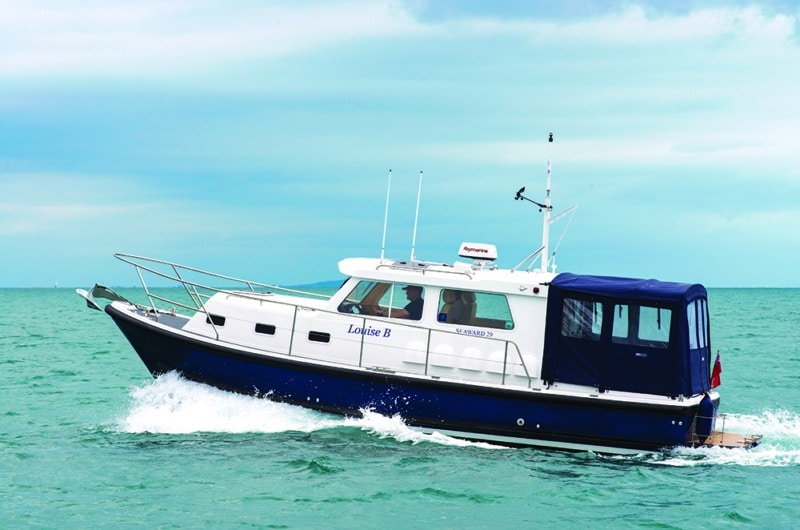 There are many 'ageless classics' – some are simply reworked retro designs, and some are the real deal. Seaward's 29 is about as real as you can get, as this boat, occasionally moving forward with the times, has been with us for nearly three decades. Externally it looks little different: its underwater lines are the same, and it is still 'hewn from granite'. Built on the Isle of Wight, Seaward's Nelson-designed craft are virtually a British institution in boating terms. The 29 is blatantly Nelson with its low blue topsides ribbed with thick D-section fendering, and, like many Seawards, it has a wide range of bespoke options.
Not surprisingly, the Seaward 29 has two of Yanmar's latest common-rail injected 4LV 250hp VCS-equipped engines, driving through conventional shafts. Twin Yanmars have always been used in the 29 in outputs from 160hp to 260hp – with no single-engine option on the cards. The compact 330kg 4-cylinder 2.7L 4LV has a good heritage – now benefiting from Yanmar's latest common-rail injection and, in this case, Yanmar's Vessel Control System (VCS). VCS is a CAN bus and NMEA 2000 network, enabling all components, both mechanical and electronic, to communicate, which today is par for the course. However, when this boat was first launched, it was with wires, cables and mechanical injectors. Some five years back, Seaward redesigned their dash, making it larger to accommodate the range of kit likely to be fitted, as well as a couple of other tweaks, including sprung KAD seats and the very clever adjustable footboard. The end product is a real driver's set-up, which sends a message that this is a serious semi-displacement craft, which it certainly should be with 500hp in a 29-footer.  
The helm or the navigator's seats are the places to be. High up, you get a pretty good view, and the ergonomics are good. The first thing to come to terms with is the information overload on the dash. There are two engine displays that can be quickly configured for RPM, temperature and oil pressure, which is a good idea as you can quickly pick up on any raw-water strainer blockages when casting an eye over the tachometers. Our test boat really did have the full suite: along with the usual electronics, there were proportional bow and stern thrusters, remote control for the Raymarine MFD – so you could easily flick through the menu with your left hand without stretching forward – and the all-important Zipwake control. Zipwake Dynamic Trim Control, to use its full name, is not just the reserve of planing boats, as its fast-acting interceptor plates are a great addition to semi-displacement craft. The navigator is not totally forgotten as they get a proper chart table and, as with the helm position, a sliding window that lets in a refreshing cross breeze – very welcome in an enclosed semi-displacement boat at displacement speed. 
There are a few other internal changes with this boat compared to some of the earlier models. The forepeak cabin now has a door, and the galley is 'up top'. This clearly is to increase room in the forepeak, but this sensible idea has implications. The galley now has to sit on top of the starboard engine, so how do you get to that engine? I understand that the first version of this design set-up came under some criticism regarding access to both engines. This has been rectified by building a galley whose internals can be literally removed (microwave and all), leaving the Corian worktop with its diesel hob hanging in place. This is not for simple service checks as these can be done by removing the lower vertical panel, and the seat forward of the galley. The port engine can accessed by simply removing the settee and the wooden panels beneath. The primary fuel filters, stern glands, exhaust outlets, seacocks, diesel heating and coolant header tanks are accessed via hatches in the cockpit either side of the wheelhouse door.  
The heads sits to port inside the forepeak cabin and has full standing headroom. As a result of the changes in this sector of the boat, the sleeping accommodation below is far from cramped. Where the galley used to sit, you now get some extra storage and a decent full-height hanging locker. There has been another change in the sleeping department, as in the wheelhouse a drop-down bunk folds down from above the settee, so if you need it, you can sleep two in the wheelhouse. 
Movement on deck is good, all things considered. I say this because, being a slim vessel, there is limited side-deck width, and you can't get around this simple fact. However, having moved around this boat underway, I can say in earnest that the tall rigid guard rails and coachroof grab rails are just the ticket. The cockpit cover has opening side flaps just where you need them on either side, so you can get out and do fender duties when the boat is all zipped up. Likewise, for stern access, the central section of the transom bench seat folds out to create teak-covered steps down to the bathing platform, facilitated by another zip-up door in the cockpit cover.                                 
Driving the Seaward 29
What struck me from the outset was the responsive linear power delivery, helped by its automated Zipwake interceptor system, resulting in reduced bow-up attitude. This is the benefit of interceptors, which produce large amounts of lift quickly and at low speed. As you power up, the Zipwake system adjusts accordingly, meaning you can just drive and forget. However, you can quickly override and go into manual mode by simply rotating the little wheel in the system control panel forwards. This brings the bow down further should you need the forefoot to cut into rough weather. This also benefits forward visibility slightly, and that extra lift at the stern gave me about half a knot extra. At 3000rpm with the interceptors fully extended, you can sit at a steady 20 knots, which is at the top of maximum torque delivery, so this efficient sweet spot feels fairly relaxed in engine tone. If you want to go back into auto mode, you simply rotate the wheel backwards and the system reverts to the preset automatic settings. The 29 tops out just shy of 29 knots, though I suspect most will keep fast cruising down to 24/25 knots on account of the thirst produced by wide open throttle from a semi-displacement three-quarter-length deep-keel hull. 
The Zipwake is also beneficial at the upper end of displacement speed. The interceptors move quickly enough to counteract a fair proportion of any rolling. The difference between sitting still off Old Harry in a beam sea at 2 knots and doing 5 or 6 knots is very noticeable. The slim round bilge hull is built to run into head seas at speed, but it is naturally prone to rolling with the sea on the beam, and the Zipwake takes the edge off this. This boat has a serious set of windscreen wipers, which go into overtime keeping the windscreens clear when needed. Being multi-speed, they work well when running into mild weather, as the intermittent settings are perfect for dealing with the sporadic greenies that this hull can serve up.
Verdict
It is easy to see why these boats have such a devoted following. They isolate you from some of the less popular aspects of boating and, being built to handle a force 8 and 4m seas, they simply create confidence. Being an old-school semi-displacement design, based on a proven concept that cuts through rough weather with relative ease, the Seaward 29 is not cheap. However, based on the low levels of depreciation this brand enjoys, and the usability their boats offer, it is not too hard to make a good argument for buying one. 
What we thought
For
 

Granite-like construction

 

Great helm ergonomics

 

Practicality

 

Superb fit and finish

 

Good steering response

 

Very good performance
Against
 

The fridge could be larger for a passage-making boat.

 

High price tag.
Specifications
LOA: 8.96m
Beam: 3.04m
Draught: 0.86m
Power options: Yanmar 160–250 hp on conventional drive shafts
Fuel capacity: 2 x 350L
Water capacity: 155L
Displacement: 5.5 tonnes (dry)
RCD category: B
Test engines: Twin 2.7L Yanmar 4LV 250hp on shafts
Price
From: £313,077 (inc. VAT)

 

As tested: £365,308 (inc. VAT) – extensive specification
Performance
28.6 knots, sea conditions F4, crew 3, with 50% fuel
Contact
1 Prospect Rd. Cowes, Isle of Wight, PO31 7AD