Alex Whittaker drives a classy upmarket launch that is proudly retro …
I first saw this hugely impressive craft at the Düsseldorf Boat Show, and I was immediately smitten. It is either a gentleman's luxury runabout, an upmarket art deco yacht tender or a Riva tribute boat. I am not sure which, but I do appreciate the design. The look is heavily influenced by the 1959 Porsche 356 Speedster sports car. Like other design classics such as the Spitfire or E-Type Jaguar, this boat does not do straight lines. Flowing harmonious curves and wonderfully developed proportions dominate the appearance. And as if all that elegance was not enough, this boat is jet powered.
Hull
The patented Hermes hull has a very deep-V entry of 73 degrees – a steep-V, in fact. The manufacturers claim that she can maintain a very low angle of trim of between 2 and 2.8 degrees. This, coupled with jet power, means that this jet boat can slice through its own bow wave onto the plane. There is no specific 'on the plane' moment, she just scythes through the water, avoiding climbing over the hump like a traditional planing hull. Since you are sitting so low and the engine is so deep in the boat, the centre of gravity is also very low, which greatly aids stability. It is also worth noting that this hull is certified to CE Class C – much more than you need for a rough day on Lake Como!
Foredeck
Beyond the superbly designed cut-down chromed windscreen, the foredeck is wonderfully uncluttered. It clearly is not meant to be walked upon! It only has two chromed air scoops, two retractable cleats, and a single chromed fairlead front and centre. This furniture integrates nicely with the chromed and sculpted V-plate at the bow. 
Cockpit and helm
This is essentially a low-slung, sleek and sumptuous four-seater marine sports car. There are no side decks. You have to step down deep onto those beautifully upholstered seats. The whole sumptuous but correctly restrained cockpit is pure class – leather, wood, chrome and old-school fittings vying for your admiration. Even the carpet is right. The two front leather seats are facsimiles of 1950s bucket seats, and the back seat is a curvy bench with the ambience of an old Jag. It's all a bit James Dean. At the dash, the alloy steering wheel is a minor work of art with its thin walnut grip secured with traditional alloy rivets. Its slim feel bestows precision between thumb and forefinger, something that has been lost in modern cars. The power steering is light and responsive too. A new one for me, the single stick engine control is on the port side. It is a delightful confection in polished chrome from Ultraflex. It falls well to hand and snicks in and out of gear precisely, without a hint of notchiness. Like the wheel, it is a tactile little touch of luxury that you soon come to appreciate. The dashboard instruments are retro and lovely. They even have their own Seven Seas Hermes legends on their faces – just like an antique Jaeger-LeCoultre wristlet watch, or perhaps a Bentley Continental. Folding down from under the dash at the touch of a button there is a clever Seven Seas Hermes retro-style dashboard 'radio', which actually turns out to be an engine management system with a digital display, jet trim control and audio system controller. Also on the dash, there is a row of metal organ stop switches that cover the blower, nav lights, anchor lights, interior lights and bow lights – plus, of course, the underwater lights … Suitably 'over the top' for this luxury vessel, I felt, and without feeling at all 'de trop'. The highly polished stainless pram hood frame is also of high quality – as 'purely traditional cabriolet' as the leather-stitched door cards. To continue the classic convertible sports car vibe, the bespoke tailored hood is in a mohair canvas. It also has its own matching half-tonneau – just like my old MG. 
Aft
Anybody buying this boat will have a sense of style. This whole fabulous tail is a real statement, blending voluptuous art nouveau influences with the odd sharp art deco twist. This boat is full of opulent curves to be admired, but a stylish bit of angularity also slips in. For example, the swooping stern has Porsche ventilation grilles, but these have typically linear art deco trellis work applied. The grille is then topped with subtle, but soft-edged, Seven Seas legending. These grilles go on to have distinctive soft leather surrounds. But because of the quality of execution, it's never a jumble – it all works very well indeed.
Boarding platform
An intriguing touch is the boarding platform at the rear. This is teak-faced and looks very fine; however, I was not sure how practical it might be. The thought of clambering up from the water and marring that exquisitely slinky boat tail did not appeal.
Deck hardware
All cleats are of an elegant retractable design and have been chosen not to interrupt the flow of the streamlined bodywork. There are no fewer than five cleats on each side. They are intensely practical, and it is always good to behold a powerboat with a spring cleat.
Driving the boat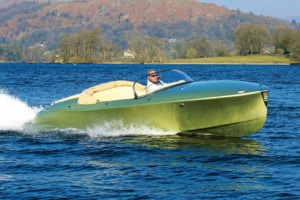 This stylish runabout has a quite unexpected 'ACE' up its sleeve: it is jet powered. The Rotax 1630 ACE water jet unit develops 170bhp, and she tops out at 45mph. This means that she can also run on very shallow waters and is much safer than a propeller-driven boat with swimmers in the water. The combination of steep-V hull and jet drive delivers a noticeably flat ride. Jet boats are great fun but need a slightly different technique to prop-driven craft. Opening the throttle and aiming forward is just fine; it is when manoeuvring slowly, or when moving slowly astern, that you have to adapt your technique. Essentially, a jet boat needs sufficient water through the unit to function at its optimum. I have found that at slower speeds, steering can become a little vague unless you are prepared to very gently blip the throttle – in other words, give little dabs of vectored thrust! Also bear in mind that this jet boat can stop very quickly. In my opinion, being able to run in much shallower water than a propeller-driven boat is a genuine bonus.
Performance
This is a light and powerful jet boat, and very quick off the mark. She weighs 684kg (1510lb) and is powered by a 170hp engine. Most significantly, she can plane at very low speeds. The weather forecast for test day was dire, with an angry front arriving before mid-morning. We took a punt that the brief weather window beginning just after dawn might last long enough. The water was already lumpy, then the wind got up and the waves got worse. On opening the throttle, the Speedster sliced straight through the chop and immediately onto the plane – no bow-up trim or lost horizons. A flick of the wrist cleared buoys and floating obstacles – she was very responsive. For my money, she was quieter than an outboard-powered boat. 
You are aware of sitting down snug and low inside the hull, and she feels very safe. The stylish bucket seats grip better than they look, and you can always lean on the door cards in steep turns. You are never going to fall out! Power delivery is linear – it would be all too easy to go a bit too quick! The hull is very clean and slippy. Sitting behind a sleek windscreen running this low over the water is an unrivalled experience – I could see why fast launches have stood the test of time. 
All too soon the conditions became untenable, and we had to curtail our performance tests and head home. Using this jet engine, coupled to an innovative steep-V Amfihull design, Hermes claim an average overall consumption of 0.5L per mile. This is a very bold claim, but I believe them. Hermes also claim a top speed of 45mph, and again, I would not demur.
Jet power!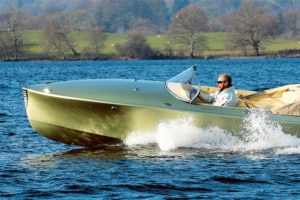 The Rotax 1630 ACE water jet unit develops 170bhp, and she tops out at 45mph. This means that she can also run on very shallow waters and is much safer than a propeller-driven boat with swimmers in the water. The combination of steep-V hull and jet drive delivers a noticeably flat ride. 
The verdict
This boat is beautifully executed throughout. It is a launch, so it has all those minor foibles associated with such a traditional design. It would have been easy for Hermes to have cut corners and fit common items from a mass-market parts bin. Instead, they resisted that lazy approach and have followed their design principles to their logical bespoke conclusions. This elegant jet-powered Speedster looks good – and drives even better.  
Pros
Easy to launch
Good acceleration
Good fuel economy
Fast boat/very smooth ride

 

Lovely design, well executed
Fulfils her bespoke design brief
Not as expensive as she looks
Cons
No big issues, but this sort of traditional design imposes its own quirks
It's a launch, so it is not that easy to get into the cockpit for those of reduced agility
Can't move about the topsides with ease

 

Immaculate fit and finish, so you can't go anywhere without good fenders!

 
Specifications
LOA: 6.75m (22.ft)

 

Beam: 1.8m (5.9ft)
Draught: 0.27m (0.88ft)
Weight: 684kg (1510lb) Engine: Rotax 1530 ACE Jet
Max. power: 127kw (170bhp)

 

Max. speed: 72kph (45mph)

 

Max. persons: 5

 
Contact
Horizon Boat Sales, 5 Lake Road, Bowness, LA23 3BP