Greg Copp explores the latest offering from the Stingher stable and discovers a typically tough and predictably stylish craft …
Built with a newly designed hull, the Stingher 840 GT from MRL RIBs is a boat that will likely eclipse some of its siblings. This brand is known for its range of versatile family RIBs that offer a balanced blend of performance and comfort, and the new 840 GT has taken this concept one stage further. Like its relations, it has a non-stepped deep-vee hull, but with more beam – 1ft to be precise – and a fuller bow. If you are familiar with Stingher, you will likely notice this extra girth – but don't get me wrong, this RIB is not overweight, and that extra foot suits it. Flanked by 66cm of no-nonsense carbon grey Hypalon sponsons, it has a practical seagoing persona while still being a luxury powerboat.  
It is an effective combination of British practicality and Italian style. The hull and tubes are constructed in Italy, and then the bare boat is rigged and fitted out by MRL in the UK. It is one of a range of luxury high-performance RIBs, all of which have an array of sensible design features. As only the hull and tubes are Italian built, everything else, from the synthetic teak decking to the engines, is specified and fitted by Southampton-based MRL. Having plenty of experience in this field, they have created a very 'driver-focused' boat. Every craft is rigged and extensively sea-trialled by an experienced team, whose powerboat racing experience results in some proactive prop testing – specifically getting the best from each boat.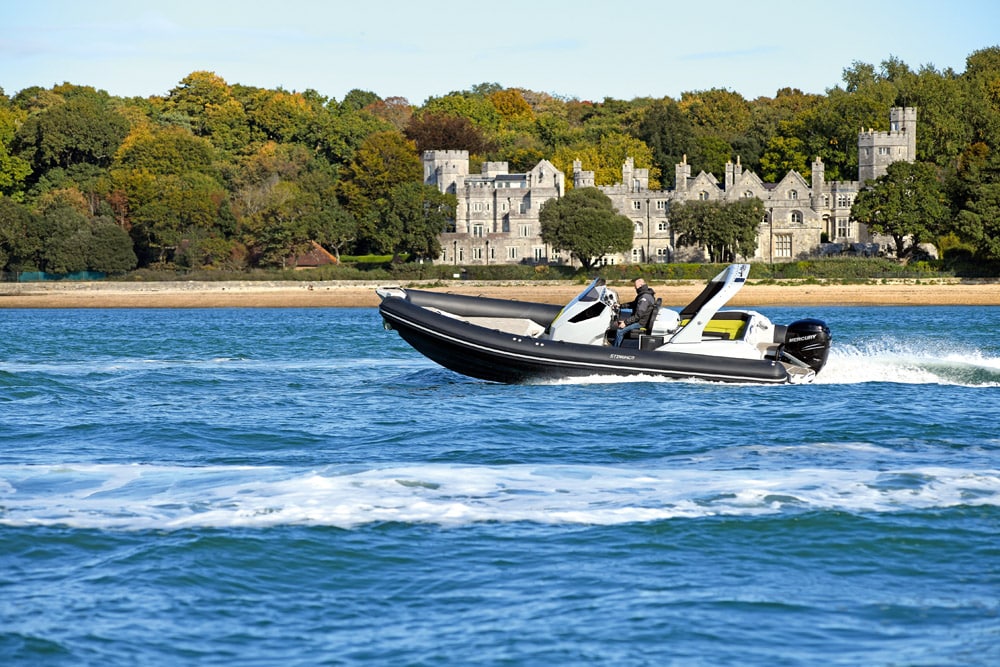 On board
If you look carefully at the forward face of the console, you will notice that the front hinges up, revealing a deep heads compartment with an electric flushing toilet – and importantly, enough height for most adults. If you need to store a roll-up inflatable tender, and/or some water sports toys, you will be impressed by the forward deck storage locker. Covered in synthetic teak, it occupies the whole raised foredeck and is easily accessed thanks to some powerful gas struts. One thing that struck me was the attraction this section has for storing 'too much' – something most of us have been guilty of in the past. However, the wide-beam fuller bow of the 840 has a high level of buoyancy, as I discovered when I drove it, so I suspect you would be hard-pushed to load it to the point of it steering bow-heavy. The forepeak houses an electric windlass under a deck hatch, which feeds the anchor chain through the stem. You can also secure your bowline through an aperture in the hatch while it is still secured to the bow cleat – always ready for when you need to tie up.
The wider beam means a wider console, while still maintaining good deck access. The seat set-up is consequently fairly generous – fold-up bolster seats matched with an angled footboard, or the seat bases can be folded down for comfortable cruising. There is plenty of space below the seating for a stainless fridge, a storage cupboard opposite, a whopping subwoofer for the JL audio system and a galley on the back. Twin deck drains lie at the foot of the aft U-shaped seat, which run through a large storage compartment located beneath. Here the batteries, bilge pump and fuel filter come easily to hand. The aft seating arrangement has an infill to turn it into a sunbed, which can be further extended by unlocking and folding flat the seatback that runs across the transom. This feature also enables easy access to either of the bathing platforms, both of which house hidden bathing ladders. There is a bimini top, the aft edge of which secures to the GRP arch, while the forward edge is secured by a stainless bimini pole. As is common with many MRL-built Stinghers, a compact solar panel mounted on the arch keeps the batteries in good health. Each quarter coaming houses a small warp locker, conveniently located next to an inboard drop-flat stern cleat, and a stainless shower head pulls out on the starboard side.
Behind the wheel
Fitted with a supercharged 350hp Mercury Verado, our test boat had the lesser of two options, the other being twin 225hp Mercury V6 FourStrokes. Nevertheless, this single-engine configuration is a good match for a boat this size, and the Verado has a broad spread of power with a super-smooth power delivery. Once out in unrestricted waters, we took off and were hitting 40 knots in around 10 seconds – and less than 10 seconds later, albeit with a bit of trim, we were touching 48 knots. The 840 GT is a point-and-shoot boat in terms of the driving experience. She turns in a quick but composed manner – you never get the feeling that you need to stay focused on not overdoing things. The steering is well balanced – not too much and not too little in terms of response. The extra beam seems to help in this department, as it should. When banked hard over, the tubes do their stuff, while the non-stepped deep-vee hull has no intention of losing the plot. The only thing you may need to do, apart from tracking round in an impressive circle, is push your leg out on the inside of the turn for a bit of extra stability, as the 840 can turn faster than her length implies. 
Running past 40 knots, she sits as steady as a rock, and the quiet engine tone of the Verado tends to further reduce that impression of speed. This boat requires little trim at wide open throttle – about 5 on the trim gauge, Neil from Stingher advised me. The default 'any speed easy-drive setting' is 3 on the gauge, for a bit of 'spirited driving'. 
When it came to testing the hull in earnest, the calm weather made the Red Funnel ferry the choice of the day, as there is always a bit of ferry wake when you need it. Hitting this at 40 knots poses no problems for the Stingher. If you do get the boat out of the water, she lands with no complaint. You get that reassuring 'solid landing feel' from the wide-beam deep-vee hull, and her natural poise is good. 
Ergonomically, the helm arrangement is spot on, with the wheel and throttle sitting where you want them. When seated, you are hidden from the weather, and the generous width of the console shuts out the reality of what you are running into. However, the fuller bow design of the 840 has involved an upward flare of the forward section of the hull, so standing on the footboard with the seat bolster raised does provide a better view over the bow – though you will get a bit of wind blast. 
Verdict
This boat may have a new and wider hull, but the Stingher DNA is evident throughout. The construction is super-solid, and the fit and finish is of a high standard. Though it is an exciting boat to drive with one 350hp Verado, I feel that two 225hp Mercury FourStrokes would complement its very capable hull further. Although, like every RIB retailer, MRL have had to increase their prices in recent years, this boat in a highly specified form still gives most of its competitors a run for their money in terms of cost. 
What we thought
For
Great handling – responsive steering
Soft-riding hull
Good performance
Solid build quality
Attention to detail – even behind the scenes
 

Against
Due to the overseas demand for the new 8.4m hull placed on the factory in Italy, there may be a delay in supply.

 
Specifications
LOA: 8.4m
Beam: 3.2m
Hull: Planing
Transom deadrise angle: 23 degrees
Power options: Single 350hp Mercury Verado or twin 225hp Mercury FourStrokes
Fuel capacity: 350L
RCD category: B for 12
Test engine: Single 350hp Mercury Verado
Performance
48.7 knots (2-way average), sea conditions moderate, crew 1, fuel 50%
0–26 knots (0–30 mph): 6 seconds
26–44 knots (30–50 mph): 7 seconds
Contact
MRL, Millbank Street, Southampton, Hampshire SO14 5QN