The latest 10.2m Cheetah is the first catamaran in Europe to feature two of Yamaha's new XTO 425hp outboards. Friendship recently travelled from Cheetah's Isle of Wight base to Nieuwpoort in Belgium to take up her role as a sport fishing vessel in the Channel and North Sea. We learn how boat, engine and owner have proved to be the best of friends …
Friendship is a vessel built for Steve Rosseau, a boat owner for 10 years and a fisherman since his school days. He's a man who defines fishing as 'the ultimate way to spend quality time', and he has a species list to match his enthusiasm! 
'There are a lot of Cheetahs in the port of Nieuwpoort,' Steve told PBR. 'My previous boat was an open craft, which needless to say was very cold to operate during the winter, especially as my friends and I like to fish offshore. But a fellow fisherman on our pier suggested I ought to investigate the benefits of the Cheetah catamaran. Once I checked out the data and information and then sea-trialled one of these craft, I was convinced this should be my next boat! Quality, comfort and space combined with speed – this was exactly the criteria I happened to be seeking.'
Friendship is actually the first catamaran in Europe to feature Yamaha's all-new XTO 425hp outboard and is the most powerful Cheetah built to date. Sean Strevens, Cheetah's founder and designer, commented on the role of outboards in the development of Cheetah's designs: 'We've always built and developed our hulls so they can accommodate emerging outboards as the manufacturers battle it out to produce larger and even more powerful units. Yamaha's investment in the new XTO has been extensive, which is shown by the build quality and design features of the new 5.6L model. Outboards are now accepted on vessels up to 15m without hesitation. But when I first drew up our 9m x 3.6m fitted with outboards in 1996, it received a rather sceptical audience because of the outboard engines. Now outboards are fully accepted as being the best propulsion solution for our catamarans. Our new 11.5m, which is currently in the plug-building phase, will be powered by a range of outboards, including the Yamaha XTO, Cox diesel and Mercury's new 600hp, as well as smaller units down to Honda's BF135 and Selva's 100hp Sei and Killer Whale.' 
Round trips of 100 miles or so will present little challenge for Friendship as she has a top speed of 48 knots. Cruising speeds of 25 knots were achieved at just 3000rpm while using 65 litres per hour, or 2.6 litres per mile, during sea trials. So this boat and engine combination is proving an impressive match. Sean added: 'On a vessel of this size and power, this degree of fuel economy at 25 knots is pretty impressive.'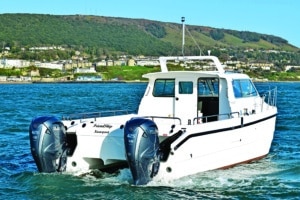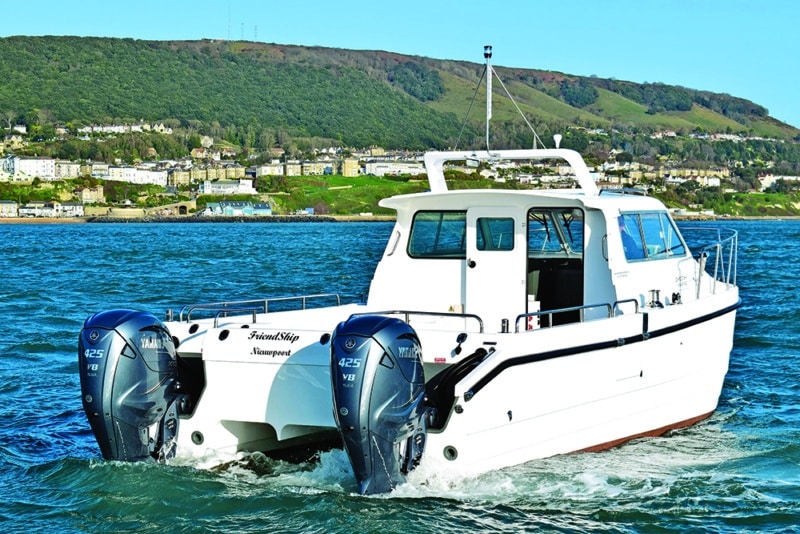 Friendship left the Cheetah workshops as a fully completed boat ready to sail home. On arrival in Belgium, a detailed electronics package was fitted and customised by Paul De Lange of Marine Electronics, a Simrad expert from Nieuwpoort. As regards the vessel's layout, the 2.6m wheelhouse is designed with long transits between fishing sites in mind and features a raised workspace with spacious seating for five. Forward of the dash is a marine toilet in the port hull and a berth/storage in the starboard hull. A central hatch then enables easy access to another forward compartment specifically for rod storage. Externally, Friendship's deck plan is dedicated to fishing, with a large spacious deck area that incorporates easy side-door access and storage boxes that double as occasional seating. 
Cheetah catamarans started turning heads in Nieuwpoort back in 2009. Since then, the seaport and surrounding area has become a Cheetah hot spot as the benefits of Cheetah Marine's twin-hulled configuration both under power and at anchor have been admired by fellow fishermen and practical boat owners. As more heads were turned, more orders were placed, and now there is a considerable fleet of Cheetahs in Nieuwpoort marina. 
Construction and background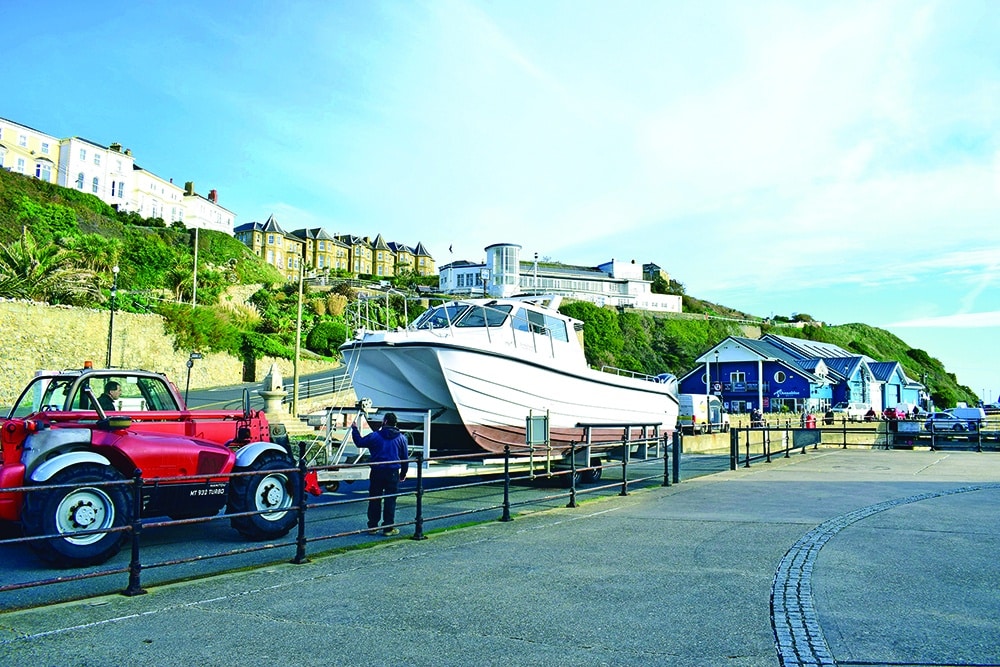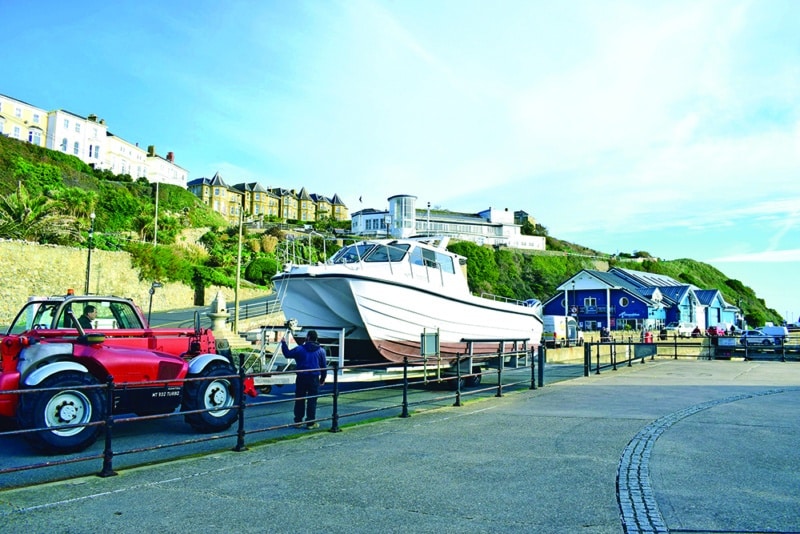 Cheetah's first boat was built by Sean Strevens in the late 80s and was designed to fish the rough waters off the south coast of the Isle of Wight. To handle these conditions, the catamarans feature a hand lay-up with a composite multiaxial Formax and strong honeycomb decks and bulkheads. Construction features include sealed underdeck compartments with the deck bonded direct to the wide lateral bulkheads. This stiff construction is combined with a hull shape that produces lift in a following sea and a tunnel cushion effect that guarantees a soft ride into head seas. The resultant low-centre-of-gravity and light yet solid vessel has now been tested in harsh sea conditions around the world for over 30 years. Cheetah Marine have a good line-up for 2021, with progress well underway given the current climate. Orders span all sectors and include a police boat for Scotland, a Wetwheels 7 for disability boating and many returning commercial fishing owners. The new 11.5m x 4.3m series will be launched later this year.