As official media sponsor to SBS BoatLife 2023, PBR joins the throngs in welcoming boat lovers and water enthusiasts from across the UK to the one boat show guaranteed to shake off the winter blues and kick-start the season into life!
The much-anticipated SBS BoatLife, to be held over the weekend of 16th to 19th February 2023 at NEC Birmingham, is shaping up to be an exciting and most welcome event to help shake off the winter blues and kick-start the forthcoming season with a bang. 
Strong content
A strong rebook rate from many major exhibitors who displayed at the show's inaugural event in 2022 is helping to underpin the exhibitor list for this second year, but in addition, the four-day show's content has evolved further thanks to the securing of additional exhibitors, ambassadors, partners and sponsors, as well as the show's newly themed sectors. For instance, an Activity Pool will host water sports demonstrations and visitor sessions. The dedicated Angling Village highlights all things fishing, and the busy Inland Zone will showcase an impressive range of 10+ different narrowboats. The scope of exhibitors under one roof will span multiple requirements, from design to tech, lifestyle to affordability, ensuring that there is something for everyone to experience. To further complement this busy event, the BoatLife Stage will present engaging presentations and discussions to be hosted by Mark Cavell, who will be talking to a variety of marine industry figureheads.
Powerboats & RIBs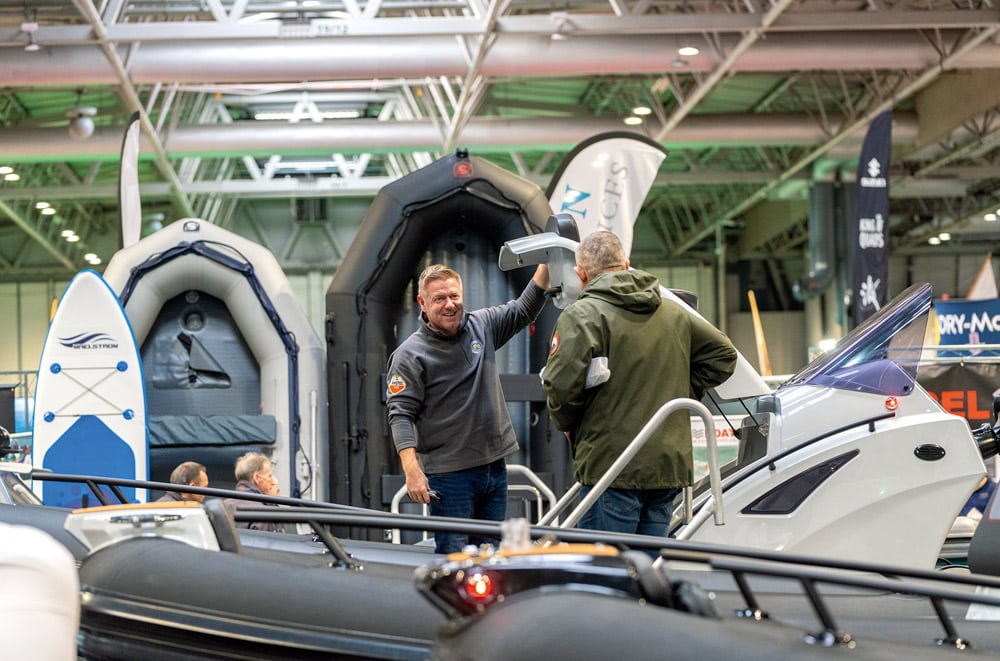 The show's powerboat and RIB line-up is set to deliver a strong cross section of top-quality brands, to the extent that the show's organisers are promising a hundred or so craft representing this chief sector, with the majority of these falling within the sub-50ft trailerable category. Whether hunting down a boat to cruise the coastline, zip between beaches or indulge in fishing activities, next year's SBS BoatLife is aiming to deliver a range of craft aligned to the needs of both the newcomer and those more experienced. In addition, a broad selection of innovative equipment, accessories and services is to be exhibited, to complement the boat exhibits on display.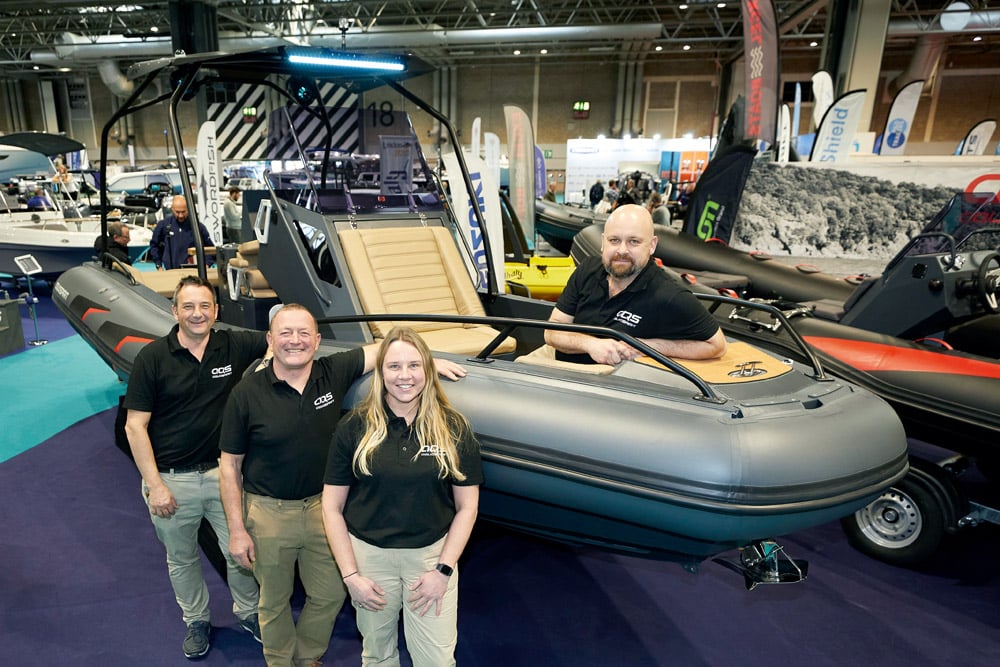 Names such as BRIG, Cobra, Gala, Rupert, Ultimate Boats and Neptune will be presenting within the RIB category, while from the hardboat sector, you'll find the likes of Axopar, Flipper, Nimbus, Quicksilver, Monterey, Parker, Aspre, Compass, Oceanmaster, Bayliner, Cranchi and Cobalt being displayed. Additional 'power players' will include wakeboard superboats from Moomba and Supra, plus there will be choice for all the family's boating aspirations thanks to those favourite makes, and models represented by the likes of The Wolf Rock Boat Company and Gibbs Quay Boat Sales.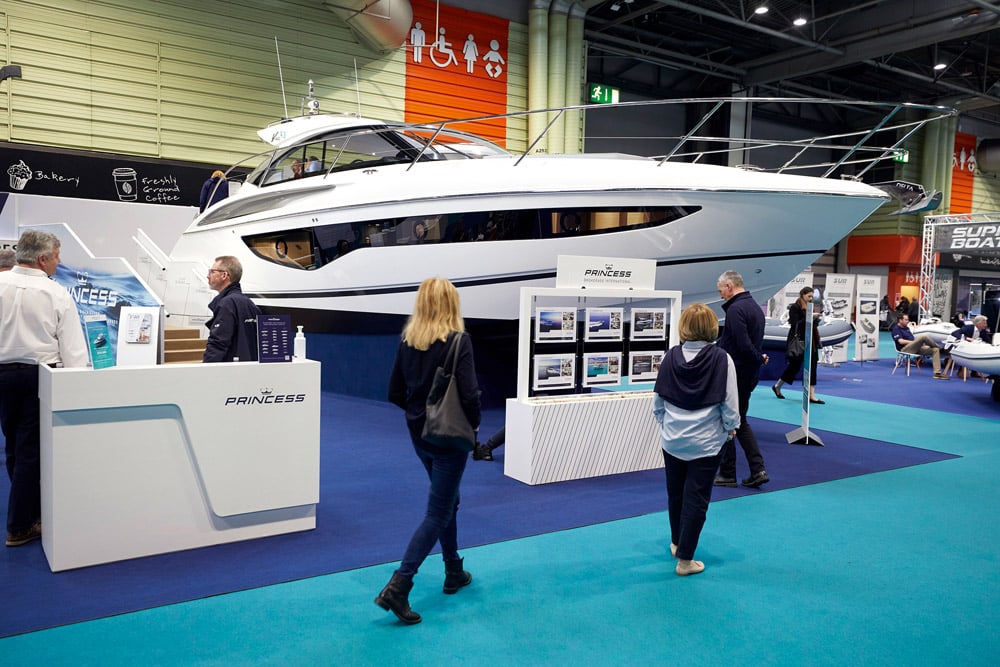 A fishy affair
The SBS BoatLife Angling Village will bring the world of angling to new and already-hooked followers. This dedicated hub will enable visitors to engage, learn and discover more about this ever-popular pastime. Besides the Extreme aluminium craft on display within this zone, there will be lots of kit and top advice on hand. Sponsored by Hookpoint, the Angling Village will boast three key ambassadors from the angling world, namely Will Parkinson, Simon Gibson and Squidward 3. 
By the pool
Not surprisingly, headline sponsors SBS Trailers will have a significant presence across the show floor, offering trials too for visitors to experience their functional product range first-hand. The event's Activity Pool is to be sponsored by leading marine insurance company GJW Direct, and forming an essential element to the proceedings here will be water sports partners Rockley Watersports, who will be providing demonstrations alongside stand-up paddleboarder Jo Moseley and twice Pro Men's World Champion Wakeboarder Liam Peacock.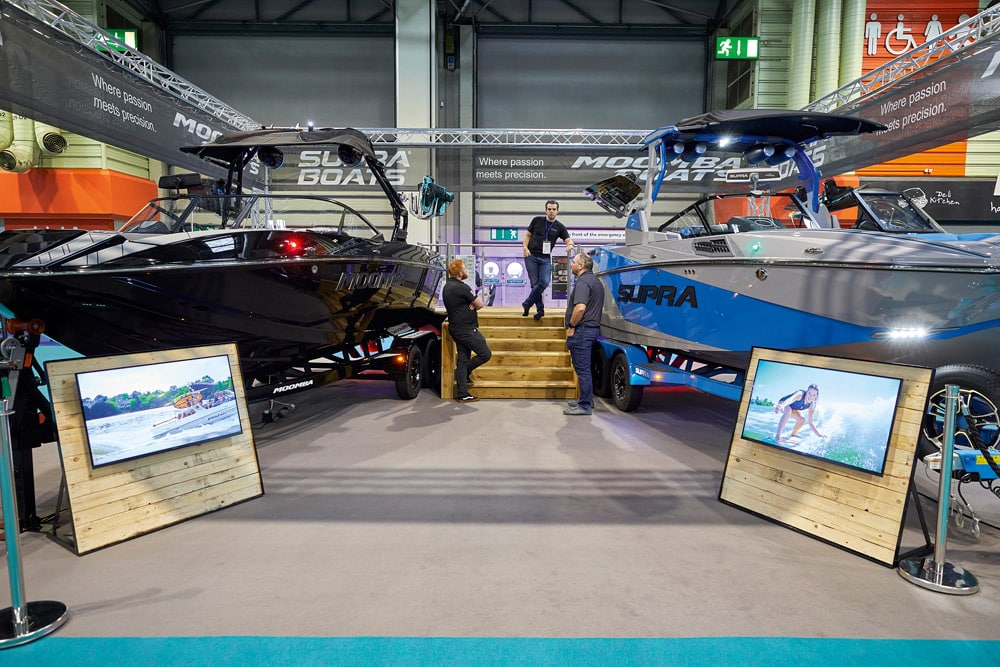 Valued partners
Logistical yacht movement experts Overland Boat Transport will be entering a second year as transport partners, while green business and sustainability product icons OceanЯ have joined the event as apparel partners. In addition, Sailing Indiana duo Lauren and Chris will be appearing as sailboat ambassadors, while EarleWrites (Elizabeth Earle) is to be the official ambassador for inland waterways. SBS BoatLife's chosen charity for 2023 is the much-valued and highly respected Wetwheels Foundation, an organisation that delivers supported access to boating for the disabled. Many of these inspiring organisations and individuals will be participating in the variety of informative talks and discussions anticipated on the main event stage.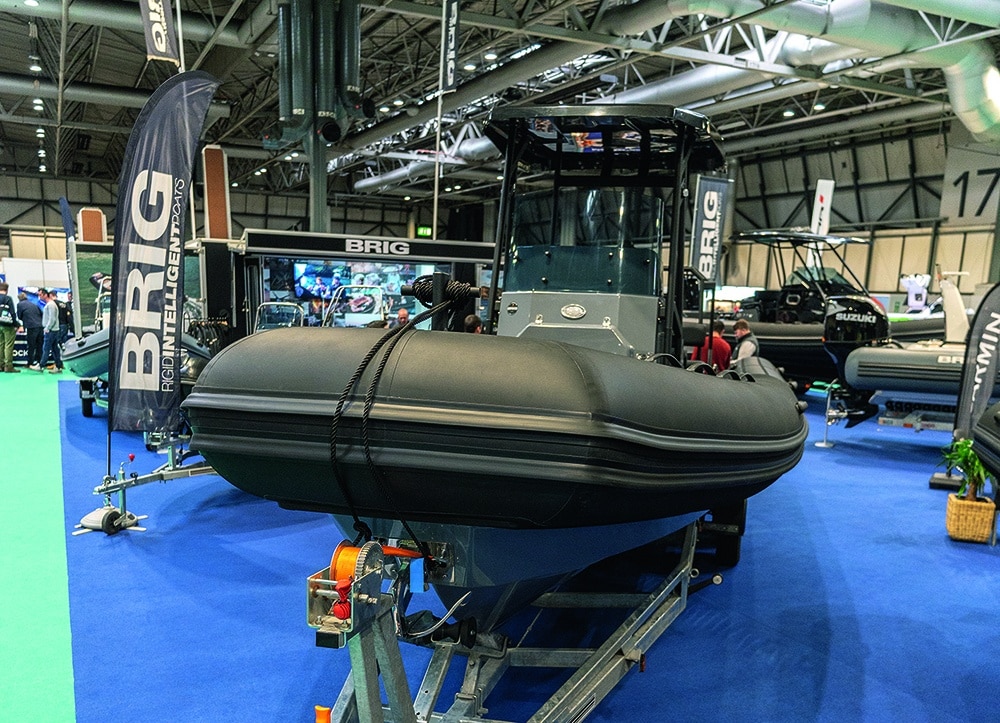 Get involved
In the run-up to SBS BoatLife 2023, many exciting events, competitions and opportunities will be unveiled. Among these, ABC Leisure are currently offering the chance to win a short canal break for four people, which can be found on the BoatLife Events website. Green Tech winners ePropulsion likewise have some innovative prizes up for grabs too. 
This year's show promises to make a great day out for all the family. To their credit, the organisers have tried to keep the entry price affordable and make the event a genuine 'show', not simply a static exhibition you have pay a whopping ticket price to enter. 
SBS BoatLife runs from 10am to 5pm from Thursday 16th to Sunday 19th February 2023 inclusive at NEC Birmingham. Pre-bookable car parking is available at a discounted rate. Children under 16 go free, and a free ticket arrangement is available for disabled visitors with accompanying carers. Bars and restaurants are available on site for a range of refreshment options. As official media sponsors to this year's event, we hope you'll come along and see the PBR team, who will be on hand to provide independent advice and help on any subject you care to throw at them. See you there! 
Ticket info & more
Tickets are on sale now at www.boatlifetickets.com. 
Full details on news and announcements relating to the show, plus a map of exhibitors, can be found on the main site:                           www.boatlifeevents.com. 
You can also sign up for the informative newsletter with competitions, discounts, exclusive content and access to experiences. 
For any enquiries about SBS BoatLife 2023 please contact the team at hello@boatlifeevents.com. 
The title sponsor speaks …
HMS conducts an exclusive interview with Andy Wyer, MD of SBS Trailers, title sponsors to the 2023 BoatLife event. Wyer's comments provide an insightful and honest appraisal of the UK boat show scene.
As the UK's foremost boat trailer manufacturer, what importance do you place upon BoatLife as an event?
Historically, the UK has 'enjoyed' two boat shows a year: London and Southampton. Without getting misty-eyed over the Earl's Court days, the move to ExCeL heralded a new era and initially proved a huge success. But setting up on the eve of Christmas and returning shortly after was never hugely popular in our household, and after its slow and inevitable demise, I was one of the very vocal detractors that welcomed the London Boat Show's absence.
However, be careful what you wish for, because while the show inevitably was responsible for a little increase in 'off-season' sales, without it, as a company, we noticed a distinct lack of business in the early part of the year, and more than that, the season seemed much slower to get going for both trade and retail alike.
We had been through the calamitous 'boat and caravan' era when we marine manufacturers were an addition to the main event. To be fair, it got to a credible stage, and Hall 5 was reasonably full, but I was always frustrated that the marine industry could not stand on its own two feet and front its own show.
Fast-forward a few years and the opportunity came up to return to the NEC and an attempt to launch 'another boat show' – no small feat in the COVID climate and in the face of a number of regional shows that had sprung up in the meantime. Unfortunately, the old tenet of 'build it and they will come' does not hold true in this multi-channel, instant-gratification, super information highway age, and any new event must satisfy visitors' needs and wants.
Certainly, there was a vacancy for the opening show of the year, and I think BoatLife put their previous experience of shows and knowledge of the marine industry to good use, because they put on a very credible event, even considering the severe weather warning – which never happened – and the threat of tightening COVID restrictions. 
The event is better timed, the January pay cheque has hit the mat and the stress of Christmas is but a memory. Plus, people can focus on the approaching season. To that end, it helps kick-start the year and gives trade some potential sales early on, thus giving an indication, at least, of likely demand going forward.
BoatLife has listened to trade and public alike and made some significant changes to the format of the show in the process. This will only deliver a greater visitor experience and further cement this show as a 'must visit' event, in my view. 
As MD of SBS, what was the decision-making process behind your company taking up the title sponsorship of BoatLife?
Like many of life's great decisions, it started over a drink and a chat with a fellow exhibitor at last year's show. It was clear that the event 'had legs', but it needed to keep going for at least three years to really establish itself and become part of the boating calendar. It was a case of putting our money where our mouth was. As one of the longest-established businesses in the industry, and having dealt with pretty much every company at the show in one way or another, I thought SBS would be a worthy and relevant supporter. No offence to any other marine industry supporters, but I thought we could add a bit more cache than perhaps someone from outside of the business. 
In your view, what does BoatLife offer that, say, the Southampton Boat Show doesn't?
From a practical point of view, access to the NEC is second to none. For the exhibitor, ease of set-up and breakdown is critical, and again, this is a breeze compared to the carnage at the Southampton Boat Show! That said, we are huge supporters of the marine industry, and when we attend shows we want everyone to have a fantastic result, because the trickle-down effect will mean we will pick up more business ourselves as a trailer manufacturer. The failure of the old London Boat Show was probably more down to location than anything else. Southampton has been in decline for years and has now become a south coast, South West-biased show – albeit a big one – which gives credence, of course, to a Midlands-based show, which can attract a central and more northern audience.
The NEC can't host the big boats that Southampton boasts and nor does it need to. It's a different vibe. This show is more inclusive and reflects 'affordable' boating, although that term is always subjective! The diversity and types of boats and boating possibilities are broader too at BoatLife, which should attract a different audience to Southampton. It's not about one show being better than the other, it's about offering the visiting public a choice of the type of show they want to visit. There is a place for both on the calendar.
What potential do you see the event having as it progressively establishes itself?
With the expansion possibilities offered by the NEC, the show can grow exponentially, which is hugely exciting. With the variety of exhibitors and events included in next year's show, it will certainly mark it out from the rest. 
In terms of your own SBS company presence at BoatLife, what are you hoping to achieve, and what would constitute a successful event for you?
As the longest-established boat trailer manufacturer in the UK, we wanted the opportunity to introduce ourselves to the next generation of boaters and cement relationships with existing ones. We offer the largest variety of trailers of any manufacturer, and we want to showcase products that people don't necessarily know we produce! It's about raising awareness and marking us out as clear leaders in our industry in terms of product and service.
Visit SBS Tailers website