Now in its 54th year, Britain's largest festival of boats is back and gearing up for another bout of business along with the hope of some fine weather to woo the crowds. Here goes, then, for another 10 days of all things Southampton International Boat Show …
Some would question the inclusion of the word 'International' within the title of the Southampton Boat Show, but either way, this long-standing 10-day event is set to return from Friday 15th to Sunday 24th September 2023. According to its organisers, this year's show is aimed at encouraging people to get the most from their time spent on the water. From paddleboarders through to sports boat lovers and owners of large motor yachts, the event is aiming to offer something for everyone.
This year, visitors are promised they'll be able to experience some exciting new features alongside the show's most popular attractions. The 'Watersports Zone' is back and is set to host a whole selection of exciting kit with guidance from experts in the business. Whether you're into surfboards or waterskis, whether you're looking to learn something new or are already a seasoned 'wave expert', you'll be able to get your hands on state-of-the-art equipment, examine and try first-hand the latest marine technologies, and even circuit-trial  a selection of sports craft.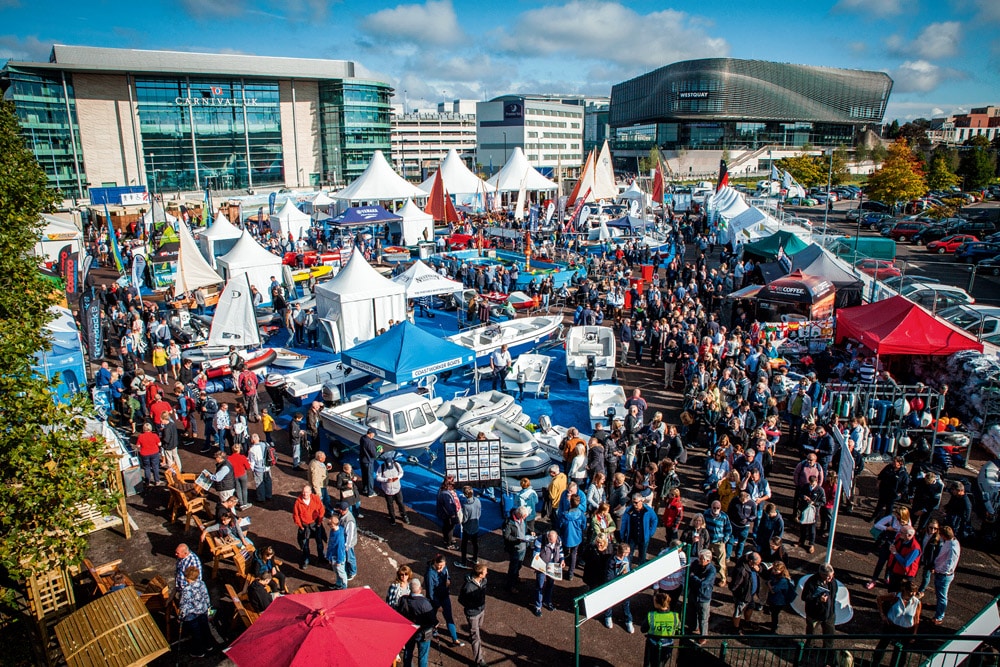 From stand-up paddleboarding and exhilarating speedboat rides to cruising the Solent, the 'On the Water Zone' allows visitors, and families in particular, to get wet if they really wish to! There will also be a 'Try-a-Boat' experience where show visitors can sail a yacht, take the throttle of a motorboat or experience a fast RIB ride. Whether you're a complete beginner or a seasoned pro, perhaps thinking about buying your first boat or simply looking for an adventure, qualified instructors and professional boatmen will be on hand throughout to assist and give direction.
The 2023 edition is anticipated to attract several hundred exhibitors and in excess of 500 craft. The latter will be displayed both ashore and within the purpose-built show marina. The latter is naturally a big, if not the biggest, draw, but landside, in addition to the expansive under-cover exhibitor display zones, street food outlets and a variety of refreshments will be located around the network of walkways.
This year's show promises to offer a variety of entertainment, including live music, children's entertainers and interactive attractions. The Quarterdeck Bar & Restaurant, and the long-standing but newly refurbished Guinness Bar, will also be making a popular comeback.
Key features at the 2023 show
Show Marina
This spectacular purpose-built marina accommodates hundreds of the world's most prestigious yachts and powerboats, as well as high-end tender and chase boats. With cutting-edge global, European and UK launches of yachts, RIBs and motor day boats, as well as the stunning Thalassa tall ship, it's not to be missed.
'On the Water Zone'
You'll find it all here – from stand-up paddleboarding to dinghy sailing, the thrill of powerboating to cruising the Solent, you can make a splash for hours.
'Watersports Zone'
You'll get your fix of unlimited water sports action here – from stand-up paddleboards, surfboards, wakeboards and waterskis to group activities on the water. With expert guidance on all areas, whether you are just dipping your toe in or a fanatic, there is something for everyone.
Mayflower Park
Home to some fantastic show experiences – Ocean Hall, the new-look Guinness Bar, the Quarterdeck Bar & Restaurant and live entertainment, to name just a few.
Foredeck Stage
Home to leading experts on a whole host of topics. You'll be able to ask the experts any question and be free to socialise with like-minded people.
Exhibitors
An anticipated 600-plus exhibitors will be showcasing the very best of the British and international marine industry. From advanced technology and gadgets for all manner of craft to holidays, training courses and the very latest must-have kit and clothing … the options are endless!
Quayside Club VIP Experience
Following the success of last year, the Quayside Club VIP Experience returns. Situated in a prime location overlooking the marina, the lounge guarantees some of the very best seats in the show, where you can sit back and relax with a delicious welcome drink, sample the gourmet buffet, take a coffee break or enjoy your favourite tipple.
Classic and Day Boat Zone
Bringing the boating community together, this is the place to come to celebrate the boats and craftsmanship that stand the test of time. Classic-boat enthusiasts and seasoned boaters will be able to find all the equipment they need to keep their treasures gliding across the water. From modern boats inspired by traditional designs and craftsmanship to tastefully restored classics, there is an array of beautiful craft and plenty to see and do here.
Dinghy Zone
This is the place to see all areas of sport and sailing dinghies, including trailer boats, cruisers, boatbuilders, high-performance equipment, sailing clubs, holiday providers and training options, all in one place.
Tickets & offers
Tickets are available to purchase from the show website: southamptonboatshow.com
Adult tickets are on sale now from £26, with up to two children aged 15 and under being permitted free entry to the show with every paying adult. For a full breakdown of ticket costs and packages, click here
Enjoy the show in style with the Quayside Club VIP Experience. For guests looking for the ultimate VIP treatment, early-bird tickets are priced at £125 per person until the end of June, after which the full price will be £156.25. Visit the website for more information.
To keep up with the latest news and announcements, follow the Southampton International Boat Show on Twitter, Facebook and Instagram.
Critical info
Dates: Friday 15th September – Sunday 24th September 2023
Times: 15th – 23rd September, 10am – 6pm; 24th September, 10am – 5pm
Location: Mayflower Park, Southampton
Website: www.southamptonboatshow.com